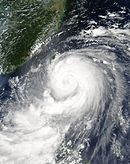 Typhoon Matmo

Typhoon Matmo which has affected Taiwan has now reached China:
July 23, 2014 Typhoon Matmo has made landfall in southern China, the second major storm to hit the country in a week.

Winds gusted to 108 kilometers per hour as it swept over heavily populated Fujian province on Wednesday.

Matmo passed over Taiwan earlier, where it brought torrential rains and strong winds…

Warnings of flash floods and land slides forced the closure of financial markets and most schools and government offices in Taiwan.

The storm's arrival comes as the death toll in southern China from last week's Typhoon Rammasun increased to 56, with 20 more people missing.

Rammasun, the strongest storm to hit the region in 40 years, also killed nearly 100 people in the Philippines and at least 11 in Vietnam.  http://www.voanews.com/content/typhoon-matmo-drenches-taiwan-one-killed-one-missing/1963289.html

July 23, 2014

A plane has crashed in Taiwan killing 51 people and injuring seven, according to local reports. The TransAir flight was traveling from Kaohsiung to Makung during stormy weather in the wake of Typhoon Matmo, local media reported. http://www.nbcnews.com/news/world/passenger-jet-crashes-taiwan-stormy-weather-report-n162921
In the USA, the Midwest has had Fall-like weather this month, the West is still in drought, and Washington state has been burning:
Blame the polar vortex?

What's up with the crazy weather? From fall-like temperatures in the Midwest to California's drought…http://www.usatoday.com/story/opinion/2014/07/18/polar-vortex-drought-punchlines-fallon-conan-letterman/12826243/

Since word of a looming polar vortex event hit the street, some meteorological purists – including the National Weather Service  – have pushed back hard.

They say vortex isn't responsible for the spell of autumn-like weather spilling into the eastern U.S. this week, at the peak of summer.

They say those promoting the polar vortex are misleading the public and making a scientifically dubious connection.

But, in reality, this is a textbook case of polar vortex influence on mid-latitude weather and, frankly, the reasoning of these polar vortex doubters is flawed. http://www.washingtonpost.com/blogs/capital-weather-gang/wp/2014/07/14/polar-vortex-deniers-are-wrong-heres-why/

In the name of science, other meteorologists went on Twitter and began to plead with their colleagues to not call this drifting southward of cool air a polar vortex…does climate change make it more of a threat (in winter)?  http://blogs.scientificamerican.com/observations/2014/07/14/a-polar-vortex-in-july-not/

The temperatures were so hot this year in Joe Del Bosque's cantaloupe fields in the San Joaquin Valley that some of the melons could have used sunscreen.

The surface of the fruit got sunburned, which looks bad and in some cases affects taste. He had to throw those away.

The first six months of the year were the hottest ever in California, the National Weather Service said Monday. That's nearly five degrees warmer than the 20th century average and more than a degree hotter than the record set in 1934…

And July isn't shaping up to be any better, with a heat wave expected to send temperatures above 100 degrees in parts of Los Angeles County, especially on Thursday and Friday and through the weekend.

Across the state, the bone-dry and hot conditions have been contributing to a much larger number of fires. ..

The fact that it's also been dry for at least three years straight in much of the state has worsened an already difficult situation. The agricultural industry is facing $1 billion in lost revenue this year from the state's worst drought in decades and might have to pay about $500 million for additional groundwater pumping. http://www.latimes.com/local/lanow/la-me-ln-california-drought-record-heat-sunburns-melon-crops-20140721-story.html

The Carlton Complex fire will probably go down as the biggest conflagration in Washington state history, torching about 240,000 acres and counting.  http://www.latimes.com/nation/la-na-washington-wildfires-20140722-story.html
Some indicate that a weather phenomena is what is affecting the weather, some blame global warming, which they have renamed sas 'climate change,' but what is really going on is something consistent with biblical prophecy.
Back in 2009, my book, 2012 and the Rise of the Secret Sect, I wrote that the following was about to happen:
| | |
| --- | --- |
| Odd weather patterns result in food shortages and natural disasters. | Matthew 24:7 |
| | |
| --- | --- |
| The world is actually in a berserk transition, as the real age of peace is not yet here. It may be a period of chaos. It is the beginning of sorrows. | Matthew 24:8 |
Record heat and odd weather problems should serve as a wake-up call.
Jesus taught:
7…And there will be famines, pestilences, and earthquakes in various places. 8 All these are the beginning of sorrows. (Matthew 24:7-8).

8 For nation will rise against nation, and kingdom against kingdom. And there will be earthquakes in various places, and there will be famines and troubles. These are the beginnings of sorrows. (Mark 13:8)
The Bible also shows we should expect to see a time of much higher food prices (cf. Revelation 6:5-6) as well as certain water related shortages that will happen later (cf. Jeremiah 14:3-4; Jeremiah 50:35-38; Revelation 8:10-11).
Notice that God uses weather to warn people to turn to Him, but many ignore this:
17 I struck you with blight and mildew and hail in all the labors of your hands; yet you did not turn to Me,' says the Lord.  (Haggai 2:17)

21 And great hail from heaven fell upon men, each hailstone about the weight of a talent. Men blasphemed God because of the plague of the hail, since that plague was exceedingly great.  (Revelation 16:21)
The Bible shows:
30 God…commands all men everywhere to repent (Acts 17:30)
And weather-problems are one way that God uses to urge people to repent (cf. Haggai 2:17).
Now, does this mean that those most affected by weather are necessarily worse sinners than those less affected?
The biblical answer is no.
Notice the words of Jesus:
45…He makes His sun rise on the evil and on the good, and sends rain on the just and on the unjust. (Matthew 5:45)

4 Or those eighteen on whom the tower in Siloam fell and killed them, do you think that they were worse sinners than all other men who dwelt in Jerusalem? 5 I tell you, no; but unless you repent you will all likewise perish. (Luke 13:4-5)
God uses weather and other events to warn people.
Speaking of other events, the plague has caused a city in China to be quarantined:
23 July 2014

Parts of a northern Chinese city have been quarantined after state media said a man there died of bubonic plague.

China's official Xinhua News Agency said Tuesday that 151 people were under observation in the city of Yumen in Gansu province after authorities determined they had come in contact with a man who died of the plague July 16.

Investigators believe the man contracted the bacterial infection after contact with a marmot, Xinhua said.

The report said all the people under quarantine were in good health, but that 10 checkpoints were still blocking off parts of the city of about 180,000.  http://abcnews.go.com/Health/wireStory/parts-chinese-city-sealed-bubonic-plague-24672606
Pestilences were something that Jesus also warned about in Matthew 24:7-8.
Weather problems and pestilences are part of what Jesus called the "beginning of sorrows" (NKJV) or "birth pangs" (NASB).  He then said a worse time, called the Great Tribulation, would be coming in Matthew 24:21-22.
The time to change is now, before it is too late (cf. Ats 17:30; Zephaniah 2:1-3; see also There is a Place of Safety for the Philadelphians. Why it May Be Petra).
Some items of possibly related interest may include:
Does God Use Weather? Are weather calamities totally random? Does God control the weather? What does the Bible say? Are there biblical prophecies for weather blessings and weather curses? Are those affected by hurricanes, tornadoes, tsunamis, droughts, and floods necessarily worse sinners than those not as affect? Does God use weather to try to get people to change or repent?
When Will the Great Tribulation Begin? 2014, 2015, or 2016? Can the Great Tribulation begin today? What happens before the Great Tribulation in the "beginning of sorrows"? What happens in the Great Tribulation and the Day of the Lord? Is this the time of the Gentiles? When is the earliest that the Great Tribulation can begin? What is the Day of the Lord? Who are the 144,000? Here is a version of the article in the Spanish language: ¿Puede comenzar la Gran Tribulación en 2013 o 2014? ¿Es el Tiempo de los Gentiles? You can also see the English language sermon video: The Great Tribulation from the Mount of Olives.
Fourth Horseman of the Apocalypse What is the pale horse of death and pestilences? What will it bring and when? Spanish: El cuarto jinete de Apocalipsis, el caballo pálido de muerte y pestilencia.
Four Horsemen of the Apocalypse What do each of the four horseman of the Apocalypse represent? Have they began their ride? Did Jesus discuss the any of this? Might their rides coincide with the "beginning of sorrows? Do they start their ride prior to the Great Tribulation? Did Nostradamus or any other 'private prophets' write predictions that may mislead people so that they may not understand the truth of one or more of the four horseman? There is also a related YouTube video titled The Four Horsemen of the Apocalypse.
Just What Do You Mean — Repentance? Do you know what repentance is? Have you truly repented? Repented of what? Herbert W. Armstrong wrote this as a booklet on this important subject.
When You Sin: Do You Really Repent? This is an article by Charles F. Hunting. A related sermon is Confess to God and truly repent.
What is the Unpardonable Sin? What is it? Can you repent of it? Do you know what it is and how to avoid it? Here is a link to a related sermon video The Unpardonable Sin and the Prodigal Son.
There is a Place of Safety for the Philadelphians. Why it May Be Petra This article discusses a biblical 'place of safety' and includes quotes from the Bible and Herbert W. Armstrong on this subject–thus, there is a biblically supported alternative to the rapture theory. There is also a video on the subject: Might Petra be the Place of Safety? Here is something related in the Spanish language: Hay un lugar de seguridad para los Filadelfinos. ¿Puede ser Petra?
China, Its Biblical Past and Future, Part 1: Genesis and Chinese Characters Where did the Chinese people come from? This article provides information showing that the Chinese peoples must have known about various accounts in the Book of Genesis up until their dispersion after the Tower of Babel. Here is a link to a version of this article in Spanish: ¿Prueban los caracteres chinos la exactitud de la Biblia?
China, Its Biblical Past and Future, Part 2: The Sabbath and Some of God's Witness in China When did Christianity first come to China? And is there early evidence that they observed the seventh day sabbath?
Asia in Prophecy What is Ahead for Asia? Who are the "Kings of the East"? What will happen to nearly all the Chinese, Russians, Indians, and others of Asia? China in prophecy, where? Who has the 200,000,000 man army related to Armageddon? A YouTube video of interest may be Is China THE Threat to the United States of America?