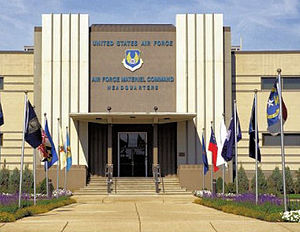 Wright-Patterson Air Force Base

Notice that some terrorists just escaped from an Iraqi prison:
May 9, 2015

At least three dozen people were killed and 40 inmates escaped in a prison break north of the Iraqi capital, Baghdad, officials said Saturday. …

Some of the prisoners who escaped had been jailed on terrorism charges, according to officials.

Jailbreaks are common in Iraq, which has spent the past year fighting an insurgency by Islamic State militants.

A car bomb in Baghdad Saturday killed at least seven people and wounded at least 14 others, according to police and other sources. News reports indicate the attack targeted Shi'ite pilgrims.

The French news agency, AFP, says the Islamic State group claimed responsibility for both the prison break and the bombing. http://www.voanews.com/content/in-iraq-dozens-escape-in-deadly-prison-break/2761288.html
Terrorists, even when arrested, sometimes are able to cause more problems.
Because of last Sunday's attack in Texas and new threats from the Islamic State, the US military has decided to increase security:
May 8, 2015

The U.S. military has increased security at bases across the country, after the FBI expressed concern that Islamist militants could target troops or police officers.

The U.S. Northern Command said the move was due to "recent events" but stressed that the "change is not tied to a specific, credible threat."  The command also said it shares FBI concerns about "potential threat posed by homegrown violent extremists."

On Thursday, FBI Director James Comey said there might be thousands of Islamic State (IS) followers online in the U.S.

"Hundreds, maybe thousands of people across the country who are receiving recruitment overtures from the terrorist group or directives to attack the United States," Comey said. "We have a general concern, obviously, that ISIL is focusing on the uniformed military and law enforcement," he added, using another common acronym for the Islamic State.

Last Sunday, two gunmen attacked an event in Garland, Texas, where cartoons lampooning Islam's Prophet Muhammad were being judged in a "contest." http://www.voanews.com/content/us-tightens-security-at-military-bases/2760073.html
So, mainly because of repercussions of a cartoon-drawing contest where two terrorists who attacked the gathering were killed, the entire US military and other parts of the government of the USA have decided to increase security levels.
This is not unexpected, and brought to mind the following biblical prophecies:
14 'But if you do not obey Me, and do not observe all these commandments, 15 and if you despise My statutes, or if your soul abhors My judgments, so that you do not perform all My commandments, but break My covenant, 16 I also will do this to you: I will even appoint terror over you, wasting disease and fever which shall consume the eyes and cause sorrow of heart. And you shall sow your seed in vain, for your enemies shall eat it. 17 I will set My face against you, and you shall be defeated by your enemies. Those who hate you shall reign over you, and you shall flee when no one pursues you. (Leviticus 26:14-17)

25 The sword shall destroy outside; There shall be terror within (Deuteronomy 32:25)

5 Also they are afraid of height, And of terrors in the way (Ecclesiastes 12:5).

25 "The Lord will cause you to be defeated before your enemies; you shall go out one way against them and flee seven ways before them; and you shall become troublesome to all the kingdoms of the earth. (Deuteronomy 28:25)
Despite US and international efforts against terrorists, a confederation against the USA, its Anglo-Saxon allies, and Israel involving Arab and European forces is coming per Psalm 83. And I have long believed that terrorism will have to be part of this based not only upon the "terror" prophecies, but those that discuss an arrangement between what is now mainly Islamic dominated lands and Europe in Psalm 83. While the current Islamic State will not lead as it wishes, it very well may be involved in more terrorist actions around the world.
More terror is coming to the USA.
Some items of possibly related interest may include:
Anglo – America in Prophecy & the Lost Tribes of Israel Are the Americans, Canadians, English, Scottish, Welsh, Australians, Anglo-Saxon (non-Dutch) Southern Africans, and New Zealanders descendants of Joseph? Where are the lost ten-tribes of Israel? Who are the lost tribes of Israel? What will happen to Jerusalem and the Jews in Israel? Will God punish the U.S.A., Canada, United Kingdom, and other Anglo-Saxon nations? Why might God allow them to be punished first? Here is a link to the Spanish version of this article: Anglo-América & las Tribus Perdidas de Israel. Information is also in the YouTube sermons titled Where are the Ten Lost Tribes? Why does it matter? and British are the Covenant People. A short YouTube of prophetic interest may be Barack Obama and the State of the Apocalypse.
Will the Anglo-Saxon Nations be Divided and Have People Taken as Slaves? Will the lands of the United States, United Kingdom, Canada, Australia, and New Zealand be divided? What about Jerusalem? What does Bible prophecy teach? Are there non-biblical prophecies that support this idea? Who will divide those lands? Who will end up with the lands and the people? Here is a link to a video titled Will the USA and other Anglo-nations be Divided and Their People Made Slaves? Here is a related item in the Spanish language ¿Serán divididas las naciones anglosajonas?
British are the Covenant People What do 'British' and 'Britain' mean in Hebrew? Are the descendants of the Anglo-Saxons people of the covenant? Does the British royal family connect to the throne of David? What does the Bible teach? What does history show us? Is there any DNA evidence related to British-Israelism? When did Christianity make it to the British Isles? Could Jeremiah have made it to the British Isles? What type of Christians made it to the British Isles? Did the last King of England believe in British Israelism?
Differences Between Islam and the Continuing Church of God What are some of the main differences? Are there any similarities?
United Nations: Humankind's Last Hope or New World Order? Is the UN the last hope for humanity? Or might its goals end up with sinister results? A related video would be United Nations and Vatican Are Planning the New World Order.
Iraq, the King of the South, Armageddon, and Prophecy What will happen to Iraq? Is it the prophesied Mystery Babylon? What is Armageddon and how does that have to do with Iraq? Here is a related video Iraq, Armageddon, & Prophecy.
The Prophesied 'Islamic' Confederation Where is an Islamic caliphate prophesied? Will one happen? Should you be concerned about it? Here is a link to a related video video: Will an Arabic Calphiphate Destroy the West?
The Arab and Islamic World In the Bible, History, and Prophecy The Bible discusses the origins of the Arab world and discusses the Middle East in prophecy. What is ahead for the Middle East and those who follow Islam? What about the Imam Mahdi? What lies ahead for Turkey, Iran, and the other non-Arabic Muslims? An item of possibly related interest in the Spanish language would be: Líderes iraníes condenan la hipocresía de Occidente y declaran que ahora es tiempo para prepararse para el Armagedón, la guerra, y el Imán Mahdi.
The 'Peace Deal' of Daniel 9:27 This prophecy could give up to 3 1/2 years advance notice of the coming Great Tribulation. Will most ignore or misunderstand its fulfillment? Here is a link to a related sermon video Daniel 9:27 and the Start of the Great Tribulation.
How Will Middle East Peace be Brought About? Can humans bring peace to the Middle East? Here is a link to a related video: Middle East Peace? When?
Is the Future King of the South Rising Up? Some no longer believe there needs to be a future King of the South. Might Egypt, Islam, Iran, Arabs, or Ethiopia be involved? Might this King be called the Mahdi or Caliph? What does the Bible say? A YouTube video of related interest may be: The Future King of the South is Rising.
Can the Great Tribulation Begin in 2015? When will the Great Tribulation begin? Can it begin in 2015 as some have indicated? What are the biblical requirements that precede the Great Tribulation? What did Jesus teach would happen prior to the Great Tribulation. Are there definite clues in the Book of Daniel that Christians should look out for? Is there a King of the North or a King of the South yet? Where does the 'prince' of Daniel 9:26-27 come from? What about 'blood moons'? Dr. Thiel videoed this on the Mount of Olives where Jesus specifically discussed events leading up to the Great Tribulation in Matthew 24.
World War III: Steps in Progress Are there surprising actions going on now that are leading to WWIII? Might a nuclear attack be expected? Does the Bible promise protection to all or only some Christians? How can you be part of those that will be protected? A related video would be Is World War III About to Begin? Can You Escape?
Wars, rumors of wars, and the Apocalypse Jesus foretold a time before the end where there would be wars and rumors of wars. The Apocalypse (the Book of Revelation) warns of the red horseman of war. Now, even secular writers, like Larry Edelson, are worried that wars and rumors of war are the most menacing problem that now haunts the earth? Are they right? What is the solution? This is a sermonette-length video.
Prophecies of Barack Obama? Reasons why Barack Obama is apocalyptic and reasons why Barack Obama is not the Antichrist. This article includes many biblical and non-biblical prophecies, from around the world, that seem to discuss Barack Obama. Did Nostradamus predict Barack Obama dealing with the Antichrist?  Might Barack Obama set the stage for the kings of the North and South as at least one Shiite prophecy suggests?  Read it and decide for yourself if President Obama seems to be fulfilling various prophecies. Watch also the YouTube Barack Obama and the State of the Apocalypse.