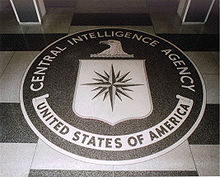 The US Senate released a report yesterday on the use of enhanced interrogation techniques (otherwise known as torture) has sparked international outrage and calls for action against the US Central Intelligence Agency (CIA):
December 10, 2014

Human rights activists are calling for the prosecution of officials involved in the U.S. Central Intelligence Agency's use of extreme interrogation methods on suspected terrorists.

Ben Emmerson, the United Nations special envoy on human rights and counter-terrorism, said a U.S. Senate report on the CIA's actions after the September 11, 2001 attacks "reinforces the need for criminal accountability."

Kenneth Roth, the executive director of U.S.-based Human Rights Watch, said that torture "will remain a 'policy option' for future presidents" unless officials are prosecuted

Senate Intelligence Committee report

The Senate Intelligence Committee released a summary of a much longer report Tuesday, saying the CIA mistreated prisoners during questioning. It accuses the CIA of misleading Congress and the American people about the effectiveness of those methods, which included confinement in small places, sleep deprivation, and simulated drowning. …

Brutal techniques

The report detailed numerous instances of CIA abuses against suspects that were "far more brutal" than had previously been disclosed. They included "ice baths," as well as "rectal rehydration" – a form of feeding through the rectum – and threats that their relatives would be harmed. One suspected extremist froze to death while in captivity.

The current CIA Director John Brennan acknowledges that the agency "did not always live up to the high standards" it set for itself.  But he disputed the Senate's conclusion that the harsh interrogations were ineffective, saying they actually helped stop plots, capture terrorists, and save lives.

CIA prison in Poland

Former Polish President Kwasniewski says Poland let the U.S. Central Intelligence Agency run a secret prison on its territory, but he says Polish officials did not authorize harsh treatment or torture of the suspected terrorists at the site.

In an interview Wednesday with a Warsaw radio station (TOK FM), Kwasniewski said he urged then U.S. president George W. Bush to end all U.S. intelligence efforts at the prison more than 10 years ago.

Kwasniewski said the efforts were halted at some point.

This is the first time the former Polish president has publicly acknowledged the existence of the prison, after denying it for years.

It is believed the CIA ran the facility in Poland in 2002 and 2003.  http://www.voanews.com/content/rights-advocates-urge-punishment-after-report-on-cia-terror-interrogations/2552912.html

December 10, 2014

GENEVA (AP) — All senior U.S. officials and CIA agents who authorized or carried out torture like waterboarding as part of former President George W. Bush's national security policy must be prosecuted, top U.N. officials said Wednesday.

It's not clear, however, how human rights officials think these prosecutions will take place, since the Justice Department has declined to prosecute and the U.S. is not a member of the International Criminal Court.

Zeid Raad al-Hussein, the U.N. high commissioner for human rights, said it's "crystal clear" under international law that the United States, which ratified the U.N. Convention Against Torture in 1994, now has an obligation to ensure accountability.

"In all countries, if someone commits murder, they are prosecuted and jailed. If they commit rape or armed robbery, they are prosecuted and jailed. If they order, enable or commit torture — recognized as a serious international crime — they cannot simply be granted impunity because of political expediency," he said.

U.N. Secretary-General Ban Ki-moon hopes the U.S. Senate Intelligence Committee report on the CIA's harsh interrogation techniques at secret overseas facilities is the "start of a process" toward prosecutions, because the "prohibition against torture is absolute," Ban's spokesman said.

Ben Emmerson, the U.N.'s special rapporteur on counterterrorism and human rights, said the report released Tuesday shows "there was a clear policy orchestrated at a high level within the Bush administration, which allowed (it) to commit systematic crimes and gross violations of international human rights law."  http://www.huffingtonpost.com/2014/12/10/un-us-torture_n_6300864.html
The USA continues to lose much of what it hopes is its 'moral high ground.'  I saw someone on the news last night who once worked for the CIA basically defending what was done.
Look at what John the Baptist taught the soldiers who were, in essence, the occupying 'police' of Judea:
2…the word of God came unto John the son of Zacharias in the wilderness. 3 And he came into all the country about Jordan, preaching the baptism of repentance for the remission of sins… 14 And the soldiers likewise demanded of him, saying, And what shall we do? And he said unto them, Do violence to no man, neither accuse any falsely; and be content with your wages. (Luke 3:2-3, KJV)
Most, however, do not trust the Bible and believe that they know better.  Jesus warned "for all they that take the sword shall perish with the sword" (Matthew 26:52, KJV), at least partially showing that violence tends to lead to more violence.
Between the Snowden leaks about USA espionage and now this disclosure on torture, this is giving even certain allies of the USA concerns about the USA and its practices.
Many consider that the USA is hypocritical.  Notice the headlines of a couple of news reports today about nations that are not really allies of the USA:
Notice also the following:
December 10, 2014

"A gentleman's club for psychopaths, sociopaths, lunatics, misfits" was Pravda's verdict on the CIA following Tuesday's release detailing years of torture conducted by U.S. agents.

And the Russian newspaper wasn't alone in the strength of its condemnation. State media and regimes around the world — some accused of the egregious crimes against humanity themselves — lined up to take a swipe at America, following the Senate committee's release.

To many, it undermined U.S. efforts to prevent rights abuses conducted overseas.

"America is facing a turning point and now needs to reflect on its own human rights abuses," according to a Chinese-language article in state-owned national broadsheet Huan Qiu Bao.

The 499-page executive summary of a still-classified CIA report on torture provides Beijing with further ammunition in its ongoing spat with Washington over its own record on civil liberties. …

The stated motive behind Beijing's report, according to Chinese officials, is to observe the hypocrisy of Washington's taking of China's one-party leaders to task for quelling dissent and censoring the flow of information. …

In Iran, the country's Supreme Leader Ayatollah Ali Khamenei jumped at the opportunity to point out American hypocrisy, tweeting scorn at American human rights rhetoric. http://america.aljazeera.com/articles/2014/12/10/world-cia-torture.html
The time will come when allies of the USA will turn into enemies and take over 'an hypocritical nation' as the following shows:
5 O Assyrian, the rod of mine anger, and the staff in their hand is mine indignation.

6 I will send him against an hypocritical nation, and against the people of my wrath will I give him a charge, to take the spoil, and to take the prey, and to tread them down like the mire of the streets.

7 Howbeit he meaneth not so, neither doth his heart think so; but it is in his heart to destroy and cut off nations not a few.

8 For he saith, Are not my princes altogether kings?

9 Is not Calno as Carchemish? is not Hamath as Arpad? is not Samaria as Damascus?

10 As my hand hath found the kingdoms of the idols, and whose graven images did excel them of Jerusalem and of Samaria;

11 Shall I not, as I have done unto Samaria and her idols, so do to Jerusalem and her idols? (Isaiah 10:5-11, KJV)
Various end time prophecies for 'Samaria' specifically are pointing to the USA (see Anglo – America in Prophecy & the Lost Tribes of Israel and also Spiritual Samaritans: Old and New).
The hypocrisy of the USA on many matters (such as it accumulating debt when it tells other nations not to do the same) is not going to remain little noticed.
During the time of 'Jacob's trouble' (Jeremiah 30:7), Great Tribulation (Matthew 24;21; watch also the short video, the USA will not fare well (see also Anglo – America in Prophecy & the Lost Tribes of Israel).
World War III is getting closer (see World War III: Steps in Progress), and the USA keeps taking steps that will turn enough of the world against it that it will lose (cf. Daniel 11:39).
But it will not be in 2015 (watch the short video: Can the Great Tribulation Begin in 2015?).
Some items of possibly related interest may include:
Anglo – America in Prophecy & the Lost Tribes of Israel Are the Americans, Canadians, English, Scottish, Welsh, Australians, Anglo-Saxon (non-Dutch) Southern Africans, and New Zealanders descendants of Joseph? Where are the lost ten-tribes of Israel? Who are the lost tribes of Israel? What will happen to Jerusalem and the Jews in Israel? Will God punish the U.S.A., Canada, United Kingdom, and other Anglo-Saxon nations? Why might God allow them to be punished first? Here is a link to the Spanish version of this article: Anglo-América & las Tribus Perdidas de Israel. Information is also in the YouTube sermons titled Where are the Ten Lost Tribes? Why does it matter? and British are the Covenant People. A short YouTube of prophetic interest may be Barack Obama and the State of the Apocalypse.
Will the Anglo-Saxon Nations be Divided and Have People Taken as Slaves? Will the lands of the United States, United Kingdom, Canada, Australia, and New Zealand be divided? What about Jerusalem? What does Bible prophecy teach? Are there non-biblical prophecies that support this idea? Who will divide those lands? Who will end up with the lands and the people? Here is a link to a video titled Will the USA and other Anglo-nations be Divided and Their People Made Slaves? Here is a related item in the Spanish language ¿Serán divididas las naciones anglosajonas?
British are the Covenant People What do 'British' and 'Britain' mean in Hebrew? Are the descendants of the Anglo-Saxons people of the covenant? Does the British royal family connect to the throne of David? What does the Bible teach? What does history show us? Is there any DNA evidence related to British-Israelism? When did Christianity make it to the British Isles? Could Jeremiah have made it to the British Isles? What type of Christians made it to the British Isles? Did the last King of England believe in British Israelism? Will God punish the U.S.A., Canada, United Kingdom, and other Anglo nations? Why might God allow them to be punished first?
World War III: Steps in Progress Are there surprising actions going on now that are leading to WWIII? Might a nuclear attack be expected? Does the Bible promise protection to all or only some Christians? How can you be part of those that will be protected? A related video would be Is World War III About to Begin? Can You Escape?
The Snowden Leaks are Leading to the Destruction of the USA Can what happened with the leaks of what the NSA has done help the USA to be taken over? What does the Bible teach that seems to be related to this? Here is a related YouTube video titled Are the Snowden NSA leaks leading to the destruction of the USA?
Spiritual Samaritans: Old and New Who were the Samaritans? Do the represent true Christianity or something else?
Barack Obama, Prophecy, and the Destruction of the United States-Second Edition for Second Obama Term This is a 160 page book for people truly interested in prophecies related to Barack Obama and the United States, including learning about many that have already been fulfilled (which the book documents in detail) and those that will be fulfilled in the future. It also has a chapter about a Republican choice. This book is available to order at www.barackobamaprophecy.com. The physical book can also be purchased at Amazon from the following link: Barack Obama, Prophecy, and the Destruction of the United States: Is Barack Obama Fulfilling Biblical, Islamic, Catholic, Kenyan, and other America-Related Prophecies? What About Republican Leaders? Second Edition for Second Obama Term.
Barack Obama, Prophecy, and the Destruction of the United States-Second Term-Amazon Kindle edition. This electronic version is available for only US$2.99. And you do not need an actual Kindle device to read it. Why? Amazon will allow you to download it to almost any device: Please click HERE to download one of Amazon s Free Reader Apps. After you go to for your free Kindle reader and then go to Barack Obama, Prophecy, and the Destruction of the United States-Second Term-Amazon Kindle edition.