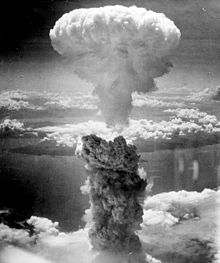 Nagasaki Nuclear Bomb (1945)
Various analysts, including some generally favorable to the Obama Administration, have concluded that Iran was (or at least seems to be) the real winner in the interim nuclear deal that was reached last week:
December 2, 2013

The six-month deal is a mixed bag. On the positive side it stems the tide of Iranian nuclearisation by setting its clock slightly back, temporarily capping Iran's nuclear facilities, array of centrifuges and stockpile of low-enriched uranium, and improving the monitoring regime. On the other hand, Iranian enrichment has been accepted as part of the endgame; the clock in the uranium and plutonium tracks continues to tick, albeit at a slower pace; Iran's stockpile of low-enriched uranium (enough for at least five bombs) remains intact; Iranian concessions are all reversible; and International Atomic Energy Agency concerns about military dimensions have not been addressed. It remains to be seen whether the sanctions relief will entice Iran to make further concessions in the final deal or will erode the sanctions regime as a whole.  http://www.theguardian.com/commentisfree/2013/dec/01/israel-new-focus-iran-nuclear-endgame

The Washington Post has come out against the deal that was signed between Iran and the West in Geneva last weekend…

"What the White House didn't report is that the text of the accord makes several major concessions to Tehran on the terms of a planned second-stage agreement," said The Washington Post.

"Though White House officials and Secretary of State John F. Kerry repeatedly said that Iran's assertion of a 'right to enrich' uranium would not be recognized in an interim deal, the text says the 'comprehensive solution' will 'involve a mutually defined enrichment program with mutually agreed parameters.'

"In other words," warned the newspaper, "the United States and its partners have already agreed that Iranian enrichment activity will continue indefinitely. In contrast, a long-standing U.S. demand that an underground enrichment facility be closed is not mentioned."

Furthermore, the editorial pointed out, "Obama and other U.S. officials have spoken about a six-month time frame for completing negotiations, but the agreement says the six-month arrangement can be renewed 'by mutual consent' and that 'the parties aim to conclude negotiating and commence implementing [in] no more than one year.'  http://www.israelnationalnews.com/News/News.aspx/174656#.Up0UQyfrsx0

In Geneva, the participants came to the talks with different goals: The Americans and Europeans wanted an agreement; the Iranians wanted nukes. Each party got what it came for. Before the deal, the mullahs' existing facilities were said to be within four to seven weeks of nuclear "breakout"; under the new constraints, they'll be eight to nine weeks from breakout. In return, they get formal international recognition of their enrichment program, and the gutting of sanctions — and everything they already have is, as they say over at Obamacare, grandfathered in.

Many pundits reached for the obvious appeasement analogies, but Bret Stephens in the Wall Street Journal argued that Geneva is actually worse than Munich. In 1938, facing a German seizure of the Sudetenland, the French and British prime ministers were negotiating with Berlin from a position of profound military weakness: It's easy to despise Chamberlain with the benefit of hindsight, less easy to give an honest answer as to what one would have done differently playing a weak hand across the table from Hitler 75 years ago. This time round, a superpower and its allies accounting for over 50 percent of the planet's military spending was facing a militarily insignificant country with a ruined economy and no more than two to three months' worth of hard currency — and they gave it everything it wanted. 

http://nationalreview.com/article/365132/surrender-geneva-mark-steyn
Israel is very upset with the deal.  Its Prime Minister even complained to Pope Francis about it:
December 2, 2013

Israeli PM warns Pope over Iran nuclear deal
After the deal was announced on 11/24/13, I wrote a post that stated:
US President Obama mentioned that some validly have concerns about Iran, despite the deal it agreed to.  And that is correct.  What this deal really does is give Iran some economic relief and time to upgrade its technology, while it agrees to get rid of some of its underdeveloped nuclear waste and centrifuges.  This, in theory at least, will give Iran more money and more time to work on its nuclear technology, and at some point it time, it will likely not allow (officially or surreptitiously) inspectors to see some of what will be its newer, more advanced nuclear capacity. (Iran makes nuclear deal that Obama praises: Israel and Saudi Arabia are not pleased)
I also wrote an article titled Iran in Prophecy, and put together a related YouTube video also titled Iran In Prophecy.
We will see how this current 'interim' deal will play out.  So, far it appears to be (carnally-speaking) a good deal for Iran.  However, in the long-run, Iran will likely suffer for decisions it will make, at least partially because of this deal.
That being said, parts of this deal put the USA itself at risk for terrorist attacks from 'dirty bombs' (bombs that have radioactive components) and possibly nuclear bombs in the future.
Iran is not truly placated.  The top leadership of Iran has a Shi'ite Muslim agenda, which they have concluded includes causing chaos and war.  I, for one, do not believe that Iran's leaders have given up on their goals of Islamic domination.
Some items of possibly related interest may include:
Iran in Prophecy Is Iran in Bible prophecy? If so, what does the Bible teach? What names, other than Persia, may be used to describe Iran? There is also a YouTube video titled Iran in Prophecy. Here is a related video Iran In Prophecy.
Is the Future King of the South Rising Up? Some no longer believe there needs to be a future King of the South. Might Egypt, Islam, Iran, Arabs, or Ethiopia be involved? Might this King be called the Mahdi or Caliph? What does the Bible say? A YouTube video of related interest may be: The Future King of the South is Rising.
The Arab and Islamic World In the Bible, History, and Prophecy The Bible discusses the origins of the Arab world and discusses the Middle East in prophecy. What is ahead for the Middle East and those who follow Islam? What about the Imam Mahdi? What lies ahead for Turkey, Iran, and the other non-Arabic Muslims? An item of possibly related interest in the Spanish language would be: Líderes iraníes condenan la hipocresía de Occidente y declaran que ahora es tiempo para prepararse para el Armagedón, la guerra, y el Imán Mahdi. Another article related to Iran translated into the Spanish language is: Irán y líderes israelíes discuten las intenciones nucleares de Irán.
Damascus and Syria in Prophecy Will Bashar Assad hold power as he has it? Does the Bible show that Damascus, the capital of Syria, will be destroyed? What will happen to Syria? Will the Syrians support the final King of the South that the Bible tells will rise up? Which scriptures discuss the rise and fall of an Arabic confederation? Does Islamic prophecy predict the destruction of Syria. This is a YouTube video.
Jerusalem To be divided and eliminated Many want Jerusalem. Who does the Bible teach will control Jerusalem? Will the Jews be forced out of Jerusalem and many made captive? What did Jesus teach about this? Are nations even now considering providing the prophesied armies to surround Jerusalem? What is Jerusalem Day? What is Nakba Day? What events should Christians watch in Jerusalem as signs that the Great Tribulation will begin? What is the solution to Jerusalem? This is a video.
Jerusalem: Past, Present, and Future What does the Bible say about Jerusalem and its future? Is Jerusalem going to be divided and eliminated? Is Jesus returning to the area of Jerusalem?
Anglo – America in Prophecy & the Lost Tribes of Israel Are the Americans, Canadians, English, Scottish, Welsh, Australians, Anglo (non-Dutch) Southern Africans, and New Zealanders descendants of Joseph? Where are the lost ten-tribes of Israel? Who are the lost tribes of Israel? What will happen to Jerusalem and the Jews in Israel? Will God punish the U.S.A., Canada, United Kingdom, and other Anglo nations? Why might God allow them to be punished first?
Who is the King of the West? Why is there no End-Time King of the West in Bible Prophecy? Is the United States the King of the West?
When Will the Great Tribulation Begin? 2014, 2015, or 2016? Can the Great Tribulation begin today? What happens before the Great Tribulation in the "beginning of sorrows"? What is the seven-year deal? What happens in the Great Tribulation and the Day of the Lord? Is this the time of the Gentiles? When is the earliest that the Great Tribulation can begin? What is the Day of the Lord? Who are the 144,000?
Barack Obama, Prophecy, and the Destruction of the United States-Second Edition for Second Obama Term This is a 160 page book for people truly interested in prophecies related to Barack Obama and the United States, including learning about many that have already been fulfilled (which the book documents in detail) and those that will be fulfilled in the future. It also has a chapter about a Republican choice. This book is available to order at www.barackobamaprophecy.com. The physical book can also be purchased at Amazon from the following link: Barack Obama, Prophecy, and the Destruction of the United States: Is Barack Obama Fulfilling Biblical, Islamic Catholic, Kenyan, and other America-Related Prophecies? What About Republican Leaders? Second Edition for Second Obama Term.
Barack Obama, Prophecy, and the Destruction of the United States-Second Term-Amazon Kindle edition. This electronic version is available for only US$2.99. And you do not need an actual Kindle device to read it. Why? Amazon will allow you to download it to almost any device: Please click HERE to download one of Amazon s Free Reader Apps. After you go to for your free Kindle reader and then go to Barack Obama, Prophecy, and the Destruction of the United States-Second Term-Amazon Kindle edition.