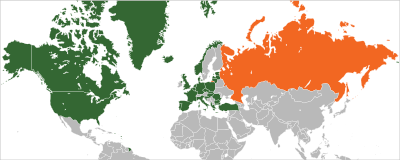 NATO in Green, Russia in Orange (Crimea should also be orange)

Back on April 29, 2016, I reported that some "in Sweden and Finland are looking into possible NATO (North Atlantic Treaty Organization) membership."
This has accelerated since Russia began bombing parts of Ukraine:
NATO Talks for Finland, Sweden on 'Good Track'
May 15, 2022

BERLIN — 

Talks to overcome Turkey's misgivings about the expected NATO membership bids of Finland and Sweden were on a "good track," Croatia said Sunday, as several members of the alliance eye swift accession for the Nordic states.

"I think the discussion is on the good track and today I hope we will have a final fruitful discussion and a good outcome to show solidarity and to speak with one voice," said Croatian Foreign Minister Gordan Grlic Radman as he arrived for talks with NATO counterparts in Berlin.

The day before, the foreign ministers of Finland and Sweden had joined in talks with counterparts of the defense alliance, including Turkey, in an opportunity to directly discuss Ankara's opposition to their bids.

Turkey has long accused Nordic countries, especially Sweden, which has a strong Turkish immigrant community, of harboring extremist Kurdish groups as well as supporters of Fethullah Gulen, a U.S.-based preacher wanted over a failed 2016 coup.

At the same time, Ankara had signaled readiness to discuss the issues with the would-be NATO candidates.

Luxembourg Foreign Minister Jean Asselborn acknowledged that "Turkey is sometimes difficult," but said "the signs don't look bad" for overcoming their differences vis-a-vis the Nordic nations.

Slovakia's Foreign Minister Ivan Korcok was even more confident, saying he was "absolutely certain that we will find a solution that will meet concerns of the two countries that obviously want to join the alliance."

For the NATO members, ensuring security of the would-be applicants during the so-called "grey period" — when the application has been filed and before accession is complete — was also key.

"They should not be any in-between phase, no grey phase where it is unclear what the status actually is. And therefore the German government is making all preparations for a very rapid ratification process," said German Foreign Minister Annalena Baerbock.

Moscow's invasion of Ukraine on Feb. 24 has swung political and public opinion in Finland and neighboring Sweden in favor of NATO membership as a deterrent against Russian aggression. https://www.voanews.com/a/nato-talks-for-finland-sweden-on-good-track-/6574057.html
What about Sweden and Finland?
A look at the map shown at the beginning of this posts shows that Norway is in NATO but to its east, Sweden and Finland are not.
Norway and the Netherlands were 'neutral' in WWI, but that did not stop them from getting invaded during WWII. Sweden and Finland know this and must be wondering what their best moves may be.
Various ones believe that Finland and Sweden are descended from the tribes of Israel. Notice the identity of Finland from a Jewish source:
Finland has been identified…as…especially Issachar (Davidy Y.  The Tribes.  Rabbinical approbation: Rabbi Abraham Feld of the Maccabee Institute Jerusalem, July 4, 1993.  Russell-Davis Publishers, Hebron (Israel). The Tribes, p. 217).
Finland sits between Europe and Russia (cf. Genesis 49:14)
Notice something from the old Radio Church of God:
9. Issachar … Jacob continues: "For he saw a resting-place that it was good, and the land that it was pleasant; and he BOWED HIS SHOULDER TO BEAR, and became a SERVANT … (Gen. 49:14-15.) … not the most intelligent of animals, but it is a willing worker. Such is Finland. Finland is the ONLY nation that has voluntarily taken the full responsibility of her debts. She is today paying off a huge indemnity to Russia. Her land is pleasant and good, not extraordinarily rich. According to Deuteronomy 33:19 she derives wealth from fishing and from hidden treasures of the sand gigantic peat bogs and the finest sand for glass-making. Issachar is not a colonizing people they dwell pastorally "in tents," said Moses.

10. Naphtali represents Sweden "satisfied with favor, full with the blessings of the Lord." She is compared to a prancing hind or deer and "giveth goodly words" (Gen. 49:21). From Sweden, with a well-balanced economy, come the Nobel prizes in token to great world accomplishments. Sweden, during two world wars and the recent trouble in Palestine, sent her emissaries to speak words of conciliation and peace. The promise by Moses to possess "the sea and the south" is applicable both to ancient Nepthali and modern Sweden: notice the position of the Sea of Galilee and Baltic relative to the position of this tribe. (LOCATION OF THE TRIBES OF ISRAEL by Herman L Hoeh (ca. 1957) http://www.giveshare.org/israel/locationtribes.html)
Here is more information on those tribes straight from the Bible:
18 "Rejoice, Zebulun, in your going out, And Issachar in your tents!  …

23 And of Naphtali he said:

"O Naphtali, satisfied with favor, And full of the blessing of the Lord, Possess the west and the south." (Deuteronomy 33:18,23)
It may be of interest to note that the word translated as 'west' regarding Naphtali is also defined as roaring sea, which is how Herman Hoeh explained it. Sweden is basically on the west border of the Baltic Sea.
Now, notice something about Switzerland:
Neutral Switzerland Leans Closer to NATO in Response to Russia

May 15, 2022

BERN, SWITZERLAND — 

Switzerland's fabled neutral status is about to face its biggest test in decades, with the defense ministry tilting closer to Western military powers in response to Russia's invasion of Ukraine.

The defense ministry is drawing up a report on security options that include joint military exercises with NATO countries and "backfilling" munitions, Paelvi Pulli, head of security policy at the Swiss defense ministry told Reuters.

The details of the policy options under discussion in the government have not been previously reported.

"Ultimately, there could be changes in the way neutrality is interpreted," Pulli said in an interview last week. On a trip to Washington this week, Defense Minister Viola Amherd said Switzerland should work more closely with the U.S.-led military alliance, but not join it, Swiss media reported.

Neutrality, which kept Switzerland out of both world wars during the 20th century, was not an objective in itself, but was intended to increase Swiss security, Pulli said.

Other options include high-level and regular meetings between Swiss and NATO commanders and politicians, she said.

Moving so much closer to the alliance would mark a departure from the carefully nurtured tradition of not taking sides that its supporters say helped Switzerland prosper peacefully and maintain a special role as intermediary, including during the West's standoff with the Soviet Union.

The idea of full membership of NATO has been discussed, but whereas Sweden and Finland — countries that also have a history of neutrality – are on the verge of joining, Pulli said the report was unlikely to recommend Switzerland take that step.

The report is due to be completed by the end of September when it will go to the Swiss cabinet for consideration. https://www.voanews.com/a/neutral-switzerland-leans-closer-to-nato-in-response-to-russia-/6574071.html
Biblical prophecy shows that Gad (Switzerland) will not remain isolated as it has been:
1 And Jacob called his sons and said, "Gather together, that I may tell you what shall befall you in the last days:

2 "Gather together and hear, you sons of Jacob, And listen to Israel your father. …

19 "Gad, a troop shall tramp upon him, But he shall triumph at last. (Genesis 49:1-2, 19)
The above is an end time prophecy as it is for "the last days." It is a reference to Switzerland. A troop shall tramp Switzerland–it will be dominated, for a time, by the coming European Beast power.
The late Dr. Herman Hoeh, while part of the old Radio Church of God, wrote the following:
Gad, which means "the troop" certainly designates Switzerland the only Israelite nation in which every man is mobilized for defense. Against Gad would come the foreign troops, said Jacob, but he will "trod upon their heel." Moses declared that Gad does NOT "leap," a characteristic of the colonizing or pillaging tribes. Gad "teareth the arm, yea, the crown of the head" of the Holy Roman Empire, in whose territory "he chose a first part for himself, and there a portion of a ruler was reserved." To Gad come "the heads of the people" as they do today to Geneva. No other nation on earth so perfectly fits this description of a nation of troops. (LOCATION OF THE TRIBES OF ISRAEL by Herman L Hoeh (ca. 1950s) http://www.giveshare.org/israel/locationtribes.html)
Related to Gad, let me add the following scripture:
20 And of Gad he said: "Blessed is he who enlarges Gad; He dwells as a lion, And tears the arm and the crown of his head. 21 He provided the first part for himself, Because a lawgiver's portion was reserved there. He came with the heads of the people; He administered the justice of the Lord, And His judgments with Israel." (Deuteronomy 33:20-21)
Switzerland, Geneva particularly, has had a history of being an "international lawgiver." Note: Even though the migrations of some of the ancestors of Switzerland and Germany are similar, while some have erroneously taught that Germany is Gad, Germany has no history of being a recognized lawgiver–but instead primarily descended from Assyria (see Germany's Assyrian Roots Throughout History).
Countries like Sweden Switzerland, and Finland seem to fit some of the positive statements in Genesis 49–but they will ultimately face tests and trials from the coming European Beast power (cf. Ezekiel 5:4; 39:23,28).
While the time of Jacob's trouble (Jeremiah 30:7) does not start with their immediate punishment (Ezekiel 5:1-3 seems mainly to point to Judah, Ephraim, and Manasseh), they too will receive punishment (bolded end of verse 4):
1 "And you, son of man, take a sharp sword, take it as a barber's razor, and pass it over your head and your beard; then take scales to weigh and divide the hair. 2 You shall burn with fire one-third in the midst of the city, when the days of the siege are finished; then you shall take one-third and strike around it with the sword, and one-third you shall scatter in the wind: I will draw out a sword after them. 3 You shall also take a small number of them and bind them in the edge of your garment. 4 Then take some of them again and throw them into the midst of the fire, and burn them in the fire. From there a fire will go out into all the house of Israel. (Ezekiel 5:1-4)
The bolded portion seems to show that the rest of the house of Israel will have tribulation after the modern nations that include Israel and the Anglo-descended (USA, UK, Australia, Canada, and New Zealand) countries will essentially be gone. This would include such countries as France, Finland, Netherlands, Switzerland, Denmark, Ireland, Belgium, Luxembourg, Sweden, and Norway. The 'small number' in verse 3 appears to be about 10 percent as that is the amount that Isaiah 6:13 indicates will be left.
Many in Europe feel that Russia's actions mean that Europe should be stronger militarily and better support NATO (North Atlantic Treaty Organization). Finland and Sweden may well do that or at least, for a time, support the final European Beast power.
While most in the USA would see Finland and Sweden supporting NATO and/or a unified Europe as a positive, the reality is that the stronger Europe becomes militarily, the weaker, relatively speaking, the USA becomes (cf. Daniel 11:39).
NATO Has a Lot of European Leadership
Many do not realize is that the USA does not control NATO like it did until several years ago. Initially, and basically for decades, NATO was built up under the direction of two US supreme commanders. But the situation has changed. The USA does not have legal control over much of NATO or what it can do anymore.
The current Secretary General of NATO is Jens Stoltenberg, the former Prime Minister of Norway, who took office on 1 October 2014. The Secretary General is responsible for coordinating the workings of the alliance, serves as the head of the North Atlantic Council, and leads NATO's staff.
Of course, not all of Europe's military is part of NATO. Europe has its own 'independent' forces, like PESCO, which some wish to see expand as well as seeing the expansion of a European military industrial complex. Bizarrely, there is now a German General who commands the actual USA Army in Europe (see German general now commands the US Army in Europe).
Having Europeans command NATO as well as USA forces puts the USA in a vulnerable position any time the Europeans decide that they want to dominate and attack the USA–this is something that will be done (Isaiah 10:5-11; Daniel 11:39).
39 Thus he shall act against the strongest fortresses with a foreign god, which he shall acknowledge, and advance its glory; and he shall cause them to rule over many, and divide the land for gain. (Daniel 11:39)
The 'he' above is the King of the North, a European power. It is the USA that currently has the 'strongest fortresses.' This prophecy will affect the USA and its Anglo-Saxon descended allies.
While some have improperly concluded that Russia is the prophesied "king of the North" of Daniel 11, that is not the case. Russia, thus, is NOT biblically the power that is prophesied to takeover the USA–Europe is (Daniel 11:39; cf. Revelation 13:1-4).
However, until then, Europe will take steps to increase its influence and military strength. Technology may be its key (see European Technology and the Beast of Revelation). Sweden and Finland have sometimes been known for their technological developments.
As 'NATO' and Europe strengthen, this will put the USA in a position that it will later regret (cf. Daniel 11:39). Some of the actions by Russia are pushing the Europeans in that direction and may well be factors in getting Sweden and Finland to at least militarily support the final European Beast power (Sweden and Finland are currently in the European Union).
Some items of related interest may include:
Europa, the Beast, and Revelation Where did Europe get its name? What might Europe have to do with the Book of Revelation? What about "the Beast"? Is an emerging European power "the daughter of Babylon"? What is ahead for Europe? Here is a link to a video titled: Can You Prove that the Beast to Come is European?
European Technology and the Beast of Revelation Will the coming European Beast power would use and develop technology that will result in the taking over of the USA and its Anglo-Saxon allies? Is this possible? What does the Bible teach? Here is a related YouTube video: Military Technology and the Beast of Revelation.
Must the Ten Kings of Revelation 17:12 Rule over Ten Currently Existing Nations? Some claim that these passages refer to a gathering of 10 currently existing nations together, while one group teaches that this is referring to 11 nations getting together. Is that what Revelation 17:12-13 refers to? The ramifications of misunderstanding this are enormous. A related sermon is titled Ten Kings of Revelation and the Great Tribulation.
Might German Baron Karl-Theodor zu Guttenberg become the King of the North? Is the former German Defense Minister (who is also the former German Minister for Economics and Technology) one to watch? What do Catholic, Byzantine, and biblical prophecies suggest? A video of related interest would be: Karl-Theodor zu Guttenberg and Europe's Future.
Germany's Assyrian Roots Throughout History Are the Germanic peoples descended from Asshur of the Bible? Have there been real Christians in Germanic history? What about the "Holy Roman Empire"? There is also a You-Tube video sermon on this titled Germany's Biblical Origins.
Germany in Biblical Prophecy Does Assyria in the Bible equate to an end time power inhabiting the area of the old Roman Empire? What does prophecy say Germany will do and what does it say will happen to most of the German people? Here are links to two sermon videos Germany in Bible Prophecy and The Rise of the Germanic Beast Power of Prophecy.
Anglo – America in Prophecy & the Lost Tribes of Israel Are the Americans, Canadians, English, Scottish, Welsh, Australians, Anglo-Saxon (non-Dutch) Southern Africans, and New Zealanders descendants of Joseph? Where are the lost ten-tribes of Israel? Who are the lost tribes of Israel? What will happen to Jerusalem and the Jews in Israel? Will God punish the U.S.A., Canada, United Kingdom, and other Anglo-Saxon nations? Why might God allow them to be punished first? Here is a link to the Spanish version of this article: Anglo-América & las Tribus Perdidas de Israel. Information is also in the YouTube sermons titled Where are the Ten Lost Tribes? Why does it matter? and British are the Covenant People. A short YouTube of prophetic interest may be: Are Chinese threats against Australia for real?
Will the Anglo-Saxon-Celtic Nations be Divided and Have People Taken as Slaves? Will the lands of the United States, United Kingdom, Canada, Australia, and New Zealand be divided? What about Jerusalem? What does Bible prophecy teach? Are there non-biblical prophecies that support this idea? Who will divide those lands? Who will end up with the lands and the people? Here is a link to a video titled Will the USA and other Anglo-nations be Divided and Their People Made Slaves? Here is a related item in the Spanish language ¿Serán divididas las naciones anglosajonas?
British are the Covenant People What do 'British' and 'Britain' mean in Hebrew? Are the descendants of the Anglo-Saxons people of the covenant? Does the British royal family connect to the throne of David? What does the Bible teach? What does history show us? Is there any DNA evidence related to British-Israelism? When did Christianity make it to the British Isles? Could Jeremiah have made it to the British Isles? What type of Christians made it to the British Isles? Did the last King of England believe in British Israelism?
Canada in Prophecy: What Does Bible Prophecy,Roman Catholic Prophecy, and other Predictions Suggest About the Future of Canada? There are prophecies that suggest involvement with Canada. And many are not positive about its future. A sermon of related interest is also available: Canada in Prophecy.
Australia and New Zealand in Prophecy Do biblical prophecies help explain the wealth blessings for Australia and New Zealand? Might cursings from disobedience come in the 21st century? Here is a link to a related sermon: Australia and New Zealand: Origins and Prophecy.
The 'Lost Tribe' of Reuben: France in Prophecy? What is the origin of this in France? What is prophesied to happen to them? A two-part sermon related to history and prophecy is available online: The 'Lost Tribe' of Reuben and France and Prophecy.
Ten clues tying Belgium and Luxembourg with the tribe of Asher Who did some in Belgium and Luxembourg descend from?
Ten clues tying Zebulun with the Dutch Who did some in the Netherlands descend from?
Ten Prophetic Clues Concerning Naphtali – Sweden Do the Swedes have any ties to the biblical tribe of Naphtali? Some think so
'Ten Prophetic Clues Concerning Dan – the Irish' Not part of the '144,000' Could the Irish and Danes have descent from the tribe of Dan?
Could Switzerland be descended from Gad? Is it really prepared for what is prophecied? This article has clues.
When Will the Great Tribulation Begin? 2022, 2023, or 2024? Can the Great Tribulation begin today? What happens before the Great Tribulation in the "beginning of sorrows"? What happens in the Great Tribulation and the Day of the Lord? Is this the time of the Gentiles? When is the earliest that the Great Tribulation can begin? What is the Day of the Lord? Who are the 144,000? Here is a version of the article in the Spanish language: ¿Puede la Gran Tribulación comenzar en el 2020 o 2021? ¿Es el Tiempo de los Gentiles? A related video is: Great Tribulation: 2026 or 2027? A shorter video is: Can the Great Tribulation start in 2022 or 2023? Here is a video in the Spanish language: Es El 2021 el año de La Gran Tribulación o el Grande Reseteo Financiero.
USA in Prophecy: The Strongest Fortresses Can you point to scriptures, like Daniel 11:39, that point to the USA in the 21st century? This article does. Two related sermon are available: Identifying the USA and its Destruction in Prophecy and Do these 7 prophesies point to the end of the USA?
Who is the King of the West? Why is there no Final End-Time King of the West in Bible Prophecy? Is the United States the King of the West? Here is a version in the Spanish language: ¿Quién es el Rey del Occidente? ¿Por qué no hay un Rey del Occidente en la profecía del tiempo del fin? A related sermon is also available: The Bible, the USA, and the King of the West.
Who is the King of the North? Is there one? Do biblical and Roman Catholic prophecies for the Great Monarch point to the same leader? Should he be followed? Who will be the King of the North discussed in Daniel 11? Is a nuclear attack prophesied to happen to the English-speaking peoples of the United States, Great Britain, Canada, Australia, and New Zealand? When do the 1335 days, 1290 days, and 1260 days (the time, times, and half a time) of Daniel 12 begin? When does the Bible show that economic collapse will affect the United States? In the Spanish language check out ¿Quién es el Rey del Norte? Here are links to two related videos: The King of the North is Alive: What to Look Out For and The Future King of the North.
The Great Monarch: Biblical and Greco-Roman Catholic Prophecies Is the 'Great Monarch' of Greco-Roman Catholic prophecies endorsed or condemned by the Bible? Two sermons of related interest are also available: Great Monarch: Messiah or False Christ? and Great Monarch in 50+ Beast Prophecies.
Is God Calling You? This booklet discusses topics including calling, election, and selection. If God is calling you, how will you respond? Here is are links to related sermons: Christian Election: Is God Calling YOU? and Predestination and Your Selection. A short animation is also available: Is God Calling You?
Christian Repentance Do you know what repentance is? Is it really necessary for salvation? Two related sermons about this are also available: Real Repentance and Real Christian Repentance.
The Gospel of the Kingdom of God This free online pdf booklet has answers many questions people have about the Gospel of the Kingdom of God and explains why it is the solution to the issues the world is facing. Here are links to four related sermons: The Fantastic Gospel of the Kingdom of God!, The World's False Gospel, The Gospel of the Kingdom: From the New and Old Testaments, and The Kingdom of God is the Solution