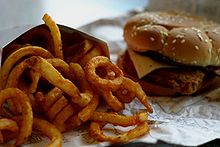 Western 'fast food' (ebru)
A report confirms something that I have long known:
The globalization of Western eating habits is bad for human health and for the environment, according to a new study in the journal Nature.

In the study, David Tilman, a University of Minnesota ecology professor, analyzed data from 100 countries to chart what people ate and how diet affected health. He noted a trend beginning in the 1960s: As nations industrialized, population increased and incomes rose. More people began to adopt the so-called Western diet, one high in refined sugar, fat, oil and meat.

People began to get fatter and sicker.

"The excess in the 15 richest nations of the world right now," Tilman said, "is on the order of about 400 or 500 extra calories a day beyond what people need, and that leads people to gain weight."

Overweight people are at greater risk for noncommunicable diseases such as diabetes, heart disease and some cancers, Tilman said.

"Diabetes is shooting to very high rates in the United States and across Europe," he said. "Heart disease is a major cause of mortality in the Western countries. And unfortunately, when people become industrialized, if they adopt this Western diet, they are going to have these same health impacts, and in some cases if you are Asian, you have them more severely than even happens in the West."

Effect in China

That's the case in China, where diabetes has skyrocked from less than 1 percent to 10 percent of the population having diabetes over a 20-year period.

"It has not leveled off yet. It is still going up," Tilman said. "And that is happening all across the world, in Mexico, in Nigeria and so on, in nation after nation."

The diet bad for humans is also bad for the environment, he said. …

Land use change also promotes species extinction and loss of biodiversity.

Tilman said reducing the Western diet's adverse impact on human health and the environment is one of the greatest challenges facing humanity. http://www.voanews.com/content/study-western-diet-bad-human-health-environment/2520952.html
The study cited above did not really focus on Genetically-Modified Organisms (GMOs) as a part of the 'Western' diet, but this, of itself, is also a massive risk to human health and the planet (see GMOs and Bible Prophecy).
Having traveled around the world, I have been disappointed with seeing the relative success of junk foods and other items from the West.  I strongly recall how disappointed I was when our family was in Malaysia back in 1997 and I saw the amount of junk food that was consumed there.
The increase of problems such as diabetes and obesity in the West and other parts of the world is a result of consuming not only too much, but too much of highly processed "foods."
As far as the environment goes (see also The Bible, Christians, and the Environment), a lot of Western farming practices are eliminating biodiversity.  This is dangerous for many reasons, including increased risk for disastrous famines that could be caused by pestilences and/or changes in the weather (see also Weather Blessings and Sorrows).
There are a lot of questionable items in the Western diet that are supposed to be food.

Furthermore, the Bible warns about eating things that are not really food:
2 Why do you spend money for what is not bread,
And your wages for what does not satisfy?
Listen carefully to Me, and eat what is good (Isaiah 55:2).
Refined processed "breads," refined and artificial sweeteners, chemical additives, and some other items commonly associated with junk foods and hydrogenated fats would seem to be consistent with that warning.
What should you eat? You should eat real food and be careful about your quantities.
2…Listen carefully to Me, and eat what is good (Isaiah 55:2).
People should try to eat real, not artificial, foods.  And not too much.
The Bible itself warns about obesity, getting fat, and excessive eating.  Notice some of what Moses and Jeremiah wrote:
15 You grew fat, you grew thick,
You are obese!
Then he forsook God who made him,
And scornfully esteemed the Rock of his salvation.
16 They provoked Him to jealousy with foreign gods;
With abominations they provoked Him to anger. (Deuteronomy 32:15-16)

11 "Because you were glad, because you rejoiced,
You destroyers of My heritage,
Because you have grown fat like a heifer threshing grain,
And you bellow like bulls,
12 Your mother shall be deeply ashamed;
She who bore you shall be ashamed.
Behold, the least of the nations shall be a wilderness,
A dry land and a desert. (Jeremiah 50:11-12)
There are massive problems with obesity in the world today.
Many in the West are not setting the right example when it comes to diet and this does not bode well for the world in the future (Matthew 24:4-22; Revelation 6:5-8).  Not all outside the West care for certain aspects of Western diets (watch American foods that gross out foreigners), but sadly, many have picked up a lot of bad dietary habits which have had Western influence.
Some items of possibly related interest may include:
American foods that gross out foreigners A study done in the Fall of 2014 found out which foods that non-USA Americans considered weird or gross that Americans eat. This video discusses those foods, ingredients in some of those foods, and warns against consuming 'that which is not bread' (Isaiah 55:2). Dr. Thiel also warns about synthetic vitamins and some of the issues associated with them. He also discusses something promoted by the late Seventh-day Adventist, Dr. John Harvey Kellogg.  This is a video.  A partially related written post is titled American 'foods' that gross out foreigners.
Four Horsemen of the Apocalypse What do each of the four horseman of the Apocalypse represent? Have they began their ride? Did Jesus discuss the any of this? Might their rides coincide with the "beginning of sorrows? Do they start their ride prior to the Great Tribulation? Did Nostradamus or any other 'private prophets' write predictions that may mislead people so that they may not understand the truth of one or more of the four horseman? There is also a related YouTube video titled The Four Horsemen of the Apocalypse.
Obesity, processed foods, health risks, and the Bible Does the Bible warn about the consequences of being obese? Is overeating dangerous? Is gluttony condemned? What diseases are associated with eating too much refined foods?
Eating Right, Eating Too Much, and Prophecy Are there disadvantages to being overweight? Is junk food really bad for you? Does the Bible discuss overeating and/or obesity? Is overeating having an effect on the US military? What are the ramifications of personal and national health for overeating? What should you eat? This is a sermonette-length YouTubevideo.
GMOs and Bible Prophecy What are GMOs? Since they were not in the food supply until 1994, how could they possibly relate to Bible prophecy? Do GMOs put the USA and others at risk? Here is a related YouTube video GMO Risks and the Bible.
Chimeras: Has Science Crossed the Line? What are chimeras? Has science crossed the line? Does the Bible give any clues?
Ten Simple Rules that Lead to Health Herbert Armstrong gives his opinions on this.
Does God Heal Today? What does the Bible teach? Herbert Armstrong tries to explain this.
UK Study Supports Daniel Diet Daniel and his companions looked better eating more vegetables and avoiding strange meats. Has modern science confirmed this?
The New Testament Church and Unclean Meats Are foods considered to have been unclean in the Old Testament considered to be food in the New Testament? This article discusses this from the perspective of the New Testament. It also has a list of clean and unclean animals. It also answers the question, is pork healthy or is pork dangerous? There is also a sermon-length video on this: Christians and Unclean Meats.
The Bible, Christians, and the Environment How should Christians view the environment? Does the Bible give any clues? What are some of the effects of air, water, and land pollution? Is environmental pollution a factor in autism and death? Do pollutants seem to double the autism risk? What will Jesus do? A YouTube video is available titled Air Pollution, Autism, and Prophecy.
Weather Blessings and Sorrows Are weather problems a warning? What should be done? What does the Bible teach about weather? What about floods, droughts, heat, earthquakes, tornadoes, and solar storms? Here is a related YouTube video Does God Use Weather? A related item in the Spanish language would be Bendiciones y maldiciones del clima.
Asia in Prophecy What is Ahead for Asia? Who are the "Kings of the East"? What will happen to nearly all the Chinese, Russians, Indians, and others of Asia? China in prophecy, where? Who has the 200,000,000 man army related to Armageddon? A YouTube video of interest may be Is China THE Threat to the United States of America?
Anglo – America in Prophecy & the Lost Tribes of Israel Are the Americans, Canadians, English, Scottish, Welsh, Australians, Anglo-Saxon (non-Dutch) Southern Africans, and New Zealanders descendants of Joseph? Where are the lost ten-tribes of Israel? Who are the lost tribes of Israel? What will happen to Jerusalem and the Jews in Israel? Will God punish the U.S.A., Canada, United Kingdom, and other Anglo-Saxon nations? Why might God allow them to be punished first? Here is a link to the Spanish version of this article: Anglo-América & las Tribus Perdidas de Israel. Information is also in the YouTube sermons titled Where are the Ten Lost Tribes? Why does it matter? and British are the Covenant People. A short YouTube of prophetic interest may be Barack Obama and the State of the Apocalypse.
Will the Anglo-Saxon Nations be Divided and Have People Taken as Slaves? Will the lands of the United States, United Kingdom, Canada, Australia, and New Zealand be divided? What about Jerusalem? What does Bible prophecy teach? Are there non-biblical prophecies that support this idea? Who will divide those lands? Who will end up with the lands and the people? Here is a link to a video titled Will the USA and other Anglo-nations be Divided and Their People Made Slaves? Here is a related item in the Spanish language ¿Serán divididas las naciones anglosajonas?
Barack Obama, Prophecy, and the Destruction of the United States-Second Edition for Second Obama Term This is a 160 page book for people truly interested in prophecies related to Barack Obama and the United States, including learning about many that have already been fulfilled (which the book documents in detail) and those that will be fulfilled in the future. It also has a chapter about a Republican choice. This book is available to order at www.barackobamaprophecy.com. The physical book can also be purchased at Amazon from the following link: Barack Obama, Prophecy, and the Destruction of the United States: Is Barack Obama Fulfilling Biblical, Islamic Catholic, Kenyan, and other America-Related Prophecies? What About Republican Leaders? Second Edition for Second Obama Term.
Barack Obama, Prophecy, and the Destruction of the United States-Second Term-Amazon Kindle edition. This electronic version is available for only US$2.99. And you do not need an actual Kindle device to read it. Why? Amazon will allow you to download it to almost any device: Please click HERE to download one of Amazon s Free Reader Apps. After you go to for your free Kindle reader and then go to Barack Obama, Prophecy, and the Destruction of the United States-Second Term-Amazon Kindle edition.