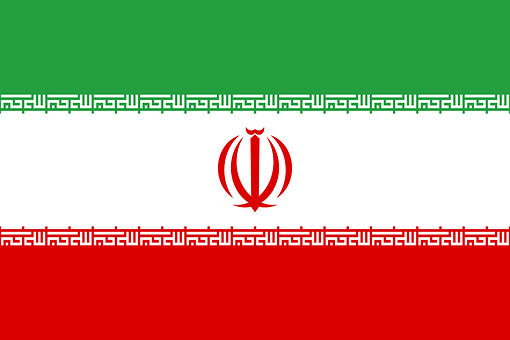 Flag of Iran (Pixabay)
ZeroHedge reported the following:
Iran Says "War With Israel Has Already Begun" Amid Fresh Covert Attacks

October 2, 2021

Amid a recent spate of covert espionage attacks on Iranian infrastructure – some publicly known and more that are possibly unknown – Iran's foreign ministry has declared that "war with Israel has already begun".

A foreign ministry spokesmen told the major Israeli national Hebrew-language daily newspaper Maariv that "Israel has carried out attacks that were intended to destroy our nuclear program for peaceful purposes." Saeed Khatibzadeh declared "the war with Israel has already begun" – in an ominous message intended as a warning to the Israeli public and leadership.

The spokesman added that Israel "has murdered nuclear scientists and harmed the Iranian people. Iran is blamed for terrorism, but there is no good or bad terrorist. The entire crisis in the region is the fault of Israel." …
In the interview Khatibzadeh also alleged that the United States too is still waging a campaign of "soft terror" through far-reaching sanctions. He said that the Iranian people are even prevented from obtaining crucial life-saving medicines through Washington sanctions. By design the US-led sanctions also pressure and punish any nation wishing to transfer goods into Iran, including European Union countries which have long taken are more sympathetic stance to the Iranians' plight. https://www.zerohedge.com/geopolitical/iran-says-war-israel-has-already-begun-amid-spate-covert-attacks
What might Iran do?
For one, it will continue to support Syrian, Hezbollah, and other efforts against Israel. It will look into cyber attacks and acts of terrorism. It will continue to plan attacks for Israel.
Furthermore, as regular readers of this page are aware, the Bible tells of damage coming to Judah (the modern nation of Israel) from a power like Iran:
5 For it is a day of trouble and treading down and perplexity By the Lord God of hosts In the Valley of Vision — Breaking down the walls And of crying to the mountain. 6 Elam bore the quiver With chariots of men and horsemen, And Kir uncovered the shield. 7 It shall come to pass that your choicest valleys Shall be full of chariots,And the horsemen shall set themselves in array at the gate.8 He removed the protection of Judah. You looked in that day to the armor of the House of the Forest; 9 You also saw the damage to the city of David, That it was great; And you gathered together the waters of the lower pool. 10 You numbered the houses of Jerusalem, And the houses you broke down To fortify the wall. (Isaiah 22:51-9)
Elam looks to be a reference to at least some in Iran and the Bible ties Syrians to Kir in several places (cf. Amos 1:5, 9:7; 2 Kings 16:). Iran is Syria's closest ally.
Hence, based on where we are in God's 6,000/7,000 year plan (see Does God Have a 6,000/7,000 Year Plan? What Year Does the 6,000 Years End?), unless he were to die or leave office prior to the completion of two-presidential terms, Ebrahim Raisi looks to be one who will be involved in the fulfillment of Isaiah 22.
Isaiah 22 shows, Israel could very well be damaged by Iran before the the Great Tribulation begins.
Would it strike back?
Undoubtedly, yes.
Could it cause massive damage to Iran?
Yes.
In view of that, consider also the following prophecy:
34 The word of the Lord that came to Jeremiah the prophet against Elam, in the beginning of the reign of Zedekiah king of Judah, saying, 35 "Thus says the Lord of hosts:

'Behold, I will break the bow of Elam,
The foremost of their might.
36 Against Elam I will bring the four winds
From the four quarters of heaven,
And scatter them toward all those winds;
There shall be no nations where the outcasts of Elam will not go.
37 For I will cause Elam to be dismayed before their enemies
And before those who seek their life.
I will bring disaster upon them,
My fierce anger,' says the Lord;
'And I will send the sword after them
Until I have consumed them.
38 I will set My throne in Elam,
And will destroy from there the king and the princes,' says the Lord. (Jeremiah 49:34-38)
I have long believed that Iran is a threat that will one day be 'neutralized,' as I believe it will overplay its hand. The above prophecy, if it has application in this time, would tend to support that.
Here is part of number 9 of my list of 21 items to prophetically watch in 2021:
Daniel 9:27 seems to be discussing some type of peace deal that the Europeans will either propose or at least one leader from Europe will endorse.

Why is this believed to be a type of 'peace deal'?

There are several reasons, but notice some other scriptures that discuss this leader:

25 And through his policy also he shall cause craft to prosper in his hand; and he shall magnify himself in his heart, and by peace shall destroy many: he shall also stand up against the Prince of princes; but he shall be broken without hand. (Daniel 8:25, KJV).

23 And after the league is made with him he shall act deceitfully, for he shall come up and become strong with a small number of people. 24 He shall enter peaceably, even into the richest places of the province; and he shall do what his fathers have not done, nor his forefathers: he shall disperse among them the plunder, spoil, and riches; and he shall devise his plans against the strongholds, but only for a time. (Daniel 11:23-24, NKJV)

So this leader gives people the impression that there will be "peace" and is involved in some type of deal. This is the same leader that confirms the covenant in Daniel 9:27. The term is translated as "peace" in Daniel 8:25 is from the Hebrew term shalvah and essentially means security. In other words, this leader will destroy "many" who are under the impression that they are secure because of some type of security and/or trade arrangement. Such arrangements are now commonly referred to as peace deals or treaties.

US President Trump, leaders in the Middle East, and leaders in Europe have all discussed various peace deals. Essentially, they tend to be advocating one similar to the deal in Daniel 9:27.

The President of Palestine, in December 2017 stated, "The United States has chosen to lose its qualification as a mediator … We will no longer accept that it has a role in the political process from now." (see Palestine's Abbas wants UN not USA, Turkey's Erdogan says recognize Palestinian Jerusalem). He made a similar statement a few days earlier after US President Donald Trump announced the official recogniton of Jerusalem as Israel's capital by the USA. Europe also denounced Donald Trump's decision, which would tend to endear them to the Palestinians (see Donald Trump announces plan to relocate US Israeli embassy to Jerusalem against torrent of world opinion).

This essentially means that Europe will be involved, and may take the lead, on this deal. So, this is something to look out for as that is consistent with biblical prophecy.

What appears most likely at this stage is the the Biden-Harris Administration will try to work with the Palestinians and Europeans to come up with something they will find acceptable and then attempt to pressure Israel to take it.

Though it may take a regional war, with the prophesied destruction coming to Jerusalem (cf. Isaiah 22:6-8) for that to happen.

If Iran is less than pleased with the Biden-Harris Administration, perhaps that could come as early as 2021–we will have to wait and see.

Once the deal is confirmed for one prophetic week (which could happen some time AFTER a deal is made) by the "prince," the seven-year countdown for the return of Jesus occurs.

But since the deal is broken in the middle of it, by the King of the North, who was once the "prince" of Daniel 9:26-27, the countdown for the Great Tribulation (Matthew 24:21) will begin. That 3 1/2 period of the Great Tribulation and the Day of the Lord is the same length of time some have calculated associated with the handwriting on the wall that Daniel wrote of in the 5th chapter of his book.
Let me also state that it may take a major regional war for the 'peace deal' of Daniel 9:27 to be ratified.
Interestingly, the Jews have an old tradition that they will end up with some type of peace related to Iran:
Kessin, who holds has a Ph.D. in psychology from Fordham University and is a noted lecturer on Jewish philosophy in the U.S., Canada, South Africa and Israel, also sees significance in the recent U.S. deal with Iran over nuclear weapons.

There is an 800-year-old rabbinic commentary known as Yalkut Shimoni, which he translates: "Paras (Persia-Iran) will be the dread of humanity. The world's leaders will be frustrated in their futile efforts to save what they can, but to no avail. The people of Israel will also be petrified by the impending danger. And HaShem (God) will say to us, 'Why are you afraid? All of this I have done in order to bring you the awaited redemption. And this redemption will not be like the redemption from Egypt, which was followed by suffering. This redemption will be absolute, followed with peace.'" …

"We have now entered the countdown to the messiah, which is unbelievable," Kessin said.(Rabbi: Blood moons mean 'messianic advancement'. World News Daily, August 30, 2015. http://www.wnd.com/2015/08/rabbi-blood-moons-mean-messianic-advancement/#PvyBhDZJ5CBl3mwm.99)
So Jews, based on tradition, may believe that after conflict with Iran, Israel will have peace. Now a temporal peace deal, like the one related to Daniel 9:27 (see also The 'Peace Deal' of Daniel 9:27), could come after a regional war involving Iran, Israel, and possibly Syria and/or the USA. The existence of the Jewish tradition may incline the Jews to accept a timed peace deal which will NOT turn out well for the tiny nation of Israel (cf. Daniel 9:27; 11:31).
However, the Bible itself shows that this deal will be broken (Daniel 9:27) and the King of the North will invade Jerusalem (Daniel 11:31) and this will not turn out well for the tiny nation of Israel.
Iran, Syria, and Israel may one day be in a major regional war in the future. And the prophesied coming 'peace deal' will not bring real peace.
We are getting much closer to that time.
We will see if the war that has begun will soon turn into a major "hot" one.
In other Iranian related news, WND reported the following:
Iran promotes Kamala's approval of student accusing Israel of 'genocide'

October 2, 2021

Vice President Kamala Harris' affirmation of a university student who accused Israel of "ethnic genocide" was featured by the social media account for the Iranian state television channel Press TV.

The female student at George Mason University in Virginia, who described herself as part-Yemeni, part-Iranian and "not an American," told Harris during a Q&A session on the campus that she was "hurt" by the U.S.'s decision to fund Israel's Iron Dome missile defense system. …

"I see that over the summer, there have been protests and demonstrations in astronomical numbers standing with Palestine," the student said. "But then, just a few days ago, there were funds allocated to continue backing Israel, which hurts my heart because it's ethnic genocide and displacement of people, the same that happened in America, and I'm sure you're aware of this." …

Harris said that she was "glad" the student spoke up.

"This is about the fact that your voice, your perspective, your experience, your truth, should not be suppressed and it must be heard, right? And one of the things we're fighting for in a democracy, right?"

David Friedman, who was President Trump's ambassador to Israel, called Harris' reply to the student an "attack" on the Jewish state. https://www.wnd.com/2021/10/iran-promotes-kamalas-approval-student-accusing-israel-genocide/
So, Iran has used Kamala's statements. Kamala Harris wants to become President of the United States, but this incident has not helped her.
Nor do the Iranians care for her, despite trying to use/misuse her statements.
Some items of possibly related interest may include:
Iran in Prophecy Is Iran in Bible prophecy? If so, what does the Bible teach? What names, other than Persia, may be used to describe Iran? There is also a YouTube video titled Iran In Prophecy.
The 'Peace Deal' of Daniel 9:27 This prophecy could give up to 3 1/2 years advance notice of the coming Great Tribulation. Will most ignore or misunderstand its fulfillment? Here is a link to a related sermon video Daniel 9:27 and the Start of the Great Tribulation.
How Will Middle East Peace be Brought About? Can humans bring peace to the Middle East? Here is a link to a related video: Middle East Peace? When?
Damascus and Syria in Prophecy Will Bashar Assad hold power as he has it? Does the Bible show that Damascus, the capital of Syria, will be destroyed? What will happen to Syria? Will the Syrians support the final King of the South that the Bible tells will rise up? Which scriptures discuss the rise and fall of an Arabic confederation? Does Islamic prophecy predict the destruction of Syria.
21 items to prophetically watch in 2021 Much is happening. Dr. Thiel points to 21 items to watch (cf. Mark 13:37) in this article. Here is a link to a related sermon video: 21 Items to Watch in 2021.
Does God Have a 6,000 Year Plan? What Year Does the 6,000 Years End? Was a 6000 year time allowed for humans to rule followed by a literal thousand year reign of Christ on Earth taught by the early Christians? Does God have 7,000 year plan? What year may the six thousand years of human rule end? When will Jesus return? 2028 or or 2031 or 20xx? There is also a video titled 6000 Years: When will God's Kingdom Come? Here is a link to the article in Spanish: ¿Tiene Dios un plan de 6,000 años?
Biden-Harris: Prophecies and Destruction Can the USA survive two full presidential terms? In what ways are Joe Biden and Kamala Harris apocalyptic? This book has hundreds of prophecies and scriptures to provide details.  A Kindle version is also available and you do not need an actual Kindle device to read it. Why? Amazon will allow you to download it to almost any device: Please click HERE to download one of Amazon s Free Reader Apps. After you go to your free Kindle reader app (or if you already have one or a Kindle),  you can go to: Biden-Harris: Prophecies and Destruction (Kindle) to get the book in seconds.