📱👉It's the pandemic v the pingdemic.

They look much the same, they feel much the same, they even sound much the same. But there are differences…

Thread 👇 pic.twitter.com/EEvg8MoWFr

— The Telegraph (@Telegraph) July 23, 2021
There have been shortages of food on shelves in UK grocery stores:
'Pingdemic' Triggers Widespread Panic Hoarding At UK Supermarkets

July 23, 2021

Britain's supermarkets are struggling to ensure adequate food supply after reports of panic hoarding due to what the British press calls "ping-demic" – a reference to being "pinged" by the NHS test-and-trace system.

We noted on Monday that ping-demic was likely to "lead to food shortages," and that is precisely what is happening today.

The NHS app sent a half-million alerts last week, notifying users they have to quarantine for ten days because of possible close contact with someone who tested positive for COVID-19.

This has caused a supply chain shock and disruptions as hundreds of thousands of people panic buy food and fuel to survive the quarantine.

British newspapers and social media users published pictures of empty supermarket shelves. …

The ping-demic comes after Prime Minister Boris Johnson lifted the remaining COVID-linked restrictions on movement and business at midnight on Monday, finally allowing people to move about more or less freely, even as new COVID cases are climbing in the UK and much of the EU. https://www.zerohedge.com/covid-19/pingdemic-triggers-widespread-panic-hoarding-uk-supermarkets
Yes, people will hoard if they are afraid that they might run out of food.
It happened in places around the world last year related to COVID concerns.
Notice the following photographs that my wife took at a local grocery store last year: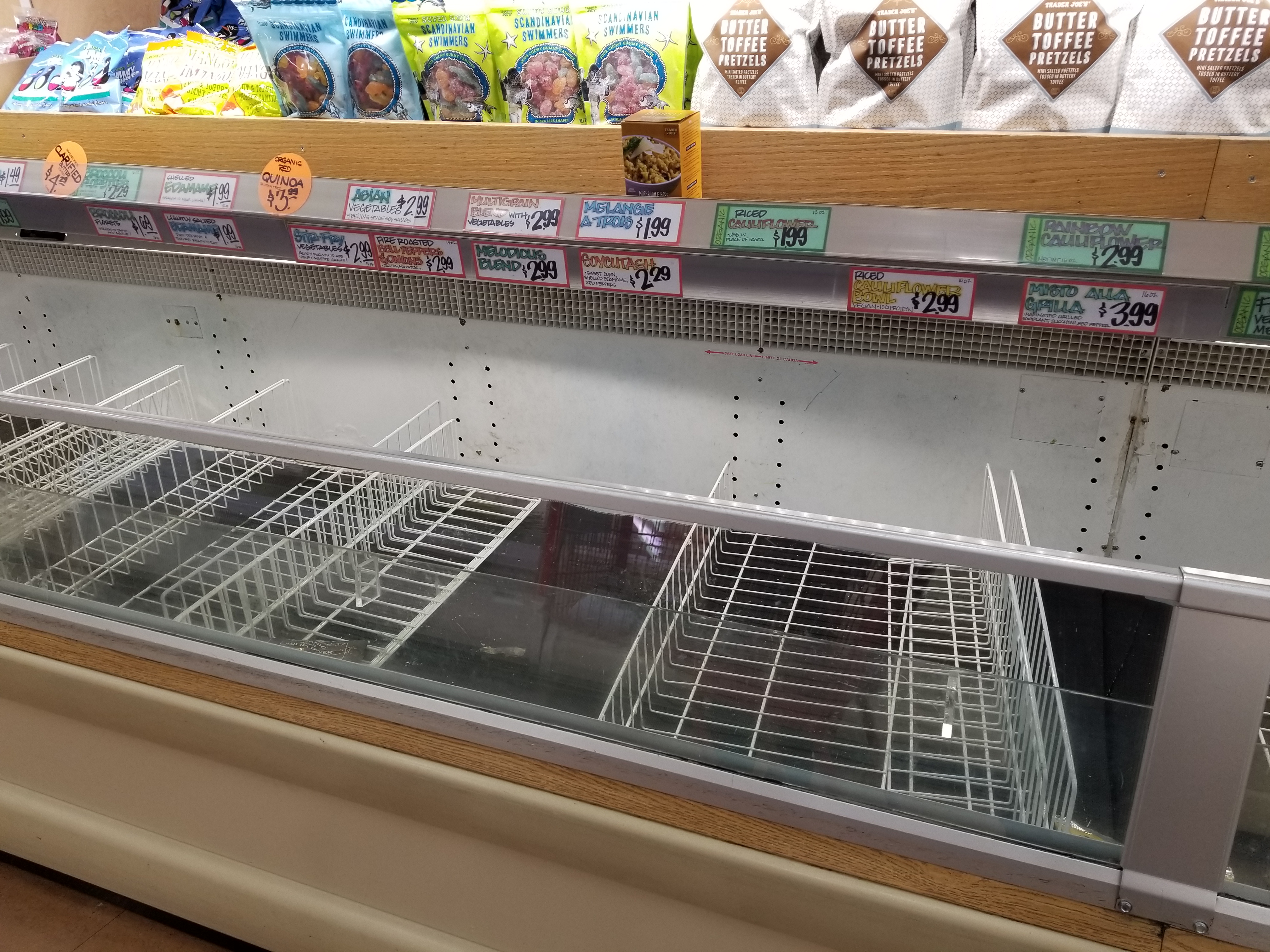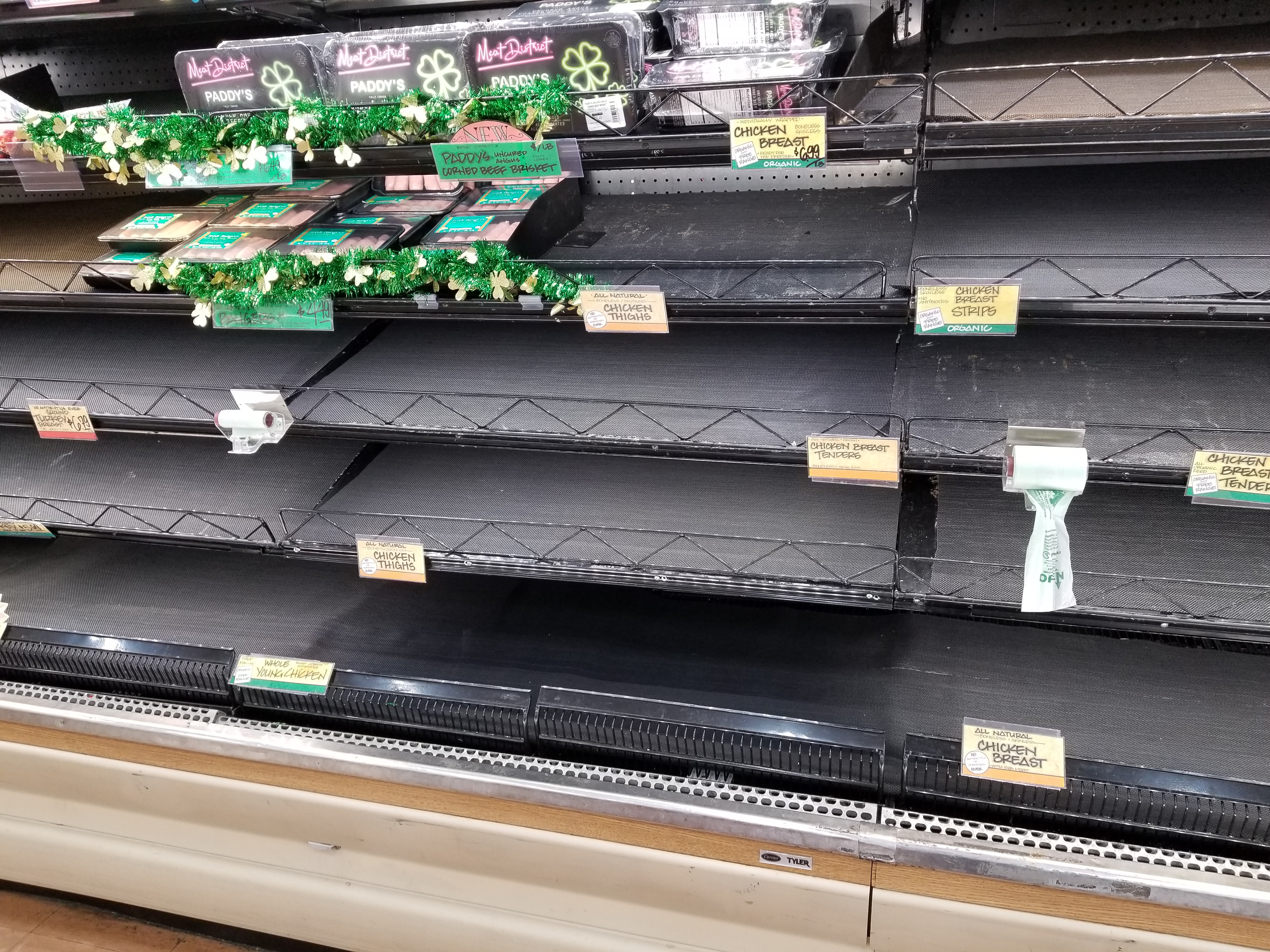 Trader Joes, Arroyo Grande CA (Joyce Thiel photos 03/15/20)
While the USA is often considered to be the land of plenty, its dependence on deliveries, etc. is showing people that shortages can quickly happen here.
And as the 'pingdemic' shows, the UK is not immune.
Back in 1966, the old Radio Church of God put out an article that warned of a time when famine would come and advised preparation:
God's Church knows total famine is coming. What should we do as members of the body of Christ? …

God's prophecies emphasize all facts and trends, which show that world famine is just around the corner.Only Possible Solution

What a fantastic blessing it is that there is an Almighty God in heaven. What an incomparable miracle that "Surely the Lord God will do nothing, but He revealeth His secret unto His servants the prophets" (Amos 3:7).

The rulers and planners of this world have based their predictions on the assumption that the weather and growing conditions will remain constant, and that crop yields will increase, not decrease. Not knowing God, they neglected to take prophecy into account. …
God's people know the only possible way to avert a disastrous worldwide famine is through worldwide obedience to God.Will You Suffer in Famine?

Will truly converted Christians be required to undergo the suffering of the coming famine along with the rest of the world? Is there something you can do to prevent it? …

There IS Something You Can Do

The time has come for true believers and members of the body of the Living Jesus Christ to begin thinking about and preparing to save up to "lay by him in store." Jesus Christ commands us to watch (Luke 21:36) the signs and events that were prophesied to come. They are now happening before our very eyes. It is time for us to prepare for the coming, last, worldwide famine. There are ways that all of us can lay aside supplies of food.

There are several commodities of high nutritional value that can satisfactorily and economically be stored for long periods of time. The Bible speaks of high-quality foods such as grain, honey, milk, the fatted calf, and others. The following are suggested basic staples that you will want to consider in beginning your "storehouse": wheat (or other kinds of cereal grains), honey, cheese, smoked meat, canned and frozen meats, fruits and vegetables.Do NOT Become a Pharisee

Understand thoroughly, brethren, before we go into the technical and physical details that NO MANNER OR AMOUNT OF FOOD STORAGE CAN SAVE YOU! Only God can!

If you get to looking to the physical, dedicating all your time, efforts and energies to food storage to save your physical life — then you will be the greatest loser of all time! Read Luke 9:24-25 — "For whosoever will save his life [seek to selfishly maintain his physical life at all costs] shall lose it: but whosoever will lose his life for my sake, the same shall save it. For what is a man advantaged, if he gain the whole world, and lose himself, or be cast away?"

Avoid the extremes!

Don't be super and pseudo-spiritual and declare that you are going to trust the Lord and not do anything for yourself. Remember God's admonition given through Solomon, "Go to the ant, thou sluggard; consider her ways, and be wise: Which having no guide, overseer, or ruler, Provideth her meat in the summer [the time of plenty] and gathereth her food in the harvest." (Proverbs 6:6-8.) We have been warned ahead of time and should do everything within our power to prepare, ALL THE TIME KNOWING ONLY GOD CAN SAVE US THROUGH THESE END-TIME CATASTROPHES!
And DON'T become a food fanatic! Don't look to the physical. Pray for Godly BALANCE. In fact it would be a good idea for you to do JUST THAT RIGHT NOW! (Schurter D. Prepare for Famine! Good News, April-May 1966)

Hopefully, you already have physically prepared. If not, you can try to stock up now or wait a while until food stocks get closer to normal.
Related to general preparation, two years ago we put on the following sermon on our ContinuingCOG channel:
Ants collect and store up food. But what about Christians? Should Christians make any plans for emergencies or disasters? Should they save in order to give an inheritance? Should Christian work and provide? Who will God help? As far as finances go, will the US dollar collapse? What about gold and silver? Are preppers right? Should you head to New Zealand? Is fleeing to the mountains going to be safe? Do you remember what happened to the Granite Mountain Hot Shots? Will a 'rapture' save Christians? Are there multiple groups of Christians in the end times? If so, which are promised protection by Jesus? Should Christians be 'independent' or should they "gather together" as Zephaniah teaches? Are there physical steps Christians should take?
In the Continuing Church of God, we have always advised that people have several days to several weeks supply of food, water, and other items that they may need in an emergency.
That is consistent with scripture.
The 1966 Radio Church of God article mentioned prophets.
Last year, an accuser of the brethren, who calls himself "Tonto" posted the following related to me and the coronavirus at the anti-COG site Banned by HWA :
Tonto said…

If Thiel was such a great prophet, then why didn't he specifically and directly warn the world about this coronavirus several weeks ago?
One or more others at that website also made similar comments since then.
Yet, I specifically warned about risks associated with the coronavirus in 2013 (see Coronavirus: A new risk for humans? and Saudi Arabia warning visitors to Mecca about coronavirus risk) and 2014 (see Saudi Arabia, MERS, and Missiles and Infection-gate: A dangerous scandal hitting the USA?). Additionally, I have also warned also about human engineered pathogens without mentioning the coronavirus in 2018 (see DARPA to weaponize insects to spread viruses across the population… sinister plans exposed by team of scientists) and 2019 (see DARPA: 'Militarized Microbes' To Spread GMO Bacteria). Humans messing around with viruses, like what was being officially done in Wuhan, poses risks. And I have warned about those risks, including research involving the coronavirus for years.
Now, it may be that God is using COVID-19 to send a message to all, but especially end time Christians not to be complacent but to wake up and properly support the work.
Consider the following from the Apostle Paul:
11 And do this, knowing the time, that now it is high time to awake out of sleep; for now our salvation is nearer than when we first believed. 12 The night is far spent, the day is at hand. Therefore let us cast off the works of darkness, and let us put on the armor of light. (Romans 13:11-12)
Now is the time to take action.
Notice the following admonitions from Jesus:
1 "And to the angel of the church in Sardis write,

'These things says He who has the seven Spirits of God and the seven stars: "I know your works, that you have a name that you are alive, but you are dead. 2 Be watchful, and strengthen the things which remain, that are ready to die, for I have not found your works perfect before God. 3 Remember therefore how you have received and heard; hold fast and repent. Therefore if you will not watch, I will come upon you as a thief, and you will not know what hour I will come upon you. (Revelation 3:1-3)

14 "And to the angel of the church of the Laodiceans write,

'These things says the Amen, the Faithful and True Witness, the Beginning of the creation of God: 15 "I know your works, that you are neither cold nor hot. I could wish you were cold or hot. 16 So then, because you are lukewarm, and neither cold nor hot, I will vomit you out of My mouth. 17 Because you say, 'I am rich, have become wealthy, and have need of nothing' — and do not know that you are wretched, miserable, poor, blind, and naked — 18 I counsel you to buy from Me gold refined in the fire, that you may be rich; and white garments, that you may be clothed, that the shame of your nakedness may not be revealed; and anoint your eyes with eye salve, that you may see. 19 As many as I love, I rebuke and chasten. Therefore be zealous and repent. 20 Behold, I stand at the door and knock. If anyone hears My voice and opens the door, I will come in to him and dine with him, and he with Me. (Revelation 3:14-21)

33 Take heed, watch and pray; for you do not know when the time is. 34 It is like a man going to a far country, who left his house and gave authority to his servants, and to each his work, and commanded the doorkeeper to watch. 35 Watch therefore, for you do not know when the master of the house is coming — in the evening, at midnight, at the crowing of the rooster, or in the morning — 36 lest, coming suddenly, he find you sleeping. 37 And what I say to you, I say to all: Watch!" (Mark 13:33-37)
Jesus is telling those of Sardis to watch. Eleven translations at BibleHub.com instead of "watch" use the expression "Wake up."
Now, one of the steps that the US government is doing related to COVID-19 is to increase debt, since the US Treasury is basically debt notes–hence any increased federal government spending increases debt.
Consider the following:
2 Then the Lord answered me and said:

"Write the vision
And make it plain on tablets,
That he may run who reads it.
3 For the vision is yet for an appointed time;
But at the end it will speak, and it will not lie.
Though it tarries, wait for it;
Because it will surely come,
It will not tarry. (Habakkuk 2:2-3)
To run means to take immediate steps when you see the prophecy a few verses down in Habakkuk being fulfilled.
Notice that the above is saying that something really, really bad will happen in the appointed time of the end. What is coming will be so bad that the time will come when people should run/flee when it does happen. The time will come when those Philadelphians who understand Habakkuk 2 in its proper time-frame will flee.
So, what is this prophecy related to?
Debt.
Notice what else the Prophet Habakkuk was inspired to record:
6 "Will not all these take up a proverb against him,
And a taunting riddle against him, and say,
'Woe to him who increases
What is not his — how long?
And to him who loads himself with many pledges'?
7 Will not your creditors rise up suddenly?
Will they not awaken who oppress you?
And you will become their booty.
8 Because you have plundered many nations,
All the remnant of the people shall plunder you,
Because of men's blood
And the violence of the land and the city,
And of all who dwell in it. (Habakkuk 2:6-8)
Habakkuk 2 teaches that the time will come when people should flee from this indebted nation–the most indebted nation in the history of humanity is the USA–and the UK has one of the world's per capita debt!
And both have increased debt since COVID-19 became an issue.
The time take action is now!
Some believe that they are waiting for Jesus and will know and take the right steps at the last minute. But that is a wrong and foolish attitude to have. Notice what Jesus taught about some people like that:
1 "Then the kingdom of heaven shall be likened to ten virgins who took their lamps and went out to meet the bridegroom. 2 Now five of them were wise, and five were foolish. 3 Those who were foolish took their lamps and took no oil with them, 4 but the wise took oil in their vessels with their lamps. 5 But while the bridegroom was delayed, they all slumbered and slept.

6 "And at midnight a cry was heard: 'Behold, the bridegroom is coming; go out to meet him!' 7 Then all those virgins arose and trimmed their lamps. 8 And the foolish said to the wise, 'Give us some of your oil, for our lamps are going out.' 9 But the wise answered, saying, 'No, lest there should not be enough for us and you; but go rather to those who sell, and buy for yourselves.' 10 And while they went to buy, the bridegroom came, and those who were ready went in with him to the wedding; and the door was shut.

11 "Afterward the other virgins came also, saying, 'Lord, Lord, open to us!' 12 But he answered and said, 'Assuredly, I say to you, I do not know you.'

13 "Watch therefore, for you know neither the day nor the hour in which the Son of Man is coming. (Matthew 25:1-13)
DO NOT THINK YOU WILL BE SO SMART YOU WILL KNOW ON YOUR OWN. Strive to be a true Philadelphian Christian as those Christians are the only one Jesus promised to "will keep you from the hour of trial which shall come upon the whole world, to test those who dwell on the earth" (Revelation 3:10).
We have also repeatedly warned people that we are getting closer to the end and to not wait to become a Philadelphian Christian and support the end time remnant of the Philadelphian era as we lead the final phase of the work while we prepare for the 'short work' that will help be the final fulfillment of Matthew 24:14.
If you are not doing so, please see this COVID-19 pingdemic situation as a spark to motivate you to do so.
Lockdowns, empty store shelves, severe travel restrictions, discouragement of using physical currency, event closures, masks, etc. should show all that things can change quickly.
Many have called for some type of a 'reset' to further change humanity (see Is a Great Reset Coming?).
And the ease of which governments around the world have implemented controls should be a sign to all that the government of the coming Beast power will implement the type of financial and other controls that the Bible says he will.
Some items of possibly related interest may include:
Four Horsemen of the Apocalypse What do each of the four horseman of the Apocalypse represent? Have they began their ride? Did Jesus discuss the any of this? Might their rides coincide with the "beginning of sorrows? Do they start their ride prior to the Great Tribulation? Did Nostradamus or any other 'private prophets' write predictions that may mislead people so that they may not understand the truth of one or more of the four horseman? There is also a related YouTube video titled Sorrows and the Four Horsemen of the Apocalypse.
Fourth Horseman of the Apocalypse What is the pale horse of death and pestilences? What will it bring and when? Here is a link to a related sermon:
Fourth Horseman, COVID, and the Rise of the Beast of Revelation. Here is a version of that sermon in Spanish: El Cuarto Caballo, El COVID y El Surgimiento de la Bestia del Apocalipsis. Some shorter related videos may include Amphibian Apocalypse: Threat to Humans? and Zombie Deer Disease is Here! Are the 10 Plagues on Egypt Coming? Here is a version of the article in Spanish: El cuarto jinete de Apocalipsis, el caballo pálido de muerte y pestilencia.
COVID-19 Leading to 666? The novel coronavirus of Wuhan, China fame, is now called COVID-19. It has also been called the 'Coronapocalypse.' Does COVID-19 have any prophetic ramifications? What did Jesus teach about pestilences and sorrows in the Olivet prophecy in Matthew 24? Could COVID-19 be the ride of the fourth horseman of the Apocalypse? Why was this type of disease expected according to the Old Testament prophecies in Deuteronomy and Leviticus? What has the US Centers for Disease Control warned about? What has the CDC reported about the flu? Were there lessons about fear and infections in the 2011 movie 'Contagion'? Because of COVID-19, the World Health Organization (WHO), nation of Iran, and certain French locations are telling people not to use cash, but instead electronic forms of payment. The US Federal Reserve is now quarantining money repatriated from Asia to reduce the potential spread of the coronavirus on US currency bills. Is COVID-19 worse than we have been told or could this all be a 'false flag' event to encourage people to move towards a cashless society? If the thousands of deaths associated with COVID-19 are pushing parts of the world towards cashlessness, how much more likely will the ride of the fourth horseman and over a billion human deaths motivate people to move to making electronic payments that can be monitored? The Bible tells of a soon coming society that controls buying and selling to force allegiance to a coming European Beast power, known as 666 (Revelation 13:16-18). Does the 'great tribulation' begin before ride of the fourth horseman or with the opening of the fifth seal of Revelation 6? Do the words of Jesus helps us better understand the sequence of the four horsemen of the Apocalypse and the start of the Great Tribulation? Will the ride of the fourth horseman help lead to the rise of 666? Is that ride very close? Dr. Thiel addresses these issues and more in this video.
Biological Warfare and Prophecy Is biological warfare possible? Was it prophesied? Scientists have long warned that pathogenic organisms like the coronavirus could be weaponized. Furthermore, back in 2017, there were concerns that the biological research facility being constructed in Wuhan, China was risky and that a coronavirus from it could be released. On January 25, 2020, China's President Xi Jinping publicly stated that the situation with the Wuhan-related strain of the coronavirus was grave. Did Church of God writers like the late evangelist Raymond McNair warn that engineered viruses (the "Doomsday bug") were consistent with prophecies from Jesus? Did a warning from CCOG leader Bob Thiel warn about risks of genetically-modified (GMO) mosquitoes come to pass? Could human research and/or the consumption of biblically-unclean animals such as bats and snakes be a factor in current outbreaks or coming future pestilences? What about famines? How devastating have pestilences been? How devastating are the prophesied ones going to be? Dr. Thiel addresses these issues and more in this video.
Fourth Horseman of the Apocalypse What is the pale horse of death and pestilences? What will it bring and when? Some related videos may include Amphibian Apocalypse: Threat to Humans?, Zombie Deer Disease is Here! Are the 10 Plagues on Egypt Coming?, and Biological Warfare and Prophecy. Here is a version of the article in Spanish: El cuarto jinete de Apocalipsis, el caballo pálido de muerte y pestilencia.
There is a Place of Safety for the Philadelphians. Why it May Be Petra This article discusses a biblical 'place of safety' and includes quotes from the Bible and Herbert W. Armstrong on this subject–thus, there is a biblically supported alternative to the rapture theory. There is also a video on the subject: Might Petra be the Place of Safety? Here is something related in the Spanish language: Hay un lugar de seguridad para los Filadelfinos. ¿Puede ser Petra?
Physical Preparation Scriptures for Christians. We all know the Bible prophecies famines. Should we do something? Here is a version in the Spanish language Escrituras sobre Preparación física para los Cristianos. Here is a link to a related sermon: Physical preparedness for Christians.
Does God Have a 6,000 Year Plan? What Year Does the 6,000 Years End? Was a 6000 year time allowed for humans to rule followed by a literal thousand year reign of Christ on Earth taught by the early Christians? Does God have 7,000 year plan? What year may the six thousand years of human rule end? When will Jesus return? 2029 or 20xx? There is also a video titled The 6000 Year Plan: Is the end of humanity's reign almost up? Here is a link to the article in Spanish: ¿Tiene Dios un plan de 6,000 años?
Attending the Church of Choice This article discusses whose choice is important to worship God; should you attend the church of your choice or the church of God's choice?
Unity: Which COG for You? Why so many groups? Why is there lack of unity in the Churches of God? Has it always been this way? What can/should be done about it? Here is a link to a related sermon: Church of God Unity. Here is a related article in the Spanish language: Unidad: ¿Cuál Iglesia de Dios para usted?
Anglo – America in Prophecy & the Lost Tribes of Israel Are the Americans, Canadians, English, Scottish, Welsh, Australians, Anglo-Saxon (non-Dutch) Southern Africans, and New Zealanders descendants of Joseph? Where are the lost ten-tribes of Israel? Who are the lost tribes of Israel? What will happen to Jerusalem and the Jews in Israel? Will God punish the U.S.A., Canada, United Kingdom, and other Anglo-Saxon nations? Why might God allow them to be punished first? Here is a link to the Spanish version of this article: Anglo-América & las Tribus Perdidas de Israel. Information is also in the YouTube sermons titled Where are the Ten Lost Tribes? Why does it matter? and British are the Covenant People. A short YouTube of prophetic interest may be: Are Chinese threats against Australia for real?
Will the Anglo-Saxon-Celtic Nations be Divided and Have People Taken as Slaves? Will the lands of the United States, United Kingdom, Canada, Australia, and New Zealand be divided? What about Jerusalem? What does Bible prophecy teach? Are there non-biblical prophecies that support this idea? Who will divide those lands? Who will end up with the lands and the people? Here is a link to a video titled Will the USA and other Anglo-nations be Divided and Their People Made Slaves? Here is a related item in the Spanish language ¿Serán divididas las naciones anglosajonas?
The Philadelphia Remnant: It's All About Love This is what CCOG teaches. It is important to remember. A related video is available: Nairobi Conference: All About Love.
What is a True Philadelphian? Many claim to be part of the Philadelphia era of the Church, but is claiming enough? This article has biblical and historical evidence about who really are the Philadelphians.
Are the Laodiceans the Modern Sadducees and Pharisees? Discusses similarities of the Sadducees and Pharisees to various COGs in this end-time.
Spiritual Samaritans: Old and New Who were the Samaritans? Do the represent true Christianity or something else? Here is a link to a related sermon: USA in Prophecy: Samaria.
Does the CCOG have the confirmed signs of Acts 2:17-18? Does any church have the confirmed dream and prophetic signs of Acts 2:17-18? Should one? Here is a link in the Spanish language: ¿Tiene la CCOG confirmadas las señales de Hechos 2: 17-18? Here is a link in the French language: Est-ce que l'Église Continue de Dieu confirme les signes d'Actes 2:17-18? A related sermon in the English language is also available: 17 Last Days' Signs of the Holy Spirit.
Church of God Leaders on Prophets Have there been prophets throughout the church age? Are any supposed to be around in the last days? What have COG leaders stated or written about prophets? Here is a link to a related sermon: Church of God Leaders on Prophets.
How To Determine If Someone is a True Prophet of God There are many false prophets. How can Christians determine who is a true prophet? There is also a sermon-length video titled How to determine if someone is a true prophet of God. Here is a related link in Spanish/español: ¿Cómo determinar si alguien es un verdadero profeta de Dios?
Herbert W. Armstrong, the Philadelphia Church, & the Mantle Herbert Armstrong claims God had him raise the Philadelphia up. Are there reasons to believe that the Philadelphia mantle in now within the CCOG? Here is a link to a related sermon: Herbert W. Armstrong and the Philadelphia Mantle.
The Philadelphia Church Era was predominant circa 1933 A.D. to 1986 A.D. The old Radio Church of God and old Worldwide Church of God, now essentially the most faithful in the Church of God, which is best represented by the Continuing Church of God.
When Will the Great Tribulation Begin? 2021, 2022, or 2023? Can the Great Tribulation begin today? What happens before the Great Tribulation in the "beginning of sorrows"? What happens in the Great Tribulation and the Day of the Lord? Is this the time of the Gentiles? When is the earliest that the Great Tribulation can begin? What is the Day of the Lord? Who are the 144,000? Here is a version of the article in the Spanish language: ¿Puede la Gran Tribulación comenzar en el 2020 o 2021? ¿Es el Tiempo de los Gentiles? A related video is: Great Tribulation: 2026 or 2027? Here is a video in the Spanish language: Es El 2021 el año  de La Gran Tribulación o el Grande Reseteo Financiero.
Is a Great Reset Coming? Klaus Schwab of the World Economic Forum has proposed a societal change that has been basically endorsed by the Vatican and many world leaders. Does the Bible prophesy a major reset? Here is a link to a related video: Will there be a "Great Reset"?