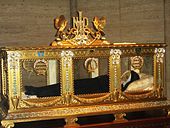 Bernadette Soubirous (Rabanus Flavus)

In Lourdes, France another 'miracle' was ascribed to the waters there:
Lourdes, France, Jul 22, 2013 / 10:20 am (

CNA/EWTN News

).- The famous Marian shrine in Lourdes, France has received an official declaration from the Bishop of Pavia, Italy stating that the 69th miracle has taken place there.

"I have the joy of reporting to everyone my healing, which just a few days ago was approved as a miracle by my bishop, which is a beautiful thing," said Mrs. Danila Castelli, who experienced the miracle on May 4, 1989 after visiting the baths in Lourdes. http://www.catholicnewsagency.com/news/lourdes-officially-records-69th-miracle
In the 19th century, a nun named Bernadette Soubirous (who is also famous for her what some refer to as "incorruptibility" which is a limited decay of the flesh after death) had visions of a "Lady" that many falsely believe was Jesus' mother Mary, in Lourdes, France. On 18 February of 1858, she claimed that "vision" asked her to return to a particular grotto every day for a two weeks and Bernadette passed on various messages that she claimed to have received.  Her shrine is a popular destination for certain Catholics.
My experience with talking to some suggests that one of the reasons that some affiliated with Rome will not see the truth about certain matters is because they rely on physical signs and wonders as proof that their church has God's favor, hence they often believe that this validates their church's positions overall.
While the Bible does teach about healing, and there are spontaneous 'healings' as the body can heal itself  of many things (including many of those that the medical profession does not believe possible), there is no way that Mary, the mother of Jesus, directly healed this woman.  What appeared in Lourdes was not Mary.
Here is some of what my book Fatima Shock! said about the Lourdes apparition:
In the 19th century, there was a female apparition in France, known as the Lady of Lourdes. One of the statements she reportedly stated in 1858 was, "I am the Immaculate Conception!"

Now this is an unusual and biblically contradictory idea as the Bible teaches that all have sinned (Roman 3:23) except Jesus (Hebrews 4:15), as He is the only one who had a biblically immaculate conception, but not the Marian kind.

For non-Catholics, let me explain that what became an extra-biblical Catholic doctrine was that Mary was conceived unlike all other humans and free of what many refer to as "original sin." Specifically this "dogma" has been explained in Dr. Ludwig Ott's 20th century book Fundamentals of Catholic Dogma as:

"Mary's freedom of original sin was an unmerited gift of God, and an exception from the law that was vouchsafed to her only."

His book also teaches:

The doctrine of the Immaculate Conception of Mary is not explicitly revealed in scripture… Neither the Greek nor the Latin Fathers explicitly (explicite) teach the Immaculate Conception of Mary.

So where did it come from?…Jumping forward to the 12th century, a British monk Eadmer began to promote the idea of an Immaculate Conception of Mary. When he did so, "St. Bernard of Clairvaux… (about 1140), warned the faithful that this was an unfounded innovation…"

So was the Catholic saint Bernard wrong in condemning Monk Eadmer's heresy here? Of course not! Others, at least as late as the 17th century supported Bernard's position on this. (Fatima Shock! pp. 85-86)

Eastern Signs and Faiths

While "Mary" is known throughout the Middle East and West, she is less known, though revered by some like a goddess, in Eastern religions:

Hindus, Buddhists, Muslims and other pilgrims regularly worship at famous Roman Catholic shrines to the Virgin Mary such as Lourdes in France and Fatima in Portugal…Many venerate her like one of their own goddesses…(Fatima Shock! p. 188)

There is a prophecy that indicates that certain end-time Marian supporters will eliminate Protestantism:

Saint Louis de Montfort (18th century): These great souls…singularly devouted to our Blessed Lady… shall fight, overthrow and crush the heretics with their heresies, the schismatics with their schisms…

Yet, some Protestant leaders have gotten more accepting of Marian aspects of faith:

Archbishop Williams…said…at Lourdes that when Mary appeared to St. Bernadette Soubirous in 1858 "she came at first as an anonymous figure, a beautiful lady, a mysterious thing, not yet identified as the Lord's spotless mother…" he said. The Archbishop later was criticized by the England-based Protestant Truth Society, a group of Anglicans and non-conformists committed to upholding the ideals of the Protestant Reformation…Jeremy Brooks, the group's director of ministry, said: "All true Protestants will be appalled that the Archbishop of Canterbury has visited Lourdes and preached there. "Lourdes represents everything about Roman Catholicism that the Protestant Reformation rejected, including apparitions, Mariolatry and the veneration of saints…The archbishop's…sermon — which included a reference to Mary as 'the mother of God' — is a complete denial of Protestant orthodoxy."

Protestants need to understand that by eliminating heresies, Catholic prophecies sometimes specifically mean the elimination of Protestantism. Mary was not called the "Mother of God" by early faithful Christians or those who kept their practices. (Fatima Shock! pp. 219-220)
Mary is not one to pray to or to entrust oneself to–including Catholics, Hindus, etc.
Jesus is (see also Jesus: The Son of God and Saviour or Jesus: Son of God and Saviour watch ).
The Bible warns of signs and lying wonders and that many will be deceived by them:
8 And then the lawless one will be revealed, whom the Lord will consume with the breath of His mouth and destroy with the brightness of His coming. 9 The coming of the lawless one is according to the working of Satan, with all power, signs, and lying wonders, 10 and with all unrighteous deception among those who perish, because they did not receive the love of the truth, that they might be saved. 11 And for this reason God will send them strong delusion, that they should believe the lie, 12 that they all may be condemned who did not believe the truth but had pleasure in unrighteousness.   (2 Thessalonians 2:8-12)

24 For false christs and false prophets will rise and show great signs and wonders to deceive, if possible, even the elect.  (Matthew 24:24)
Yet, there is a great tendency within the Church of Rome to rely on signs, apparitions, and wonders to support teachings that do not square with the Bible. All who profess Christ, including those who are COG, Catholic, Protestant, or anything else, should understand that Jesus is the center of the plan of salvation and that the Church of Rome intends to promote a further Marian reverence that will likely deceive nearly all (cf. Isaiah 47; Revelation 17-18–and this includes nearly all who profess Christ (cf. Matthew 24:24; 2 Thessalonians 2:9-12). And those who honor people such as Bernadette of Lourdes are unknowingly helping set this up.

Articles of related interest may include:
Mary, the Mother of Jesus and the Apparitions Do you know much about Mary? Are the apparitions real? What happened at Fatima? What might they mean for the rise of the ecumenical religion of Antichrist? Are Protestants moving towards Mary? How do the Orthodox view Mary? How might Mary view her adorers?
Origin of the Marian Dogmas: Where Do Catholic Scholars Say The Four Dogmas of Mary Came From?
Assumption of Mary Did Mary die? Was she taken to heaven on August 15th? What is known? What does the Bible show?
Who is the Man of Sin of 2 Thessalonians 2? Is this the King of the North, the ten-horned beast of Revelation 13:1-11, or the two-horned Beast of Revelation 13:12-16? Some rely on traditions, but what does the Bible teach? Here is a related link in Spanish/español: ¿Quién es el Hombre de Pecado de 2 Tesalonicenses 2? Here is a version in Mandarin: 主编: 谁是'大罪人'?Here is a link to a related YouTube video, in English, titled Who is the Man of Sin?
Fatima Shock! What the Vatican Does Not Want You to Know About Fatima, Dogmas of Mary, and Future Apparitions. Whether or not you believe anything happened at Fatima, if you live long enough, you will be affected by its ramifications (cf. Isaiah 47; Revelation 17). Fatima Shock! is a highly documented book by Bob Thiel for those interested in the real truth about Fatima and how future apparitions may affect the future. In addition to the print version, there is a Kindle version of Fatima Shock! which you can acquire in seconds.
Fatima Shock! YouTube Dr. Thiel highlights a few points of why no one would support Fatima, etc. as discussed in the documented book Fatima Shock!
Which Is Faithful: The Roman Catholic Church or the Continuing Church of God? Do you know that both groups shared a lot of the earliest teachings? Do you know which church changed? Do you know which group is most faithful to the teachings of the apostolic church? Which group best represents true Christianity? This documented article answers those questions.
Jesus: The Son of God and Saviour Who was Jesus? Why did He come to earth? What message did He bring? Is there evidence outside the Bible that He existed? Here is a YouTube sermon titled Jesus: Son of God and Saviour.
The History of Early Christianity Are you aware that what most people believe is not what truly happened to the true Christian church? Do you know where the early church was based? Do you know what were the doctrines of the early church? Is your faith really based upon the truth or compromise?