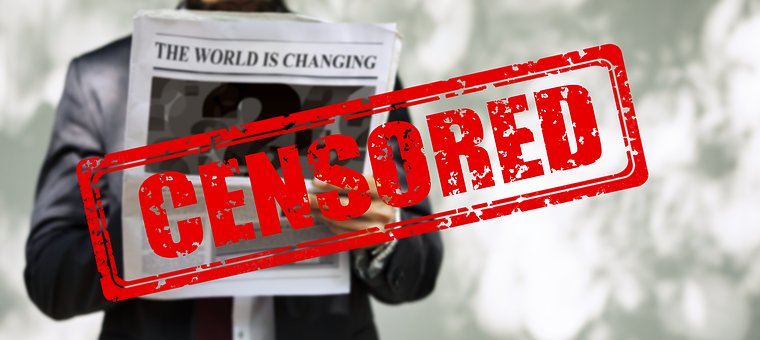 (Pixabay photo)

The world is changing and we are seeing more censorship related to religion and governmental rules. Notice the following related to Canada:
Canadian Pastor Shockingly Arrested And Put In Chains For 'Inciting People To Attend Church' In Violation Of Canada's Fascist COVID Laws

Pastor Pawlowski was arrested for violating Canada's fascist and anti-science laws against gatherings during the coronavirus outbreak. These restrictions are in place in Canada (and in many places here in the U.S.) despite the fact fully-opened states like Texas and Florida allow people to go back to normal and have done so while keeping their China Virus cases in line with lockdown states. The arrest of Pawlowski and his brother occurred just days after Canada's Health Gestapo "obtained a Court of Queen's Bench Order that applies to gatherings, including protests, demonstrations and rallies," Fox News reported. …

Let this sink down deep into your brain, and let it be a warning to you. Canadian pastor Artur Pawlowski was hunted down in the streets like a dog, knocked to the ground, placed in chains and arrested. What was the charge? The charge was 'inciting people to attend church'. Wake up, people, it's later than you think. In fact, time's up.

"For nation shall rise against nation, and kingdom against kingdom: and there shall be famines, and pestilences, and earthquakes, in divers places. All these are the beginning of sorrows. Then shall they deliver you up to be afflicted, and shall kill you: and ye shall be hated of all nations for my name's sake." Matthew 24:7-9 (KJB)

As we have told you from the beginning, COVID is a real virus that had been hijacked to bring in the New World Order by force, and as you look at Pastor Pawlowski being dragged off the street and into prison, I really don't think any more words need to be said. Today they are arrested him, tomorrow it will be you and me, all in the name of keeping the world safe from a virus with a 99.1% recovery rate. 05/10/21 https://www.nowtheendbegins.com/canadian-covid-police-arrest-christian-pastor-artur-pawlowski/
Those of us who believe in freedom of religion believe that people should be able to attend church services and that governments do not have the moral authority to prevent that.
Now, it is not just COVID rules that governments are censoring speech about.
Ecumenical News reported the following:
Christian Finnish lawmaker who opposes same-sex marriage faces potential 6-year jail term

Finland's Prosecutor General has charged Päivi Räsänen, a seventh-term Member of the Finnish Parliament and ex-chair of the Christian Democrats party, for allegedly committing crimes regarding her opinion on marriage and sexuality and she could face six years in prison.
The prosecutor determined that the statements disparage and discriminate against homosexuals, violate their equality rights and human dignity, and foment intolerance, defamation and hatred, the Helsinki Times reported on April 30.

The statements by Räsänen, a former Finland interior minister, thus breach the limits of freedom of speech and freedom of religion, according to a press release from the Office of the Finnish Prosecutor General.

One of the statements was published on the website of the Luther Foundation of Finland and the Evangelical Lutheran Mission Diocese of Finland. The two others charges, in turn, are related to statements made by the lawmaker on social media and YLE Puhe.

Räsänen, a member of the Evangelical Lutheran Church of Finland has been under investigation by police since June 2019 after questioning the leadership at the Finnish Lutheran church she attended, Christian Headlines reported.

At the time, the church had sponsored the LGBT event 'Pride 2019' by using an image with a Bible text. …

Räsänen is also a medical doctor and a grandmother and has been a member of Parliament since 1995.

She has become a prominent defender of traditional Christian views on marriage, euthanasia and abortion. Her views are considered more conservative than those in the ECLF leadership.

Räsänen has served as a Finnish Member of Parliament since 1995, was chair of the Christian Democrats from 2004-2015, and from 2011-2015 she was the Minister of the Interior, during which she held responsibility for church affairs in Finland. https://www.ecumenicalnews.com/article/christian-finnish-lawmaker-who-opposes-same-sex-marriage-faces-jail-term/60869.htm
Despite disagreements on aspects of theology, my prayers are with her and the Canadian pastor.
They should not be censored, arrested, or punished for what they are being persecuted for.
Governments, who once claimed some strong connection to Christianity, are more and more moving away from biblical principles.
They seem not to care that the Bible warns:
20 Woe unto them that call evil good, and good evil; that put darkness for light, and light for darkness; that put bitter for sweet, and sweet for bitter!

21 Woe unto them that are wise in their own eyes, and prudent in their own sight! (Isaiah 5:20-21)
Sadly, we are seeing governments doing that.
And this includes in the USA with many pushing aspects of the LGBTQ agenda–this will NOT end well (cf. Romans 1:18-32).
More censorship is coming (cf. Amos 8:11-12; see also Preparing for the 'Short Work' and The Famine of the Word).
The Bible warns about the last days that:
13 … evil men and seducers shall wax worse and worse, deceiving, and being deceived. (2 Timothy 3:13, KJV)
Sadly, we are seeing that.
More deception is coming (cf. 2 Thessalonians 2). More persecution is coming (cf. Revelation 13:15-18).
Jesus taught:
22 And you will be hated by all for My name's sake. But he who endures to the end will be saved. (Matthew 10:22)
Will you stand for the truth and endure, despite being hated by the world for doing so?
Some items of possibly related interest may include:
Preparing for the 'Short Work' and The Famine of the Word What is the 'short work' of Romans 9:28? Who is preparing for it? Here is a link to a related video sermon titled: The Short Work.
Persecutions by Church and State This article documents some that have occurred against those associated with the COGs and some prophesied to occur. Will those with the cross be the persecutors or the persecuted–this article has the shocking answer. There is also a YouTube video sermon you can watch: The Coming Persecution of the Church. Here is information in the Spanish language: Persecuciones de la Iglesia y el Estado.
COVID 19 is NOT the End, but could it be TEOTWAWKI? The novel coronavirus called COVID-19 is wreaking havoc around the world. Many states of the USA as well as countries in Europe are on lockdown with shelter in place /shelter in residence requirements. In France, a form is required when you are not at your house. In Spain, drones are being used to warn people who are outside to got back to their homes–does that bring up feelings of 'Big Brother'? Italy, France, and other areas are using police and/or military force to encourage people to stay inside. According to the Bible could this be the end? If not, what has to happen first? Have the second and third of the four horsemen of the Apocalypse started their ride? Could COVID-19 be the fourth horseman? Why or why not? Could we be seeing The End of the World as We Know It (TEOTWAWKI) like the R.E.M.'s 1987 single song discussed? Do Christians need to fear? What did Jesus teach? What did the Psalmist teach? This is a video. Here is a link to a version in the Spanish language: Corona 19 no es el final PERO es el TEOTWAWKI.
COVID-19 Leading to 666? The novel coronavirus of Wuhan, China fame, is now called COVID-19. It has also been called the 'Coronapocalypse.' Does COVID-19 have any prophetic ramifications? What did Jesus teach about pestilences and sorrows in the Olivet prophecy in Matthew 24? Could COVID-19 be the ride of the fourth horseman of the Apocalypse? Why was this type of disease expected according to the O. Here is a link to a version in the Spanish language: ld Testament prophecies in Deuteronomy and Leviticus? What has the US Centers for Disease Control warned about? What has the CDC reported about the flu? Were there lessons about fear and infections in the 2011 movie 'Contagion'? Because of COVID-19, the World Health Organization (WHO), nation of Iran, and certain French locations are telling people not to use cash, but instead electronic forms of payment. The US Federal Reserve is now quarantining money repatriated from Asia to reduce the potential spread of the coronavirus on US currency bills. Is COVID-19 worse than we have been told or could this all be a 'false flag' event to encourage people to move towards a cashless society? If the thousands of deaths associated with COVID-19 are pushing parts of the world towards cashlessness, how much more likely will the ride of the fourth horseman and over a billion human deaths motivate people to move to making electronic payments that can be monitored? The Bible tells of a soon coming society that controls buying and selling to force allegiance to a coming European Beast power, known as 666 (Revelation 13:16-18). Does the 'great tribulation' begin before ride of the fourth horseman or with the opening of the fifth seal of Revelation 6? Do the words of Jesus helps us better understand the sequence of the four horsemen of the Apocalypse and the start of the Great Tribulation? Will the ride of the fourth horseman help lead to the rise of 666? Is that ride very close? Dr. Thiel addresses these issues and more in this video. Here is a link to a version in the Spanish language: El COVID-19 ¿Conduce al 666?
Canada in Prophecy: What Does Bible Prophecy, Catholic Prophecy, and other Predictions Suggest About the Future of Canada? There are prophecies that suggest involvement with Canada. And many are not positive about its future. A sermon of related interest is also available: Canada in Prophecy.
Cross-dressing and other assaults against your children.  What should you do? Is there an agenda to turn your children and/or grandchildren away from biblical morality and towards practices promoted by homosexuals? What does the Bible teach about cross-dressing? What should parents do? If there is an agenda, what has been going on?  There are also three YouTube videos related to this, titled Transgender 'Woe to those who call evil good' and Cross dressing and Other Assaults Against Your Children and USA pushing gender confusion.
The Bible Condemns Homosexuality "Same-sex marriage" for "gays" and lesbians is becoming more acceptable to many. What does the Bible teach about homosexuality and the LGBTQ agenda?  Can homosexuals change? A related video sermon is titled: What Does the Bible Really Teach about Homosexuality? A short video is available titled: Gay Gene? Born That Way?