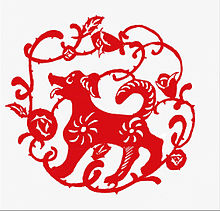 The Chinese "New Year 2018 of the Dog" is to start February 16, 2018. The Chinese New Year is based upon a lunar-solar calendar cycle. Like the biblical one, it is supposed to be somewhat related to Spring, though the Chinese one tends to begin earlier.
The Chinese New Year is basically considered to be an observance originally established to worship pagan gods and also has astrological implications (it also can involve ancestor worship). Unlike Western astrology which is supposedly based upon the astrological sign in the sky when one is born (which varies about monthly), Chinese astrology is based on being born in a particular astrological year. The Chinese have 12 astrological signs that rotate in a cycle.
The year that is ending was the year of the rooster. Thus people who are to be born between now and next year are considered to 'astrologically' be born under the sign of the year of the dog.
Here are some comments from Wikipedia about it:
Chinese New Year is an important traditional Chinese holiday celebrated on the first day of the year of the Chinese calendar. In China, it is also known as the Spring Festival, the literal translation of the modern Chinese name. Chinese New Year celebrations traditionally run from Chinese New Year's Eve, the last day of the last month of the Chinese calendar, to the Lantern Festival on the 15th day of the first month, making the festival the longest in the Chinese calendar. Because the Chinese calendar is lunisolar, the Chinese New Year is often referred to as the "Lunar New Year".

The source of Chinese New Year is itself centuries old and gains significance because of several myths and traditions. Traditionally, the festival was a time to honor deities as well as ancestors…

According to tales and legends, the beginning of Chinese New Year started with the fight against a mythical beast called the Nian (Chinese: 年; pinyin: Nián). Nian would come on the first day of New Year to eat livestock, crops, and even villagers, especially children. To protect themselves, the villagers would put food in front of their doors at the beginning of every year. It was believed that after the Nian ate the food they prepared, it wouldn't attack any more people. One day people saw that the Nian was scared away by a little child wearing red. The villagers then understood that the Nian was afraid of the color red. Time when the New Year was about to come, the villagers would hang red lanterns and red spring scrolls on windows and doors. People also used firecrackers to frighten away the Nian. From then on, Nian never came to the village again. The Nian was eventually captured by Hongjun Laozu, an ancient Taoist monk. The Nian became Hongjun Laozu's mount…

The first day is for the welcoming of the deities of the heavens and earth, officially beginning at midnight. It is a traditional practice to light fireworks, burn bamboo sticks and firecrackers and to make as much of a din as possible to chase off the evil spirits as encapsulated by nian (年) of which the term guo-nian (过年) was derived…

The second day of the Chinese New Year, known as kāinián (開年/开年, "beginning of the year"),[17] was when married daughters visited their birth parents, relatives and close friends…

The third day is known as Chìkǒu (赤口), directly translated as "red mouth". Chìkǒu is also called Chìgǒurì (赤狗日), or "Chìgǒu's Day". Chìgǒu, literally "red dog", is an epithet of "the God of Blazing Wrath" (熛怒之神). Rural villagers continue the tradition of burning paper offerings over trash fires. It is considered an unlucky day to have guests or go visiting…

In those communities that celebrate Chinese New Year for only two or three days, the fourth day is when corporate "spring dinners" kick off and business returns to normal…

This day is the God of Wealth's birthday…

The seventh day, traditionally known as Rénrì (人日, the common person's birthday), is the day when everyone grows one year older…

Eight Day Another family dinner is held to celebrate the eve of the birth of the Jade Emperor, the ruler of heaven. People normally return to work by the eighth day.the Store owners will host a lunch/dinner with their employees, thanking their employees for the work they have done for the whole year.

Approaching 12 midnight on this day, Hokkien people prepare for a Jade Emperor ritual (Bai Ti Gong or 拜天公) during which incense is burnt and food offerings made to the Jade Emperor and also to Zao Jun, the Kitchen God who reports on each family to the Jade Emperor.

Some people will hold a ritual prayer at after midnight on the eighth day. In Malaysia, especially, people light fireworks, often more than on the first day…

The ninth day of the New Year is a day for Chinese to offer prayers to the Jade Emperor of Heaven (天公, Tiāngōng) in the Daoist Pantheon.

Tenth Day The Jade Emperor's party is also celebrated on this day…

On the 13th day people will eat pure vegetarian food to clean out their stomach due to consuming too much food over the preceding two weeks…

The fifteenth day of the new year is celebrated as Yuanxiao Festival/Yuánxiāojié (元宵節), also known as Shangyuan Festival/Shàngyuánjié (上元節) or the Lantern Festival (otherwise known as Chap Goh Mei Chinese: 十五暝; pinyin: Shíwǔmíng; literally "the fifteen night" in Fujian dialect)…In Malaysia and Singapore, this day is celebrated by individuals seeking for a love partner, a different version of Valentine's Day.
Since about a fifth to a quarter of humanity is Chinese, I thought it may be important to point out the pagan implications of this holiday as it is celebrated by scattered Chinese around the world.
The Bible itself has a different start of the New Year. When speaking of the Hebrew month of Abib, which occurs around late March/early April God declared:
"This month shall be your beginning of months; it shall be the first month of the year to you" (Exodus 12:2).
And that was not January 1st nor is it the 16th of February in 2018.

Also, the Bible is opposed to astrology (cf. Isaiah 47:13-15), and would not condone being part of astrological celebrations.
The first day of the next biblical new year is March 17th for 2018, which technically begins after sunset on March 16th.
Some items of possibly related interest may include:
Origins and Practices of Chinese New Year When is the Chinese New Year? What are its origins? Should Christians observe it?
The Bible and Astrology Should Christians avoid participating in astrology or did God inspire it? Does the Bible encourage astrology? What does the Bible actually teach? What is astrology? How does astrology differ from astronomy? Should Christians Be Involved In Astrology?
OMENS? DIVINATION? HOROSCOPES? THE ORIGIN OF ASTROLOGY Where did astrology come from? Should you read your horoscope?
Does Astrology Work? Many believe and follow astrology–but does it work?
Should You Observe God's Holy Days or Demonic Holidays? This is a free pdf booklet explaining what the Bible and history shows about God's Holy Days and popular holidays.
Close Encounters of a 'Spirit' Kind discusses some experiences I believe were (demon) 'spirit' related.
Angels, Cherubim, and Seraphim This is information about various types of angelic beings.
id Early Christians Celebrate Birthdays? Did biblical era Jews celebrate birthdays? Who originally celebrated birthdays? When did many that profess Christ begin birthday celebrations? A related sermon video is available and is titled: Birthdays, Christians, and December 25th.
Valentine's Day: Its Real Origins Christianity Today suggests that Valentine's Day is good for Christians to observe. Is this true? There is also a YouTube titled Should Christians Observe Valentine's Day?
Why Were You Born? Why did God make you? Herbert W. Armstrong wrote this as a booklet on this important subject. You may also wish to read the article What is Your Destiny? or watch the video, also titled What is Your Destiny?
What is the Meaning of Life? Who does God say is happy? What is your ultimate destiny? Do you really know? Does God actually have a plan for YOU personally? There is also a video titled What is the meaning of your life?
Living as a Christian: How and Why? In what ways do Christians live differently than others. What about praying, fasting, tithing, holy days, and the world? There is also a YouTube video related to that also called: Living as a Christian: How and Why?
Is January 1st a Date for Christians Celebrate? Historical and biblical answers to this question about the world's New Year's day. A video of related interest is also available: God's or Satan's New Year?
The Dramatic Story of Chinese Sabbathkeepers This reformatted Good News article from 1955 discusses Sabbath-keeping in China in the 1800s.
China, Its Biblical Past and Future, Part 1: Genesis and Chinese Characters Where did the Chinese people come from? This article provides information showing that the Chinese peoples must have known about various accounts in the Book of Genesis up until their dispersion after the Tower of Babel. Here is a link to a version of this article in Spanish: ¿Prueban los caracteres chinos la exactitud de la Biblia?
China, Its Biblical Past and Future, Part 2: The Sabbath and Some of God's Witness in China When did Christianity first come to China? And is there early evidence that they observed the seventh day sabbath?
Asia in Prophecy What is Ahead for Asia? Who are the "Kings of the East"? What will happen to nearly all the Chinese, Russians, Indians, and others of Asia? China in prophecy, where? Who has the 200,000,000 man army related to Armageddon? A YouTube video of interest may be Is China THE Threat to the United States of America?
Is God Unreasonable? Some have suggested that if God requires Sabbath-keeping He is unreasonable. Is that true? Here is a link to a related article in Mandarin Chinese 一个不合理的神?
Is There "An Annual Worship Calendar" In the Bible? This paper provides a biblical and historical critique of several articles, including one by the Tkach WCG which states that this should be a local decision. What do the Holy Days mean? Also you can click here for the calendar of Holy Days. (Here is a related link in Spanish/español: Calendario Anual de Adoración –Una crítica basada en la Biblia y en la Historia: ¿Hay un Calendario Anual de Adoración en la Biblia?
Holy Day Calendar This is a listing of the biblical holy days through 2024, with their Roman calendar dates. They are really hard to observe if you do not know when they occur 🙂 In the Spanish/Español/Castellano language: Calendario de los Días Santos. In Mandarin Chinese: 何日是神的圣日? 这里是一份神的圣日日历从2013年至2024年。.