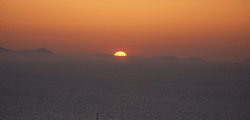 Sunday, November 6, at two a.m., the USA and several other nations (Canada, Bahamas, Bermuda, Cuba, and Haiti) change their clocks to go back to Standard Time and off of Daylight Saving Time:
It's that time of year again.

The "fall back" day is coming to clocks across the nation…
Remember, you'll "fall back" and set your clocks back one hour. Many electronic devices automatically adjust when Daylight Saving…Time begins or ends. http://ames.patch.com/articles/fall-back-daylight-saving-time-2012-ends-sunday-4b97ab65

Since the mid-1960s, most of Arizona has refused to adopt daylight saving time. It is also not observed in Hawaii, American Samoa, Guam, Puerto Rico, and the Virgin Islands. http://www.csmonitor.com/USA/Society/2015/1031/Daylight-saving-time-Why-it-isn-t-going-away-video
New Zealander George Hudson proposed the modern idea of daylight saving in 1895. Germany and Austria-Hungary organized the first implementation, starting on 30 April 1916/ 1 May 1916 Many countries have used it at various times since then, particularly since the energy crisis of the 1970s.
Here is something else related to it from Time:
November 4, 2016

This weekend, when American clocks turn back an hour at Nov. 6 at 2:00 a.m. Eastern Time, the move will bring an end to the period of Daylight Saving Time that marked precisely a century since the first such policy went into effect.

That Daylight Saving Time began in Germany on May 1, 1916, in the hopes that it would save energy during World War I, according to Michael Downing, author of Spring Forward: The Annual Madness of Daylight Saving Time. But, though Germans were first to mess with their clocks, they likely got the idea from Britain—and from someone whose ideas about Daylight Saving had little to do with conserving fuel.

William Willett had in 1907 published The Waste of Daylight. Willett was inspired by an early-morning epiphany that "the sun shines upon the land for several hours each day while we are asleep" and yet there "remains only a brief spell of declining daylight in which to spend the short period of leisure at our disposal." Though he did mention that it would save money to reduce the use of artificial lighting, his main purpose was the increase enjoyment of sunlight. He lobbied Parliament for such legislation until his death in 1915—not living to see the law passed in England shortly after it was in Germany. …

Across the pond, the first U.S. law on Daylight Saving Time went into effect on March 19, 1918 for the same fuel saving reasons, about a year after the country entered the war. But again, though the official reason was fuel saving, the U.S. Chamber of Commerce was the major backer for the policy, Downing argues, because Americans getting off work while it was still light out meant they would be more likely to go out shopping in the evening. http://time.com/4549397/daylight-saving-time-history-politics/
Because of the clock change, sunset will be over an hour earlier next Friday in the USA, Canada, Bahamas, Bermuda, Cuba, and Haiti. This change happened in Europe and certain other lands earlier.
Those of us who observe the weekly Sabbath from sunset Friday to sunset Saturday may wish to remember this time change. In my own case, we will have to close our office earlier than normal for the next several months on Fridays.
This will affect not only those in the Churches of God, but others who keep the seventh-day Sabbath such as observant Jews, Messianic Jews, and Seventh-day Adventists.
Here is a link for Sunset Times for the U.S.A. (and international cities if longitudinal location is known).
Some items of possibly related interest may include:
Is Revelation 1:10 talking about Sunday or the Day of the Lord? Most Protestant scholars say Sunday is the Lord's Day, but is that what the Bible teaches?
The Sabbath in the Early Church and Abroad Was the seventh-day (Saturday) Sabbath observed by the apostolic and post-apostolic Church? Here is a related sermon video The Christian Sabbath and How and Why to Keep It.
How to Observe the Sabbath How should you keep the Sabbath? This is an old article by Raymond Cole, with updated information for the 21st century.
The Dramatic Story of Chinese Sabbathkeepers This reformatted Good News article from 1955 discusses Sabbath-keeping in China in the 1800s.
Is God Unreasonable? Some have suggested that if God requires Sabbath-keeping He is unreasonable. Is that true? Here is a link to a related article in Mandarin Chinese 一个不合理的神?
Messianic Judaism Beliefs Differ from the Continuing Church of God Both groups keep the seventh-day Sabbath, but have important differences in doctrines and practices. Here is a link to a related sermon: Messianic Jewish Beliefs.
SDA/CCOG Differences: Two Horned Beast of Revelation and 666 The genuine Church of God is NOT part of the Seventh-day Adventists. This article explains two prophetic differences, the trinity, differences in approaching doctrine, including Ellen White. Did Ellen White make prophetic errors? Did Ellen White make false prophecies? Here is a version in the Spanish language: SDA/COG Diferencias: La bestia de dos cuernos de Apocalipsis y 666. Here is a sermon in the English language: CCOG and SDA differences and similarities.
Holy Day Calendar This is a listing of the biblical holy days through 2024, with their Roman calendar dates. They are really hard to observe if you do not know when they occur 🙂 In the Spanish/Español/Castellano language: Calendario de los Días Santos. In Mandarin Chinese: 何日是神的圣日? 这里是一份神的圣日日历从2013年至2024年。.