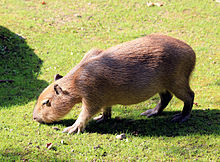 Capybara (Photo by Karelj)
We are currently in the middle of a Greco-Roman adopted time called Lent.
Because of this period, a rodent was once declared to be a fish. A reader sent me the following:
Giant Rodents A Lenten Dish

About 400 years ago, Spanish missionaries discovered that some indigenous communities in Venezuela, Colombia and Brazil relied for much of their protein on the meat of the capybara, an animal that no European had seen before. The missionaries reported back to Rome that they had encountered an animal that was hairy and scaly and spent more of its time in the water than on land. They asked whether their new converts could continue to eat capybara at Lent, a time when Catholics traditionally avoid meat.

With no clear idea of what the capybara was or looked like and concerned a ban would lead to indigenous communities starving during Lent, the Vatican immediately ruled that the semi-aquatic mammal was in fact a fish. The tradition continues to this day, and eating capybara remains part of the Lenten tradition for many families, despite the fact that the giant rodent tastes like a cross between fish and lamb.

http://articles.sun-sentinel.com/2003-03-18/news/0303170443_1_rodents-lenten-capybara

"In 1784 and after several attempts at obtaining a Vatican license, a Papal Bull (decree) allowed the consumption of capybara flesh during Lent…" – Capybara: Biology, Use and Conservation of an Exceptional Neotropical Species, by José Roberto Moreira, Katia Maria P.M.B., Springer Aug 15, 2012, page 307
So, without seeing the rodent, the Vatican declared it a fish–so much for making an infallible decision. Perhaps it would have come to a different decision if it saw the capybara as it has fur and toes.
I pointed this out to my family in the past, when we actually saw cabybaras in a zoo. They were shocked that anyone could think these rodents were fish.
Despite now knowing that cabybaras are not fish, the Vatican has apparently not rescinded allowing the capybara from being eaten during its Lenten period. Here is some additional information about that rodent being a Lenten dish:
In Days Before Easter, Venezuelans Tuck Into Rodent-Related Delicacy

Though it's hard to imagine eating a boiled, oversize rat, salted capybara is considered a delicacy in Venezuela, where thousands this week are enjoying the meat of the rodent during Holy Week. Centuries ago, the Vatican ruled that these furry cousins of rats and mice native to South America's plains qualify as fish – paving the way for capybara feasts during Lent, when red meat is prohibited.
Of course, Lent is not a biblically-enjoined period, so having unusual declarations about it should not be unexpected.
Actually, according to the Bible, rodents, like the capybara are not to be eaten at all (cf. Leviticus 11, Deuteronomy 14). Early Christians also did not eat biblically-unclean animals (see The New Testament Church and Unclean Meats). However, in Alexandria, Egypt and elsewhere, compromisers began to conclude that the biblical injunctions against unclean animals was no longer meant to be literally understood. But many did not go along with this in Europe or Asia Minor.
So, how did consumption of unclean meat become common?
Well, in addition to the writings and positions of some compromisers, the answer might lie in a Catholic document titled Liber Pontificalis.
According to the Liber Pontificalis, the position on unclean meat consumption was changed by Bishop Eleutherius in the late second century:
He also decreed that no kind of food in common use should be rejected especially by the Christian faithful, inasmuch as God created it; provided it was a rational food and fit for human kind (Book of the Pontiffs (Liber Pontificalis) 2nd edition. Translation by Raymond Davis. Liverpool University Press – Translated Texts for Historians, Liverpool, 2001, p.17).
The Catholic Encyclopedia states:
The "Liber Pontificalis" ascribes to Pope Eleutherius a decree that no kind of food should be despised by Christians (Et hoc iterum firmavit ut nulla esca a Christians repudiaretur, maxime fidelibus, quod Deus creavit, quæ tamen rationalis et humana est).
It should be noted that Roman bishops were not called Popes that early (that did not happen until the late fourth century). Anyway, according to Lopes book The Popes, Eleutherius was bishop of Rome from 175-189 AD. This book (which I purchased at the Vatican itself) states this about Eleutherius:
He dispensed with the obligations of Christians to follow dietary laws of Judaic origin (page 5).
The above book should have said the obligations of biblical origin as the dietary restrictions began with God and not Jews (the distinction between clean and unclean animals was known by at least Noah's time, since God so declared in Genesis 7:2-3). Perhaps it needs to be stated that no one called of God in the Old Testament or New Testament is ever shown to have consumed unclean meat.
Notice that the Church of Rome claims that it was because of its Bishop in the late second century that Christians were allowed to eat biblically-unclean animals. The Protestant world, who now states other reasons, has gone along with the Roman declaration.
Yet, faithful Christians, such as those in the Continuing Church of God have continued to avoid the consumption of unclean animals as the Bible teaches (which is also consistent with the faithful Christians throughout recorded history). 'Nazarene' Christians faced the death penalty from followers of Emperor Constantine's Greco-Roman faith in the fourth century when they refused to eat pork.
So, when is a rodent a fish? When compromise occurs.
Why do people keep Lent?
Because they, too, have accepted compromises that have affected those in the Greco-Roman faiths throughout history. Lent, itself, was the result of compromise.
Some items of possibly related interest may include:
Is Lent a Christian Holiday? When did it originate? What about Ash Wednesday? If you observe them, do you know why? Here is an old, by somewhat related, article in the Spanish language by Dr. Hoeh: ¿Por Qué Se Observa la Cuaresma? Here is a link to a related sermon: Lent, Ash Wednesday, Carnaval, and Christianity?
Mardi Gras: The Devil's Carnival? Is Mardi Gras Christian? Do you know that in Bolivia the carnival/Mardi Gras time is part of a celebration known as the Devil's Carnival? Where did it come from? There is also a related YouTube video Mardi Gras & Carnaval: Are they for Christians?
The History of Early Christianity Are you aware that what most people believe is not what truly happened to the true Christian church? Do you know where the early church was based? Do you know what were the doctrines of the early church? Is your faith really based upon the truth or compromise?
The New Testament Church and Unclean Meats Are foods considered to have been unclean in the Old Testament considered to be food in the New Testament? This article discusses this from the perspective of the New Testament. It also has a list of clean and unclean animals. It also answers the question, is pork healthy or is pork dangerous? There is also a sermon-length video on this: Christians and Unclean Meats.
Beliefs of the Original Catholic Church. Did the original "catholic church" have doctrines held by the Continuing Church of God? Did Church of God leaders uses the term "catholic church" to ever describe the church they were part of? Here are links to related sermons: Original Catholic Church of God?, Original Catholic Doctrine: Creed, Liturgy, Baptism, Passover, and What Type of Catholic was Polycarp of Smyrna?, Tradition, Holy Days, Salvation, Dress, & Celibacy, and Early Heresies and Heretics, and Doctrines: 3 Days, Abortion, Ecumenism, Meats, Tithes, Crosses, Destiny, and more, and Saturday or Sunday?, The Godhead, Apostolic Laying on of Hands Succession, and Church in the Wilderness Apostolic Succession List.
What Do Roman Catholic Scholars Actually Teach About Early Church History? Although most believe that the Roman Catholic Church history teaches an unbroken line of succession of bishops beginning with Peter, with stories about most of them, Roman Catholic scholars know the truth of this matter. Is telling the truth about the early church citing Catholic accepted sources anti-Catholic? This eye-opening article is a must-read for any who really wants to know what Roman Catholic history actually admits about the early church. There is also a YouTube sermon on the subject titled Church of God or Church of Rome: What Do Catholic Scholars Admit About Early Church History?
Nazarene Christianity: Were the Original Christians Nazarenes? Who were the Nazarene Christians? What did they believe? Should 21st century Christians be modern Nazarenes? Is there a group that exists now that traces its history through the Nazarenes and holds the same beliefs today? Here is a link to a related video sermon Nazarene Christians: Were the early Christians "Nazarenes"?
Location of the Early Church: Another Look at Ephesus, Smyrna, and Rome What actually happened to the primitive Church? And did the Bible tell about this in advance?
Apostolic Succession What really happened? Did structure and beliefs change? Are many of the widely-held current understandings of this even possible? Did you know that Catholic scholars really do not believe that several of the claimed "apostolic sees" of the Orthodox have apostolic succession–despite the fact that the current pontiff himself seems to wish to ignore this view? Is there actually a true church that has ties to any of the apostles that is not part of the Catholic or Orthodox churches? Read this article if you truly are interested in the truth on this matter! Here is a link to a sermon: Claims of Apostolic Succession. Here is a related articlein the Spanish language La sucesión apostólica. ¿Ocurrió en Roma, Alejandría, Constantinopla, Antioquía, Jerusalén o Asia Menor?
Early Church History: Who Were the Two Major Groups Professed Christ in the Second and Third Centuries? Did you know that many in the second and third centuries felt that there were two major, and separate, professing Christian groups in the second century, but that those in the majority churches tend to now blend the groups together and claim "saints" from both? "Saints" that condemn some of their current beliefs. Who are the two groups?
What Was the Original Apostles' Creed? What is the Nicene Creed? Did the original apostles write a creed? When was the first creed written? Are the creeds commonly used by the Eastern Orthodox or Roman Catholics original?
Do You Practice Mithraism? Many practices and doctrines that mainstream so-called Christian groups have are the same or similar to those of the sun-god Mithras. December 25th was celebrated as his birthday. Do you follow Mithraism combined with the Bible or original Christianity? A sermon videoed in Vatican City is Church of Rome, Mithras, and Isis?
Continuing Church of God The group striving to be most faithful amongst all real Christian groups to the word of God.
Where is the True Christian Church Today? This free online pdf booklet answers that question and includes 18 proofs, clues, and signs to identify the true vs. false Christian church. Plus 7 proofs, clues, and signs to help identify Laodicean churches. A related sermon is also available: Where is the True Christian Church? Here is a link to the booklet in the Spanish language: ¿Dónde está la verdadera Iglesia cristiana de hoy? Here is a link in the German language: WO IST DIE WAHRE CHRISTLICHE KIRCHE HEUTE? Here is a link in the French language: Où est la vraie Église Chrétienne aujourd'hui?
Continuing History of the Church of God This pdf booklet is a historical overview of the true Church of God and some of its main opponents from Acts 2 to the 21st century. Related sermon links include Continuing History of the Church of God: c. 31 to c. 300 A.D. and Continuing History of the Church of God: 4th-16th Centuries and Continuing History of the Church of God: 17th-20th Centuries. The booklet is available in Spanish: Continuación de la Historia de la Iglesia de Dios, German: Kontinuierliche Geschichte der Kirche Gottes, French: L'Histoire Continue de l'Église de Dieu and Ekegusii Omogano Bw'ekanisa Ya Nyasae Egendererete.
Should You Observe God's Holy Days or Demonic Holidays? This is a free pdf booklet explaining what the Bible and history shows about God's Holy Days and popular holidays. A related sermon is Which Spring Days should Christians observe?