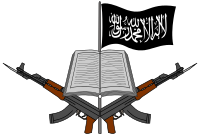 Logo of Boko Haram (ArnoldPlaton)

There is some good news to report: Chad security was able to free about 100 schoolgirls recently captured by Boko Haram.
August 17, 2014

Officials say security forces in Chad have rescued Nigerians who were recently kidnapped by Boko Haram, a Nigerian militant group.

The abductees were snatched last Sunday by the militants in a raid on a Nigerian town near the border with Chad.

The militants, along with nearly 100 kidnapped Nigerians, were stopped at the border by Chadian soldiers. …

Boko Haram wants to enforce an Islamic state in Nigeria, whose population of more that 170 million is almost evenly divided between a mainly Muslim north and largely Christian south.

The group has been accused of kidnapping hundreds of people in the northeast to use as conscripts, wives and slaves.

Boko Haram's April 14 abduction of schoolgirls from the remote town of Chibok drew unprecedented international attention to the conflict and offers of help from Western powers. http://www.voanews.com/content/chadian-troops-rescue-boko-haram-hostages/2416063.html 
Boko Haram calls itself the Congregation of the People of Tradition for Proselytism and Jihad. It is a deviant Islamic faction.  It, in certain ways, is similar to the group calling itself the Islamic State in Iraq.  It basically, however, has less arms and less money.  The goal of terror and forced conversion to Islam seems to be shared by both groups.
I was horrified about this kidnapping and threat to sell the schoolgirls since I learned of it last Spring. The girls and their families are in my prayers.
The Bible condemns kidnapping:
16 "He who kidnaps a man and sells him, or if he is found in his hand, shall surely be put to death. (Exodus 21:16)
In addition to being kidnapped, the schoolgirls also are at risk of being sold into prostitution (cf. Leviticus 19:29). This is wrong and the so-called Islamic leaders of Boko Haram should realize this.
Kidnapping is wrong. Prostitution is wrong.
Hopefully, more of those kidnapped by Boko Haram will be freed soon.
Some items of possibly related interest may include:
Africa: Its Biblical Past and Prophesied Future What does the Bible teach about Africa and its future? Did the early Church reach Africa? Will God call all the Africans?
The Prophesied 'Islamic' Confederation Where is an Islamic caliphate prophesied? Will one happen? Should you be concerned about it? A related video is Will an Arabic Calphiphate Destroy the West?
Iraq, the King of the South, Armageddon, and Prophecy What will happen to Iraq? Is it the prophesied Mystery Babylon? What is Armageddon and how does that have to do with Iraq? Here is a related video Iraq, Armageddon, & Prophecy.
The Arab and Islamic World In the Bible, History, and Prophecy The Bible discusses the origins of the Arab world and discusses the Middle East in prophecy. What is ahead for the Middle East and those who follow Islam? What about the Imam Mahdi? What lies ahead for Turkey, Iran, and the other non-Arabic Muslims? An item of possibly related interest in the Spanish language would be: Líderes iraníes condenan la hipocresía de Occidente y declaran que ahora es tiempo para prepararse para el Armagedón, la guerra, y el Imán Mahdi.
Is the Future King of the South Rising Up? Some no longer believe there needs to be a future King of the South. Might Egypt, Islam, Iran, Arabs, or Ethiopia be involved? Might this King be called the Mahdi or Caliph? What does the Bible say? A YouTube video of related interest may be: The Future King of the South is Rising.
The Ten Commandments Reflect Love, Breaking them is Evil Some feel that the ten commandments are a burden. Is that what Jesus, Paul, Peter, James, and John taught? For a more detailed discussion of the first four commandments, please see the video The Ten Commandments: Loving God. For a more detailed discussion of the last six commandments, please see: The Ten Commandments: Loving Your Neighbor. Here is a link to a related article in Mandarin Chinese 十条诫命显示爱,违反诫命的就是邪恶的