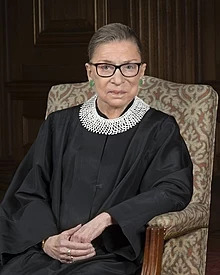 Ruth Bader Ginsburg (Official Photo)
The staunchly pro-abortionist judge, Ruth Bader Ginsburg died last evening.
Several Jewish tweets claimed her death last night means she was righteous. Here is one for an example:
For those who are not familiar with Jewish tradition, a person who dies on Rosh Hashanah is a tzaddik. This translates to a person of great righteousness. Rosh Hashanah began tonight. Many of us were reciting the Mourner's Kaddish when Justice Ginsburg's death was announced.

— Steve Kastenbaum (@SKastenbaum) September 19, 2020
That tradition does not come from the Bible. Jesus condemned Jewish leaders of His day who revered non-biblical tradition over the commands of the Bible (cf. Matthew 15:3-9).
As far as righteousness goes, the Bible teaches:
172 My tongue shall speak of Your word, For all Your commandments are righteousness. (Psalm 119:172)
Ruth Bader Ginsburg did not adhere to the teachings of the word of God or His commandments. This is not to say all her decisions were wrong, but she did NOT meet the biblical standards for righteousness.
That Jewish tradition about being righteous for dying on the eve of the first of the month of Tishri, like many they associate with the Feast of Trumpets (which their tradition improperly named it as Rosh Hashanah), is wrong. Related to Christian understandings and Jewish tradition for today, the Continuing Church of God put out the following sermon made for the Feast of Trumpets in 2020:
What are Christian views of the Feast of Trumpets? Should it be called Rosh Hashana like the Jews began to do centuries after God had His Holy Days listed in Leviticus 23? Jews claim this day was also the 6th day of creation when Adam was made–does the Bible support or confirm this? When is the seventh month of the biblical calendar? What is Tishri/Tishrei/Ethanim? Should the Jewish year that runs from 19 September 2020 through September 7, 2021 be more like 5990 or 5781 as the Jews claim? Is there any connection to the Book of Life like the Jews claim? The Jews also claim that this Holy Day has to do with repentance and judgment–does the New Testament agree? Does the Feast of Trumpets have any connection to the seven trumpets of Revelation? What about a possible connection between the last trumpet and the return of Jesus? Should Christians draw comfort from observing this festival? What have different Church of God writers (like George Kackos and Herbert W. Armstrong) written is the meaning of the Feast of Trumpets? What about Ambrose of Milan? Dr. Thiel addresses these matters and more (plus also attempts to blow a ram's horn known as a shofar as well as a silver trumpet known as a chatsotserah).
September 19, 2020

Justice Ruth Bader Ginsburg died Friday night after 27 years on the United States Supreme Court. I'm ignoring the Romans warning de mortuis nil nisi bonum (of the dead, say nothing but good). Ginsburg used her seat on the Supreme Court as a political office and, reputedly, her dying wish was political. …

Justice Ginsburg fought tirelessly for gr8er justice, equality &opportunity for all ppl. She was a trailblazer in so many ways &for so many ppl Her sharp legal mind, tenacity &resilience leaves a remarkable imprint on our nation Barbara + I join our nation in mourning her passing

— ChuckGrassley (@ChuckGrassley) September 19, 2020

That praise — that she "fought" for "justice and equality" — sums up everything that was wrong with Ginsburg for it describes a political activist, not a judge. The Supreme Court is supposed to consist of nine people who try, apolitically, to ensure that the United States is run along constitutional lines.

Ginsburg, though, had little love for the Constitution. She was quite open about that in 2012 when she offered some "helpful" advice to the Muslim Brotherhood in Egypt as it was contemplating the Egyptian Constitution of 2012:

"I would not look to the U.S. Constitution, if I were drafting a constitution in the year 2012," Ginsburg said in an interview on Al Hayat television last Wednesday. "I might look at the constitution of South Africa. That was a deliberate attempt to have a fundamental instrument of government that embraced basic human rights, have an independent judiciary. It really is, I think, a great piece of work that was done."

The South African Constitution does not promote a small government for free people who possess inherent rights that must be free from political interference. Instead, it's a micromanaging monstrosity that identifies "rights" (some copied from us), that are, in fact, privileges subject to the political winds.

Ginsburg was also a covert eugenicist. In 2009, she confessed that she had imagined abortion as a way to get rid of undesirables:

Frankly I had thought that at the time Roe was decided, there was concern about population growth and particularly growth in populations that we don't want to have too many of. (Emphasis added.)

Since the late 19th century, when progressives have spoken about getting rid of undesirable populations, they've meant blacks. Of the 61 million babies aborted since Roe v. Wade, 32% have been black. Blacks make up less than 14% of the population.

Ginsburg was also an awful judge. A good Supreme Court opinion, like a solid house, is built on a constitutional foundation, with the materials coming from clear and strong precedent and law. Ginsburg's opinions, especially when she was pushing political ends, were composed of random bits and pieces of law that could be cobbled together to make a rough shack. …

That Ginsburg saw her role as political was shown by the fact that, even on her deathbed, she tried to manipulate Trump's constitutional authority to nominate a new Supreme Court justice. https://www.americanthinker.com/blog/2020/09/ruth_bader_ginsburg_the_political_ramifications_of_a_political_jurist.html
Here is some of what Wikipedia posted about Ruth Bader Ginsburg:
Abortion rights

Ginsburg discussed her views on abortion and sexual equality in a 2009 New York Times interview, in which she said about abortion "[t]he basic thing is that the government has no business making that choice for a woman."[74] Although Ginsburg consistently supported abortion rights and joined in the court's opinion striking down Nebraska's partial-birth abortion law in Stenberg v. Carhart, 530 U.S. 914 (2000), on the 40th anniversary of the court's ruling in Roe v. Wade, 410 U.S. 113 (1973), she criticized the decision in Roe as terminating a nascent democratic movement to liberalize abortion laws which might have built a more durable consensus in support of abortion rights.[75] Ginsburg was in the minority for Gonzales v. Carhart, 550 U.S. 124 (2007), a 5–4 decision upholding restrictions on partial birth abortion. In her dissent, Ginsburg opposed the majority's decision to defer to legislative findings that the procedure was not safe for women. Ginsburg focused her ire on the way Congress reached its findings and with the veracity of the findings.[76] Joining the majority for Whole Woman's Health v. Hellerstedt, 579 U.S. 15-274 (2016), a case which struck down parts of a 2013 Texas law regulating abortion providers, Ginsburg also authored a short concurring opinion which was even more critical of the legislation at issue.[77] She asserted the legislation was not aimed at protecting women's health, as Texas had claimed, but rather to impede women's access to abortions.[76][77] …

International law

Ginsburg advocated the use of foreign law and norms to shape U.S. law in judicial opinions, a view rejected by some of her conservative colleagues. Ginsburg supported using foreign interpretations of law for persuasive value … (Ruth Bader Ginsburg. Wikipedia, accessed 09/19/20)
Yes, she pushed for abortion and partial birth abortions.
Notice biblical instruction for judges:
7 Keep yourself far from a false matter; do not kill the innocent and righteous. For I will not justify the wicked. (Exodus 23:7)
Her strident pro-abortion positions in favor of killing the innocent were wicked.
She also favored (and pushed for) the expansion of LGBTQ 'rights' that the Bible called "an abomination" (Leviticus 18:22, 20:13).
That being said, I am not convinced that Ruth Bader Ginsburg committed the unpardonable sin and prayed last night that she had not done that. Hopefully, when she comes up in the second resurrection, she will be willing to be reached and change to believe the true God (more on God's plan for the called and uncalled in this age can be found in the free scripture-filled online book: Universal OFFER of Salvation, Apokatastasis: Can God save the lost in an age to come? Hundreds of scriptures reveal God's plan of salvation).
Her death is expected to impact this current US presidential election. The Associated Press posted the following:
How Ginsburg's death could reshape the presidential campaign

September 19, 2020

A presidential campaign that was already tugging at the nation's most searing divides has been jolted by the death of Supreme Court Justice Ruth Bader Ginsburg, potentially reshaping the election at a moment when some Americans were beginning to cast ballots.

For months, the contest has largely centered on President Donald Trump's handling of the coronavirus, the biggest public health crisis in a century that has badly damaged his prospects for reelection as the U.S. death toll nears 200,000 people.

But in a flash, Ginsburg's death on Friday added new weight to the election, with the potential that Trump or his Democratic challenger, Joe Biden, could pick a successor who could decide abortion access, environmental regulations and the power of the presidency for a generation. …

"It's hard to see how this doesn't help Trump politically," said veteran Republican strategist Alex Conant. "Biden wants this election to be a referendum on Trump. Now it's going to be a referendum on whoever he nominates to the Supreme Court."

Multiple Republicans close to the White House believe that Trump will likely nominate a woman, who could serve as a counterweight of sorts to Biden's choice of running mate Kamala Harris, who would be the first woman to serve as vice president.

Senate Majority Leader Mitch McConnell, R-Ky., pledged to quickly bring to a vote whomever Trump nominates. But he faces potential division within his own ranks, including from Sens. Mitt Romney of Utah, Lisa Murkowski of Alaska, Susan Collins of Maine and Cory Gardner of Colorado. Collins and Gardner are in particularly tight races for reelection this fall.

That's fueling optimism among Democrats that the vacancy could drive home the significance of the election to their base. …

But some Democrats said the political environment is already overheated, with partisan divides over everything from wearing a mask to curb the pandemic to addressing climate change. Ginsburg's death, they say, may not change that.

"It's already pretty ugly out there," said Megan Jones, a Democratic strategist who worked for former Senate Majority Leader Harry Reid. "I do not know how this does not become a fight of epic proportions." https://apnews.com/38a1391924a3b74a8372f531ddb18948
Yes, partisan battles are expected.
Jesus taught:
25 Every kingdom divided against itself is brought to desolation, and every city or house divided against itself will not stand. (Matthew 12:25)

24 If a kingdom is divided against itself, that kingdom cannot stand. 25 And if a house is divided against itself, that house cannot stand.  (Mark 3:24-25)

17 … Every kingdom divided against itself is brought to desolation, and a house divided against a house falls. (Luke 11:17)
Notice that the house divided statement is recorded three times in the Gospels. This is for emphasis and is showing the seriousness of such division.
Reactions to Ruth Bader Ginsburg's death look to even further sharpen the divide in the USA.
This will not end well for the USA–no matter who becomes the next Supreme Court justice.
Some items of possibly related interest may include:
Abortion, the Bible, and a Woman's Right to Choose Do you know what the Bible teaches on this? Has the Roman Catholic Church allowed abortions? What about the real Church of God? Some may wish to view the YouTube videos: Abortion and Birth Control: History and Scriptures. Abortion, the Bible, and US Debt, American Infanticide, and Land of 'Free' Abortions and Debt.
Cross-dressing and other assaults against your children.  What should you do? Is there an agenda to turn your children and/or grandchildren away from biblical morality and towards practices promoted by homosexuals? What does the Bible teach about cross-dressing? What should parents do? If there is an agenda, what has been going on?  There are also three YouTube videos related to this, titled Transgender 'Woe to those who call evil good' and Cross dressing and Other Assaults Against Your Children and USA pushing gender confusion.
The Bible Condemns Homosexuality "Same-sex marriage" for "gays" and lesbians is becoming more acceptable to many. What does the Bible teach about homosexuality and the LGBTQ agenda?  Can homosexuals change? A related video sermon is titled: What Does the Bible Really Teach about Homosexuality? A short video is available titled: Gay Gene? Born That Way?
The Ten Commandments: The Decalogue, Christianity, and the Beast This is a free pdf book explaining the what the Ten Commandments are, where they came from, how early professors of Christ viewed them, and how various ones, including the Beast of Revelation, will oppose them. A related sermon is titled: The Ten Commandments and the Beast of Revelation.
USA in Prophecy: The Strongest Fortresses Can you point to scriptures, like Daniel 11:39, that point to the USA in the 21st century? This article does. A related sermon is titled: Do these 7 prophesies point to the end of the USA?
Who is the King of the West? Why is there no Final End-Time King of the West in Bible Prophecy? Is the United States the King of the West? Here is a version in the Spanish language: ¿Quién es el Rey del Occidente? ¿Por qué no hay un Rey del Occidente en la profecía del tiempo del fin? A related sermon is also available: The Bible, the USA, and the King of the West.
Is God Calling You? This booklet discusses topics including calling, election, and selection. If God is calling you, how will you respond? Here is a link to a related sermon: Could God be Calling You? A short animation is also available: Is God Calling You?
Christian Repentance Do you know what repentance is? Is it really necessary for salvation? A related sermon is also available titled: Real Christian Repentance.
Just What Do You Mean — Repentance? Do you know what repentance is? Have you truly repented? Repented of what? Herbert W. Armstrong wrote this as a booklet on this important subject.
The Gospel of the Kingdom of God This free online pdf booklet has answers many questions people have about the Gospel of the Kingdom of God and explains why it is the solution to the issues the world is facing. Here are links to three related sermons: The World's False Gospel, The Gospel of the Kingdom: From the New and Old Testaments, and The Kingdom of God is the Solution.
When Will the Great Tribulation Begin? 2020, 2021, or 2022? Can the Great Tribulation begin today? What happens before the Great Tribulation in the "beginning of sorrows"? What happens in the Great Tribulation and the Day of the Lord? Is this the time of the Gentiles? When is the earliest that the Great Tribulation can begin? What is the Day of the Lord? Who are the 144,000? Here is a version of the article in the Spanish language: ¿Puede la Gran Tribulación comenzar en el 2020 o 2021? ¿Es el Tiempo de los Gentiles? You can also see the English language sermon videos: The Great Tribulation from the Mount of Olives and Can the Great Tribulation begin before 2020? A shorter and newer video is: Could the Great Tribulation Begin in 2020? Here is a link to the Spanish version of that video: ¿Podría la Gran Tribulación comenzar en 2020?
Anglo – America in Prophecy & the Lost Tribes of Israel Are the Americans, Canadians, English, Scottish, Welsh, Australians, Anglo-Saxon (non-Dutch) Southern Africans, and New Zealanders descendants of Joseph? Where are the lost ten-tribes of Israel? Who are the lost tribes of Israel? What will happen to Jerusalem and the Jews in Israel? Will God punish the U.S.A., Canada, United Kingdom, and other Anglo-Saxon nations? Why might God allow them to be punished first? Here is a link to the Spanish version of this article: Anglo-América & las Tribus Perdidas de Israel. Information is also in the YouTube sermons titled Where are the Ten Lost Tribes? Why does it matter? and British are the Covenant People. A short YouTube of prophetic interest may be: Are Chinese threats against Australia for real?
Will the Anglo-Saxon-Celtic Nations be Divided and Have People Taken as Slaves? Will the lands of the United States, United Kingdom, Canada, Australia, and New Zealand be divided? What about Jerusalem? What does Bible prophecy teach? Are there non-biblical prophecies that support this idea? Who will divide those lands? Who will end up with the lands and the people? Here is a link to a video titled Will the USA and other Anglo-nations be Divided and Their People Made Slaves? Here is a related item in the Spanish language ¿Serán divididas las naciones anglosajonas?
British are the Covenant People What do 'British' and 'Britain' mean in Hebrew? Are the descendants of the Anglo-Saxons people of the covenant? Does the British royal family connect to the throne of David? What does the Bible teach? What does history show us? Is there any DNA evidence related to British-Israelism? When did Christianity make it to the British Isles? Could Jeremiah have made it to the British Isles? What type of Christians made it to the British Isles? Did the last King of England believe in British Israelism?
Canada in Prophecy: What Does Bible Prophecy, Catholic Prophecy, and other Predictions Suggest About the Future of Canada? There are prophecies that suggest involvement with Canada. And many are not positive about its future. A sermon of related interest is also available: Canada in Prophecy.
Australia and New Zealand in Prophecy Do biblical prophecies help explain the wealth blessings for Australia and New Zealand? Might cursings from disobedience come in the 21st century? Here is a link to a related sermon: Australia and New Zealand: Origins and Prophecy.
There is a Place of Safety for the Philadelphians. Why it May Be Petra This article discusses a biblical 'place of safety' and includes quotes from the Bible and Herbert W. Armstrong on this subject–thus, there is a biblically supported alternative to the rapture theory. There is also a video on the subject: Might Petra be the Place of Safety?
Donald Trump in Prophecy Prophecy, Donald Trump? Are there prophecies that Donald Trump may fulfill? Are there any prophecies that he has already helped fulfill? Is a Donald Trump presidency proving to be apocalyptic? Two related videos are available: Donald: 'Trump of God' or Apocalyptic? and Donald Trump's Prophetic Presidency.
Trump Presidency Magic 8 Ball or Bible Prophecy? BBC reported that one might as well use a 'Magic Eight-Ball' to try to predict what will happen in the remaining time of Donald Trump's presidency. What is a 'Magic Eight-Ball'? Dr. Thiel not only explains that, but also briefly goes over 10 biblically-based warnings he wrote would happen if Donald Trump were elected that have already began to come to pass. He also goes over something he wrote back in 2008 that the Trump presidency is also helping lead to fulfillment. Should you trust Bible prophecy or not? Dr. Thiel says that Bible prophecy can be trusted, despite the view of skeptics and others that either overlook or despise the Bible. This is a video.
Universal OFFER of Salvation, Apokatastasis: Can God save the lost in an age to come? Hundreds of scriptures reveal God's plan of salvation Will all get a fair chance at salvation? This free book is packed with scriptures showing that God does intend to offer salvation to all who ever lived–the elect in this age, and the rest in the age to come. Here is a link to a related sermon series: Universal Offer of Salvation 1: Apocatastasis, Universal Offer of Salvation 2: Jesus Desires All to be Saved, Mysteries of the Great White Throne Judgment (Universal Offer of Salvation part 3), Is God Fair, Will God Pardon the Ignorant?, Can God Save Your Relatives?, Babies, Limbo, Purgatory and God's Plan, and 'By the Mouth of All His Holy Prophets'.