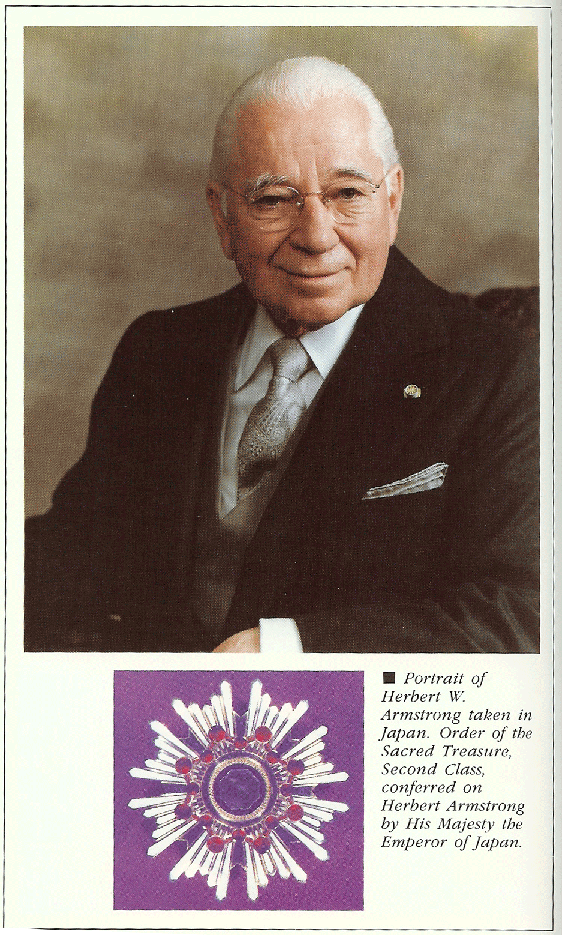 Hebert W. Armstrong died on January 16, 1986, at age 93 1/2. Many never heard of him, but multiple millions did.
Here is some of what he wrote about himself:
I was born July 31, 1892, of respected and upright parents who were of solid Quaker stock. My ancestors had emigrated from England to Pennsylvania with William Penn, a hundred years before the United States became a nation. My ancestry, through a paternal great-grandmother, traces back to Edward I, King of England.

I first saw the light of day in a red brick two-apartment flat on the northwest corner of East 14th and Grand Avenue, in Des Moines, Iowa. Of course I remember absolutely nothing of the day of my birth — even as you remember nothing of the day you were born…

When I was 6 the family moved to Marshalltown, Iowa, where my father entered the flour milling business…

Back to Des Moines we moved again in 1901, in early fall, after a year and a half in Union, this time near East 13th and Walker. I was now in the 4th grade. We lived a short distance from a Seventh-Day Adventist Sanitarium, with a bakery shop near the front entrance. I remember being sent often to this bakery for special "health" bread — probably whole wheat. The thing that most impressed me, however, was the impression on my boyish mind that these Adventists must be some kind of odd religious people, because they "kept Saturday for their Sunday." Even at that age, anything different from common custom and general social acceptance automatically seemed strange — and if strange, then of course it seemed WRONG. Why do people assume that the rank-and-file of PEOPLE can't be wrong?…

Our transportation, 1903-4, was horse and buggy — and my bicycle. Going to the factory in the morning, we had to use the whip on the horse occasionally to keep him trotting. But returning home in the evening, it was necessary to hold tight rein on him. He needed no urging to trot. He seemed to know his oats were waiting for him in our barn…

From earliest memory I was kept regularly in the Sunday school and church services of the First Friends Church in Des Moines…

During the years between 12 and 16, besides school, I had many Saturday and vacation jobs. I carried a paper route, was errand boy for a grocery store, special delivery boy for a dry goods store, spent one summer vacation as draftsman for a furnace company, and there were other odd jobs.

But at age 16, during summer vacation, I obtained my first job away from home. The job was waiting on tables in the dining room of a semi-resort hotel in Altoona, the next town east of Des Moines…

Of course, as yet, at age 16, there had formulated no definite GOAL to work toward, further than the general ambition to SUCCEED. Of what that success was to consist had to crystalize later.

Also, so far, it was pure VANITY. But it was a positive vanity, and that might be vastly preferable to a negative, purposeless humility. It was the first start toward later accomplishment…

In track I went out for the mile run in my Sophomore year only, but never was entered in the state meet. The best time I ever made was 5 minutes flat, on the Drake track, where the annual Drake Relays, nationally famous, are still run. Today the world's best milers run the mile under 4 minutes!

I was an average student in school. But in final exams I always got grades of 95% to 98%…

AT AGE 18 I found a book in the public library, titled, "Choosing a Vocation." It took the reader through a searching self-analysis, and a survey of vocations, occupations and professions, to place the candidate where he best fit.

A thorough study of this self-analysis and survey indicated that I would probably be most successful in the profession of journalism and advertising. And this, to me, was one of the truly exciting, thrilling professions.

It so happened that my uncle in Des Moines, Frank Armstrong, my father's younger brother, was the most prominent advertising man in the state. He had led the movement of establishing Ad-Clubs in other cities over the state, and he was the first president of the state association.

I went to my uncle for counsel and advice. From that time, since I had chosen his field, he practically steered my life for the next eleven years, and I owe much to him. To me he seemed like a sort of second Benjamin Franklin, and on the whole I felt he had unusual insight, understanding, and sound judgment.

The place to begin in the advertising profession, he advised, was the want-ad department of a daily newspaper. This was the freshman class of the advertising school of hard knocks.

It was late December, 1910. Now the big question came: should I stay in school, and take courses in advertising and journalism in college or university?

"Well, Herbert," he counseled, "that depends on you and how much ambition and drive you have. It happens that no college or university in the country has yet offered a course in this profession that is worth a plug nickel.

"Now I know," he continued, "that nearly everybody has the delusion that an education is something you get at school — and higher education at the university. It's like going to a hardware store or department store to purchase a lawn mower. People seem to have the idea that an education is something they have all wrapped up at the university, ready to hand it over to you when you buy it by paying the tuition. But it has always seemed to me that traipsing across the door-sill of a college classroom, or sitting in an arm-chair, is not putting an education into your mind. Education comes from study — from books — from lectures — from contacts — from travel — from thinking about what you see and hear and read — and from experience…"

I went home and thought it over thoroughly. Ambition is not only the DESIRE, but the determination and the will to achieve the desired goal. For two years ambition had burned fiercely within me. I wanted both success and to become a well-educated person. I knew I wanted these goals intensively enough to drive myself to any needed extent to succeed.

I told my uncle my decision. He assigned me to one year's experience in want ads, and advised that I get a job in the want-ad department of the Des Moines Daily Capital, then published by Lafe Young, senior United States Senator from Iowa…

I did not ask The Capital if they needed any help. That was too negative — might have resulted in being turned down. I went straight to the manager of the want-ad department, told him I was entering the advertising profession, and had decided to join his staff because it offered the best opportunity to LEARN, and to advance. I got the job. The starting salary was $6 per week.

I had no conception, then, that the advertising profession was not, after all, to be my final life profession — or that this experience was merely the preliminary training needed for the ultimate bigger job later in life.

In those days I had developed a very excessive case of self-confidence. I was snappy, confident, self-assured — yet sincere, and in the intent of heart, honest.

On this want-ad job I soon became known as a "hustler." On the street I hurried — walked rapidly. I was a dynamo of energy. Off nights I studied. Books were procured on advertising, on psychology, merchandising, business management, and English. All the leading trade journals were subscribed to and diligently read — primarily "Printers Ink," and "Advertising & Selling," the two leading trade journals of the profession.

My uncle directed the training in learning an effective style in writing…

…I was given a Real Estate beat, and the salary raised to $8 per week…

It was not long until Ivan Coolidge, then want-ad manager over at the "R & L," asked me to drop over and see him. He offered me $10 a week if I'd leave The Capital and join the Register staff…

I had started out to spend one year in want ads at the Capital. The temptation had come to weaken and get off that schedule.

I took my uncle's advice and stayed on the schedule.

Learning Rules of Success

Thus, at the early age of 18, some of the seven important rules of success were being learned.

The first success rule — I emphasize by repeating it — is fixing the right GOAL. Avoid fitting the "square peg in the round hole." I was yet to learn the real PURPOSE of life, and the one true supreme GOAL. Actually I had set out on a wrong goal — that of becoming someone "important," achieving business success and status for the purpose of making money. But at least I had made the self-analysis and the survey of vocations to find where I should fit within the realm of business, the field of this goal.

At least, ambition had been kindled. And, though little realized at the time, all this experience was building the necessary foundation for the worldwide activities of later life.

The second success rule is EDUCATION — fitting oneself for the achievement of the goal. I was getting, not mere impractical and theoretical classroom book education, but the combined education of book study at night and practical experience in the daytime. And even here, the self-education being received was precisely that required to properly prepare me for this present worldwide Work of God, without which this Work today could not have become a success.

The third rule of success is good, vigorous HEALTH. Food plays a major part in this, and I was not to learn of the importance of food and diet until I was 38 years old. But I had learned the importance of sufficient exercise, deep breathing, daily bathing and elimination, and sufficient sleep.

The fourth rule, drive, putting a constant prod on oneself, seems to have come naturally as a result of the ambition that had been generated at sixteen. There was always the sense that I had to hurry! I was learning to plunge into a task with dynamic energy.

The fifth, resourcefulness, or thinking about the problem at hand, was unconsciously being developed by experience. For example, the experience of the "goat work" job, and then in finding a way to get in room-for-rent ads faster by telephone, was an example of learning this rule by experience — thinking through and applying initiative, to a better way of solving a problem. Most people do such a job just as they are shown, without ever applying thought or resourcefulness to the activity.

And now, the sixth rule, perseverance, never quitting when it appears to everyone else one has failed, was being learned at the very low price of $2 per weekly lesson.

In 1947, and again in 1948, Ambassador College appeared hopelessly to have failed. It seemed everyone else knew we had come to the "end of our rope." It has happened many times. But that $2 per week lesson learned at 18 turned a seeming hopeless failure into a worldwide ever-expanding success.

The seventh and most important rule, Divine Guidance, I was not to learn until much later…

For something like a year and a half I was kept in the Service Department of The Journal. There I received a most intensive and practical basic training in the true psychological principles of writing and designing advertisements…

I was never insincere. True, I had swung from a sense of inferiority, to one of supreme self-confidence.

But I was entirely sincere. Usually a bragging, conceited young lad who is cocky, is also an insincere flippant smart aleck. I was not. It seems I was, by nature, deeply sincere and in earnest, and although excessively self-confident, even snappy and cocky in manner, there was always with it a sense of earnestness and dignity. At least I thought I was right, and in my heart meant to be. Human nature wants to be good — but seldom does it want to do good. That natural desire in one to wish to consider himself good, I suppose, led to an attitude of sincerity.

Later, God had to take the self-confidence, conceit, and cockiness out of me. He replaced it with a different kind of confidence — an unbounded FAITH in God. I have far more ASSURANCE for the future today than I had then — many times over. But today it is based on what God is going to do — not what I am able to do…

After about one and a half to two years of training in advertising copy writing and layout, selling advertising space, office work in dictating and letter-answering, and composing room makeup with The Merchants Trade Journal, I was put on a new and unique activity.

I have never heard of anything like it. I became The Journal's "Idea Man."…

The Journal maintained an "Idea Man" who travelled all over the country, visiting stores in all lines, discussing problems and methods with merchants, checking on community and social conditions. The actual experiences of successful merchants, as sought out and reported by the "Idea Man" were written up by the editors into article form in the magazine.

The first "Idea Man" tour took me to New York state and back. This trip started in November, 1913.

I must have visited a number of towns across Iowa and Illinois, but the first that comes back to mind, now, is traveling across southern Michigan…

Perhaps I was entirely too proud in those days. Actually there is no "perhaps" about it. I was! Later I was forced to suffer for years to have this vanity and conceit crushed out, before I could ever have been fully prepared for the responsibilities of today.

But I was young then. And I have often wondered if it is not really better for a young upstart to be conceited, self-confident, cocky — and with it, ambitious, energetic in trying to accomplish something, than to be an ambitionless, spineless, lazy, shiftless fellow utterly lacking in spark, drive, and the zeal to try to accomplish something worthwhile.

Such ambitious fellows, of course, may not have right goals — they may not know the real PURPOSE of life, or the true way of life, and they may be energetically pressing on only toward more vanity, and "a striving after wind," as Solomon puts it. But at least they are mentally ALIVE, and not dead! And once circumstances do shake them and bring them to themselves, and humble them and open their minds to the true values, they are already in the habit of exerting enough energy so that, turned at last in the right direction, something is REALLY accomplished.

At least one reader of this autobiography — and so far as I know, only one — has written very disapprovingly of it, condemning me for having been vain and conceited in those early formative years. I have stated all the facts about that over-abundance of self-assurance. Indeed I have put emphasis on it.

This, then, is one of the things I had to be changed from! This is a candid and true life story, and the bad is being told along with what good there may have been. But, if there was ego and cocky conceit, there also was ambition, determination, fire, drive, and honest and sincere effort toward what then seemed to be a right goal.
His later death seemed to mark the end of the predominance of the Philadelphia era of the Church of God and the start of the predominance of the Laodicean era instead. Many Laodicean groups have formed since his death, and in my view, several while he was still alive.
Despite the claim that he would follow in his footsteps, Herbert W. Armstrong's chosen successor in the old Worldwide Church of God, the late Joseph Tkach, Sr., did not remain faithful to the teachings that many of us believe God inspired Herbert W. Armstrong to restore to the church. Here are Some Quotes from Herbert W. Armstrong on Laodicea and Holding Fast to Doctrine.
Since Herbert W. Armstrong's death, many who declared that they believed the doctrines he claimed to restore to the Church of God, either repudiated everything or at least several of those doctrines. Some others, improperly, somewhat idolized him.
But then there are those who still agree with the following teaching of Herbert W. Armstrong:
"Don't believe me – BELIEVE YOUR BIBLE – BELIEVE GOD! I always say…check up! Listen without prejudice, with open mind, then check up–go to your BIBLE, and BELIEVE what you read there." (Herbert W. Armstrong, Plain Truth magazine, Sept. 1963, Personal pg.1)
Herbert W. Armstrong made mistakes, and often big ones. He also had his own character flaws, though not all the terrible things written against him are true (see 15 Accusations and Truthful Responses About Herbert W. Armstrong).
But I do not want the focus of this post to be on the person of Herbert W. Armstrong, but on the biblically-correct teachings he claimed to restore to the Philadelphian portion of the Church of God that he claimed were lost through the ages by the time he encountered the Sardis era of the Church of God.
Herbert W. Armstrong wrote:
At least 18 basic and essential truths have been restored to the True Church since" the year 1933 (Mystery of the Ages, Dodd & Mead, 1985, p. 251).
The only Church of God group I am aware of that specifically lists all of those truths, using his list, as part of their official beliefs is the Continuing Church of God. Notice that portion of the Statement of Beliefs of the Continuing Church of God:
We in the Continuing Church of God do not simply believe these truths because Herbert W. Armstrong came up with a list. We believe them because they are biblically accurate and applicable, and consistent with aspects of church history.
Without going into more detail here, the second century writings of Theophilus of Antioch, for example, demonstrate that Christians believed that they were to be born again at the resurrection (Theophilus of Antioch. To Autolycus, Book 2, Chapter XV) and other early writings do demonstrate that there were those who professed Christ after the death of the original apostles that seemed to hold to those "restored truths." Judeo-Christians of the first few centuries A.D. seemed to understand at least some of the identity of physical Israel and tried to get the gospel message to them (e.g. James 1:1).
Consider also, in his October 1979 Plain Truth article titled 7 Proofs of God's True Church, Herbert W. Armstrong listed seven proofs that he felt that the Philadelphia portion of the true Church of God would have. These included knowing/teaching 1) Who and What is God?, 2) The Government of God and Creation of Holy and Righteous Character, 3) Who and What is Man?, 4) The Truth About Israel, 5) The True Gospel, 6) What and Why the Church?, and 7) The Priority of Teaching of the Reign of the Kingdom of God. He felt that the, then, Worldwide Church of God had all of those. We in the Continuing Church of God do as well.
Specifically related to those we teach:
1) The view that early Christians had on the Godhead,

2) The government of God (hierarchical with the Father as highest in authority and operates under His loving laws) and His goal of developing righteous character (Romans 5:4; Matthew 5:48) with doctrinal assistance from His ministry (Ephesians 4:11-16),

3) That God intentionally created humans physical (Genesis 2:7) and that those He calls (John 6:44) can become spiritual (1 Corinthians 15:45-48) in the family of God (Ephesians 3:14-19),

4) The identity of modern Israel and how that ties in with prophecy (cf. Genesis 48, 49; 2 Kings 12:19-20; 16:5-6; James 1:1; Daniel 11:39),

5) Christ's gospel of the kingdom (Mark 1:14-15; Acts 1:1-3),

6) That the church does the work of God (Matthew 24:14; 28:19-20; John 6:29; Revelation 3:7-13; 1 Corinthians 12:1-31; 16:9; 2 Corinthians 6:14-18; Ephesians 5:25-32) in truth (Psalm 33:4; Isaiah 61:8; John 17:17; 2 Timothy 2:15),

7) The proper priority of proclaiming the gospel of the kingdom to the world as a witness (Matthew 24:14) and the soon-coming millennium (Revelation 20:4), while teaching disciples all things that Jesus commanded (Matthew 28:19-20).
After the death of Herbert W. Armstrong, his human successor entered into apostasy and renounced most of the unique Church of God doctrines. The true church continued as many left that organization and many other organizations have since formed. Apostasy has happened from New Testament times (e.g. 1 John 2:18-19) and is one reason why tracing true Christian church history can be difficult.
While many Church of God groups have leaders that claim most or all of those seven points, nearly all have failed to truly practice Herbert W. Armstrong's points 2, 6, and 7, and have misunderstood some of the others. At least one group that believes it is a leader in 6 & 7 above, knowingly and intentionally, has made that proclamation with materials it knew contained doctrinal errors that were not the truth. That willingness to spread a false message shows that they are not leading the final phase of the work of God—the work of God MUST BE DONE IN TRUTH per Psalm 33:4. The LORD said, "I will direct their work in truth" (Isaiah 61:8), and those who knowingly publish and distribute doctrinal errors obviously are not accepting the LORD's direction.
Many other groups discount points 6 & 7. Yet, here is also something that Herbert W. Armstrong wrote related to points 6 and to parts of point 7:
In Matthew 28:19-20, God's order is 1) go and preach the Gospel (compare with Mark's version, same words of Jesus, Mark 16:15); 2) baptize those who repent and believe; then after that, 3) teach them to observe the commandments" (Autobiography of Herbert W. Armstrong, p. 523).
PURPOSE of the Church, 1) proclaiming the coming kingdom of God to the world and 2) feeding the flock.
The "loner"–the "individual Christian," who wants to climb up into the kingdom some other way than by CHRIST and HIS WAY through his CHURCH–is not being trained in CHRIST'S MANNER OF TRAINING, to rule and reign with Christ in his kingdom! (Mystery of the Ages, p.270).
Herbert W. Armstrong also taught, "with modern facilities for mass communication – the printing press, radio, television, even the telephone by which one may reach another in any part of the world in a matter of minutes or less – can reach more people by far than all of the first century apostles combined." (7 Proofs of God's True Church, Part 6. Plain Truth, August 1979).
We in the Continuing Church of God are utilizing 21st century methods for mass communication including the printing press, radio, YouTube television, the telephone, and of course the internet, which can even be faster than the forms of mass communication that Herbert W. Armstrong used. We have reached multiple millions with the gospel of the kingdom and have the type of proclamation and prophetic truths that Jesus said should be the criteria to know the true from the false in Matthew 7:15-18.
These truths are also listed in our free booklet Where is the True Christian Church Today?
But many once part of the old Worldwide Church of God no longer believe several truths.
Jesus warned the Philadelphians to "Hold fast what you have, that no one may take your crown" (Revelation 3:11), and this would seemingly have to include the doctrinal truths that were restored to the Philadelphia portion of the Church of God. The Bible also warns that people who seem to be believers will "fall away" from the truth and while that has happened in the past, it will again happen in the future (cf. Daniel 11:30-35; 1 Timothy 4:1). Some who once claimed to be Philadelphians have not held fast to that teaching either.
Herbert W. Armstrong ultimately believed that a dream, which had two proclamation parts, was a prophecy from God for him to enter the ministry, which he did, and he completed the first proclamation part of the dream. Thirty years after his death, the only group that has claimed to be working towards completing the second part of that dream is the Continuing Church of God.Three articles of related interest may include Dreams, the Bible, the Radio Church of God, and the Continuing Church of God, The Final Phase of the Work, and Should the Church Still Try to Place its Top Priority on Proclaiming the Gospel or Did Herbert Armstrong Change that Priority for the Work?
Most groups with leaders once part of the old Worldwide Church of God discount all dreams and have not placed the public proclamation of the kingdom of God to the world as their true initial priority (Matthew 24:14; 28:19), do not fully understand all of the restored truths, and have not valued the truth enough, hence they have shown that they are not the possessors of what has been called the "Philadelphia mantle" (leadership authority). The group with said mantle is also represented by the "woman" of Revelation 12:14-17.
The Book of Hebrews teaches:
1 Let brotherly love continue. (Hebrews 13:1)
Why bring that up here? Because the word translated as "brotherly love" is the Greek word Philadelphia. Philadelphia was to continue, even into this Laodicean time, as well as be present (to a degree) throughout the history of the Church of God. Philadelphians are deeply caring people.
Here is something from the late Herbert W Armstrong: about the 30% growth his church once had:
Work started

THE WORK of God, which the Church had been added to back up and assist, was started by myself, with only my wife as full time assistant. I started the radio broadcasting program in January, 1934, and The Plain Truth, in February, 1934. The Good News, as the organ for our members, had started earlier in 1933.

The Work GREW. God continued to ADD to His Church such as HE called to back up the GREAT COMMISSION, and to develop the godly, holy and righteous CHARACTER to qualify them to be made kings and priests UNDER CHRIST after His return to earth as KING of Kings at the beginning of the millenial rule.

For 35 years the WORK OF GOD grew steadily at the rate of approximately 30 percent a year. I do not know of any organization, secular or of God, that has shown so remarkable growth, starting from NOTHING financially (though we started with something greater — FAITH in the living Christ HEAD of the Church and the WORK). This Work was built literally on FAITH. The living Christ blessed it richly, even though there was carnal opposition and persecution from the beginning.

UNMATCHED Growth

Read carefully now. As the Work grew, so did the human organization to work UNDER me in getting God's Work done. Then, after this 35-year unmatched GROWTH with God's blessing, I made a basic mistake, which I did not then realize was contrary to GOD'S form of organization. It was a detail that NONE in the Church realized was unscriptural.

It happened this way: As the work continued growing and growing, especially after the foundation of Ambassador College, my younger son, Garner Ted, had become converted. Mr. Roderick C. Meredith had entered Ambassador College as a student beginning its third year, fall of 1949. He was developing as a leader under me. He saw the rapid strides my son Garner Ted was making at the time, spiritually. My elder son, Richard D. (Dick), was growing spiritually too, but at a slower more steady rate.

Mr. Meredith began to urge me to make Garner Ted vice president under me, in the Work. I thought it a good suggestion. …

Christ built Work

Now to the CENTRAL TRUTH leading into today's state of the Work. Brethren, READ THIS SERIOUSLY! Jesus Christ, the living HEAD of God's Church, started this present era of His Work through me. I DID NOT BUILD THE WORK OR THE CHURCH — the living Christ built it, using me as His instrument and His apostle.

But I made the mistake, unrealizing that mistake, of allowing an office of authority to be injected BETWEEN ME AND THE MINISTRY AND CHURCH!

For the first 35 years of this Work, I was the sole human in supreme command, UNDER CHRIST. There was opposition and persecution — from without — but THERE WAS NO QUESTION OF WHO WAS IN CHARGE! During those 35 years the Church and the Work GREW AND GREW AND GREW! It had Christ's BLESSING!

I knew that GOD'S FORM OF ORGANIZATION IS FROM THE TOP DOWN. I DID NOT REALIZE that allowing an office of authority to be interjected BETWEEN me and the Church was contrary to God's form of human organization.

WHAT RESULTED? Great confusion grew in the Church — especially in and around headquarters. "WHO IS REALLY IN AUTHORITY?" many wondered, perplexed. The Work STOPPED GROWING. (Christ Puts Church On Bible Form Of Organization. Good News, June 5, 1978)
The Continuing Church of God has exceeded the 30% growth per year that the old Radio/Worldwide Church of God used to claim it had for decades. Many of those that we have with us did NOT have a WCG background as we reached people others had not. (As far as church governance goes, check out the article The Bible, Peter, Paul, John, Polycarp, Herbert W. Armstrong, Roderick C. Meredith, and Bob Thiel on Church Government.)
We are the fourth or fifth largest xWCG group and have been the fastest growing xWCG in the 21st century.
We have the type of growth that Herbert W. Armstrong said should indicate God's blessing.
Part of Herbert W. Armstrong's legacy is that he took the Bible to be the word of God and taught:
…the Bible tells us to PROVE all things (Armstrong HW. The RESURRECTION was NOT on Sunday. 1952).
Which of course, it does as the Apostle Paul wrote:
21 Prove all things; hold fast that which is good (1 Thessalonians 5:21, KJV).
We in the CCOG urge all to do that.
More on Philadelphia-era doctrines and priorities can be found in the article The Philadelphia Church Era.
Now, various ones have called early church teachings as "Armstrongism" and have often misreported what was taught. To deal with some happening in the 21st century, the Continuing Church of God put together this sermonette on its ContinuingCOG channel:
The physical head of the old Radio/Worldwide Church of God was the late Herbert W. Armstrong. What he taught has been derided as "Armstrongism." What were some of those teachings? Was the old Worldwide Church of God some type of weird cult or did it strive to contend earnestly for the faith once for all delivered to the saints? Is "Armstrongism" improperly maligned and falsely described at GotQuestions.com? Are concepts such as the tribes of Israel, 'soul sleep,' and three resurrections unique to Herbert W. Armstrong or were they long part of original Nazarene Christianity? What about various holidays and Christianity? In this video, Dr. Thiel goes over his early experiences with "Armstrongism" as well as gives scriptures about persecutions that would affect Christians.
Here is a link to the sermonette: What is Armstrongism? Are Some Dismissive of Original Christianity?
Those interested in learning more about Herbert W. Armstrong, himself, should read the article Who Was Herbert W. Armstrong? How is He Viewed Today?
Several items of possibly related interest include:
Who Was Herbert W. Armstrong? How is He Viewed Today? Includes quotes from the 1973 edition of The Autobiography of Herbert W. Armstrong and explains how he is and should be viewed today.
What is Armstrongism? Did Herbert W. Armstrong raise a new faith or promote the original Christian faith? Here is a link to a related video: What is Armstrongism? Are Some Dismissive of Original Christianity?
15 Accusations and Truthful Responses About Herbert W. Armstrong He, even after his death, keeps being improperly maligned–here is the truth on these matters.
Herbert W. Armstrong, the Philadelphia Church, & the Mantle Herbert Armstrong claims God had him raise the Philadelphia up. Are there reasons to believe that the Philadelphia mantle in now within the CCOG? Here is a link to a related sermon: Herbert W. Armstrong and the Philadelphia Mantle.
Does the CCOG have the confirmed signs of Acts 2:17-18? Does any church have the confirmed dream and prophetic signs of Acts 2:17-18? Should one? Here is a link in the Spanish language: ¿Tiene la CCOG confirmadas las señales de Hechos 2: 17-18? Here is a link in the French language: Est-ce que l'Église Continue de Dieu confirme les signes d'Actes 2:17-18?
Church of God Leaders on Prophets Have there been prophets throughout the church age? Are any supposed to be around in the last days? What have COG leaders stated or written about prophets? Here is a link to a related sermon: Church of God Leaders on Prophets.
18 Truths Restored to the Churches of God Herbert W. Armstrong wrote that he felt he had restored at least 18 lost truths to the Church, here is Herbert W. Armstrong's list given 12/17/83. This articles also has links to show that these truths were believed by professors of Christ in earlier times, hence they were not some invention of Herbert Armstrong.Here is a related link in Spanish/español: Lista de Herbert W. Armstrong de las 18 verdades restauradas. Here are links to a related two-part sermon: The 18 Restored Truths: 1-8 and The 18 Restored Truths: 9-18.
Do You Believe God Used Herbert W. Armstrong to Raise Up the Philadelphia Era of the Church of God? Nearly everyone while in WCG used to believe this, most do not seem to anymore.
The Final Phase of the Work What is the final phase of the work? Who will lead it? Do you have the courage to support it? Here is a related YouTube video titled The Final Phase of the Work. The written article has been translated into Spanish La Fase Final de la Obra.
Leading the Final Phase of the Work Matthew 24:14 teaches "And this gospel of the kingdom will be preached in all the world as a witness to all the nations, and then the end will come " will be fulfilled and RCG is not the group doing this. Who is leading the final phase of the work? What did Herbert Armstrong and the old WCG teach about that and about prophets? Does Bob Thiel meet the criteria that the Bible and the old WCG set? What is the proof? What has the Continuing Church of God been doing? This is a sermonette length video.
Should the Church Still Try to Place its Top Priority on Proclaiming the Gospel or Did Herbert W. Armstrong Change that Priority for the Work? Some say the Church should mainly feed the flock now as that is what Herbert W. Armstrong reportedly said. Is that what he said? Is that what the Bible says? What did Paul and Herbert W. Armstrong expect from evangelists?
Here are Some Quotes from Herbert W. Armstrong on Laodicea and Holding to Doctrine.
Continuing Church of God The group striving to be most faithful amongst all real Christian groups to the word of God.
5. The Sardis Church Era was predominant circa 1600 A.D. to circa 1933 A.D. Discusses early history of the Seventh Day Baptists, Seventh-day Adventists, and COG-7th Day.
6. The Philadelphia Church Era was predominant circa 1933 A.D. to 1986 A.D. The old Radio Church of God and old Worldwide Church of God, now the remnant of that era is basically the most faithful in the Church of God, like who hold to the beliefs and practices of the Continuing Church of God.
7. The Laodicean Church Era has been predominant circa 1986 A.D. to present. The Laodiceans are non-Philadelphians who mainly descended from the old WCG or its offshoots. They do not properly understand the work or biblical prophecies and will face the Great Tribulation if they do not repent. One video of related interest is 17 Laodicean Errors in Prophecy.