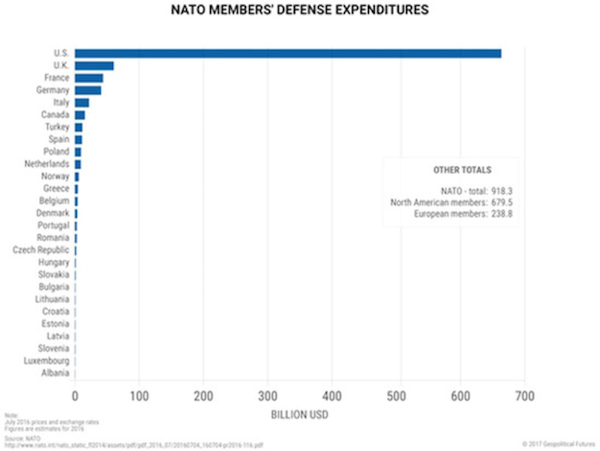 The new US Secretary of State, Mike Pompeo, wants more military spending by Germany:
2018-04-28

New US Secretary of State Mike Pompeo took aim at Germany over its defence spending on Friday, using his first NATO meeting to push President Donald Trump's call for allies to shoulder a bigger burden. …

Asked if Germany was doing enough to meet the target, Pompeo said bluntly: "No. They should meet the goals that they agreed to."

"European nations must bear the necessary responsibilities for their security and make the case to their fellow citizens why it is critical to fulfil their obligations on defence spending," Pompeo told reporters after the meeting.

Pompeo's comments came as German Chancellor Angela Merkel was heading to the White House for talks with Trump.

"NATO is wonderful, but it helps Europe more than it helps us," Trump said ahead of his meeting with the German leader. http://www.france24.com/en/20180428-us-envoy-pompeo-targets-germany-nato-spending
The USA would do well to consider the expression, "Be careful what you ask for."
Getting Europeans to spend more on their military will not turn out well for the USA.
Notice something that Germany's Chancellor Merkel said yesterday in a meeting with Donald Trump:
April 27, 2018

And I say it, yes, Germany and Europe have to take their destiny into their own hands, because we can no longer as we used to during the period of the Cold War, during the years when Germany was divided, rely on America coming and helping us.

America is still helping us, but step by step we will simply have to increase our contribution too (ph). And America has been very much engaged, very broadly engaged in parts of the world that are far away from America. And the people of America, too, have said well what's in it for us? So the president is saying, you ought to have some more burden sharing.

So in a way we're maturing, we're growing out of a role where after the Second World War people were rather happy for Germany not becoming too engaged, not too active, because during the period of National Socialism we created such incredible injustice in the world, and — but this post-war period is at end. It's more than — this post-war period is — well, that's essentially 70 years ago. So we as Germans have to learn to assume more responsibility.

We're proud to be the second largest troop contributor in NATO. We've done a lot over the past few years. Obviously from the president's perspective not perhaps fast enough. http://www.cnn.com/TRANSCRIPTS/1804/27/cnr.05.html
Now, she has said similar things in the past (see also Germany and France want united trade and military positions to stand against Donald Trump).
But it does not seem like Americans realize where this will lead.
The Bible warns of the military power that Europe will become (Revelation 13:4; Daniel 11:39; see also USA in Prophecy: The Strongest Fortresses).
Donald Trump wants NATO with the Europeans providing more military funding. Consider the following:
According to NATO statistics, the U.S. spent an estimated $650 billion on defense last year. That's more than double the amount all the other 27 NATO countries spent between them, even though their combined GDP tops that of the U.S. (Kottasova I. CNN, July 8, 2016 http://money.cnn.com/2016/07/08/news/nato-summit-spending-countries/)
While Donald Trump is correct that the USA is spending "disproportionately, " especially considering that the total size of the economies of the 27 other NATO nations exceeds that of the USA, the reality is that the USA has been able to control NATO and many military decisions because of that. This will eventually change after the Europeans spend more themselves.
The Washington Post has suggested that German issues and Donald Trump's rise may result in a similar leader in Germany (Noack R. Germany's shrinking middle class may spawn a new Donald Trump. Washington Post, May 11, 2016). This is consistent with writings from the old Worldwide Church of God:
Watch the emergence of a strong man in West Germany … Watch the Europeans gradually assume a posture more independent' of American direction. (Hogberg G and Walter EM. NATO at the Crossroads. Plain Truth, May 1969)

The prophecy of Daniel 11 details events …

This is an important "end-time" prophecy. Following the chronological progression of the chapter, it becomes apparent that the phrase "king of the north" had at first referred to Syria under the Seleucid dynasty, and later, in the New Testament times, to the Emperor of the Roman Empire. … Thus, in its final end-time application, the "king of the north" is the prophesied strong man who will lead a coming union of ten European nations — the seventh and final revival of the ancient Roman Empire prophesied by Daniel and in the book of Revelation (see Revelation 17:12-13). (Stump K. THE ARAB WORLD IN PROPHECY. Plain Truth, December 1979)

If problems are not wisely solved when they are small, they grow and eventually become unmanageable by normal means. A cry then arises for someone to take command- someone who will have an effect on events. And quite often at that critical moment, a strong man brandishing a solution presents himself, seizing the opportunity to make an "emergency" assumption of powers. …

People need leadership, and a discontented populace easily drifts toward the acceptance of unconstitutional methods. No other apparent option is left. Of course, in such situations, the people — not wholly ignorant of history — always hope that "it will be different this time," that this strong man will exercise "enlightened" power. It is the triumph of false hope over experience. …

The Beast is a great dictator revealed in the Apocalypse or book of Revelation. He is to rule over 10 nations or groups of nations, centered in Europe, just before the return of Jesus Christ (Rev. 17:12-13). More than 25 centuries ago, the prophet Daniel recorded a description of this coming despot: "And in the latter time… a king of fierce countenance, and understanding dark sentences, shall stand up. And his power shall be mighty… and he shall destroy wonderfully, and shall prosper, and practise, and shall destroy the mighty and the holy people" (Dan. 8:23-24). This tyrant is portrayed as proud, insolent, merciless, a manipulator, cunning in the art of political maneuvering — the epitome and culmination of the worst in despots throughout history. He and others will plunge the earth into a new and terrifying — and thankfully brief — Dark Age! (Stump K. WHY the World Crisis in Leadership?. Plain Truth, September 1985)
Europe IS now asserting a posture that it more independent of the USA. And a strongman will rise up in Europe, and he will likely be at least partially German.
The Bible teaches that despite its apparent and real divisions, Europe will reorganize, unite, and become a military power called the 'beast':
41 Whereas you saw the feet and toes, partly of potter's clay and partly of iron, the kingdom shall be divided; yet the strength of the iron shall be in it, just as you saw the iron mixed with ceramic clay. 42 And as the toes of the feet were partly of iron and partly of clay, so the kingdom shall be partly strong and partly fragile. 43 As you saw iron mixed with ceramic clay, they will mingle with the seed of men; but they will not adhere to one another, just as iron does not mix with clay. (Daniel 2:41-43)

12 "The ten horns which you saw are ten kings who have received no kingdom as yet, but they receive authority for one hour as kings with the beast. 13 These are of one mind, and they will give their power and authority to the beast. (Revelation 17:12-13)

1 Then I stood on the sand of the sea. And I saw a beast rising up out of the sea, having seven heads and ten horns, and on his horns ten crowns, and on his heads a blasphemous name. 2 Now the beast which I saw was like a leopard, his feet were like the feet of a bear, and his mouth like the mouth of a lion. The dragon gave him his power, his throne, and great authority. 3 And I saw one of his heads as if it had been mortally wounded, and his deadly wound was healed. And all the world marveled and followed the beast. 4 So they worshiped the dragon who gave authority to the beast; and they worshiped the beast, saying, "Who is like the beast? Who is able to make war with him?" (Revelation 13:1-4)
This reorganization of Europe will NOT turn out well for the USA nor it Anglo-Saxon descended allies (cf. Daniel 8:25; 11:39; USA in Prophecy: The Strongest Fortresses).
Donald Trump does not seem to appreciate or understand the biblical prophecies related to the USA and Europe. He is inadvertently taking steps that will lead to the fulfillment of biblical prophecies.
Over fifty years ago, the old Radio Church of God published the following:
GERMANY in Prophecy!

Notice an amazing prophecy about the Middle East in Psalm 83:1-8. It is a time of war. "Hold not Thy peace, and be not still, O God. For, lo, Thine enemies… have taken crafty counsel against Thy people."

They have dealt treacherously with Judah and Israel — with the Jews and with America and Britain! We are God's people, Israel. The Jews are merely the tribe of Judah. But to continue: "They have said, 'Come, and let us cut them off from being a nation.'" Isn't this exactly what the Iraqi leaders have said? "For they have consulted together with one consent: they are confederate against Thee…"

What nations are these in confederation against God's people? Here is the answer of this prophecy! Here is what is yet going to take shape in the Middle East!

"Edom (Turkey), and the Ishmaelites (Saudi Arabia); Moab (part of Jordan), and the Hagarenes (part of Arabia); Gebal (this is the ancient name for Byblos in Lebanon), and Ammon (Jordan) and Amalek (part of the Turks); the Philistines (the displaced Moslems from Palestine) with the inhabitants of Tyre; ASSUR IS JOINED WITH THEM: they have helped the children of Lot."

Who is Assur? GERMANY!

So Germany — NOT atheistic, communist Russia — is ultimately going to support an Arab union against the Jews and against Israel — Britain and America! This is what prophecy foretells. This is God's warning to us today. …

Germany and World War III

But Germany is not only going to be embroiled in the hot Middle East controversy, she is going to spark World War III!

Notice the prophecies!

"O Asshur, the rod of Mine anger," declares God. Here is a prophecy concerning Germany — the descendants of Asshur today! "The staff," says God, "in their hand is Mine indignation. I will send him against an hypocritical nation (that is, Israel — America and Britain today), and… I will give him a charge to take the spoil, and to take the prey, and to tread them down like the mire of the streets" (Isaiah 10:5-6).

Our sins are mounting to heaven itself. And God is going to punish us by the very nation whom we have tried to buy for an ally! It is God who is going to permit the revival of Germany — this time in a gigantic union of 10 European powers united with a great religious power — to punish us in World War III.

We won two major wars against Germany in one generation. But the third time God is going to punish us as we have never been punished before! The sword of war is going to strike us "the third time" (Ezekiel 21:14), and we are going to be led away captive to Assyria and to all nations (Isaiah 11:10-12).

Literally dozens of prophecies speak of this terrible calamity to befall us in the 1970's. …

Germany is to be warned of her sins. Because she will not now repent, God will use her to punish us first. Then He is going to punish her.

The entire book of Nahum — one of the so-called Minor Prophets — is devoted to the final punishment of the German-dominated Church-State union yet to arise in Europe. The setting of the prophecy is the original fall of Nineveh about 612 B.C. What happened to Nineveh, the ancient capital of Assyria, was a type of what will happen in our day! Notice that the actual setting of this prophecy is the time of God's "wrath" — the Day of the Lord (Nahum 1:2, 6). That day of God's intervention is YET FUTURE. It has not happened yet! (Isaiah 19:23-25). (Hoeh H. GERMANY in Prophecy! – Part 2. Plain Truth, January 1963)
While his timing was off by many decades, we are seeing German-dominated political (European Union, which will reorganize), economic (Eurozone), and military alliances (PESCO) beginning to rise in Europe.  As far as Europe's PESCO goes, it has been (correctly) reported that it is about war, not peace (see 'PESCO is not about peace, it is about preparing for EU wars'). PESCO will be more than about some small war, what is happening in Europe (whether or not the term PESCO will be used) is going to result in World War III.
As far as what is going on with Germany and Europe, consider that the Bible teaches that Europe will have a great army:
25 "He shall stir up his power and his courage against the king of the South with a great army. (Daniel 11:25)
The "He" is identified as the final prophesied European King of the North in Daniel 11:40 (watch also Can You Prove that the Beast to Come is European?).
Of course, some look at NATO and how disproportionately the USA spends to support it and consider that this means that the USA is so powerful that other NATO nations could never destroy it.
The Europeans will take more steps to separate themselves from the USA. This does not mean that NATO must be totally abandoned. I have felt for decades that the Europeans would likely attack the USA deceptively under the guise of a NATO or similar exercise, and probably will have ground assistance from Mexico, a nation that Donald Trump has repeatedly offended. Donald Trump, in my view, has repeatedly confirmed this by threatening the Europeans for lack of military funding, while also saying he is 100% in support of NATO.
When you spend more for something yourself, you want more control.
And Europe will want more than most in the USA can imagine.
Europe wants to be independent of the USA, and will one day take it over per Daniel 11:39 (for more details, check out the article USA in Prophecy: The Strongest Fortresses).
Some items of possibly related interest may include:
Europa, the Beast, and Revelation Where did Europe get its name? What might Europe have to do with the Book of Revelation? What about "the Beast"? Is an emerging European power "the daughter of Babylon"? What is ahead for Europe? Here is a link to a video titled: Can You Prove that the Beast to Come is European?
European Technology and the Beast of Revelation Will the coming European Beast power would use and develop technology that will result in the taking over of the USA and its Anglo-Saxon allies? Is this possible? What does the Bible teach? Here is a related YouTube video: Military Technology and the Beast of Revelation.
The 'Peace Deal' of Daniel 9:27 This prophecy could give up to 3 1/2 years advance notice of the coming Great Tribulation. Will most ignore or misunderstand its fulfillment? Here is a link to a related sermon video Daniel 9:27 and the Start of the Great Tribulation.
Must the Ten Kings of Revelation 17:12 Rule over Ten Currently Existing Nations? Some claim that these passages refer to a gathering of 10 currently existing nations together, while one group teaches that this is referring to 11 nations getting together. Is that what Revelation 17:12-13 refers to? The ramifications of misunderstanding this are enormous. A related sermon is titled Ten Kings of Revelation and the Great Tribulation.
Is God Calling You? This is a draft booklet discussing calling, election, and selection. If God is calling you, how will you respond?
What Did Christ Mean Many Are Called, But Few Are Chosen? This article was by Raymond McNair.
Christian Repentance Do you know what repentance is? Is it really necessary for salvation? A related sermon is also available titled: Real Christian Repentance.
World War III: Steps in Progress Are there surprising actions going on now that are leading to WWIII? Might a nuclear attack be expected? Does the Bible promise protection to all or only some Christians? How can you be part of those that will be protected? A related video would be Is World War III About to Begin? Can You Escape?
WTO/TTIP and the Babylonian Beast Will international trade agreements like WTO/TTIP/CETA lead to the fulfillment of end time prophecies concerning the Babylonian Beast power that the Book of Revelation warns against? What does the Bible teach? A related video would be WTO Trade Deal and the Rise of the European Beast Power.
Forbes' Brexit Monster is the Beast of Revelation Various ones have been properly convinced that there is a plan for a European superstate. Forbes' writer Tom Worstall wrote that the Brexit vote was about the United Kingdom "not joining the monster of the European Union to come." The Bible tells of a Beast monster that will arise in the end times in Europe. Dr. Thiel cites news reports, as well as the Old and New Testaments, to show that the monster many fear will arise in Europe, despite the vote by the British to exit the European Union. This is a video.
Post Brexit Prophecy On June 23, 2016, the voters of the United Kingdom of Great Britain and Northern Ireland (UK) chose to leave the European Union. Now with this BRitish EXIT (Brexit) vote, what is prophesied to happen to the UK? Will the UK do well or be taken over and made slaves? Dr. Thiel explains from biblical prophecies what is ahead for the UK, Europe, and even the USA, Canada, Australia, and New Zealand. This is a video.
Brexit and the fate of Northern Ireland, Gibraltar, the UK, and the USA On April 29, 2017, 27 of the nations of the European Union agreed to certain guidelines for the negotiations with the United Kingdom of Great Britain and Northern Ireland which gave its notice to leave on March 29, 2017. These guidelines are contrary to what the UK wants. Does the EU intend the UK to pay a price for leaving the EU? What does Spain want? What does the Republic of Ireland want? Will Northern Ireland and Gibraltar eventually fall under European control? Will the UK and USA be conquered? What does the Bible teach? Dr. Thiel answer these questions and more in this video.
USA in Prophecy: The Strongest Fortresses Can you point to scriptures, like Daniel 11:39, that point to the USA in the 21st century? This article does. A related sermon is titled: Do these 7 prophesies point to the end of the USA?
Germany's Assyrian Roots Throughout History Are the Germanic peoples descended from Asshur of the Bible? Have there been real Christians in Germanic history? What about the "Holy Roman Empire"? There is also a You-Tube video sermon on this titled Germany's Biblical Origins.
Germany in Biblical and Catholic Prophecy Does Assyria in the Bible equate to an end time power inhabiting the area of the old Roman Empire? What does prophecy say Germany will do and what does it say will happen to most of the German people? Here is a link to a video Is the USA Pushing Germany to Start WWIII?
Wars, rumors of wars, and the Apocalypse Jesus foretold a time before the end where there would be wars and rumors of wars. The Apocalypse (the Book of Revelation) warns of the red horseman of war. Now, even secular writers, like Larry Edelson, are worried that wars and rumors of war are the most menacing problem that now haunts the earth? Are they right? What is the solution? This is a sermonette-length video.
Is Russia the King of the North? Some claim it is. But what does the Bible teach? Here is a link to a video, also titled Is Russia the King of the North?
Who is the King of the North? Is there one? Do biblical and Roman Catholic prophecies for the Great Monarch point to the same leader? Should he be followed? Who will be the King of the North discussed in Daniel 11? Is a nuclear attack prophesied to happen to the English-speaking peoples of the United States, Great Britain, Canada, Australia, and New Zealand? When do the 1335 days, 1290 days, and 1260 days (the time, times, and half a time) of Daniel 12 begin? When does the Bible show that economic collapse will affect the United States? In the Spanish language check out ¿Quién es el Rey del Norte? Here is a link to a video titled: The Future King of the North.
Anglo – America in Prophecy & the Lost Tribes of Israel Are the Americans, Canadians, English, Scottish, Welsh, Australians, Anglo-Saxon (non-Dutch) Southern Africans, and New Zealanders descendants of Joseph? Where are the lost ten-tribes of Israel? Who are the lost tribes of Israel? What will happen to Jerusalem and the Jews in Israel? Will God punish the U.S.A., Canada, United Kingdom, and other Anglo-Saxon nations? Why might God allow them to be punished first? Here is a link to the Spanish version of this article: Anglo-América & las Tribus Perdidas de Israel. Information is also in the YouTube sermons titled Where are the Ten Lost Tribes? Why does it matter? and British are the Covenant People. A short YouTube of prophetic interest may be: Are Chinese threats against Australia for real?
Will the Anglo-Saxon Nations be Divided and Have People Taken as Slaves? Will the lands of the United States, United Kingdom, Canada, Australia, and New Zealand be divided? What about Jerusalem? What does Bible prophecy teach? Are there non-biblical prophecies that support this idea? Who will divide those lands? Who will end up with the lands and the people? Here is a link to a video titled Will the USA and other Anglo-nations be Divided and Their People Made Slaves? Here is a related item in the Spanish language ¿Serán divididas las naciones anglosajonas?
British are the Covenant People What do 'British' and 'Britain' mean in Hebrew? Are the descendants of the Anglo-Saxons people of the covenant? Does the British royal family connect to the throne of David? What does the Bible teach? What does history show us? Is there any DNA evidence related to British-Israelism? When did Christianity make it to the British Isles? Could Jeremiah have made it to the British Isles? What type of Christians made it to the British Isles? Did the last King of England believe in British Israelism?
Donald Trump in Prophecy Prophecy, Donald Trump? Are there prophecies that Donald Trump may fulfill? Are there any prophecies that he has already helped fulfill? Is a Donald Trump presidency proving to be apocalyptic? Two related videos are available: Donald: 'Trump of God' or Apocalyptic? and Donald Trump's Prophetic Presidency.
Trump Presidency Magic 8 Ball or Bible Prophecy? BBC reported that one might as well use a 'Magic Eight-Ball' to try to predict what will happen in the remaining time of Donald Trump's presidency. What is a 'Magic Eight-Ball'? Dr. Thiel not only explains that, but also briefly goes over 10 biblically-based warnings he wrote would happen if Donald Trump were elected that have already began to come to pass. He also goes over something he wrote back in 2008 that the Trump presidency is also helping lead to fulfillment. Should you trust Bible prophecy or not? Dr. Thiel says that Bible prophecy can be trusted, despite the view of skeptics and others that either overlook or despise the Bible. This is a video.
USA in Prophecy: The Strongest Fortresses Can you point to scriptures, like Daniel 11:39, that point to the USA in the 21st century? This article does. A related sermon is titled: Do these 7 prophesies point to the end of the USA?