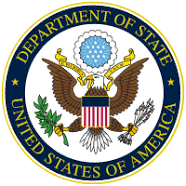 US Government State Department logo
Strategic Culture put out the following:
U.S. Officials Concern Troll About World Press Freedoms While Assaulting Them

US State Department spokesman and CIA veteran Ned Price tweeted disapprovingly about the Kyrgyz Republic's decision to deport investigative journalist Bolot Temirov to Russia, where press freedom groups are concerned that the Russian citizen could face conscription to fight in Ukraine.

"Dismayed by the decision to deport journalist Bolot Temirov from the Kyrgyz Republic," said Price. "Journalists should never be punished for doing their job. The Kyrgyz Republic has been known for its vibrant civil society — attempts to stifle freedom of expression stain that reputation."

This would be an entirely reasonable statement for anyone else to make. If you said it or I said it, it would be completely legitimate. But when Ned says it, it is illegitimate.

This is after all the same government that is working to extradite an Australian journalist from the United Kingdom with the goal of imprisoning him for up to 175 years for exposing US war crimes. Price says "Journalists should never be punished for doing their job," but that is precisely what the government he represents is doing to Julian Assange, who has already spent three and a half years in Belmarsh Prison awaiting US extradition shenanigans. This is in top of the seven years he spent fighting extradition from the Ecuadorian embassy in London under what a UN panel ruled was arbitrary detention. …

We are ruled by tyrannical, hypocritical freaks who do not care about truth and freedom; they care only about power and what they can use to obtain it. The only press they support are those whose persecution can be politically leveraged, and those who can be used to peddle propaganda like the notorious AP editor who recently said she "can't imagine" a US intelligence official being wrong.

Pointing out hypocrisy is important not because hypocrisy is an especially terrible thing in and of itself, but because it draws attention to the fact that the hypocrite does not really stand where they claim to stand and value what they purport to value. https://strategic-culture.org/news/2022/11/24/us-officials-concern-troll-about-world-press-freedoms-while-assaulting-them/
Well, Jesus did point out that hypocrisy was a terrible thing. Throughout the gospels, Jesus repeatedly condemned hypocrites (Matthew 6:2,5,16; 15:7; 16:3; 23:13-29; Mark 7:6; Luke 11:44; 12:1, 56). Hypocrisy was also condemned by various apostles (Romans 12:9; Galatians 2:13; 1 Timothy 4:2; James 3:17; 1 Peter 2:1).
The Bible shows that destruction will come to the hypocritical nation (Isaiah 10:6, KJV).
And yes, related to press freedom, the government of the USA is hypocritical.
Notice the following from last Summer:
Biden's White House Tells Facebook What to Censor

August 2, 2021

White House Press Secretary Jen Psaki announced on July 15 that the American government is instructing Facebook to remove certain posts from its platform. Speaking about the government's response to covid-19, she said the White House is "flagging problematic posts for Facebook that spread disinformation."

Psaki defined "health misinformation" as "false, inaccurate or misleading information about health, according to the best evidence at the time."

"[T]oday we live in a world where misinformation poses an imminent and insidious threat to our nation's health," she said. "[T]he truth is that misinformation takes away our freedom to make informed decisions about our health and the health of our loved ones."

Psaki called for an "all-of-society approach to fight misinformation."

The United States government is pressuring a private company that claims to not be responsible for what its users write and telling it what to ban from its platform.

Psaki continued:

Facebook needs to move more quickly to remove harmful, violative posts—posts that will be within their policies for removal often remain up for days. That's too long. The information spreads too quickly.

Not only is the government telling Facebook what it can and cannot display, it's even chiding the company for not going after "violative posts" quickly enough.

The Biden administration isn't the only arm of the U.S. government involved in this. So is the Senate. Sen. Amy Klobuchar introduced the Health Misinformation Act to the Senate on July 22. The proposed bill would make an exemption to the Communications Decency Act, which gives online platforms legal immunity from problematic content their users upload. The exemption would be regarding "misinformation and disinformation" regarding the covid-19 pandemic. If it becomes law, the government can force Big Tech to do its bidding in this regard. https://www.thetrumpet.com/24381-bidens-white-house-tells-facebook-what-to-censor
Since the Biden-Harris Administration has encouraged private companies to censor, the White House's call for press freedom elsewhere is showing hypocrisy.
The Bible warns:
13 … and the hypocrite's hope shall perish: (Job 8:13, KJV)

5 O Assyrian, the rod of mine anger, and the staff in their hand is mine indignation. 6 I will send him against an hypocritical nation (Isaiah 10:5–6, KJV).

5 … But the Assyrian shall be his king, Because they refused to repent. (Hosea 11:5)
Christians all need to recall that when Jesus came, He clearly condemned the hypocritical religious leaders of His day for their hypocrisy (e.g. Matthew 23:13-29), more directly than he condemned the physically more obvious sinners (Matthew 9:10–13).
This is not to say that non-Anglo-Saxon nations do not have sin or that they will not be punished. The European Assyrians will clearly also be punished, per Isaiah 10:12-19, but the Bible shows that punishment will begin first on those who should have known better. That is, the punishment will begin on those who have claimed to live rightly, but have repeatedly failed to do so. Those who receive biblical blessing should not be surprised when they receive biblical curses for disobedience (cf. Deuteronomy 28:1-68).
As far as the USA goes, much of the censorship that is happening and is being proposed, in my opinion, is a clear violation of the first amendment of the US Constitution, which states:
First amendment — Congress shall make no law respecting an establishment of religion, or prohibiting the free exercise thereof; or abridging the freedom of speech, or of the press; or the right of the people peaceably to assemble, and to petition the Government for a redress of grievances.
Despite what that amendment says, the USA has had real problems with federal courts as they have ruled against speech as well as religious freedom. The Biden-Harris Administration has tended to support certain restrictions on the freedom of the press and freedom of religion.
Reportedly, the Biden-Harris Administration has colluded with Big Tech to do so, according to the following from this Fall:
SAN FRANCISCO (Oct. 21, 2022) — Yesterday, author and data analyst Justin Hart filed new evidence in his federal lawsuit against Facebook, Twitter, and U.S. President Joe Biden. The evidence documents collusion between social media companies and the federal government to silence Americans online on the Internet — a public forum the Supreme Court has determined is the most important place for the exchange of ideas. Hart sued the social media giants and Biden administration in August 2021 for violating his First Amendment right to free speech for working together to monitor, flag, suspend, and delete social media posts it deems "misinformation."

Hart is represented by attorneys from the Liberty Justice Center, a national public-interest law firm that fights to protect fundamental constitutional rights. Since filing the federal lawsuit, Liberty Justice Center, other nonprofit law firms, and state attorneys general have uncovered communications and documents proving collusion between Big Tech and Biden administration officials at every level. Hart's attorneys have submitted this evidence gained through public records requests with an amended complaint.

"New evidence confirms what we have long known: our federal government is working directly with Big Tech to silence Americans," said Daniel Suhr, managing attorney at the Liberty Justice Center. "The government is directing private companies to violate Americans' free speech rights. Censorship may have started with what they call 'COVID misinformation,' but it opens the door for any administration to define any message they don't like as 'misinformation.' This is unconscionable and illegal." …

"The depth of the collusion between Big Government and Big Tech is alarming and reveals a sinister plot to undermine the rights of Americans by fully removing certain ideas and people from public discourse," said Justin Hart, author and plaintiff. "The government does not have a monopoly on truth. By directing and pressuring social media companies to censor Americans, our government is silencing critical discussions and, most importantly, violating our most sacred rights."
It is demonic to censor the Bible and biblical teachings.
Yet, YouTube, to cite an example, censored our biblically-based video aimed at protecting children titled: Disney's abominable promotions!
It also censored two factually accurate videos about health during COVID and scientific limits of antibiotics and vaccines.
As far as Facebook goes, it censored a scientific post I had (which is still available at COGwriter: COVID interview: Dr. Fauci takes isolated vitamin D and synthetic vitamin C), which had 31 supporting references. Facebook was NOT interested in reliable information, but pushing a narrative. YouTube, Google, and others do the same thing.
As far as pushing a narrative goes, Western media and Big Tech have also tended to push a narrative related to the military conflict in Ukraine.
There has been a lot of disinformation in the news lately. Truth, has often, taken second place to various narratives.
There has also been a lot of Western hypocrisy–and Jesus condemned hypocrisy (e.g.Matthew 23:13-29).
The Bible also warns:
13 But evil men and impostors will grow worse and worse, deceiving and being deceived. (2 Timothy 3:13)
Sadly, the Bible shows that deception and improper censorship will worsen in the future (cf.Revelation 13:14-18; Amos 8:11-12).
Notice item 3 from my list of 22 items to prophetically watch in 2022:
Was loss of freedom of free speech and of the press prophesied?

Back in 1981, the old Worldwide Church of God correctly pointed out that it was:

THE MOST important work in the world cannot be done without freedom of the press!

What is that work?

It is the work of announcing that God will restore His Government to the whole earth! But before the Government of God is restored, it must first be announced! The good news of that announcement — the Gospel of the Kingdom of God — must be preached (Matthew 24:14) to all nations (Matthew 28:19). And the nations must choose whether they will want it or resist it.

In this day, God has made the MASS media available to accomplish His work. But reaching a mass audience with the good news of God's soon-coming Government requires the freedom to PUBLISH. Notice Mark 13:10: "And the gospel must first be published among all nations."

Further, God lays a special duty on his messenger and Church to publicly disseminate certain warnings to certain nations. Ezekiel 33:1-7 describes God's charge upon the watchman. When the watchman sees "the sword" come upon the land — a prophetic symbol of military devastation — he must "blow the trumpet" or God will hold him personally responsible. …

Governmental Reaction

And yet while the Bible places a duty on God's servants, it also warns that this world — even now and in the future — will not always allow the freedom to publish.

In the past a government's excuse for persecution was that God's message IS TOO DISTURBING to be allowed to circulate freely. …

In the New Testament, the authorities tried to prevent the apostles from preaching the Gospel. The apostles were forcibly brought before the council. The high priest asked them: "Did not we straightly command you that you should not teach in this name? and, behold, ye have filled Jerusalem with your doctrine…" (Acts 5:28).

In other words, the civil and religious authorities were seeking to regulate the content of their message!

In response, the apostle Peter declared the firm rule that "we ought to obey God rather than men" (verse 29). Since Peter and company had a God-ordained duty to say what they were saying, the commands of the civil government of Jerusalem were in direct conflict with God's.

For the future, the Bible prophecy reveals that the time will come when most of this world's nations will be led by Satan to abolish freedom of the press — and all related freedoms. Why? To prevent any publishing of God's message from reaching any substantial number of people!

`Behold, the days come, saith the Lord God, that I will send a famine in the land, not a famine of bread, nor a thirst for water, but of hearing the words of the Lord: and they shall wander from sea to sea, and from the north even to the east, they shall run to and fro to seek the word of the Lord, and shall not find it" (Amos 8:11-12).

Elsewhere the Bible reveals how this prophesied press clampdown will take place. Revelation 13 describes a great religious-civil power that will arise in the place of the old Roman Empire. This prophesied power will not allow free speech, a free press or the free exercise of any religion — except the official religion of the state.

(Calkins J. FREE PRESS IN THE BIBLE? Was It Prophesied? Plain Truth. May 1981)

The Philadelphia portion of the Church of God did begin in the USA and its most faithful remnant, the Continuing Church of God, is still based out of the USA and we are proclaiming the Gospel of the Kingdom of God and other biblical truths.

Yet now, in the USA and especially out of it, we are seeing more and more calls for speech restrictions and censorship.

More censorship is coming.

The Bible teaches:

11 "Behold, the days are coming," says the Lord God,
That I will send a famine on the land,
Not a famine of bread,
Nor a thirst for water,
But of hearing the words of the Lord.
12 They shall wander from sea to sea,
And from north to east;
They shall run to and fro, seeking the word of the Lord,
But shall not find it. (Amos 8:11-12)

That does not mean that there will be no Bibles. But the time will come when those promoting various biblical teachings will no longer to be able to have access to the internet, etc. as before. We are seeing more and more of this.
We have been censored, cancelled, and shadow-banned by Big Tech in the USA–so that is one reason we expanded our presence on radio (for details on our outreach, check out the CCOG Multimedia page). Matthew 24:14, which tells that the Gospel of the Kingdom of God will reach the world as a witness right before the end comes, will be fulfilled, despite censorship.
Yet, sadly, the USA is no longer a bastion of free speech, but a hypocritical and selective censor of information it does not want people to see.
This will not end well for the USA (cf. Daniel 11:39; Isaiah 10:5-11).
Some items of possibly related interest may include:
Might the U.S.A. Be Gone by 2028? Could the USA be gone by the end of 2028 or earlier? There is a tradition attributed to the Hebrew prophet Elijah that humanity had 6,000 years to live before being replaced by God's Kingdom. There are scriptures, writings in the Talmud, early Christian teachings that support this. Also, even certain Hindu writings support it. Here is a link to a related video: Is the USA prophesied to be destroyed by 2028? In Spanish: Seran los Estados Unidos Destruidos en el 2028?
Lost Tribes and Prophecies: What will happen to Australia, the British Isles, Canada, Europe, New Zealand and the United States of America? Where did those people come from? Can you totally rely on DNA? What about other peoples? Do you really know what will happen to Europe and the English-speaking peoples? What about Africa, Asia, South America, and the Islands? This free online book provides scriptural, scientific, historical references, and commentary to address those matters. Here are links to related sermons: Lost tribes, the Bible, and DNA, Lost tribes, prophecies, and identifications, 11 Tribes, 144,000, and Multitudes, Israel, Jeremiah, Tea Tephi, and British Royalty.
Preparing for the 'Short Work' and The Famine of the Word What is the 'short work' of Romans 9:28? Who is preparing for it? Will Philadelphian Christians instruct many in the end times? Here is a link to a related video sermon titled: The Short Work. Here is a link to another: Preparing to Instruct Many.
CCOG Multimedia What are many of the ways the Continuing Church of God is reaching people around the world to fulfill the commissions from Jesus in Matthew 24:14 and 28:19-20? What about literature, personal visits, the internet, radio, and television?
Orwell's 1984 by 2024? In 1949, the late George Orwell wrote a disturbing book about a totalitarian government called "nineteen-eighty four." Despite laws that are supposed to protect freedom of speech and religion, we are seeing governments taking steps consistent with those that George Orwell warned against. We are also seeing this in the media, academia, and in private companies like Google, Facebook, and Twitter. With the advent of technology, totalitarianism beyond what Orwell wrote is possible. Does the Bible teach the coming a totalitarian state similar to George Orwell's? What about the Antichrist and 666? Will things get worse? What is the solution? Dr. Thiel answers these questions and more in this video.
Internet Censorship and Prophecy Are concerns about internet censorship limited to nations such as Russia, China, Iran, and North Korea. But what about the USA, Canada, and Germany? What about the European Union? What about internet media companies such as Facebook, Google, YouTube, or email services like MailChimp? Has the attempt to control information been made by various ones over the centuries? Was the New Testament affected by it? What about the church throughout the centuries? Has the Bible already been partially censored? Which Bible prophecies point to coming Internet censorship? What about the Book of Amos? What about the coming 666 Beast and final Antichrist? Is there anything that can be done about this? Should Philadelphian Christians be working on anything now? Will preaching the Gospel of the Kingdom of God vs. a highly media-supported alternative lead to a 'famine of the word'? More internet censorship is coming as various statements in the Bible support.
Christian courage vs. cowardice As you courageous? What biblically is cowardice? Do YOU really understand this? Two sermons related to this article are available and are titled Courage and Cowardice and Cowardice and Overcoming Fear. A Spanish language article is also available: Valor Cristiano vs Cobardía.
Ten Steps to Rid Yourself of Fear This is a vastly expanded version of a shorter article by the late Dr. Herman Hoeh on getting past fear. Here is a link to a related sermon: Ten Plus Steps to Rid Yourself of Fear.
Canadian censoring of the Bible In 2017, Lauri Skori of the Battle River School board told a religious school in Alberta, Canada that it could not teach/read certain portions of the Bible. In 2002, a court in Canada ruled against one who referred to certain scriptures that some homosexuals objected to. In 2017, there was "An Act to Amend the Canadian Human Rights Act and Criminal Code" related to those who wish to be considered transgendered. Government officials in Canada and elsewhere have been ruling against the Bible. Is any of this prophesied? Will this get worse? What was the prophet Amos inspired to write? This is a video.
Internet Control, Famine of the Word, and 666 Is the internet going to be used to suppress the teaching of the word of God?
The Gospel of the Kingdom of God This free online pdf booklet has answers many questions people have about the Gospel of the Kingdom of God and explains why it is the solution to the issues the world is facing. Here are links to four related sermons:  The Fantastic Gospel of the Kingdom of God!, The World's False Gospel, The Gospel of the Kingdom: From the New and Old Testaments, and The Kingdom of God is the Solution.
22 items to prophetically watch in 2022 Much is happening. Dr. Thiel points to 22 items to watch (cf. Mark 13:37) in this article. Here is a link a related video: 22 items to watch in 2022.