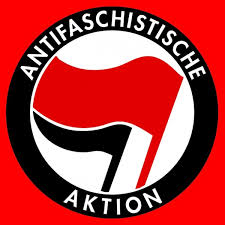 German Antifa logo
The group calling itself Antifa is planning massive protests for November 4, 2017.
Below is a banner it has put forth: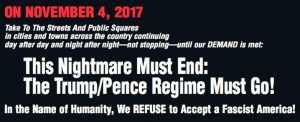 Here is some information about its planned protests:
America is poised for revolution, and a date has been set, November 4, 2017. This isn't a viral marketing campaign for an action movie, or fake news. The terrorist organization, ANTIFA has announced the date on their website, and they are hoping to incite violence and chaos, with the aim of overthrowing the democratically elected government of the United States. …

ANTIFA's roots date back to the 1920's when they clashed with Hitler's Brown Shirts in Germany and Mussolini's Black Shirts in Italy. Since then, the organization has been a fringe movement, with few members and no attention. The election of Donald Trump, which has polarized millions of Americans, has infused the organization with new life.

The organization is leftist, and is associated with communist ideology. They are also violent, by design. They train members to disguise themselves and to engage in street combat. Investigations by both police and independent journalists reveal they are armed and seek to do mayhem and violence. They use encrypted messaging apps to communicate, code names for one another, and they perform background checks on their new members. They avoid cameras, preferring instead to remain anonymous. They have a public side with a few photogenic representatives who claim to speak for the organization, but most members are anonymous foot soldiers.

The Department of Homeland Security has already launched an investigation into the organization for domestic terrorism. http://www.catholic.org/news/national/story.php?id=76145

On November 4th of this year, the terrorist group AntiFA is planning a "civil war" and an "overturn" of government. AntiFA terrorists will team up with the The Revolutionary Communist Party and other far left terrorist organizations to instigate what they call civil war in November. http://www.pacificpundit.com/2017/08/28/antifa-terrorists-planning-civil-war-and-overturn-government-on-nov-4/
Here is something from revcom.us, the 'voice of the Revolutionary Communist party,' an apparent Antifa associated website:
ON NOVEMBER 4, 2017:

We will gather in the streets and public squares of cities and towns across this country, at first many thousands declaring that this whole regime is illegitimate and that we will not stop until our single demand is met: This Nightmare Must End: the Trump/Pence Regime Must Go!

Our protest must grow day after day and night after night—thousands becoming hundreds of thousands, and then millions—determined to act to put a stop to the grave danger that the Trump/Pence Regime poses to the world by demanding that this whole regime be removed from power.
As regular readers of this Church of God News page are aware, I have long written that there would be increased civil unrest in the USA.
As far as Donald Trump goes, here is something I posted here over a year ago:
For years I have warned that more civil unrest was coming to the USA. We have already seen a re-emergence of civil unrest already in 2015 and 2016.

That does not mean that I agree that globalists will necessarily trigger it etc. But the media certainly has fanned the flames in the past and I expect them to do more such fanning in the future if Donald Trump were to win. (Thiel B. 'Chaos will erupt across America in less than 100 days… no matter who wins the election'. COGwriter, September 5, 2016)
We are seeing this. I did not post from the 'mainstream' per se today, but what I found was at least one news report trying to claim that Antifa is opposed to violence. Certainly, some of their members are, but too many are not.
Antifa has a history of violence as some associated with it believe in violent protest.
The group Antifa brings the following scriptures to mind:
3 For your hands are defiled with blood, And your fingers with iniquity; Your lips have spoken lies, Your tongue has muttered perversity.
4 No one calls for justice, Nor does any plead for truth. They trust in empty words and speak lies; They conceive evil and bring forth iniquity. 5 They hatch vipers' eggs and weave the spider's web; He who eats of their eggs dies, And from that which is crushed a viper breaks out.
6 Their webs will not become garments, Nor will they cover themselves with their works; Their works are works of iniquity, And the act of violence is in their hands. 7 Their feet run to evil, And they make haste to shed innocent blood; Their thoughts are thoughts of iniquity; Wasting and destruction are in their paths. 8 The way of peace they have not known, And there is no justice in their ways; They have made themselves crooked paths; Whoever takes that way shall not know peace. (Isaiah 59:3-8)
A major divide is occurring in the USA. This is not good.
Violence by protesters is wrong and should be denounced.
Increasingly, the the USA is becoming more polarized.
Jesus taught:
25 Every kingdom divided against itself is brought to desolation, and every city or house divided against itself will not stand. (Matthew 12:25)

17 Every kingdom divided against itself is brought to desolation, and a house divided against a house falls. (Luke 11:17)
Partially because of that, we have seen many speakers and protests cancelled by US state and local government authorities this year.
Consider also the following from the prophet Amos:
9 'Assemble on the mountains of Samaria; See great tumults in her midst, And the oppressed within her. 10 For they do not know to do right, 'Says the Lord, 'Who store up violence and robbery in their palaces.'" (Amos 3:9-10)
The reference to Samaria is pointing to the USA (see also Spiritual Samaritans: Old and New). The above is consistent with both civil unrest and terrorism. Expect more to hit the USA. Many of the right and left feel oppressed, they do not know how to do right, and they have stored up violence, and in 'protests' can display violence and robbery.
Violence, itself, often begets violence. So, sadly, we seem to be seeing more and more protests and terror.
The Bible warns:
25 … There shall be terror within (Deuteronomy 32:25)
There is violence in the USA. We are seeing increased civil unrest in the USA, by groups like Antifa. We will see riots in the USA.
The Bible teaches:
9 'Thus says the Lord God: "Enough, O princes of Israel! Remove violence and plundering, execute justice and righteousness (Ezekiel 45:9)

9…You shall love your neighbor as yourself." 10 Love does no harm to a neighbor; therefore love is the fulfillment of the law. (Romans 13:9-10)
As far as violence goes, the Bible shows that God is against violence and that destruction will come because of it:
23 'Make a chain,
For the land is filled with crimes of blood,
And the city is full of violence.
24 Therefore I will bring the worst of the Gentiles,
And they will possess their houses;
I will cause the pomp of the strong to cease,
And their holy places shall be defiled. (Ezekiel 7:23-24)

28 And even as they did not like to retain God in their knowledge, God gave them over to a debased mind, to do those things which are not fitting; 29 being filled with all unrighteousness, sexual immorality…30…violent, proud, boasters,…31…unmerciful; 32 who, knowing the righteous judgment of God, that those who practice such things are deserving of death, not only do the same but also approve of those who practice them. (Romans 1:28-32)

8…And the violence of the land and the city, And of all who dwell in it. ( Habakkuk 2:8)
Notice the violence is prophesied to get worse.
So much so that Gentiles will one day come and take possession of houses–this will happen to the USA during the Great Tribulation (see also When Will the Great Tribulation Begin?).
The time of Jacob's trouble (Jeremiah 30:7), also known as the Great Tribulation (Matthew 24:21), is coming and the USA and its Anglo-Saxon allies (including Canada) will be affected.
National repentance is the only way to prevent it, and that does not look likely. Personal repentance, however, is still possible. If you are an American, your personal future can still be much brighter than that of your country.
Though for the nation, the Kingdom of God is the solution, but the USA will first have to go through a horrific 3 1/2 years. The end of the USA/UK world order is coming and the final Time of the Gentiles is getting nearer.
Some items of possibly related interest may include:
God's Grace is For All Is being Jewish a hindrance to salvation? What about not being a descendant of Israel? What does the Bible really teach? Here is a link to a related sermon titled Race and Grace; Do you view race as God does?
Christian Repentance Do you know what repentance is? Is it really necessary for salvation? A related sermon is also available titled: Real Christian Repentance.
The Gospel of the Kingdom of God This free online pdf booklet has answers many questions people have about the Gospel of the Kingdom of God and explains why it is the solution to the issues the world is facing. Here are links to three related sermons: The World's False Gospel, The Gospel of the Kingdom: From the New and Old Testaments, and The Kingdom of God is the Solution.
The Times of the Gentiles Has there been more than one time of the Gentiles? Are we in it now or in the time of Anglo-America? What will the final time of the Gentiles be like? A related sermon is available and is titled: The Times of the Gentiles.
Are You Being Called by God? Norman Shoaf wrote various points to consider.
Is God Calling You? Alfred E Carrozzo wrote this.
What Did Christ Mean – Many Are Called, But Few Are Chosen? This article was by Raymond McNair.
Anglo – America in Prophecy & the Lost Tribes of Israel Are the Americans, Canadians, English, Scottish, Welsh, Australians, Anglo-Saxon (non-Dutch) Southern Africans, and New Zealanders descendants of Joseph? Where are the lost ten-tribes of Israel? Who are the lost tribes of Israel? What will happen to Jerusalem and the Jews in Israel? Will God punish the U.S.A., Canada, United Kingdom, and other Anglo-Saxon nations? Why might God allow them to be punished first? Here is a link to the Spanish version of this article: Anglo-América & las Tribus Perdidas de Israel. Information is also in the YouTube sermons titled Where are the Ten Lost Tribes? Why does it matter? and British are the Covenant People. A short YouTube of prophetic interest may be Barack Obama and the State of the Apocalypse.
Will the Anglo-Saxon Nations be Divided and Have People Taken as Slaves? Will the lands of the United States, United Kingdom, Canada, Australia, and New Zealand be divided? What about Jerusalem? What does Bible prophecy teach? Are there non-biblical prophecies that support this idea? Who will divide those lands? Who will end up with the lands and the people? Here is a link to a video titled Will the USA and other Anglo-nations be Divided and Their People Made Slaves? Here is a related item in the Spanish language ¿Serán divididas las naciones anglosajonas?
There is a Place of Safety for the Philadelphians. Why it May Be Petra This article discusses a biblical 'place of safety' and includes quotes from the Bible and Herbert W. Armstrong on this subject–thus, there is a biblically supported alternative to the rapture theory. There is also a video on the subject: Might Petra be the Place of Safety?
Who is the King of the West? Why is there no End-Time King of the West in Bible Prophecy? Is the United States the King of the West?
When Will the Great Tribulation Begin? 2017, 2018, or 2019? Can the Great Tribulation begin today? What happens before the Great Tribulation in the "beginning of sorrows"? What happens in the Great Tribulation and the Day of the Lord? Is this the time of the Gentiles? When is the earliest that the Great Tribulation can begin? What is the Day of the Lord? Who are the 144,000? Here is a version of the article in the Spanish language: ¿Puede comenzar la Gran Tribulación en 2016 o 2017? ¿Es el Tiempo de los Gentiles? You can also see the English language sermon videos: The Great Tribulation from the Mount of Olives and Can the Great Tribulation begin before 2020? A shorter video is: Will the Great Tribulation Start in 2017?
Donald Trump in Prophecy Prophecy, Donald Trump? Are there prophecies that Donald Trump may fulfill? Are there any prophecies that he has already helped fulfill? Could a Donald Trump presidency be apocalyptic? A related video is titled: Donald: 'Trump of God' or Apocalyptic?
Trump Presidency Magic 8 Ball or Bible Prophecy? BBC reported that one might as well use a 'Magic Eight-Ball' to try to predict what will happen in the remaining time of Donald Trump's presidency. What is a 'Magic Eight-Ball'? Dr. Thiel not only explains that, but also briefly goes over 10 biblically-based warnings he wrote would happen if Donald Trump were elected that have already began to come to pass. He also goes over something he wrote back in 2008 that the Trump presidency is also helping lead to fulfillment. Should you trust Bible prophecy or not? Dr. Thiel says that Bible prophecy can be trusted, despite the view of skeptics and others that either overlook or despise the Bible. This is a video.