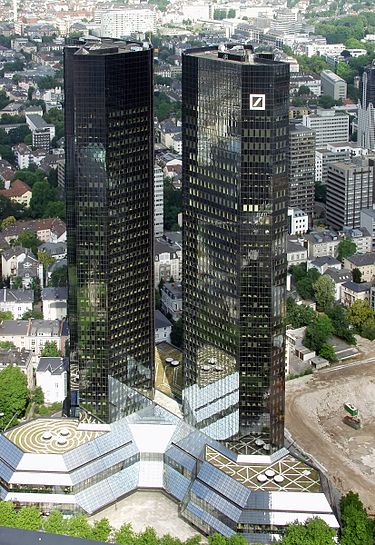 Deutsche Bank twin tower headquarters, Frankfurt, Germany (© Raimond Spekking)

Europe is seeing financial challenges:
8 April 2019

German exports fell by 1.3% in February compared with the month before, the Federal Statistics Office said on Monday. The figure represents the biggest drop in export revenue for a year.

The exports head of the Association of German Chambers of Commerce and Industry (DIHK), Volker Treier, told Reuters news agency things had "run out of steam" for the moment, adding that there was little hope of them changing in the next few months. However, Treier said that the situation could look up in the not-too-distant future owing to the relatively weak euro, which is currently trading at around $1.12. https://www.dw.com/en/german-exports-hit-by-global-slowdown-in-demand/a-48250407

Germany is the key to the EU economy. This is not news.

What is news is that Germany's economy is in the toilet. Not slowing down…. not hitting some bumps.

The Germans are industrial and exporting powerhouses. And the trends for those two things have been in decline for over a year.

Balance of trade for the past two quarters have been the lowest they've been since 2016. And the euro has backed off 13% since January of 2018. That's because so much of Germany's exports are to other EU countries and they are loaded to the gills with debt. …

Germany's recession is here because of the structural problems of the EU's fiscal black hole. …

It has pushed up the price of safe-haven assets in Europe beyond absurd levels. And yet, no one dare call this a crisis! retrieved https://tomluongo.me/2019/04/06/germany-dead-economy-walking/
So, Germany, the economic engine of Europe, is having some economic problems. Brexit is also adding to the uncertainty.
Plus, there is the coming EU Parliament elections in May, yellow vest protests in France, anti-immigrant protests in Germany and Austria, plus dissent from Hungary and Poland.
Notice something related to Germany and the EU elections:
April 8, 2019

MILAN (AP) — Right-wing, euroskeptic populist parties in Europe announced a new, expanded alliance Monday that aims to become the strongest faction in the European Parliament and seeks to radically transform EU policies on migration, security, family and environment.

Italy's hard-line interior minister, Matteo Salvini, leader of the anti-migrant League party, told a press conference in Milan that the goal of the new movement in the EU-wide elections next month was to "win and change Europe." …

Salvini was joined Monday by the far-right Alternative for Germany's co-leader Joerg Meuthen, Olli Kotro of the euroskeptic populist party The Finns, and Anders Vistisen of the right-wing, populist Danish People's Party. Those parties now come from other parliamentary groups, the European Conservatives and Reformists (ECR) and the Europe of Freedom and Direct Democracy (EFDD).

Salvini identified Islamic extremism — not political extremism — as the main threat to security in Europe. https://www.apnews.com/b79ca1111d194d098574743717ef7b58
Islamic factors will be involved in Europe changing (watch also War is Coming Between Europeans and Arabs).
While Bible prophecy shows that Europe will dominate the world economically for a time (see Revelation 17 and 18), the Bible also shows Europe, itself, will have ups and downs first (cf. Daniel 2:41-43).
As far as economic factors and Europe go, the late Herbert W. Armstrong stated the following in a sermon on July 7, 1984:
And I can see now, the event that is going to trigger the formation of the reunification in Europe; the resurrection of the medieval Holy Roman Empire that we've been looking forward to that is prophesied to come…

But I believe that some event is going to happen suddenly just like out a blue sky that is going to shock the whole world and is going to cause the nations in Europe to realize they must unite! … Well now I think I can see what may be the very event that is going to trigger…that is the economic situation in the world…

The whole banking structure in the United States is a network all jointed together. But not only that, one nation has to deal with other nations and imports and exports. And so they have to have a means of transforming money from one nation to another. And so the banking structure is international and interwoven…

Now when the financial structure breaks down, all civilization is going to break down…
It is quite likely that Europe will have a banking and/or other massive financial crisis within the next decade. Perhaps it should be mentioned that because of the threat of Brexit, banking services are transferring more to Berlin from London. And while that could also be a factor in causing a banking crisis, it also could be a factor for Germany and the rest of Europe to rise up economically and dominate that world like the Bible prophesies.
Economic crises can lead to civil unrest. And I expect civil unrest in many parts of Europe, including in Germany
That will help to calls for some type of strong leader to rise up.
Bible shows that Europe will reorganize and turn power over to ten leaders who will then turn power over to a powerful dictator:
12 "The ten horns which you saw are ten kings who have received no kingdom as yet, but they receive authority for one hour as kings with the beast. 13 These are of one mind, and they will give their power and authority to the beast. (Revelation 17:12-13)
These ten kings have no kingdom, but are to attain one–some have misunderstood this (see Must the Ten Kings of Revelation 17:12 Rule over Ten Currently Existing Nations?). Clearly, the Bible tells of a type of reorganization in verse 12. Since the 'ten kings' give their power to the Beast in verse 13, this is a another type of reorganization. The "beast" is not shown to have much power prior to Revelation 17:12-13. This beast would seem to have Assyrian roots per Isaiah 10:5-11, and hence would likely be someone from Germany or Austria (see also Germany in Biblical and Catholic Prophecy). This turnover of power to him results in a dictatorship–likely similar to the one led by Adolf Hitler (see also European Unity to be like Hitler?).
Notice that Revelation 17:12-13 does NOT say that ten existing nations will give their power to the Beast, but that ten kings who had not had a kingdom will get power and transfer it (for more on this, check out the article Must the Ten Kings of Revelation 17:12 Rule over Ten Currently Existing Nations?).
The European Beast is also called the King of the North in the Book of Daniel. Catholic writings seem to refer to him as the Antichrist or one they call The Great Monarch.
While Germany and the rest of Europe is NOT yet ready for that reorganization, we are seeing events that will lead to it.
US President Donald Trump and Germany have issues:
The White House has threatened to curb intelligence sharing with Germany if Berlin allows Chinese company Huawei to build its 5G mobile network … 03/12/19 https://news.vice.com/en_us/article/wjmkym/trump-threatens-germany-over-huawei

United States Ambassador to Germany Richard Grenell wants his voice to be heard yet again: Echoing his boss, President Donald Trump, Grenell said last week he is not satisfied with the German federal government's new budget. …

It is clear that Ambassador Grenell is once again meddling in Germany's domestic politics in a way rarely seen in diplomatic circles. …

Shortly after taking up his post, he demanded German companies stop doing business with Iran. He said that would go against Trump's decision to withdraw the US from the Iran nuclear deal and his new sanctions against Tehran. Grenell didn't care what Germany's opinion was on those policies.

He recently threatened companies involved in the construction of the Nord Stream 2 gas pipeline, going so far as to threaten sanctions. Germany, he said, should buy US liquefied gas — it would be good for business. That is true, just not for Germany.  03/27/19 https://www.dw.com/en/opinion-richard-grenell-donald-trumps-agitator-in-berlin/a-48068398

Trump Blackmails Germany With Sanction Threats Over Nord Stream 2 03/10/19 https://moneymaven.io/mishtalk/economics/trump-blackmails-germany-with-sanction-threats-over-nord-stream-2-tvWVjwRnrEGS2XEk4AWceg/

Germany rejects Trump's call to recognize Golan Heights as Israeli 03/22/19 https://www.reuters.com/article/us-usa-israel-syria-germany/germany-rejects-trumps-call-to-recognize-golan-heights-as-israeli-idUSKCN1R31CF
Various differences will not end well for the Anglo-American dominated world order (cf. Daniel 11:39; watch also End of the Anglo-American Order and/or The New World Order Is Leaving the US Behind).
The German economy appears more fragile than many realize. The situation in Europe will change.
It remains my view that technological advances, which Europe is working on, will be a factor in its rise and its temporary dominance of the world economic scene. See also the article: European Technology and the Beast of Revelation.
Despite prophesied problems (cf. Daniel 2:41-43), a Bible prophecy shows that a German-dominated Europe will rise up.
Some items of possibly related interest may include:
Who is the King of the North? Is there one? Do biblical and Roman Catholic prophecies for the Great Monarch point to the same leader? Should he be followed? Who will be the King of the North discussed in Daniel 11? Is a nuclear attack prophesied to happen to the English-speaking peoples of the United States, Great Britain, Canada, Australia, and New Zealand? When do the 1335 days, 1290 days, and 1260 days (the time, times, and half a time) of Daniel 12 begin? When does the Bible show that economic collapse will affect the United States? In the Spanish language check out ¿Quién es el Rey del Norte? Here is a link to a video titled: The Future King of the North.
The Great Monarch: Biblical and Catholic Prophecies Is the 'Great Monarch' of Catholic prophecies endorsed or condemned by the Bible? Two sermons of related interest are also available: Great Monarch: Messiah or False Christ? and Great Monarch in 50+ Beast Prophecies.
Europa, the Beast, and Revelation Where did Europe get its name? What might Europe have to do with the Book of Revelation? What about "the Beast"? Is an emerging European power "the daughter of Babylon"? What is ahead for Europe? Here is a link to a video titled: Can You Prove that the Beast to Come is European?
European Technology and the Beast of Revelation Will the coming European Beast power would use and develop technology that will result in the taking over of the USA and its Anglo-Saxon allies? Is this possible? What does the Bible teach? Here is a related YouTube video: Military Technology and the Beast of Revelation.
Must the Ten Kings of Revelation 17:12 Rule over Ten Currently Existing Nations? Some claim that these passages refer to a gathering of 10 currently existing nations together, while one group teaches that this is referring to 11 nations getting together. Is that what Revelation 17:12-13 refers to? The ramifications of misunderstanding this are enormous. A related sermon is titled Ten Kings of Revelation and the Great Tribulation.
WTO/TTIP and the Babylonian Beast Will international trade agreements like WTO/TTIP/CETA lead to the fulfillment of end time prophecies concerning the Babylonian Beast power that the Book of Revelation warns against? What does the Bible teach? A related video would be WTO Trade Deal and the Rise of the European Beast Power.
Spiritual Samaritans: Old and New Who were the Samaritans? Do the represent true Christianity or something else? Here is a link to a related sermon: USA in Prophecy: Samaria.
Anglo – America in Prophecy & the Lost Tribes of Israel Are the Americans, Canadians, English, Scottish, Welsh, Australians, Anglo-Saxon (non-Dutch) Southern Africans, and New Zealanders descendants of Joseph? Where are the lost ten-tribes of Israel? Who are the lost tribes of Israel? What will happen to Jerusalem and the Jews in Israel? Will God punish the U.S.A., Canada, United Kingdom, and other Anglo-Saxon nations? Why might God allow them to be punished first? Here is a link to the Spanish version of this article: Anglo-América & las Tribus Perdidas de Israel. Information is also in the YouTube sermons titled Where are the Ten Lost Tribes? Why does it matter? and British are the Covenant People. A short YouTube of prophetic interest may be: Are Chinese threats against Australia for real?
Will the Anglo-Saxon-Celtic Nations be Divided and Have People Taken as Slaves? Will the lands of the United States, United Kingdom, Canada, Australia, and New Zealand be divided? What about Jerusalem? What does Bible prophecy teach? Are there non-biblical prophecies that support this idea? Who will divide those lands? Who will end up with the lands and the people? Here is a link to a video titled Will the USA and other Anglo-nations be Divided and Their People Made Slaves? Here is a related item in the Spanish language ¿Serán divididas las naciones anglosajonas?
British are the Covenant People What do 'British' and 'Britain' mean in Hebrew? Are the descendants of the Anglo-Saxons people of the covenant? Does the British royal family connect to the throne of David? What does the Bible teach? What does history show us? Is there any DNA evidence related to British-Israelism? When did Christianity make it to the British Isles? Could Jeremiah have made it to the British Isles? What type of Christians made it to the British Isles? Did the last King of England believe in British Israelism?
Who is the King of the West? Why is there no Final End-Time King of the West in Bible Prophecy? Is the United States the King of the West? Here is a version in the Spanish language: ¿Quién es el Rey del Occidente? ¿Por qué no hay un Rey del Occidente en la profecía del tiempo del fin? A related sermon is also available: The Bible, the USA, and the King of the West.
Donald Trump in Prophecy Prophecy, Donald Trump? Are there prophecies that Donald Trump may fulfill? Are there any prophecies that he has already helped fulfill? Is a Donald Trump presidency proving to be apocalyptic? Two related videos are available: Donald: 'Trump of God' or Apocalyptic? and Donald Trump's Prophetic Presidency.
Trump Presidency Magic 8 Ball or Bible Prophecy? BBC reported that one might as well use a 'Magic Eight-Ball' to try to predict what will happen in the remaining time of Donald Trump's presidency. What is a 'Magic Eight-Ball'? Dr. Thiel not only explains that, but also briefly goes over 10 biblically-based warnings he wrote would happen if Donald Trump were elected that have already began to come to pass. He also goes over something he wrote back in 2008 that the Trump presidency is also helping lead to fulfillment. Should you trust Bible prophecy or not? Dr. Thiel says that Bible prophecy can be trusted, despite the view of skeptics and others that either overlook or despise the Bible. This is a video.
Donald Trump and America's Apocalypse This 188 page book is for people truly interested in prophecies related to Donald Trump and the United States, including learning about several that have already been fulfilled and those that will be fulfilled in the future. The physical book can be purchased at Amazon for $12.99 from the following link: Donald Trump and America's Apocalypse.
Donald Trump and America's Apocalypse-Kindle Edition This electronic version of the 188 page print edition is available for only US$3.99. And you do not need an actual Kindle device to read it. Why? Amazon will allow you to download it to almost any device: Please click HERE to download one of Amazon s Free Reader Apps. After you go to for your free Kindle reader and then go to Donald Trump and America's Apocalypse-Kindle Edition.
Germany in Biblical Prophecy Does Assyria in the Bible equate to an end time power inhabiting the area of the old Roman Empire? What does prophecy say Germany will do and what does it say will happen to most of the German people? Here are links to two sermon videos Germany in Bible Prophecy and The Rise of the Germanic Beast Power of Prophecy.
Might German Baron Karl-Theodor zu Guttenberg become the King of the North? Is the former German Defense Minister (who is also the former German Minister for Economics and Technology) one to watch? What do Catholic, Byzantine, and biblical prophecies suggest? A video of related interest would be: Karl-Theodor zu Guttenberg and Europe's Future.
Germany's Assyrian Roots Throughout History Are the Germanic peoples descended from Asshur of the Bible? Have there been real Christians in Germanic history? What about the "Holy Roman Empire"? There is also a You-Tube video sermon on this titled Germany's Biblical Origins.
World War III: Steps in Progress Are there surprising actions going on now that are leading to WWIII? Might a nuclear attack be expected? Does the Bible promise protection to all or only some Christians? How can you be part of those that will be protected? A related video would be Is World War III About to Begin? Can You Escape?