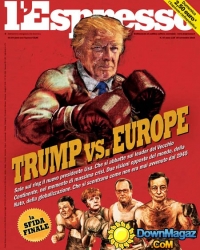 Yesterday, Foreign Affairs explained why it felt that the United States could safely ignore Europe (see Foreign Affairs: 'Why Trump Can Safely Ignore Europe' COGwriter: 'Europe will reorganize and destroy the USA'). Today, some others there are seeing that the Europeans can take steps:
How Europe Can Block Trump

May 16, 2018

President Donald Trump's hard exit from the 2015 Iran nuclear deal was followed by a hard message for Europe: The United States will use sanctions to coerce its allies to shut their economic doors to Iran. Trump not only chose to violate a multilateral agreement, but his administration now aims to implode it by obstructing European business ties with Iran. In addition, the United States has also vowed to impose harmful trade tariffs on European allies. Trump is in effect threatening a trade war with Europe through tariffs and the weaponization of U.S. sanctions. …
Rejecting the threats of the new U.S. ambassador, Germany's economy minister, Peter Altmaier, stated that his government was "ready to talk to all the companies concerned about what we can do to minimize the negative consequences" of the U.S. withdrawal. And French Finance Minister Bruno Le Maire summed up European sentiment, arguing that "the international reach of U.S. sanctions makes the U.S. the economic policeman of the planet and that is not acceptable." …
As Europe and the United States enter a new phase in talks over how to go their separate ways after Trump's withdrawal from the Iran deal, there are two possible pathways. In one scenario, Europe will achieve an amicable separation as the United States exits the deal without unduly obstructing European companies. …
However, the far more likely scenario, given the tenor of Trump's announcement, will force Europe to contend with a U.S. effort to weaponize secondary sanctions and penalize European firms in order to harm Iran's economy.

Faced with the second scenario, Europe will have to add teeth to its negotiating posture in order to mitigate damage to European interests while ensuring that Iran continues to adhere to the nuclear deal. … The last time Europe had to push back against the overreach of U.S. sanctions was in 1996, when President Bill Clinton's administration signed into law the Iran and Libya Sanctions Act and the Cuban Liberty and Democratic Solidarity Act. …

In response, EU member states unanimously introduced Council Regulation No. 2271, which was intended to protect companies against the "effects of the extra-territorial application of legislation adopted by a third country." In practice, the regulation does something counterintuitive — it prohibits EU entities and courts from complying with and enforcing the foreign sanctions laws listed in its annex, raising the prospect of financial penalties for those companies that do comply.

The regulation also contains a "clawback provision." For example, if an American entity or regulator takes legal action against an EU company for its business with an entity sanctioned by U.S. rather than EU law, the European company is entitled to sue in Europe in order to recover damages and expenses.
Basically, Foreign Affairs thinks that the Europeans can take steps. Now, it is not just Foreign Affairs that is waking up to what is going on between Donald Trump and Europe. http://foreignpolicy.com/2018/05/16/how-europe-can-block-trump/
Notice the following (bolding, except the headline, mine):
The US and Europe to Go Separate Ways Pursuing Divergent Goals

The US withdrawal from the Iran deal (JCPOA) has not buried it. …

What the US did manage was to deal a heavy blow to trans-Atlantic solidarity.  Washington set a six-month deadline for European companies doing business in Iran to get out. They'll have to either terminate their operations or face heavy penalties. This means that the US has now become the main threat to Europe's economy.

German Chancellor Angela Merkel slammed President Trump for his decision to pull out. The unofficial leader of Europe believes it "damages trust" in the global order. … French Finance Minister Bruno Le Maire stated that European powers should not be Washington's "vassals."

On May 11, the German chancellor discussed the situation with the Russian president in a phone conversation. There'll be more talks on May 18 when Angela Merkel visits the Russian resort city of Sochi. In defiance of the US, Germany became the first EU country to begin the construction of its portion of the Nord Stream 2 gas project on May 3. …

The US-European relationship has been clouded by Washington's plans to introduce tariffs on steel and aluminium imports from the EU. …

A trade war is just around the corner. Can security interests coincide when economic ones differ so much? Not a chance.

The German chancellor believes that US global influence is on the wane and the time is ripe for Europe to stop relying on America's military protection. Instead, it should "take its destiny into its own hands." …

Last month, Paris launched an initiative to set up a European intervention force in June that would operate independently of the EU's current efforts. …

The US openly humiliated Europe by making a unilateral decision on such an important security issue as the Iran deal and threatening its closest allies with trade sanctions. Europeans are being told which energy projects are best for them. And prior to that, Washington made a unilateral decision to withdraw from the Paris climate agreement.

Sooner or later anyone's patience wears thin.  Today Europe is being pushed toward countering the "America First" message with a "Europe First" policy. … Despite all the nice words about common values and so on, these two entities are gradually diverging to go their separate ways. https://www.strategic-culture.org/news/2018/05/15/the-us-europe-go-separate-ways-pursuing-divergent-goals.html
Europe WILL GO a separate way from the USA.
It was precisely because of how Donald Trump approached Europe and how he was viewed by Europe that I told people he could be elected as the President of the USA. This is mainly because of biblical prophecies pointing to the end of the Anglo-American world order and the rise of the Gentile European order.

While most writers are not looking at biblical prophecies, more and more are seeing issues between the USA and Europe.
Notice the following from EU Council President Donald Tusk:
Looking at latest decisions of @realDonaldTrump someone could even think: with friends like that who needs enemies. But frankly, EU should be grateful. Thanks to him we got rid of all illusions. We realise that if you need a helping hand, you will find one at the end of your arm.

— Donald Tusk (@eucopresident) May 16, 2018
WOW! The Europeans are being told the time to rely on the USA is up and Donald Trump has made that clear! Europe will take steps.
Notice also something yesterday from European Commission President Jean-Claude Juncker:
15 May 2018

As many voiced their concerns over Donald Trump's move, President of the European Commission Jean-Claude Juncker did not remain on the sidelines either, slamming Washington for "no longer"  willing to "cooperate with other parts of the world."

"At this point, we have to replace the United States, which as an international actor has lost vigor, and because of it, in the long term, influence," the EU chief said, suggesting that Europe should take over the US' role as global leader. https://sputniknews.com/europe/201805101064314245-juncker-eu-replace-us-iran-deal/
The top European leaders have had it with the USA and are even publicly telling everyone that. Things will not remain as they have been.
The Apostle Peter was inspired to write:
3

knowing this first: that scoffers will come in the last days, walking according to their own lusts,

4 and saying, "Where is the promise of His coming? For since the fathers fell asleep, all things continue as they were from the beginning of creation." (2 Peter 3:3-4)

What is going on between the USA and Europe shows that things ARE changing.
Those who think that the USA will continue to lead the world indefinitely are deceiving themselves.
The USA is pushing Europe to rise up against it.
Now notice the following article which essentially hints that actions against Europe are intentional on the part of Donald Trump:
What's Trump's Real Trade Target: China or Europe?

Do Trump's endless trade volleys and sanctions have a clear target? Consider the possibility it's the EU, not China.

Out of the blue, and with open rebuke form Democrats and Republicans, Trump reversed sanctions on China. …

5,000 German Corporations Hit By Trump Policy

Sanctions on Europe. Not Iran

Eurointelligence fills in some blanks.

Over the last three days it gradually dawned on the Germans that Donald Trump's sanctions against Iran are in reality sanctions against Europe, and Germany in particular. The combination of third-party sanctions and changes to US tax laws has led to a situation where a large number of German companies now have an overwhelming interest to shift their business to the US, according to Spiegel Online.

FAZ notes that the helplessness of the German government is becoming increasingly evident, both economically and politically. The paper notes that even Angela Merkel is casting doubt on whether it is possible to maintain the Iran nuclear agreement after Trump's decision.

The cover of Der Spiegel this week this week, "Goodbye Europe" says it all.
Many in Europe believe that Donald Trump wants to break up the European Union. Donald Trump was probably the most famous non-UK advocate of Brexit. He has also made other comments about other countries not being part of the EU.
His comments, instead of causing Europe to break up, will ultimately result, according to biblical prophecies, in it having unity through a couple of reorganizations (cf. Revelation 17:12-13).
Notice also some comments in my book, Donald Trump and America's Apocalypse:
3. Europeans are Not Pleased

Has or will Donald Trump affect Europe?

Yes.

He will do so in many ways, including several that few consider.

The Washington Post reported in late 2016 that Donald Trump admired Richard Nixon. It also reported:

Donald Trump appears to have embraced, with gusto, Richard Nixon's "Madman Theory" of foreign policy. He thinks he can use his reputation for unpredictability and lack of respect for long-standing international norms to unnerve and then intimidate America's adversaries into making concessions that they would not otherwise make. (Hohmann J, Deppisch B. The Daily 202: Donald Trump embraces the risky 'Madman Theory' on foreign policy. Washington Post, December 20, 2016)

Donald Trump's foreign policy statements have unsettled many—in the U.S.A. as well as foreign nations. He seems like he will more unpredictable than Richard Nixon.

There is also something referred to as the "law of unintended consequences." There are consequences for the U.S.A., Europe, and elsewhere that have and will occur because of Donald Trump's statements and actions.

Many Europeans Do Not Like Donald Trump

Because of some of them, back in late 2015, Karl-Theodor zu Guttenberg, former German Defense Minister, called Donald Trump "that blonde lunatic named Donald." (Wish List or Reality? Digital Trends in 2016 | Karl-Theodor zu Guttenberg | hub conference. https://www.youtube.com/watch?v=dgdZUA96UBU. Posted 12/11/ 2015)

Donald Trump will not 'make America great again.' His rise is dangerous for many reasons, but prophetically, one of them is that his rise has shown the Europeans that the USA is moving in a direction they do not like (cf. Daniel 11:39).

Climate Change

Donald Trump's views against the 'climate change' agenda have not pleased the Europeans. …

Donald Trump's view of climate change is expected to set up some type of issue between the USA and Europe. Europe will tend to see the USA as an irresponsible polluter of the planet, while Europe will claim to be the protector that the world needs. …


Trade

Donald Trump has stated his firm opposition to the Trans-Pacific Partnership agreement (TPP). …

Some believe that Donald Trump's positions on trade will lead to a global trade war that could trigger some type of international war (Katasonov V. Only One Step Away from a Global Trade War. Strategic Culture Foundation, December 12, 2016). It is my position that trade disputes will be a factor in Europe taking military action against the U.S.A. one day.

Energy  and  climate  policy  differences between the Europeans and Donald Trump may increase the negative view many in Europe already have about the USA.  …

German Concerns About USA and Donald Trump

Some consider that Donald Trump's rise is a sign that the USA is in decline. …

Germans and others see the USA declining. Europe will go in a direction that USA leaders, including its 'foreign policy experts,' do not comprehend (Daniel 11:39; Isaiah 10:5-11).

When my wife and I were in Europe in late 2016, many of the Europeans we spoke to were essentially of the view that the USA is supposed to be the leader of the West, so how could it possibly elect Donald Trump? We were told this by Europeans from countries like Switzerland, Spain, and the Netherlands. European disdain for Donald Trump and how they perceive his leading of the USA is real. …

There Will be Consequences

Donald Trump indicated that Europe needs to pay for more of its defense or the USA should not have to pay for it (Collinson S. 5 candidates make closing arguments on CNN ahead of Western Tuesday. CNN, March 20, 2016).

Many in the USA do not seem to realize that once Europeans are spending more for their militaries, that they will also expect to have more independence from the USA as to how military might will be used. …

Donald Trump has made statements that will help lead to the rise of a European Empire as well as an Islamic confederation. These are to be led by leaders that the Bible refers to as the King of the North and the King of the South respectively.

The rise of Donald Trump should show 21st century people that the King of the North will be able rise up in Europe.

… prophecies indicate that the "Great Monarch/King of the North" will get a "great army" (Daniel 11:25; that might increase after the USA is attacked), lead a force that will destroy the United States (Daniel 11:39), and will apparently be assisted by the King of the South (Psalm 83:3-8; Daniel 11:27). (Thiel B. Donald Trump and America's Apocalypse. Nazarene Books, 2017)
The distancing of Europe from the USA is encouraging them to build their military. Since Donald Tusk is thanking Donald Trump for busting illusions that the USA and Europe should be friends, Europeans are being publicly told that they cannot rely on the USA anymore. And this means in matters of defense.
Many will find this hard to believe, but what Europe is prophesied to do is to take over the USA:
39 Thus he shall act against the strongest fortresses with a foreign god, which he shall acknowledge, and advance its glory; and he shall cause them to rule over many, and divide the land for gain (Daniel 11:39).
The "he" is the European King of the North Beast power. He will destroy "the strongest fortress," which in the 21st century, is the USA.
The Bible says this will happen at the time of the end (cf. Daniel 11;40).
Donald Trump's actions will be a factor in the rise of the European King of the North Beast power.
Donald Trump is one of the reasons that Europe will turn against the USA. More and more are starting to see this.
Some items of possibly related interest may include:
Trade Wars: Are COG warnings coming to pass? Trade issues, tariffs, and talk of trade wars are in the news. Can trade wars lead to World War III like they did to World War II? Are the events going on with the USA, UK, Asia, and Europe consistent with warnings published by the true Church of God (COG) over the past several years and decades? Do Germany and China hope to take advantage of trade frictions involving the Trump Administration and the Trans-Pacific Partnership agreement? What about Mexico and South America? Does the Bible teach that Europe will become a major trading power? Will the final European Babylonian trading power be destroyed? Dr. Thiel addresses these issues and more in this video.
18 items to prophetically watch in 2018 Much is happening. Dr. Thiel points to 18 in this article. Here is a link to a related sermon: 18 items to prophetically watch in 2018.
Europa, the Beast, and Revelation Where did Europe get its name? What might Europe have to do with the Book of Revelation? What about "the Beast"? Is an emerging European power "the daughter of Babylon"? What is ahead for Europe? Here is a link to a video titled: Can You Prove that the Beast to Come is European?
European Technology and the Beast of Revelation Will the coming European Beast power would use and develop technology that will result in the taking over of the USA and its Anglo-Saxon allies? Is this possible? What does the Bible teach? Here is a related YouTube video: Military Technology and the Beast of Revelation.
The Large Hadron Collider has Military Potential Some say this European project is only peaceful. So why is it working on capturing antimatter? Here is a link to a related video: Could the Large Hadron Collider lead to destruction?
Must the Ten Kings of Revelation 17:12 Rule over Ten Currently Existing Nations? Some claim that these passages refer to a gathering of 10 currently existing nations together, while one group teaches that this is referring to 11 nations getting together. Is that what Revelation 17:12-13 refers to? The ramifications of misunderstanding this are enormous. A related sermon is titled Ten Kings of Revelation and the Great Tribulation.
Who is the King of the North? Is there one? Do biblical and Roman Catholic prophecies for the Great Monarch point to the same leader? Should he be followed? Who will be the King of the North discussed in Daniel 11? Is a nuclear attack prophesied to happen to the English-speaking peoples of the United States, Great Britain, Canada, Australia, and New Zealand? When do the 1335 days, 1290 days, and 1260 days (the time, times, and half a time) of Daniel 12 begin? When does the Bible show that economic collapse will affect the United States? In the Spanish language check out ¿Quién es el Rey del Norte? Here is a link to a video titled: The Future King of the North.
The Great Monarch: Biblical and Catholic Prophecies Is the 'Great Monarch' of Catholic prophecies endorsed or condemned by the Bible?
Might German Baron Karl-Theodor zu Guttenberg become the King of the North? Is the former German Defense Minister (who is also the former German Minister for Economics and Technology) one to watch? What do Catholic, Byzantine, and biblical prophecies suggest? A video of related interest would be: Karl-Theodor zu Guttenberg and Europe's Future.
Germany's Assyrian Roots Throughout History Are the Germanic peoples descended from Asshur of the Bible? Have there been real Christians in Germanic history? What about the "Holy Roman Empire"? There is also a You-Tube video sermon on this titled Germany's Biblical Origins.
Germany in Biblical and Catholic Prophecy Does Assyria in the Bible equate to an end time power inhabiting the area of the old Roman Empire? What does prophecy say Germany will do and what does it say will happen to most of the German people? Here is a version of the article in the Spanish language: Alemania en la profecía bíblic. Here are links to two English language sermon videos Germany in Bible Prophecy and The Rise of the Germanic Beast Power of Prophecy.
The Times of the Gentiles Has there been more than one time of the Gentiles? Are we in it now or in the time of Anglo-America? What will the final time of the Gentiles be like? A related sermon is available and is titled: The Times of the Gentiles.
Differences Between Islam and the Continuing Church of God What are some of the main differences? Are there any similarities? A video of related interest is titled: Islam: Any Christian Concerns or Similarities?
Anglo – America in Prophecy & the Lost Tribes of Israel Are the Americans, Canadians, English, Scottish, Welsh, Australians, Anglo-Saxon (non-Dutch) Southern Africans, and New Zealanders descendants of Joseph? Where are the lost ten-tribes of Israel? Who are the lost tribes of Israel? What will happen to Jerusalem and the Jews in Israel? Will God punish the U.S.A., Canada, United Kingdom, and other Anglo-Saxon nations? Why might God allow them to be punished first? Here is a link to the Spanish version of this article: Anglo-América & las Tribus Perdidas de Israel. Information is also in the YouTube sermons titled Where are the Ten Lost Tribes? Why does it matter? and British are the Covenant People.
Will the Anglo-Saxon Nations be Divided and Have People Taken as Slaves? Will the lands of the United States, United Kingdom, Canada, Australia, and New Zealand be divided? What about Jerusalem? What does Bible prophecy teach? Are there non-biblical prophecies that support this idea? Who will divide those lands? Who will end up with the lands and the people? Here is a link to a video titled Will the USA and other Anglo-nations be Divided and Their People Made Slaves? Here is a related item in the Spanish language ¿Serán divididas las naciones anglosajonas?
World War III: Steps in Progress Are there surprising actions going on now that are leading to WWIII? Might a nuclear attack be expected? Does the Bible promise protection to all or only some Christians? How can you be part of those that will be protected? A related video would be Is World War III About to Begin? Can You Escape?
When Will the Great Tribulation Begin? 2018, 2019, or 2020? Can the Great Tribulation begin today? What happens before the Great Tribulation in the "beginning of sorrows"? What happens in the Great Tribulation and the Day of the Lord? Is this the time of the Gentiles? When is the earliest that the Great Tribulation can begin? What is the Day of the Lord? Who are the 144,000? Here is a version of the article in the Spanish language: ¿Puede comenzar la Gran Tribulación en 2018 o 2019? ¿Es el Tiempo de los Gentiles? You can also see the English language sermon videos: The Great Tribulation from the Mount of Olives and Can the Great Tribulation begin before 2020? A shorter video is: Can the Great Tribulation begin in 2018?
The Gospel of the Kingdom of God This free online pdf booklet has answers many questions people have about the Gospel of the Kingdom of God and explains why it is the solution to the issues the world is facing. Here are links to three related sermons: The World's False Gospel, The Gospel of the Kingdom: From the New and Old Testaments, and The Kingdom of God is the Solution.
Donald Trump in Prophecy Prophecy, Donald Trump? Are there prophecies that Donald Trump may fulfill? Are there any prophecies that he has already helped fulfill? Could a Donald Trump presidency be apocalyptic? A related video is titled: Donald: 'Trump of God' or Apocalyptic?
Trump Presidency Magic 8 Ball or Bible Prophecy? BBC reported that one might as well use a 'Magic Eight-Ball' to try to predict what will happen in the remaining time of Donald Trump's presidency. What is a 'Magic Eight-Ball'? Dr. Thiel not only explains that, but also briefly goes over 10 biblically-based warnings he wrote would happen if Donald Trump were elected that have already began to come to pass. He also goes over something he wrote back in 2008 that the Trump presidency is also helping lead to fulfillment. Should you trust Bible prophecy or not? Dr. Thiel says that Bible prophecy can be trusted, despite the view of skeptics and others that either overlook or despise the Bible. This is a video.
Donald Trump and America's Apocalypse This 188 page book is for people truly interested in prophecies related to Donald Trump and the United States, including learning about several that have already been fulfilled and those that will be fulfilled in the future. The physical book can be purchased at Amazon for $12.99 from the following link: Donald Trump and America's Apocalypse.
Donald Trump and America's Apocalypse-Kindle Edition This electronic version of the 188 page print edition is available for only US$3.99. And you do not need an actual Kindle device to read it. Why? Amazon will allow you to download it to almost any device: Please click HERE to download one of Amazon s Free Reader Apps. After you go to for your free Kindle reader and then go to Donald Trump and America's Apocalypse-Kindle Edition.