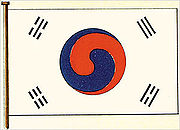 Flag of Korea, 1889
The head of North Korea has decided for now to not launch a missile towards Guam:
August 15, 2017

North Korean leader Kim Jong Un reviewed his military's plans to rain "an enveloping fire" around the U.S. territory of Guam — but opted not to fire missiles at this time, according to state media. Despite the stand-down, some Guamanians were alarmed after two radio stations aired an erroneous emergency alert Tuesday.

Kim visited the Korean People's Army as the self-imposed mid-August deadline for a missile demonstration approached, the Korean Central News Agency reports. But after hearing the plan and considering it, Kim opted not to give the order to launch missiles, but instead "would watch a little more the foolish and stupid conduct of the Yankees," the report says. …

Guam and the U.S. air and naval forces that are based there have been under alert since it was named by North Korea as a potential demonstration target, with the regime threatening to fire missiles into the sea near the island that's home to some 160,000 people.

The passing of the deadline without a missile launch could ease tensions that have been ratcheted up as President Trump and North Korea have traded threats. Last week, Trump said, "Military solutions are now fully in place, locked and loaded, should North Korea act unwisely."

It's still too early to say the situation has calmed entirely, Guam Lieut. Gov. Ray Tenorio said — "But we are happy that the rhetoric is starting to calm down, perhaps." http://www.npr.org/sections/thetwo-way/2017/08/15/543603140/north-korea-says-it-wont-fire-missiles-at-guam-after-all
In some movies in the USA, there has been a 'game' called "chicken" where two automobiles will head towards each other leading to a potential massive crash. The one that turns away first is called "chicken." Of course, such a 'game' is absurd as two automobiles should never be intentionally driving towards each other for a head-on collision.
With the situation between the USA and North Korea, Donald Trump and Kim Jong Un have both been on a type of collision course. In this case, it is not the same as two automobiles heading towards each other. Instead it has been a small car (North Korea) heading towards a large Mac truck (the USA). Kim Jong Un has just wisely blinked in this game of chicken. A game he was certain to lose, even though he could cause the USA some damage. Kim Jong Un seemingly decided that Donald Trump was serious and that Kim Jong Un's regime was subject to possibly total destruction.
For years I have written:
North Korean politicians have often been playing a dangerous game with their country and their people, and hopefully they will realize that a military conflict is not in their interests. (Thiel B. US preparing for war with North Korea. COGwriter, April 3, 2013)
Last week related to North Korea's threat against Guam, I posted:
The North Korean leadership needs to realize that if it wants to survive, it needs to change direction and stop provoking a conflict with the USA.

It may well be that North Korea's leaders may decide that toning the matter down for a while is its best move. (Thiel B. Trump: Military 'Locked and Loaded'–But China says it will defend North Korea is USA strikes first. COGwriter, August 11, 2017)
North Korea did decide to back off–for now.
In other Korean news, South Korea's President Moon spoke:
August 15, 2017

South Korean President Moon Jae-in has signaled his country will no longer stay quiet as tensions escalate between the U.S. and North Korea.

In a forceful speech on Tuesday, Moon asserted the right to veto any military action against Kim Jong Un's regime, saying that decision should be made by "ourselves and not by anyone else." He vowed to prevent war at any cost — a statement that drew a sharp contrast with President Donald Trump, who has warned of "fire and fury" if North Korea continues to threaten the U.S.

"Moon's speech speaks to his frustration, and his nation's wider frustration — and that is the perennial problem that they are not masters of their own destiny when it comes to North Korean geopolitics," said Euan Graham, a director at the Lowy Institute in Sydney. "The U.S. now sees itself as the primary concern and the South Koreans as a secondary concern."

Moon's speech risks exacerbating a rift between the U.S. and South Korea over the best approach to dealing with North Korea. https://www.bloomberg.com/news/articles/2017-08-15/moon-vents-korea-frustration-by-asserting-right-to-veto-u-s-war
While the South Korean president may say what he wishes, I do not believe that Donald Trump believes he needs South Korea's permission to attack North Korea. If South Korea pushed too hard, the USA could withdraw its troops from South Korea, withdraw other protection from South Korea, and implement trade policies that would hurt South Korea. The leadership in South Korea must realize that.
If North Korea actually launched an armed missile at Guam, the USA would be expected to take military actions against North Korea and would not think that South Korea's permission was needful. This would cause resentment in South Korea, especially if North Korea retaliated and there was a significant loss of life in South Korea. This in turn, would turn South Korea against the USA.
In my view, North Korea will one day reunify (at least to a degree, if not totally) with South Korea.
This is because of prophecies involving "the kings from the east" cooperating at the end (cf. Revelation 16:12; Daniel 11:44: "news from the east and the north shall trouble him")  We in the Continuing Church of God have long felt that somehow North and South Korea would likely be unified (or at least work more closely together) prior to the return of Jesus Christ.
Notice something from our Bible News Prophecy magazine, the July-September 2013 edition:
Perhaps I should add that because of prophecies involving "the kings from the east" cooperating at the end (cf. Revelation 16:12; Daniel 11:44), I have long felt that somehow North and South Korea would likely be unified (or at least work more closely together) prior to the return of Jesus Christ. The literal translation of Revelation 16:12 is "the kings of the sunrise" and thus this would seem to have to include Korea—which is amongst the most eastern of the nations.

But it could take a battle or more for that to happen. One that may not turn out well for the North Korean leadership. …

Jesus said to "watch" (Mark 13:37) (Thiel B. Korea in Prophecy: Any Witness? Bible News Prophecy magazine, July-September 2013)
It could take military conflict for that type of unity to happen.
While the USA can defeat North Korea militarily–which is why Kim Jong Un 'blinked'–understand that North Korea could try to set off a nuclear device (either through a launch or through some other means, including covert terroristic ones) or take other military actions that could hurt South Korea or the USA. As reported here in the past, some believe it may attempt to hurt the USA through electromagnetic pulse (EMP) weapons (see North Korea poses electromagnetic-pulse threat to USA).
Despite blinking now, Kim Jong Un may decide to do something else in the future that will cause a military conflict that would involve the USA.
That could be consistent with a prophecy that Jesus said:
7 But when you hear of wars and rumors of wars, do not be troubled; for such things must happen, but the end is not yet. 8 For nation will rise against nation, and kingdom against kingdom. And there will be earthquakes in various places, and there will be famines and troubles. These are the beginnings of sorrows. (Mark 13:7-8)
While we are in the 'beginning of sorrows,' the end is not yet.
Why?
Because other events in the Bible, such as those that Jesus spoke of in Matthew 24:9-20 have not happened yet (see also When Will the Great Tribulation Begin? 2017, 2018, or 2019?). But since the sorrows include wars and rumors of war, as well as troubles, North Korea may well fit in with those (we also have a video related to some of this, which is titled: Syria, North Korea, and Prophecy).
The situation with North Korea is not over, despite the current blinking.
Some articles of possibly related interest would include the following:
Syria, North Korea, and Prophecy On April 7, 2017, 59 US Tomahawk missiles hit a military installation in Syria. While praised by NATO nations, Israel, and Saudi Arabia, this was denounced by Syria, Russia, and North Korea. Is this the start of World War III? Will the Bashar al-Assad regime remain as it is? What about North Korea? What does the Bible show will happen? Dr. Thiel answers these questions and more. This is a video.
Korea in Prophecy, Any Witness? Where did the Korean people come from? Does God have a plan for the Koreans? Is Korea mentioned in any prophecies? Will Koreans be among the first in the Kingdom of God? Here is a machine-translated link to that article in Korean: 한국의 언어로 : 한국 예언, 모든 증인에?. Here is a link to a magazine with that article in Mandarin Chinese: 在预言中的韩国:有任何证人吗?. A prophetic video is also available: Syria, North Korea, and Prophecy.
What is the Gospel? True religion should be based upon the true gospel. What are some of the different gospels and where did they come from? Do you believe the true or a false gospel? Who is preaching the gospel? Here is a version in Korean 복음이란 무엇인가?.
Four Horsemen of the Apocalypse What do each of the four horseman of the Apocalypse represent? Have they began their ride? Did Jesus discuss the any of this? Might their rides coincide with the "beginning of sorrows? Do they start their ride prior to the Great Tribulation? Did Nostradamus or any other 'private prophets' write predictions that may mislead people so that they may not understand the truth of one or more of the four horseman? There is also a related YouTube video titled The Four Horsemen of the Apocalypse.
Armageddon Who is involved and when will this gathering happen? Here is also a video from Dr. Thiel, from Tel Megiddo in Israel: Armageddon.
World War III: Steps in Progress Are there surprising actions going on now that are leading to WWIII? Might a nuclear attack be expected? Does the Bible promise protection to all or only some Christians? How can you be part of those that will be protected? A related video would be Is World War III About to Begin? Can You Escape?
Asia in Prophecy What is Ahead for Asia? Who are the "Kings of the East"? What will happen to nearly all the Chinese, Russians, Indians, and others of Asia? China in prophecy, where? Who has the 200,000,000 man army related to Armageddon? A YouTube video of interest may be Is China THE Threat to the United States of America?
The Eurasian Union, the Kings of the East, and Bible Prophecy Is there a Eurasian union that will be formed? Is one being formed right now? Are any leaders working on that in the 21st century? Does the Bible teach that there will be a Eurasian union? If some type of Eurasian union is formed, who might it benefit and who will it destroy? A related video would be Is The Eurasian Union Rising?
When Will the Great Tribulation Begin? 2017, 2018, or 2019? Can the Great Tribulation begin today? What happens before the Great Tribulation in the "beginning of sorrows"? What happens in the Great Tribulation and the Day of the Lord? Is this the time of the Gentiles? When is the earliest that the Great Tribulation can begin? What is the Day of the Lord? Who are the 144,000? Here is a version of the article in the Spanish language: ¿Puede comenzar la Gran Tribulación en 2016 o 2017? ¿Es el Tiempo de los Gentiles? You can also see the English language sermon videos: The Great Tribulation from the Mount of Olives and Can the Great Tribulation begin before 2020? A shorter video is: Will the Great Tribulation Start in 2017?
Anglo – America in Prophecy & the Lost Tribes of Israel Are the Americans, Canadians, English, Scottish, Welsh, Australians, Anglo-Saxon (non-Dutch) Southern Africans, and New Zealanders descendants of Joseph? Where are the lost ten-tribes of Israel? Who are the lost tribes of Israel? What will happen to Jerusalem and the Jews in Israel? Will God punish the U.S.A., Canada, United Kingdom, and other Anglo-Saxon nations? Why might God allow them to be punished first? Here is a link to the Spanish version of this article: Anglo-América & las Tribus Perdidas de Israel. Information is also in the YouTube sermons titled Where are the Ten Lost Tribes? Why does it matter? and British are the Covenant People. A short YouTube of prophetic interest may be: Are Chinese threats against Australia for real?
Will the Anglo-Saxon Nations be Divided and Have People Taken as Slaves? Will the lands of the United States, United Kingdom, Canada, Australia, and New Zealand be divided? What about Jerusalem? What does Bible prophecy teach? Are there non-biblical prophecies that support this idea? Who will divide those lands? Who will end up with the lands and the people? Here is a link to a video titled Will the USA and other Anglo-nations be Divided and Their People Made Slaves? Here is a related item in the Spanish language ¿Serán divididas las naciones anglosajonas?
Donald Trump in Prophecy Prophecy, Donald Trump? Are there prophecies that Donald Trump may fulfill? Are there any prophecies that he has already helped fulfill? Could a Donald Trump presidency be apocalyptic? A related video is titled: Donald: 'Trump of God' or Apocalyptic?
Trump Presidency Magic 8 Ball or Bible Prophecy? BBC reported that one might as well use a 'Magic Eight-Ball' to try to predict what will happen in the remaining time of Donald Trump's presidency. What is a 'Magic Eight-Ball'? Dr. Thiel not only explains that, but also briefly goes over 10 biblically-based warnings he wrote would happen if Donald Trump were elected that have already began to come to pass. He also goes over something he wrote back in 2008 that the Trump presidency is also helping lead to fulfillment. Should you trust Bible prophecy or not? Dr. Thiel says that Bible prophecy can be trusted, despite the view of skeptics and others that either overlook or despise the Bible. This is a video.
Donald Trump and America's Apocalypse This 188 page book is for people truly interested in prophecies related to Donald Trump and the United States, including learning about several that have already been fulfilled and those that will be fulfilled in the future. The physical book can be purchased at Amazon for $12.99 from the following link: Donald Trump and America's Apocalypse.
Donald Trump and America's Apocalypse-Kindle Edition This electronic version of the 188 page print edition is available for only US$3.99. And you do not need an actual Kindle device to read it. Why? Amazon will allow you to download it to almost any device: Please click HERE to download one of Amazon s Free Reader Apps. After you go to for your free Kindle reader and then go to Donald Trump and America's Apocalypse-Kindle Edition.
The Gospel of the Kingdom of God was the Emphasis of Jesus and the Early Church Did you know that? Do you even know what the gospel of the kingdom is all about? You can also see a YouTube video sermons Why Teach the Kingdom of God, The Gospel of the Kingdom, and The Kingdom of God is the Solution.