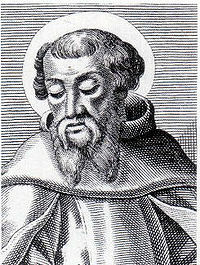 An engraving allegedly of Irenaeus, in Gaul (now Lyons, France)
Today is considered to be the feast/saint's day for Irenaeus of Lyon. His writings are some of the earliest available on certain heresies and he claimed to have met the faithful Polycarp of Smyrna.
A reader sent me the following:
Celebrated by the Roman Catholic Church on June 28, and by Eastern Catholics of the Byzantine tradition on August 23, Saint Irenaeus of Lyons was a second-century bishop and writer in present-day France.

He is best known for defending Christian orthodoxy, especially the reality of Christ's human incarnation, against the set of heresies known as Gnosticism.

Pope Benedict XVI spoke admiringly of St. Irenaeus in a 2007 general audience, recalling how this early Church Father "refuted the Gnostic dualism and pessimism which debased corporeal realities. He decisively claimed the original holiness of matter, of the body, of the flesh no less than of the spirit." http://www.catholicnewsagency.com/news/st-irenaeus-stand-for-orthodoxy-honored-june-28/
Did Irenaeus properly defend Christian orthodoxy?
For years, I have considered Irenaeus to be a major heretic.
Notice also something from the late evangelist, John Ogwyn wrote:
Justin Martyr (ca. 95–167AD) and Irenaeus (ca. 130–202AD), while maintaining some truths they had learned under Polycarp, also sought to accommodate themselves to the new direction of Roman theology in the name of "church unity"…Justin also molded the thinking of Irenaeus, bishop of Lyons…He believed that the God of Plato was also the God of the Bible (Ogwyn J. God's Church Through the Ages. 2003).
While I have not seen any major other treatise explaining why Irenaeus was a major heretic (actually, outside of Church of God circles, I have seen little that specifically considers him to have been a heretic, though groups like the Jehovah's Witnesses probably do), it appears to me that he may have been the most dangerous heretic.
Why?
Because, Irenaeus' heresies were not obvious to those outside the true Church of God. His heresies and false statements were less numerous and less obvious than Justin's, thus have been missed by nearly all scholars (though some have noticed one or two errors he made).
What were His Most Important Heresies?
Irenaeus heard Polycarp, yet made deals with Rome that disagreed with Polycarp's teachings. Irenaeus knew that Justin did not agree with Polycarp, yet he approved of Justin–and sadly seemed to prefer to be influenced more by him that by Polycarp.
Irenaeus knew that Polycarp condemned heretics such as Marcion and Valentinus, but Irenaeus failed to mention that they were still allowed to be part of the Roman Catholic Church until at two decades later. Irenaeus supported the Roman Church even though Irenaeus knew they tolerated heretics that had earlier been condemned by Polycarp (and eventually by Irenaeus himself).
Notice this from Tertullian:
Where was Marcion then, that shipmaster of Pontus, the zealous student of Stoicism? Where was Valentinus then, the disciple of Platonism? For it is evident that those men lived not so long ago,—in the reign of Antoninus for the most part,—and that they at first were believers in the doctrine of the Catholic Church, in the church of Rome under the episcopate of the blessed Eleutherus, until on account of their ever restless curiosity, with which they even infected the brethren, they were more than once expelled (Tertullian. The Prescription against Heretics, Chapter 30. Translated by Peter Holmes. Electronic Version Copyright © 2006 by Kevin Knight. All rights reserved).
Even though Marcion and Valentinus were condemned by Polycarp as a heretic about two decades before Eleutherius became bishop, apparently they were not put out of the Roman Catholic Church then. (Marcion gave a large financial contribution that kept him in good graces for a while–though the Roman Church allegedly returned that contribution after some time.)
And why is all of this about Polycarp and Irenaeus so important?
Because Irenaeus knew that Polycarp had the original faith that the apostles had, but did not stand up for it. Apparently, he did not consider that faith to be important enough to fully follow it personally–he compromised.
Notice what Irenaeus records about Polycarp:
But Polycarp also was not only instructed by apostles, and conversed with many who had seen Christ, but was also, by apostles in Asia, appointed bishop of the Church in Smyrna…always taught the things which he had learned from the apostles, and which the Church has handed down, and which alone are true. To these things all the Asiatic Churches testify, as do also those men who have succeeded Polycarp down to the present time (Irenaeus. Adversus Haeres. Book III, Chapter 4, Verse 3 and Chapter 3, Verse 4).
So we have from this early Roman Catholic source that Polycarp and his successors in Asia Minor (at least until the time that Irenaeus wrote this, around 180 A.D.) practiced the true teachings that they learned from the apostles.
Irenaeus also wrote:
And Polycarp himself replied to Marcion, who met him on one occasion, and said, "Dost thou know me?" "I do know thee, the first-born of Satan."(Irenaeus. Adversus Haereses. Book III, Chapter 3, Verse 4. Excerpted from Ante-Nicene Fathers, Volume 1. Edited by Alexander Roberts & James Donaldson. American Edition, 1885. Online Edition Copyright © 2004 by K. Knight).
What Irenaeus failed to mention is that Marcion was possibly the first heretic to do away with the seventh-day Sabbath. And while Justin did not believe in keeping the Sabbath either, Justin did attend church services on Sunday. Irenaeus apparently felt that neither Saturday nor Sunday was of particular importance, as long as one worshipped God regularly–and this is a heresy that many still hold to today (including even the Jehovah's witnesses).
Irenaeus also had some teachings that Polycarp held. For example, like Polycarp, Irenaeus clearly did not teach the trinity–he held a binitarian view, hence he did not follow that error of Montanus or Valentinus:
…there is none other called God by the Scriptures except the Father of all, and the Son, and those who possess the adoption (Irenaeus. Adversus haereses, Book IV, Preface, Verse 4. Excerpted from Ante-Nicene Fathers, Volume 1. Edited by Alexander Roberts & James Donaldson. American Edition, 1885. Online Edition Copyright © 2004 by K. Knight).
Notice that Irenaeus states that only the Father, the Son, and those who possess the adoption (Christians) are God. This is a binitarian, not a trinitarian view.
So why would binitarians consider Irenaeus a dangerous heretic?
Because he sided with Roman unity above the teachings that he must have known that Polycarp held. And he also introduced prophetic and other misunderstandings that many still accept today.
The Real "Passover Plot"
Irenaeus clearly knew that Polycarp kept Passover yet he did not condemn Rome for changing it. Notice what he wrote:
And when the blessed Polycarp was sojourning in Rome in the time of Anicetus, although a slight controversy had arisen among them as to certain other points…For neither could Anicetus persuade Polycarp to forego the observance [in his own way], inasmuch as these things had been always observed by John the disciple of our Lord, and by other apostles with whom he had been conversant; nor, on the other hand, could Polycarp succeed in persuading Anicetus to keep [the observance in his way], for he maintained that he was bound to adhere to the usage of the presbyters who preceded him. And in this state of affairs they held fellowship with each other; and Anicetus conceded to Polycarp in the Church the celebration of the Eucharist, by way of showing him respect (Irenaeus. FRAGMENTS FROM THE LOST WRITINGS OF IRENAEUS. Translated by Alexander Roberts and James Donaldson. Excerpted from Volume I of The Ante-Nicene Fathers (Alexander Roberts and James Donaldson, editors); American Edition copyright © 1885. Electronic version copyright © 1997 by New Advent, Inc).
Eusebius records that Polycrates explained how the Apostles Philip and John, as well as faithful church leaders and martyrs such as Polycarp and Melito, kept the Passover on the 14th of Nisan in accordance with the gospel and would not deviate from it.
This displeased the Roman Bishop Victor. Notice what Eusebius also recorded:
But the bishops of Asia, led by Polycrates, decided to hold to the old custom handed down to them. He himself, in a letter which he addressed to Victor and the church of Rome, set forth in the following words the tradition which had come down to him: "We observe the exact day; neither adding, nor taking away…"

He then writes of all the bishops who were present with him and thought as he did. His words are as follows: "I could mention the bishops who were present, whom I summoned at your desire; whose names, should I write them, would constitute a great multitude. And they, beholding my littleness, gave their consent to the letter, knowing that I did not bear my gray hairs in vain, but had always governed my life by the Lord Jesus." Thereupon Victor, who presided over the church at Rome, immediately attempted to cut off from the common unity the parishes of all Asia, with the churches that agreed with them, as heterodox; and he wrote letters and declared all the brethren there wholly excommunicate. But this did not please all the bishops. And they besought him to consider the things of peace, and of neighborly unity and love. Words of theirs are extant, sharply rebuking Victor. Among them was Irenaeus, who, sending letters in the name of the brethren in Gaul over whom he presided, maintained that the mystery of the resurrection of the Lord should be observed only on the Lord's day. He fittingly admonishes Victor that he should not cut off whole churches of God which observed the tradition of an ancient custom and after many other words he proceeds as follows:

"For the controversy is not only concerning the day, but also concerning the very manner of the fast. For some think that they should fast one day, others two, yet others more; some, moreover, count their day as consisting of forty hours day and night. And this variety in its observance has not originated in our time; but long before in that of our ancestors. It is likely that they did not hold to strict accuracy, and thus formed a custom for their posterity according to their own simplicity and peculiar mode. Yet all of these lived none the less in peace, and we also live in peace with one another; and the disagreement in regard to the fast confirms the agreement in the faith."

He adds to this the following account, which I may properly insert:

"Among these were the presbyters before Soter, who presided over the church which thou now rulest. We mean Anicetus, and Pius, and Hyginus, and Telesphorus, and Xystus. They neither observed it themselves, nor did they permit those after them to do so. And yet though not observing it, they were none the less at peace with those who came to them from the parishes in which it was observed; although this observance was more opposed to those who did not observe it. But none were ever cast out on account of this form; but the presbyters before thee who did not observe it, sent the eucharist to those of other parishes who observed it. And when the blessed Polycarp was at Rome in the time of Anicetus, and they disagreed a little about certain other things…For neither could Anicetus persuade Polycarp not to observe what he had always observed with John the disciple of our Lord…" (Eusebius. Church History. Book V, Chapter 24).
Notice that what Irenaeus did was to persuade the Roman Bishop Victor to not be as angry against those who in Asia Minor did what the Bible and the Apostles Philip and John stated. And also notice that Irenaeus himself did not stand up for the biblical Passover even though he knew that Polycarp observed it.
So why was that so heretical?
First of all, because Irenaeus' own practices were complicit with Rome's–Irenaeus should have condemned Rome's practices. And secondly, because Irenaeus knew that Sunday was not observed by Polycarp as Polycarp was a disciple of the Apostle John–hence should not have advocated it. Thirdly, Irenaeus also had to have known that Victor was not binitarian (he was Sabellian). And fourthly because he, unbiblically, is referring to Sunday as the Lord's Day (an article of related interest may be Is Revelation 1:10 talking about Sunday or the Day of the Lord?). Because of Irenaeus most who profess Christ now accept Easter.
And why was that so dangerous? Besides the pagan connections, notice what Eusebius recorded:
Irenæus, who, sending letters in the name of the brethren in Gaul over whom he presided, maintained that the mystery of the resurrection of the Lord should be observed only on the Lord's day…Thus Irenaeus, who truly was well named, became a peacemaker in this matter (Eusebius. Church History. Book V, Chapter 24).
Instead of condemning Irenaeus for not standing up for the biblical Passover, he is praised by Roman supporters for persuading those in the second century to not be too harsh on those that kept the proper biblical teaching of the date of the Passover.
Notice that the Apostle John taught that those who seemed like Christians, but did not do what John did were following leaders John describes as antichrists,
Little children, it is the last hour; and as you have heard that the Antichrist is coming, even now many antichrists have come, by which we know that it is the last hour. They went out from us, but they were not of us; for if they had been of us, they would have continued with us; but they went out that they might be made manifest, that none of them were of us (1 John 2:18-19).
The change of Passover may have been the first specific departure from the practices of John that we have a historical record of (involving John's name) (see also Some Doctrines of Antichrist).
Roman supporters ultimately did eliminate the observance of the Passover on the 14th among those they had cordial contact with by the decree of the pagan Emperor Constantine in 325 A.D. And later did try to kill those who refused to accept that decree (please see the article Europa, the Beast, and Revelation).
Apparently Irenaeus valued doctrinal compromise above biblical truth. Irenaeus, while knowing that Polycarp was faithful, only followed some of his faithful teachings (this reminds me of what Daniel told Belshazzar–Belshazzar knew what happened earlier, yet chose to ignore much of it and live the opposite–see Daniel 5:22-23).
These are reasons that most Roman Catholic, Eastern Orthodox, and Protestant scholars seem to have overlooked. Instead, they all tend to consider that Irenaeus was a great early apologist and/or saint.
Furthermore, notice that Pope Benedict XVI called him:
The true founder of Catholic theology, St. Irenaeus of Lyon (Pope Benedict XVI. Homily for the Solemnity of Sts. Peter and Paul. June 29, 2005, http://www.crossroadsinitiative.com/library_article/647/Homily_on_Saints_Peter_and_Paul_Pope_Benedict_XVI.html 6/19/07).
Those in the Church of God do not consider that Irenaeus was the founder of true theology.
Irenaeus Quoted "The Shepherd of Hermas" the Same as He Did Scripture
In a writing called The Demonstration of the Apostolic Preaching, Irenaeus wrote:
For it is necessary that, things that are made should have the beginning of their making from some great cause; and the beginning of all things is God. For He Himself was not made by any, and by Him all things were made. And therefore it is right first of all to believe that there is One God, the Father, who made and fashioned all things, and made what was not that it should be, and who, containing all things, alone is uncontained (Irenaeus, St., Bishop of Lyon. Translated from the Armenian by Armitage Robinson. The Demonstration of the Apostolic Preaching. Wells, Somerset, Oct. 1879. As published in SOCIETY FOR PROMOTING CHRISTIAN KNOWLEDGE. NEW YORK: THE MACMILLAN CO, 1920).
The 69th footnote at that writing, which includes the original Greek states:
69 In IV, xxxiv. 2 he quotes, as "Scripture," the Shepherd of Hermas, Mand.: Πρώτον πάντων πίστευσον ότι είς έστίν ό θεός, ό τά πάντα κτίσας καί καταρτίσας, καί ποιήσας έίκ τού μή όντος είς τό είναι τά πάντα, καί πάντα χωρών, μόνος δέάχώρητοςών. Cf. also I, xv. 1.
This is also the opinion of Roman Catholic scholars:
…"The Shepherd" (Poimen, Pastor), a work which had great authority in ancient times and was ranked with Holy Scripture. Eusebius tells us that it was publicly read in the churches, and that while some denied it to be canonical, others "considered it most necessary". St. Athanasius speaks of it…St. Irenæus and Tertullian (in his Catholic days) cite the "Shepherd" as Scripture. Clement of Alexandria constantly quotes it with reverence, and so does Origen (Chapman. J. Transcribed by Don Ross. Hermas. The Catholic Encyclopedia, Volume VII. Published 1910. New York: Robert Appleton Company. Nihil Obstat, June 1, 1910. Remy Lafort, S.T.D., Censor. Imprimatur. +John Cardinal Farley, Archbishop of New York).
No one can read The Shepherd of Hermas and think that it is on par with scripture–it is simply too bizarre. Irenaeus, however, was apparently the first known leader to do so. Irenaeus may have deferred to it as many believe that it was written by the brother of the Roman "bishop" Pius. This was a dangerous compromise. And one of the most dangerous.
What Motivated Irenaeus?
While it is impossible to know for certain what Irenaeus thought, there are some clues in his writings.
Irenaeus' writings against heretics shows that there were many heretics who held views of God that they could not have possibly gotten from the Bible–essentially the views of the followers or Simon Magus and others like Valentinus that were later termed "gnostics". Apparently as far as Irenaeus was concerned, these were the important heresies.
And while Irenaeus commended Polycarp for blasting the heretic Valentinus (who originated the idea that God existed as three hypostases) and Marcion (who tried to do away with the Old Testament, the law, and the sabbath), he apparently did not think that changing the date of the Passover to Sunday (as some Roman bishops did) or the day of worship to Sunday (as Justin advocated) was heretical.
The question is: Was he right?
The answer is simply no.
The proof that Irenaeus gave (as mentioned earlier) was tradition, not scripture. However, based upon the following writing, it might appear that Irenaeus is providing scriptural justification for his position:
The apostles ordained, that "we should not judge any one in respect to meat or drink, or in regard to a feast day, or the new moons, or the sabbaths." Whence then these contentions? whence these schisms? We keep the feast, but in the leaven of malice and wickedness, cutting in pieces the Church of God; and we preserve what belongs to its exterior, that we may cast away these better things, faith and love. We have heard from the prophetic words that these feasts and fasts are displeasing to the Lord. (Fragments of Irenaeus XXXVIII.)
However, he has misconstrued that scripture. He left off the end of the statement, Colossians 2:17. The verse he left out has been translated:
3739…. .2076…….. 4639… 3588…….. 3195…… 3588…1161 ..4983… 9999 3588…5547
Which are a ………shadow of things ….to come; the…… but…body….. is…….. of …..Christ
(Interlinear Transliterated Bible. Copyright (c) 1994 by Biblesoft). Note: The term is does not exist in the original Greek (that is what 9999 represents–a translator added term).
Thus Colossians 2:16-17 literally states:
So let no one judge you in food or in drink, or regarding a festival or a new moon or sabbaths, which are a shadow of things to come, but the body of Christ.
Since the church is "the body of Christ" (1 Corinthians 12:27), this passage is stating to ignore outsiders (those that are not true Christians) as to how the feasts and the sabbaths should be kept, but that the church is the judge.
Notice that Irenaeus did not appeal to vs. 17 that the Roman Church had authority on this over those in Asia Minor–he probably did not do this because almost none outside of Victor thought that the Roman Church had that type of authority (Victor was the first to clearly attempt to actually project Roman Catholic authority to distant areas).
And this is why Irenaeus was possibly the most dangerous heretic. He decided to ignore what the Bible taught, decided that those not faithful to the original teachings were close enough and that both sides had valid views. Irenaeus, like nearly all theologians after him, concluded that certain traditions were of more value than what the Bible (or those faithful to the teachings of the apostles) taught.
The New Testament warned of the same type of problems in Jesus' day:
Nevertheless even among the rulers many believed in Him, but because of the Pharisees they did not confess Him, lest they should be put out of the synagogue; for they loved the praise of men more than the praise of God (John 12:42-43, NKJV).
And the approval of men was apparently more important to Irenaeus than the truth of God.
Some articles of possibly related interest may include:
Irenaeus: The Most Dangerous Heretic? Was Irenaeus a faithful peacemaker or was he possibly the most dangerous of the early heretics?
Polycarp of Smyrna: The Heretic Fighter Polycarp was the successor of the Apostle John and a major leader in Asia Minor. Do you know much about what he taught? A YouTube video or related interesy may be: Polycarp of Smyrna: Why Christians should know more about him.
Which Is Faithful: The Roman Catholic Church or the Continuing Church of God? Do you know that both groups shared a lot of the earliest teachings? Do you know which church changed? Do you know which group is most faithful to the teachings of the apostolic church? Which group best represents true Christianity? This documented article answers those questions. [Português: Qual é fiel: A igreja católica romana ou a igreja do deus?]
Simon Magus, What Did He Teach? Sometimes called "the father early heretics" or the "father of heresies", do you know what early writers claimed that Simon Magus taught? Sadly, most who profess Christ still hold to versions of his teachings.
Marcion: The First Protestant? Considered to have been an organized heretic, he taught against the Old Testament, the law, and the Sabbath. Some have considered him to be the first Protestant reformer. But was he?
Valentinus: The Gnostic Trinitarian Heretic He apparently was the first Christ-professing heretic to come up with the idea of three hypostases.
Justin Martyr: Saint, Heretic, or Apostate? Justin is considered one of the first Christian theologians and scholars. But did he support a Gnostic version of Christianity? Do you know what he taught about souls going to heaven upon death? This article shows from his own writings, what Justin really taught.
Marcus and the Marcosians: Developers of the Eucharist? Marcus was a second century heretic condemned for having a ceremony similar to one still practiced by many who profess Christ. Might he also be in the apostolic succession list of the Orthodox Church of Alexandria?
Did Early Christians Celebrate Easter? If not, when did this happen? What do scholars and the Bible reveal?
Passover and the Early Church Did the early Christians observe Passover? What did Jesus and Paul teach? Why did Jesus die for our sins?
Where is the True Christian Church Today? This free online pdf booklet answers that question and includes 18 proofs, clues, and signs to identify the true vs. false Christian church. Plus 7 proofs, clues, and signs to help identify Laodicean churches. A related sermon is also available: Where is the True Christian Church? Here is a link to the booklet in the Spanish language: ¿Dónde está la verdadera Iglesia cristiana de hoy? Here is a link in the German language: WO IST DIE WAHRE CHRISTLICHE KIRCHE HEUTE?
The Ten Commandments: The Decalogue, Christianity, and the Beast This is a free draft/unedited pdf book explaining the what the Ten Commandments are, where they came from, how early professors of Christ viewed them, and how various ones, including the Beast of Revelation, will oppose them. A related sermon is titled: The Ten Commandments and the Beast of Revelation.
The History of Early Christianity Are you aware that what most people believe is not what truly happened to the true Christian church? Do you know where the early church was based? Do you know what were the doctrines of the early church? Is your faith really based upon the truth or compromise?