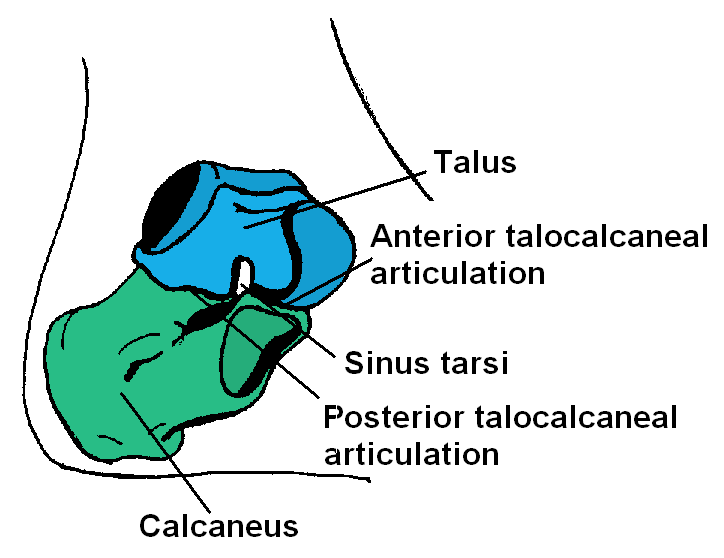 Heel (Wikipedia)

The latest edition of Artifax, a publication of the Near East Archaeological Society arrived at the CCOG office a couple of days ago. Several hours ago, I was able to read it over.
It had two items some may find of interest, part of which my wife Joyce graciously typed as Artifax is not generally online.
Here is one item:
HEEL BONE CRUCIFIXION FOUND IN ITALY

Italian archeologists Emanuela Gualdi-Russo and Ursula Thun Hobenstein from the University of Florence report in a recent edition of the scholarly journal Archaeological and Antropological Sciences that they have excavated a poorly-preserved skeleton of a man at Gavello in northern Italy which has a nail hole through his right heel bone (calcaneus). This nail hole is thought to be evidence of crucifixion.

This crucified man is thought to have been about 30 years old when he was executed, and he was found in a simple grave–but not in a cemetery–without grave goods. The grave has been dated to the First Century AD…

EDITOR'S NOTE: Nearly all of the pictures of Christ on the cross from late ancient to modern times show him with a nail or nails going through the top of his feet just above his toes. However, since there are now two examples of Roman crucifixions where nails were apparently driven through heel bones, it is highly likely that Christ's nail(s) also went through his heel bones.

For many Christians, Genesis 3:15 contains the first prophecy about the crucifixion of Christ. This passage of Scripture has God saying to Satan; "I will put enmity between you and the woman and between your offspring and hers; and he will crush your head and you will strike his heel. (Billington CE, ed. HEEL BONE CRUCIFIXION FOUND IN ITALY. Artifax, Vol. 36, no. 2, Spring 2020, p. 17)
Many people had a particular perception of how Jesus was nailed to a tree and killed in the first century A.D. Scripture shows He was impaled on a tree. Since putting a nail through the heel was used in the first century A.D. (and the above Italian example is not the only one), plus the prophecy in Genesis 3:15, it certainly is reasonable to think that one or more nails through His heel was used.
Here is another item from Artifax:
Does the Nazareth Inscription Refer to the Resurrection of Jesus?

… the Nazareth Inscription speaks of moving corpses–note the plural from the tombs. Incidentally, Matthew 27:52 states when Jesus was resurrected: "The tombs of many were opened and the bodies of many holy people who had dided were resurrected." The use of the plural in the Nazareth Inscription is thus easily explained in terms of the resurrection of Christ …

The Nazareth Inscription is believed by many conservative Bible scholars to be a version of the Jewish High Priests' explanation for the resurrection of Jesus Christ as is found in the Gospel of Matthew 28:11-15; in other words, Jesus' disciples stole his body and perpetrated a fraud pretending that he had resurrected from the dead. …

I believe that it was taken from a rescript letter of the Emperor Claudius which he sent to King Herod Agrippa I, who was his close personal friend. It was the Emperor Claudius who made Herod Agrippa I the king of all of Israel, including Judah, which is even seen in the New Testament. King Agrippa I is mentioned in the Book of Acts as a persecutor of the early Christian Church in Jerusalem. …

It is likely that the Nazareth Inscription was ordered by the Emperor Claudius to be posted in Nazareth in order to counter what he considered to be a dangerous political-religious movement that said that their Jewish "king" had resurrected from the dead. The Nazareth Inscription threatens with death anyone who takes corpses from tombs in order to perpetrate a fraud.

It should be remembered that the titulus placed over the head of Jesus Christ at his crucifixion read, "Jesus of Nazareth, King of the Jews" in Greek, Latin, and Hebrew/Aramaic. The Emperor Claudius would have almost certainly been interested in a Jewish king–so also would have King Herod Agrippa I–whose followers claimed that he had resurrected from the dead.

Consider that Claudius wanted to quash early Christianity and also that he wanted to threaten Christians for perpetrating a fraud by claiming that King Jesus Christ had resurrected from the dead. Where would Claudius–or more likely his agent Herod Agrippa–have obtained the marble used for the Nazareth Inscription? The closest and easiest place to obtain marble, have it inscribed, and then shipped to Nazareth was most likely Kos.

Excluding its journey by sea, the total overland shipping of the Nazareth Inscription from its quarry on Kos to Nazareth would have been only about 25-30 miles total; the fastest, easiest, and the least expensive way for King Herod Agrippa I to obtain and to post the Nazareth Inscription in Nazareth.

The Nazareth Inscription is almost certainly a rescript, in other words a letter of response from Caesar to some official–in this case almost certainly King Herod Agrippa I–who had sent an earlier letter asking for guidance on how to deal with some problem, in this case the rise of Christianity.

If the Nazareth Inscription is an abridged version of an imperial rescript, as it almost certainly is, then it would naturally contain a "Decree of Caesar" dealing with this problem. Such decrees of Caesar were ordered to be placed in conspicuous public places. Kind Herod Agrippa I, who almost certainly sent the original letter of inquiry to Caesar Augustus, would have been responsible for inscribing and posting this "Decree of Caesar."

In summation, based on the shipping routes of that day, King Herod Agrippa I could have easily ordered this Decree of Caesar to be inscribed on white marble at Kos and then had it shipped by sea to Ptolemais and from there overland to Nazareth where it would have been posted. This decree, that threatens with death anyone who removes corpses from tombs in order to perpetrate a fraud, fits very well with the story of the resurrection of Jesus Christ, but it does not at all fit the story of Nikias the Tyrant.

(Billington CE, ed. Does the Nazareth Inscription Refer to the Resurrection of Jesus?. Artifax, Vol. 36, no. 2, Spring 2020, pp. 12-13)
Consider the following:
9 And as they went to tell His disciples, behold, Jesus met them, saying, "Rejoice!" So they came and held Him by the feet and worshiped Him. 10 Then Jesus said to them, "Do not be afraid. Go and tell My brethren to go to Galilee, and there they will see Me."

11 Now while they were going, behold, some of the guard came into the city and reported to the chief priests all the things that had happened. 12 When they had assembled with the elders and consulted together, they gave a large sum of money to the soldiers, 13 saying, "Tell them, 'His disciples came at night and stole Him away while we slept.' 14 And if this comes to the governor's ears, we will appease him and make you secure." 15 So they took the money and did as they were instructed; and this saying is commonly reported among the Jews until this day. (Matthew 28:9-15)
Because the New Testament shows that the Jews and Romans did not want people to know the truth about Jesus' resurrection, it is of little surprise that a story against the resurrection of others may have been planted. circulated, and posted also in marble.
Satan, and those against the truth, have long posted falsehoods to discourage people from believing the truth.
Hopefully, you are willing to accept the truth about Jesus, as well as His most faithful church.
The Church of Rome calls the day before "Easter" "Holy Saturday."
Some items of possibly related interest may include the following:
What is the Origin of the Cross as a 'Christian' Symbol? Was the cross used as a venerated symbol by the early Church? Two related YouTube videos would be Beware of the 'Ecumenical Cross', The Chrislam Cross and the Interfaith Movement, and Origin of the Cross.
What Happened in the 'Crucifixion Week'? How long are three days and three nights? Was Palm Sunday on a Saturday? Did Jesus die on "Good Friday"? Was the resurrection on Sunday? Do you really know? Who determined the date of Easter? (Here is a related link in Spanish/español: ¿Murió Jesús un día miércoles o un viernes?) A sermon of related interest is titled What did and did not happen in the 'Crucifixion week'?
Proof Jesus is the Messiah This free book has over 200 Hebrew prophecies were fulfilled by Jesus. Plus, His arrival was consistent with specific prophecies and even Jewish interpretations of prophecy. Here are links to seven related sermons: Proof Jesus is the Messiah, Prophecies of Jesus' birth, timing, and death, Jesus' prophesied divinity, 200+ OT prophecies Jesus filled; Plus prophecies He made, Why Don't Jews Accept Jesus?, Daniel 9, Jews, and Jesus, and Facts and Atheists' Delusions About Jesus. Plus the links to two sermonettes: Luke's census: Any historical evidence? and Muslims believe Jesus is the Messiah, but … These videos cover nearly all of the book, plus have some information not in the book.
Where is the True Christian Church Today? This free online pdf booklet answers that question and includes 18 proofs, clues, and signs to identify the true vs. false Christian church. Plus 7 proofs, clues, and signs to help identify Laodicean churches. A related sermon is also available: Where is the True Christian Church? Here is a link to the booklet in the Spanish language: ¿Dónde está la verdadera Iglesia cristiana de hoy? Here is a link in the German language: WO IST DIE WAHRE CHRISTLICHE KIRCHE HEUTE? Here is a link in the French language: Où est la vraie Église Chrétienne aujourd'hui? Here is a link to a short animation: Which Church would Jesus Choose?
Continuing History of the Church of God This pdf booklet is a historical overview of the true Church of God and some of its main opponents from Acts 2 to the 21st century. Related sermon links include Continuing History of the Church of God: c. 31 to c. 300 A.D. and Continuing History of the Church of God: 4th-16th Centuries and Continuing History of the Church of God: 17th-20th Centuries. The booklet is available in Spanish: Continuación de la Historia de la Iglesia de Dios, German: Kontinuierliche Geschichte der Kirche Gottes, French: L Histoire Continue de l Église de Dieu and Ekegusii Omogano Bw'ekanisa Ya Nyasae Egendererete.
Hope of Salvation: How the Continuing Church of God Differs from Protestantism The CCOG is NOT Protestant. This free online book explains how the real Church of God differs from mainstream/traditional Protestants. Several sermons related to the free book are also available: Protestant, Baptist, and CCOG History; The First Protestant, God's Command, Grace, & Character; The New Testament, Martin Luther, and the Canon; Eucharist, Passover, and Easter; Views of Jews, Lost Tribes, Warfare, & Baptism; Scripture vs. Tradition, Sabbath vs. Sunday; Church Services, Sunday, Heaven, and God's Plan; Seventh Day Baptists/Adventists/Messianics: Protestant or COG?; Millennial Kingdom of God and God's Plan of Salvation; Crosses, Trees, Tithes, and Unclean Meats; The Godhead and the Trinity; Fleeing or Rapture?; and Ecumenism, Rome, and CCOG Differences.