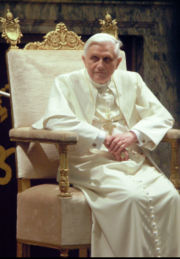 Pope Benedictus XVI
The following item was in the news:
Vatican: Receiving Eucharist kneeling will be norm at papal liturgies
CNS – June 26, 2008
VATICAN CITY (CNS) — Receiving the Eucharist on the tongue while kneeling before the pope will become the norm at papal liturgies, said the Vatican's liturgist.

While current norms allow the faithful to receive the Eucharist in the hand while standing, Pope Benedict XVI has indicated a preference for the more traditional practice, said Msgr. Guido Marini, master of papal liturgical ceremonies…
In the Vatican newspaper interview, Msgr. Marini was asked if this practice was destined to become the norm in all papal celebrations, and he replied, "I really think so."…
Msgr. Marini told the Vatican newspaper that Pope Benedict also would be introducing another change to future papal liturgies during his June 29 Mass marking the feast of Sts. Peter and Paul, the patron saints of Rome.
He said the pope would begin wearing a shorter pallium — a circular woolen band worn over the shoulders with a shorter strip hanging down the front and back — similar to the kind worn by Pope John Paul II…
The white woolen pallium is a sign of the pope's and an archbishop's authority over the Christian community and the Gospel authority of a shepherd called to carry his sheep, to lead them and to feed them. http://www.catholicnews.com/data/stories/cns/0803381.htm
This certainly does not seem to suggest that the Pope wishes to be seen as a humble servant. Perhaps it should be mentioned here that early Christian leaders, including Catholic ones, did not dress like the Catholic priests and bishops now do–this did not happen until the 4th century (for more details please see What Were the Early Duties and Dress of Elders/Pastors?).
The dress of the Roman clergy WAS not part of early Christianity.
Furthermore, the Bible shows that every knee is to bow before Christ:
9 Therefore God also has highly exalted Him and given Him the name which is above every name, 10 that at the name of Jesus every knee should bow (Philippians 2:9-10)
But what about the leading servants of Christ? What did Peter do?
25 As Peter was coming in, Cornelius met him and fell down at his feet and worshiped him. 26 But Peter lifted him up, saying, "Stand up; I myself am also a man" (Acts 10:25-26).
Thus, the Pope does not seem to be following Peter's example in humility nor dress.
The Bible shows that people are to bow before Jesus:
9 Therefore God also has highly exalted Him and given Him the name which is above every name, 10 that at the name of Jesus every knee should bow, of those in heaven, and of those on earth, and of those under the earth (Philippians 2:9-10).
But the Pope is NOT Jesus, he is simply a man who falsely claims apostolic succession (and even IF he had apostolic succession, no one should have to kneel before him).
Perhaps, it should be mentioned that angels (other than Satan or fallen ones, see Matthew 4:9-10) will not allow themselves to be worshiped (Revelation 19:10,22:8-9)–nor should they be (Colossians 2:18).
Of course, Antichrist will want to be worshiped. Requiring kneeling, once again now, may make that easier for people to worship Antichrist.
Some articles of possibly related interest may include:
Some Doctrines of Antichrist Are there any doctrines taught outside the Churches of God which can be considered as doctrines of antichrist? This article suggests at least three. It also provides information on 666 and the identity of "the false prophet". Plus it shows that several Catholic writers seem to warn about an ecumenical antipope that will support heresy.
Do Certain Catholic Prophecies About Antichrist Warn Against Jesus? Will the final "Anti-Christ" be Jewish, insist on Saturday, be opposed to the trinity, and bring in the millennium? Catholic writings indicate this, but what does the Bible show?
Europa, the Beast, and Revelation Where did Europe get its name? What might Europe have to do with the Book of Revelation? What about "the Beast"?
Which Is Faithful: The Roman Catholic Church or the Living Church of God? Do you know that both groups shared a lot of the earliest teachings? Do you know which church changed? Do you know which group is most faithful to the teachings of the apostolic church? Which group best represents true Christianity? This documented article answers those questions.
Two Horned Beast of Revelation and 666 Who is the Two-Horned Beast? This article explains how the LCG views this, and compares this to Ellen White.
What Were the Early Duties and Dress of Elders/Pastors? Were the duties of the clergy primarily pastoral or sacramental? Did they dress with special liturgical vestments? Can "bishops" be disqualified as ministers of Christ based on their head coverings?