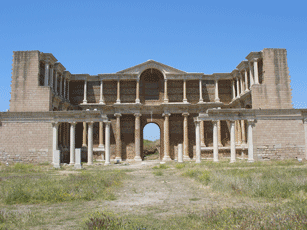 Rebuilt Gymnasium in Sardis

CG7-Denver is now reporting the following on its official website:
The Church of God (Seventh Day) recognizes more than 200 congregations in the United States and Canada. It also has affiliated ministries in more than 25 countries outside North America, with a worldwide fellowship of over 300,000 members.
This is up from 200,000 earlier this year (CG7 Claims 200,000 and Teaches the Mark of the Beast is Past):
The General Conference is a family of more than 200 local congregations scattered across the United States and Canada. Through the relationship between the General Conference and the International Ministerial Congress, we are a global church, connecting well over 200,000 brethren in Christ around the world.
From the two reports, it seems that the "growth" apparently came from affiliating with other international groups as the reported number of US and Canadian congregations is unchanged.
It may be because of affiliations this year in Brazil (CG7 in South America, 1000 Congregations in Brazil) and more recentlyIndia (CG7 in India? Indians Need to be Warned).
While reaching the international community is a great and biblically appropriate goal, sadly CG7 has watered down so much in the past year or two that their members (both domestically and those affiliated internationally) should be outraged.
Here are seven items that I were reported here earlier that I believe help demonstrate that:
Of course, other groups have had some similar problems, but CG7 seems to have really began to lose more and more in the past few years.
It probably should be mentioned that some who once were part of the old WCG that ended up in/associating with CG7 thinking it was a safer place than WCG was when it was apostasizing.  And while that may have been true from a relative perspective, CG7 is no "place of safety".
Those in cg7 need to realize that Jesus warned that the Sardis Church "if you will not watch, I will come upon you as a thief, and you will not know what hour I will come upon you" (Revelation 3:3).  The losing of prophetic knowledge and other doctrinal understandings by CG7 is a fulfillment of that prophecy.  Irrespective of how many they claim affiliate with it.
For more information about CG7 and other subjects in this post, please prayerfully study the following:
Church of God, Seventh Day: History and Teachings Nearly all COG's I am aware of trace their history through this group. Whaid Rose is the president of the largest CG7 group (Denver). Do you know much about them?
The Sardis Church Era was predominant circa 1600 A.D. to circa 1933 A.D. Discusses early history of the Seventh Day Baptists, Seventh-day Adventists, and COG-7th Day.
The Philadelphia Church Era was predominant circa 1933 A.D. to 1986 A.D. The old Radio Church of God and old Worldwide Church of God, now basically the Living Church of God.
The Laodicean Church Era has been predominant circa 1986 A.D. to present. These are non-Philadelphians who mainly descended from the old WCG.
There is a Place of Safety for the Philadelphians. Why it May Be Petra This article discusses a biblical 'place of safety' and includes quotes from the Bible and Herbert W. Armstrong on this subject–thus, there is a biblically supported alternative to the rapture theory.
Persecutions by Church and State This article documents some that have occurred against those associated with the COGs and some prophesied to occur. Will those with the cross be the persecutors or the persecuted–this article has the shocking answer.
Why Be Concerned About False and Heretical Leaders? There have been many false leaders–here is some of why you should be concerned about them.