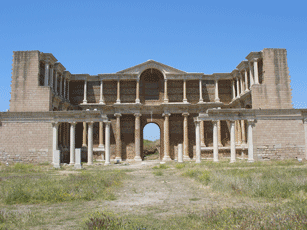 Rebuilt Gymnasium in Sardis

CG7-Denver has just published something in its Sep-Oct 2010 Bible Advocate magazine allowing people to work on the Sabbath:
Q Please reiterate our position on the Sabbath.  If, due to the economy, a member who is a deacon takes a job requiring him to work late on Friday, but he still attends Sabbath day services, does God's mercy allow him to continue as deacon? How would you handle this?…

A We're no longer under old covenant law but under the new covenant of God's grace (Rom. 6:15; Heb. 8:13)…Every believer must strive, out of love, to dedicate the glorious Sabbath to the Lord. When forced to work, he does not violate the law of love. He continues to love his Lord and His day, regretting that he cannot keep it as he wished. That's completely different from one who mocks the commandment by working on Sabbath, even though he could keep it, and smugly says we are under grace. One who cannot attend Sabbath services obviously cannot hold an important church office, since he's not aware of what goes on there. The deacon who is required to work in the dark hours of Sabbath to provide for his household is not wrong. He may continue to serve because he attends worship during the day when church activities take place and he knows what's happening.
This is an outrage.  No one is being forced to violate the Sabbath, simply pressured.  We are all pressured to sin in many ways, but that does not make sin right.  It is still sin.
To try to reduce dissent from this outrageous response, CG7 had the following weasel words attached to the article:
Editor's note: Not official policy, here is a respected pastor's answer to a not uncommon problem in CoG7.
This is still an outrage.
People either have the faith that God will provide or they do not.
Those who knowingly violate the Sabbath simply do not have the faith.
Perhaps I should convey a related personal story.  When I was doing poorly financially struggling to get our business profitable, an opportunity came up for me to have a booth at a seminar on the Sabbath which would have likely resulted in noticeable financial benefits to our struggling business.  At the same time (around November 1994), the late J. Tkach had some article come out that essentially said that if you need to support your family it was okay to work on the Sabbath.
Yet the Bible says:
8 "Remember the Sabbath day, to keep it holy. 9 Six days you shall labor and do all your work, 10 but the seventh day is the Sabbath of the Lord your God. In it you shall do no work: you, nor your son, nor your daughter, nor your male servant, nor your female servant, nor your cattle, nor your stranger who is within your gates. 11 For in six days the Lord made the heavens and the earth, the sea, and all that is in them, and rested the seventh day. Therefore the Lord blessed the Sabbath day and hallowed it.  (Exodus 20:8-11)

21 "Six days you shall work, but on the seventh day you shall rest; in plowing time and in harvest you shall rest.  (Exodus 34:21)
There was more economic pressure for farmers during plowing and harvest time in the ancient days than there is for modern Westerners.  So, instead of listening to Tkach-accepted logic, I decided that it was an act of faith to not work on the Sabbath, but of course to work the other days.    I agreed with the Apostle Peter and others in Acts who faced persecuting pressure:
29 But Peter and the other apostles answered and said: "We ought to obey God rather than men…" (Acts 5:29)
Peter and the others were beaten then (Acts 5:40), but that and various threats did not stop them from obeying God (Acts 5:41).  They ignored being "forced" to disobey God.  And actual force was used against them.
Furthermore, the Book of Psalms clearly says:
25 I have been young, and now am old; Yet I have not seen the righteous forsaken, Nor his descendants begging bread. (Psalms 37:25)
My wife and I have faced various trials associated with keeping the Sabbath and Holy Days over the years (my wife was even fired for attending the Feast of Tabernacles from one company).  We have made it through, though it was not always easy.  We never had to beg for bread.  Jesus taught to pray to God for our daily bread (Matthew 6:11).  He did not teach to rely on carnal reasoning.
We knew that Jesus warned:
33…In the world you will have tribulation; but be of good cheer, I have overcome the world. (John 16:33)
So, the fact that it is not always easy to obey God does not justify disobedience.   Jesus taught that the way to life was difficult and few would find it (Matthew 7:14).
How does the Bible say that Christians are supposed to conduct their lives?  To compromise with the world?  Or to do something else?  Notice:
7 For we walk by faith, not by sight. (2 Corinthians 5:7)

6 For to be carnally minded is death, but to be spiritually minded is life and peace. 7 Because the carnal mind is enmity against God; for it is not subject to the law of God, nor indeed can be. 8 So then, those who are in the flesh cannot please God. (Romans 8:6-8)

3 Now we who have believed enter that rest, just as God has said, "So I declared on oath in my anger, 'They shall never enter my rest.'" And yet his work has been finished since the creation of the world. For somewhere he has spoken about the seventh day in these words: "And on the seventh day God rested from all his work." And again in the passage above he says, "They shall never enter my rest." It still remains that some will enter that rest, and those who formerly had the gospel preached to them did not go in, because of their disobedience…9 There remains, then, a Sabbath-rest for the people of God; 10 for anyone who enters God's rest also rests from his own work, just as God did from his. 11 Let us, therefore, make every effort to enter that rest, so that no one will fall by following their example of disobedience (Hebrews 4:3-6,9-11, NIV).
Giving in to societal pressures in order to fulfill the carnal requirements of the flesh is not biblically sanctioned (cf. Romans 13:14).  Some believe God is faithful, while others look to their own understandings.   The Bible says to trust in God and not your own understandings (Proverbs 3:5-6).
Real Christians accept that God is faithful and do not compromise:
12 Therefore let him who thinks he stands take heed lest he fall. 13 No temptation has overtaken you except such as is common to man; but God is faithful, who will not allow you to be tempted beyond what you are able, but with the temptation will also make the way of escape, that you may be able to bear it.  (1 Corinthians 10:12-13)
There have been harder trials in the world than facing job loss in a Western society.  Almost no one actually starves in 21st century America/Europe, and if the "deacon" truly believed God, God would provide for him (and if not, likely the government) even if it does not seem so carnally (cf. Genesis 22:8).  Do he and others not realize that God is faithful?
Sadly, CG7 is encouraging people to look to their own carnal understandings and do what is right in their own eyes (cf. Proverbs 12:15; 21:2).
The Bible warns that the Sardis Church will lose what it has:
1″And to the angel of the church in Sardis write,

'These things says He who has the seven Spirits of God and the seven stars: "I know your works, that you have a name that you are alive, but you are dead.  2 Be watchful, and strengthen the things which remain, that are ready to die, for I have not found your works perfect before God.  3 Remember therefore how you have received and heard; hold fast and repent. Therefore if you will not watch, I will come upon you as a thief, and you will not know what hour I will come upon you.  4 You have a few names even in Sardis who have not defiled their garments; and they shall walk with Me in white, for they are worthy. (Revelation 3:1-4)
CG7-Denver keeps losing more and more of the truths it once had.
This latest published response (despite the weasel words that it was "not official policy", when CG7's policy was asked for) is an outrage that again confirms that CG7-Denver is at best part of Sardis.  And at worse, has almost no true Christians left in it.  God will decide which best describe that group now.  We in the Living Church of God have not followed the path CG7-Denver is going down.
Those in CG7-Denver really need to examine what church they really should be part of.
For more information about CG7 and other subjects in this post, please prayerfully study the following:
Church of God, Seventh Day: History and Teachings Nearly all COG's I am aware of trace their history through this group. Whaid Rose is the president of the largest CG7 group (Denver). Do you know much about them?
The Sardis Church Era was predominant circa 1600 A.D. to circa 1933 A.D. Discusses early history of the Seventh Day Baptists, Seventh-day Adventists, and COG-7th Day.
The Philadelphia Church Era was predominant circa 1933 A.D. to 1986 A.D. The old Radio Church of God and old Worldwide Church of God, now basically the Living Church of God.
The Sabbath in the Early Church and Abroad Was the seventh-day (Saturday) Sabbath observed by the apostolic and post-apostolic Church?
The Dramatic Story of Chinese Sabbathkeepers This reformatted Good News article from 1955 discusses Sabbath-keeping in China in the 1800s.
Is God Unreasonable? Some have suggested that if God requires Sabbath-keeping He is unreasonable. Is that true?
Is There "An Annual Worship Calendar" In the Bible? This paper provides a biblical and historical critique of several articles, including one by the Tkach WCG which states that this should be a local decision. What do the Holy Days mean? Also you can click here for the calendar of Holy Days.
Persecutions by Church and State This article documents some that have occurred against those associated with the COGs and some prophesied to occur. Will those with the cross be the persecutors or the persecuted–this article has the shocking answer.
Why Be Concerned About False and Heretical Leaders? There have been many false leaders–here is some of why you should be concerned about them.
Attending the Church of Choice This article discusses whose choice is important to worship God; should you attend the church of your choice or the church of God's choice?
Unity: Which COG for You? Why so many groups? Why is there lack of unity in the Churches of God? Has it always been this way? What can/should be done about it?
There are Many COGs: Why Support the Living Church of God? This is an article for those who wish to more easily sort out the different COGs. It really should be a MUST READ for current and former WCG/GCI members or any interested in supporting the faithful church. It also explains a lot of what the COGs are all about.