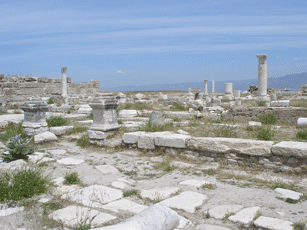 Laodicea has many ineffective structures

Today, in another twist to the UCG crisis, the "Abigail Cartwright" site posted the following:
Announcing the

Church of God, a Worldwide Association

Today we are announcing the formation of a new international congregation of believers, the Church of God, a Worldwide Association. Our church organization incorporated on December 23, 2010 and has members, congregations and ministers around the world.

The formation of the Church of God, a Worldwide Association, results from several fundamental disagreements within United Church of God, an International Association. After numerous efforts to engage in biblical resolutions and reconciliation, all efforts failed, and a separation became inevitable. We believe we have made every effort to avoid a rift, but the deep division over a number of issues has led us to this point. We are saddened and disappointed by this division that separates friends, family and loved ones, and we seek God's mercy and His direction as we desire to live our lives in peace and service to God. Therefore, we are forming this new organization as a home for believers who share our mission, values and beliefs.

Our mission is to preach the gospel of the Kingdom of God to all nations and make disciples from among those whom God calls. Our doctrines are based in the first century teachings of Jesus Christ as practiced by the apostles. Our values are grounded in the biblical record. We will strive to humbly follow this example.

We will be hosting a conference for elders January 9-11, 2011, in Louisville, Kentucky. The purpose of this meeting is to discuss options for the future for providing a spiritual home for members and elders who have become disenfranchised and disillusioned with the turmoil within the United Church of God, an International Association.

To date several thousand members and dozens of pastors and elders have been fired or forced to resign over these developments. Their desire is to look to the future and continue to move forward together as an organized body. Elders who are dedicated to serving God and Jesus Christ in the commission of the church of preaching the gospel and making disciples of those whom God calls, are invited to attend this important meeting.

We are asking all members and ministers to join us in fasting on a day of your choice between now and the beginning of this conference on January 9, to seek God's will in decisions and actions that will be taken as a result of this conference.

Our temporary headquarters is located in Palm Coast, Florida, and the church is organized as a church organization within the meaning of Internal Revenue Code section 501(c)(3).
It seems to abbreviating itself COG aWa, but I will stick to COGW for a now.  Those identified in what appears to be a public filing are as follows:
Registered Agent Name: THOMPSON, RICHARD
Officer/Director Detail Name & Address Title PD HANISKO, MIKE; GIESE, KEN; SARGENT, GREG; WEST, ROGER; EVANS, GEORGE.
(Source: http://www.sunbiz.org/scripts/cordet.exe?action=DETFIL&inq_doc_number=N10000011804&inq_came_from=NAMFWD&cor_web_names_seq_number=0000&names_name_ind=N&names_cor_number=&names_name_seq=&names_name_ind=&names_comp_name=CHURCHGODAWORLDWIDEASSOCIATION&names_filing_type=)
It has been, and remains, my view that the first purpose of COGA, and now COGW (despite its mission statement claim), is to keep ministers employed, and that pretty much everything else is a lower priority.  I left out the mailing address which followed a request for donations in the above letter.
I am not questioning their sincerity, it is only that I have heard similar statements from the UCG ministry over the past 15 years that really have never resulted in a public proclamation work that I would describe as any better than lukewarm.
Of course, the name these ministers have chosen, Church of God, a Worldwide Association, sounds a lot like the old Worldwide Church of God, that the late Herbert W. Armstrong was the human leader of.
According to scripture, having a new suggestive of being Philadelphian, does not make one so (cf. Revelation 3:7-9).
Now although I have doubts about its financial commitments to gospel proclamation, COGW will likely at least make some effort here.  Perhaps it will surprise me and everyone else.
If so, or even if not, I believe that those affected by this crisis really who wish to support a more effective gospel-proclaiming organization should consider LCG.
Actions (fruits, cf. Matthew 7:15-20) speak louder than mission statements.  We will see what kind of relationship that COGW will have with COGW–as of a moment ago, COGW was not listed under the relationship's page for COGA.  Yet, Ken Giese holds the position of  "Director: Advisory Board" for International Ambassador Outreach, is apparently a founding member of COGW, and apparently concurred with IAO's funding of projects related to COGA, so there is a link.  How closely and for how long the two will work together remains to be scene.
Some articles of possibly related interest may include:
Polycarp, Herbert W. Armstrong, and Roderick C. Meredith on Church Government What form of governance did the early church have? Was it hierarchical? Which form of governance would one expect to have in the Philadelphia remnant? The people decide and/or committee forms, odd dictatorships, or the same type that the Philadelphia era itself had?
Concerns about Church of God, a Worldwide Association Thiscould become the largest group that came out of the United Church of God.  Here is some history and concerns about it. UCG's former president Clyde Kilough is part of it.
Unity: Which COG for You? Why so many groups? Why is there lack of unity in the Churches of God? Has it always been this way? What can/should be done about it?
Differences between the Living Church of God and United Church of God This article provides quotes information from the two largest groups which had their origins in WCG as well as commentary.
There are Many COGs: Why Support the Living Church of God? This is an article for those who wish to more easily sort out the different COGs. It really should be a MUST READ for current and former WCG/GCI members or any interested in supporting the faithful church. It also explains a lot of what the COGs are all about.
Should the Church Still Try to Place its Top Priority on Proclaiming the Gospel or Did Herbert W. Armstrong Change that Priority for the Work? Some say the Church should mainly feed the flock now as that is what Herbert W. Armstrong reportedly said. Is that what he said? Is that what the Bible says? What did Paul and Herbert W. Armstrong expect from evangelists?
The Laodicean Church Era has been predominant circa 1986 A.D. to present. These are non-Philadelphians who mainly descended from the old WCG.