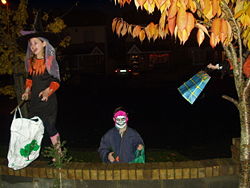 In an email a few moments ago, UCG reported:
God unmasks Halloween

Does the Bible have anything to say about strange customs and holidays such as this? In fact, it does—and none of it is good.

While God's Holy Days in the Bible celebrate the role of Jesus Christ in bringing mankind to salvation in the eternal family of God, Halloween is a celebration of the opposite—of demonism, witchcraft, death and evil spirits.

God's Word makes it clear that no one should dare entertain witchcraft or act as a sorcerer. "There shall not be found among you anyone who makes his son or his daughter pass through the fire, or one who practices witchcraft, or a soothsayer, or one who interprets omens, or a sorcerer, or one who conjures spells, or a medium, or a spiritist, or one who calls up the dead. For all who do these things are an abomination to the LORD" (Deuteronomy 18:10-11, emphasis added throughout).

God pronounced death on any Israelites who would dare dally with demonism or Satanism: "A man or a woman who is a medium, or who has familiar spirits, shall surely be put to death; they shall stone them with stones. Their blood shall be upon them" (Leviticus 20:27). "You shall not permit a sorceress to live" (Exodus 22:18).

Why such a harsh penalty? God did not want such perverted, demonic practices to spread among His people and corrupt others. "But that prophet or that dreamer of dreams shall be put to death, because he has spoken in order to turn you away from the LORD your God, who brought you out of the land of Egypt and redeemed you from the house of bondage, to entice you from the way in which the LORD your God commanded you to walk. So you shall put away the evil from your midst" (Deuteronomy 13:5).

Would God be against something as harmless as Halloween, especially since it allows children to have fun and enjoy a little entertainment? Can't we let them have a little harmless fun?

Frankly, Halloween is anything but harmless. It focuses one's attention on witchcraft and demonism, which flies in the face of the holy God Almighty! When parents not only allow but also encourage their children to celebrate witches and goblins, they are teaching them that it's acceptable to deal in demonism.

And we have seen what God thinks of that. God is a God of light and truth (1 John 1:5). Satan, "the god of this age" (2 Corinthians 4:4), is a very real being—a being of darkness, deception and death (Revelation 12:9; John 8:44). We are to have nothing to do with his ways.
Of course, many Catholics and Protestants also understand this about Halloween.
To learn more please refer to the following article:
Is Halloween Holy Time for Christians? This article provides some historical and biblical insight on this question.