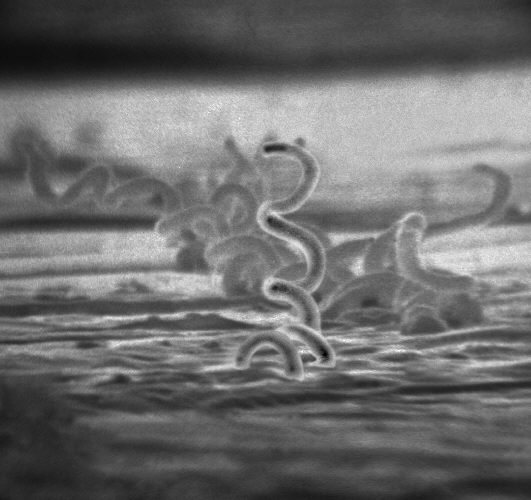 Electron micrograph of Treponema pallidum, the causative agent of syphilis (CDC)

Sexual immorality is leading to the increase of syphillis in Europe:
Europe faces 'looming syphilis epidemic' thanks to dating apps and reduced fear of HIV

Updated July 22, 2019

Syphilis stopped being "a disease of the past" after its worrying resurgence in Europe, health experts told RT. Less fear of contracting HIV and the rise of dating apps are among the factors behind the problem.

The spread of syphilis in Europe is intensifying due to worrying trends in human behavior, the head of the HIV/AIDS, sexually transmitted infections and viral hepatitis program at the European Centre for Disease Prevention and Control (ECDC), Andrew Amato-Gauci, told RT. …

A new report by the ECDC shows that between 2010 and 2017, the number of confirmed cases of syphilis across the EU soared by 70 percent. …

Certain countries have seen a surge of the sexually-transmitted disease, with Iceland ultimately becoming the 'leader', as the number of cases has grown by 876 percent there. Ireland follows with 224 percent growth, while Britain and Germany have both seen their syphilis rates more than double.

According to the ECDC, "men having sex with men" (MSM) made up around two-third of the cases reported between 2007 and 2017, where sexual orientation was known. Heterosexual men constitute 23 percent of the cases, and women, 15 percent.

There are reports that dating apps like Tinder and Grindr also contribute to the spread of the disease. Amato-Gauci pointed out that these services "may facilitate more sexual encounters, and with that transmission of STI [sexually-transmitted infections] like syphilis." …
There is currently no vaccine for syphilis … https://www.rt.com/news/464683-syphilis-outbreak-european-union/
The US Centers for Disease Control reports the following about syphilis:
What are the signs and symptoms of syphilis?

Symptoms of syphilis in adults vary by stage:

Primary Stage

During the first (primary) stage of syphilis, you may notice a single sore or multiple sores. The sore is the location where syphilis entered your body. Sores are usually (but not always) firm, round, and painless. Because the sore is painless, it can easily go unnoticed. The sore usually lasts 3 to 6 weeks and heals regardless of whether or not you receive treatment. Even after the sore goes away, you must still receive treatment. This will stop your infection from moving to the secondary stage.

Secondary Stage

During the secondary stage, you may have skin rashes and/or mucous membrane lesions. Mucous membrane lesions are sores in your mouth, vagina, or anus. This stage usually starts with a rash on one or more areas of your body. The rash can show up when your primary sore is healing or several weeks after the sore has healed. The rash can look like rough, red, or reddish brown spots on the palms of your hands and/or the bottoms of your feet. The rash usually won't itch and it is sometimes so faint that you won't notice it. Other symptoms you may have can include fever, swollen lymph glands, sore throat, patchy hair loss, headaches, weight loss, muscle aches, and fatigue (feeling very tired). The symptoms from this stage will go away whether or not you receive treatment. Without the right treatment, your infection will move to the latent and possibly tertiary stages of syphilis.

Latent Stage

The latent stage of syphilis is a period of time when there are no visible signs or symptoms of syphilis. If you do not receive treatment, you can continue to have syphilis in your body for years without any signs or symptoms.

Tertiary Stage

Most people with untreated syphilis do not develop tertiary syphilis. However, when it does happen it can affect many different organ systems. These include the heart and blood vessels, and the brain and nervous system. Tertiary syphilis is very serious and would occur 10–30 years after your infection began.  In tertiary syphilis, the disease damages your internal organs and can result in death.

Neurosyphilis and Ocular Syphilis

Without treatment, syphilis can spread to the brain and nervous system (neurosyphilis) or to the eye (ocular syphilis). This can happen during any of the stages described above.

Symptoms of neurosyphilis include

severe headache;
difficulty coordinating muscle movements;
paralysis (not able to move certain parts of your body);
numbness; and
dementia (mental disorder).

Symptoms of ocular syphilis include changes in your vision and even blindness. https://www.cdc.gov/std/syphilis/stdfact-syphilis.htm accessed 07/22/19
Syphilis is horrible and can cause blindness.
But it can be completely avoided!
All need to heed the following from the Apostle Paul:
13 Now the body is not for fornication, but for the Lord; and the Lord for the body… (1 Corinthians 6:18)

9 Do you not know that the unrighteous will not inherit the kingdom of God? Do not be deceived. Neither fornicators, nor idolaters, nor adulterers, nor homosexuals, nor sodomites, 10 nor thieves, nor covetous, nor drunkards, nor revilers, nor extortioners will inherit the kingdom of God. (1 Corinthians 6:9-10)

18 Flee fornication. Every sin that a man doeth is without the body; but he that committeth fornication sinneth against his own body. (1 Corinthians 6:13,18; KJV)

8 Nor let us commit sexual immorality, as some of them did, and in one day twenty-three thousand fell; 9 nor let us tempt Christ, as some of them also tempted, and were destroyed by serpents; 10 nor complain, as some of them also complained, and were destroyed by the destroyer. 11 Now all these things happened to them as examples, and they were written for our admonition, upon whom the ends of the ages have come.

12 Therefore let him who thinks he stands take heed lest he fall. 13 No temptation has overtaken you except such as is common to man; but God is faithful, who will not allow you to be tempted beyond what you are able, but with the temptation will also make the way of escape, that you may be able to bear it. (1 Corinthians 10:8-13)

22 Professing to be wise, they became fools, 23 and changed the glory of the incorruptible God into an image made like corruptible man — and birds and four-footed animals and creeping things.

24 Therefore God also gave them up to uncleanness, in the lusts of their hearts, to dishonor their bodies among themselves, 25 who exchanged the truth of God for the lie, and worshiped and served the creature rather than the Creator, who is blessed forever. Amen.

26 For this reason God gave them up to vile passions. For even their women exchanged the natural use for what is against nature. 27 Likewise also the men, leaving the natural use of the woman, burned in their lust for one another, men with men committing what is shameful, and receiving in themselves the penalty of their error which was due.

28 And even as they did not like to retain God in their knowledge, God gave them over to a debased mind, to do those things which are not fitting; 29 being filled with all unrighteousness, sexual immorality, wickedness, covetousness, maliciousness; full of envy, murder, strife, deceit, evil-mindedness; they are whisperers, 30 backbiters, haters of God, violent, proud, boasters, inventors of evil things, disobedient to parents, 31 undiscerning, untrustworthy, unloving, unforgiving, unmerciful; 32 who, knowing the righteous judgment of God, that those who practice such things are deserving of death, not only do the same but also approve of those who practice them. (Romans 1:22-32)
Here are some passages out of the Old Testament:
14 You shall not commit adultery.  (Exodus 20:14)


22 You shall not lie with a male as with a woman. It is an abomination.  (Leviticus 18:22)

13 If a man lies with a male as he lies with a woman, both of them have committed an abomination. (Leviticus 20:13)
Sexual relations only belong in marriage between a male and a female.
Jesus taught:
27 "You have heard that it was said to those of old, 'You shall not commit adultery.' 28 But I say to you that whoever looks at a woman to lust for her has already committed adultery with her in his heart. (Matthew 5:27-28)

10 I have come that they may have life, and that they may have it more abundantly. (John 10:10)
4 And He answered and said to them, "Have you not read that He who made them at the beginning 'made them male and female,' 5 and said, 'For this reason a man shall leave his father and mother and be joined to his wife, and the two shall become one flesh'? (Matthew 19:4-5)
God made humans male and female for marriage.
The Apostle John wrote:
There is no fear in love; (1 John 4:18)
There is no fear in sexual love of getting diseases like syphilis for those who practice God's way of life.
Those who do not are NOT practicing 'love' no matter how much they claim otherwise.
Sexual immorality is a way that leads to misery and destruction.
Some items of possibly related interest may include:
Love, Marriage, and Sex It is important to get them in the right order.
Pornography: A scourge on society Is pornography harmless fun? Does the Bible teach anything about it? What are the views of some involved with it? A related sermons is titled: Pornography, False Comfort, and False Religion. Here a shorter YouTube video Pornography: Harmless Fun or a Scourge on Society?
Ashley Madison: Your Sins Will Find You Out A website promoting 'secret' affairs (adultery and fornication) was hacked. This video discusses some of the Bible's perspectives on that.
Dating: A Key to Success in Marriage, a practical dating guide for Christians This is a scripture-filled dating guide. It discusses many aspects of dating, as well as who to not consider for marriage. Two related sermons are available: The Art of Christian Dating. and No One to Date? Teen Q&A? Engagement? 2nd Marriage? A short animation is also available: First Date: Worldly vs. Christian.
Making Your Marriage Work Marriage is not also easy, but it pictures a divine relationship. How can you make your marriage work? Here is a link to the video sermon: You Can Make YOUR Marriage Work.
The Ten Commandments: The Decalogue, Christianity, and the Beast This is a free pdf book explaining the what the Ten Commandments are, where they came from, how early professors of Christ viewed them, and how various ones, including the Beast of Revelation, will oppose them. A related sermon is titled: The Ten Commandments and the Beast of Revelation.
The Ten Commandments Reflect Love, Breaking them is Evil Some feel that the ten commandments are a burden. Is that what Jesus, Paul, Peter, James, and John taught? For a more detailed discussion of the first four commandments, please see the video The Ten Commandments: Loving God. For a more detailed discussion of the last six commandments, please see: The Ten Commandments: Loving Your Neighbor. Here is a link to a related article in Mandarin Chinese 十条诫命显示爱,违反诫命的就是邪恶的
Cross-dressing and other assaults against your children.  What should you do? Is there an agenda to turn your children and/or grandchildren away from biblical morality and towards practices promoted by homosexuals? What does the Bible teach about cross-dressing? What should parents do? If there is an agenda, what has been going on?  There are also three YouTube videos related to this, titled Transgender 'Woe to those who call evil good' and Cross dressing and Other Assaults Against Your Children and USA pushing gender confusion.
The Bible Condemns Homosexuality "Same-sex marriage" for "gays" and lesbians is becoming more acceptable to many. What does the Bible teach about homosexuality and the LGBTQ agenda?  Can homosexuals change? A related video sermon is titled: What Does the Bible Really Teach about Homosexuality?