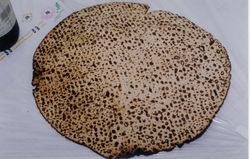 A Shmura Matzo (Unleavened Bread is Used for Passover)
After sunset on March 16, 2018, is the first day of the year on God's calendar.
When speaking of the Hebrew month of Abib/Nisan God declared:
2 This month shall be your beginning of months; it shall be the first month of the year to you" (Exodus 12:2).
In 2017 that was March 28th.
But most people do not realize that.
In a few days, it will be April 1st on the Roman calendar.
Many people call the first day of April, "April Fools' Day." Notice something about it:
Today is April 1 — April Fool's Day, if you will…in more recent times it's chock full of good-natured pranks. But watch out; any scams or pranks can end up being costly. Case in point: Back in 2005, KBDS-FM radio conducted an April Fool's giveaway for a Hummer, but used a play on words to actually give away an R/C model of a Hummer. The winner, Shannon Castillo, was not amused. She filed suit for $60,000, the cost of a new Hummer.

With that in mind, it' a good idea to be hypercritical of anything you read online today.http://www.cbsnews.com/8301-505143_162-57577203/beware-hoaxes-can-be-costly/
Accounts of the Origins of April Fool's Day
Do you know why April 1st is observed as April Fool's Day by various ones in the world?
Here are a couple of accounts:
The origins of April Fools' Day are shrouded in mystery, experts say.

The most popular theory is that France changed its calendar in the 1500s so that the New Year would begin in January to match the Roman calendar instead of the start of spring in late March or early April.

However word of the change traveled slowly, and many people in rural areas continued to celebrate the New Year in the spring. These country dwellers became known as "April fools."

Boese, who has studied the holiday's origin, disagrees with that interpretation.

"[The French] theory is completely wrong, because the day that the French celebrated the beginning of the year legally was Easter day, so it never really was associated with April first," he said… http://news.nationalgeographic.com/news/2008/03/080328-april-fools.html

.

"April Fool's Day. The first mention of this custom is a curt note in Aubrey: 'Fooles holy day. We observe it on ye first of April. And so it is kept in Germany everywhere.' ( Aubrey, 1686, 1880: 10). It must have reached England from Germany or France in the mid-17th century, and quickly became very popular under the name All Fools' Day; 18th-century writers call it 'universal'." [English writer John Aubrey ?] – Oxford University Press 2000 http://www.encyclopedia.com/doc/1O71-AprilFoolsDay.html

"There are several explanations for the origin of April Fools' Day, but here is the most plausible one. April 1st was once New Year's Day in France. In 1582, Pope Gregory declared the adoption of his Gregorian calendar to replace the Julian calendar and New Year's Day was officially changed to January 1st. It took awhile for everyone in France to hear the news of this major change and others obstinately refused to accept the new calendar, so a lot of people continued to celebrate New Year's Day on the first of April – earning them the name April fools. The April fools were subjected to ridicule and practical jokes and the tradition was born. The butts of these pranks were first called poisson d'avril or April fish because a young naive fish is easily caught. A common practice was to hook a paper fish on the back of someone as a joke. This evolved over time and a custom of prank-playing continues on the first day of April." – Dictionary.com by Lexico Publishing Group http://dictionary.reference.com/features/aprilfools.html
So there are a few theories about where "April Fools' Day" originated.
But, basically because the Roman calendar was adopted, those who had accepted the more traditional (and biblical) notion that the year began in the Spring were made fun of.
Depending on the year, the first day of the year that God is referring to comes in March or April in modern calendars.
The Bible also refers to the first month of the year with the name Nisan (Nehemiah 2:1; Esther 3:7). The Passover and biblical holy days (some of which are also this month, see Holy Day Calendar) are based upon the calendar that begins on Nisan 1.
Historically calling people fools because they did not change the biblical beginning of the year from Spring to January 1st, apparently did not help people realize when the BIBLE teaches that the year is supposed to begin.
However, unlike most others, now you know.
The Christian Passover for 2018 is Thursday evening, March 29th, after sunset which is when the 14th of Nisan begins.
Real Christians are to prepare for it.
The Apostle Paul wrote:
23 For I received from the Lord that which I also delivered to you: that the Lord Jesus on the same night in which He was betrayed took bread; 24 and when He had given thanks, He broke it and said, "Take, eat; this is My body which is broken for you; do this in remembrance of Me." 25 In the same manner He also took the cup after supper, saying, "This cup is the new covenant in My blood. This do, as often as you drink it, in remembrance of Me."

26 For as often as you eat this bread and drink this cup, you proclaim the Lord's death till He comes.

27 Therefore whoever eats this bread or drinks this cup of the Lord in an unworthy manner will be guilty of the body and blood of the Lord. 28 But let a man examine himself, and so let him eat of the bread and drink of the cup. 29 For he who eats and drinks in an unworthy manner eats and drinks judgment to himself, not discerning the Lord's body. 30 For this reason many are weak and sick among you, and many sleep. 31 For if we would judge ourselves, we would not be judged. 32 But when we are judged, we are chastened by the Lord, that we may not be condemned with the world. (1 Corinthians 11:23-32)
Notice that the Apostle Paul is basically teaching that examining oneself before taking Passover is required. He also is teaching that if you will properly judge yourself you would not be subject to certain other judgments, and likely would be healthier.
Of course, most who profess Christ tend to think that they are just fine–but this is a danger as Jesus told certain Christians:
17 Because you say, 'I am rich, have become wealthy, and have need of nothing' — and do not know that you are wretched, miserable, poor, blind, and naked — 18 I counsel you to buy from Me gold refined in the fire, that you may be rich; and white garments, that you may be clothed, that the shame of your nakedness may not be revealed; and anoint your eyes with eye salve, that you may see. 19 As many as I love, I rebuke and chasten. Therefore be zealous and repent. (Revelation 3:17-19)
While the above warning has had application throughout history, it is intended specifically as a warning to end time Christians, the bulk of which are unknowingly Laodicean. And those that do not believe that they need to change are in real danger of being Laodicean. Those who compromise, which most in the COGs do, are Laodicean. Is not now the time to consider this?
As far as human nature and the need for self-examination goes, here are some excerpts from an article that Al Portune wrote when he was part of the old WCG:
In JUST a short while YOU will be sitting down with a very select few people on this earth to partake of the PASSOVER. The Passover is a memorial of the death of Jesus Christ, the Savior of the world. Partaking of the symbols of His broken body and shed blood means that YOU hsve been selected to know and understand God's purpose. Being chosen as one of the ELECT to know God's truth carries sobering responsibilities. We cannot approach this event lightly.

Prelude To the Holy Days

The Passover is the first event beginning again God's annual season of Holy Days which reveal His plan of salvation for the whole world. That plan, hidden from the world in general, reveals why YOU cannot take this event lightly…

Self-examination…

This coming Passover is a vital time, whether you have taken the Passover many times or if this is your FIRST time. What does it mean to discern the Lord's body? How can we eat and drink unworthily?…

God wants us to isolate a very basic and elementary perspective each year at the Passover. He wants us to focus on that elementary concept as we begin again to relive His plan of salvation for mankind. That elementary concept IS salvation. That's what His plan is all about, whether it relates to US or the world.

Therefore, brethren, the Passover is a time for us to once again get down to the elementary precepts of our OWN salvation – our OWN relationship to God and His Work It is a time to examine OURSELVES. A time to look at YOU.

We can get so absorbed in our work or in the "deeper things," the seemingly "important" things, that we can forget WE have to get and keep OURSELVES right with God. That's what the Passover is all about.

There is never a time we can allow ourselves to get so busy or so important in our own eyes that we no longer need to get deadly serious about the elementary concepts of salvation that we so intimately associated with the Passover.

The Elementary Principles

No matter how long we have been in God's Church or how spiritual we have become, we are still human beings with human nature. Not one of us will ever come to a place in this life when we can afford to forget what we are. Just before the Passover we should take another look – a long, good look !

What is man like?

"The heart [of man] is deceitful above all things, and desperately wicked: who can know it?" (Jer. 17:9.)

"The carnal mind is enmity against God: for it is not subject to the law of God, neither indeed can be" (Rom. 8:7).

Yes, this is the kind of nature all human beings have! And this is the time of year to especially remember that fact. It is also a time to rehearse and reaffirm what you have done with the knowledge that you have that kind of nature.

The truth of the matter is, human nature is alien to God and to His ways. Man's heart is wickedly inclined. He is deceitful, totally opposed to the ways of God. Most men have never seen themselves this way. Most men do not have the slightest awareness they have this kind of nature – but it's true. Satan, in hiding this truth from mankind, has done his work well!…

When God saw this genuine, heart- felt attitude, He put His Holy Spirit within you and begot you as His own child.

But that isn't the end of the story!

Not the End…

God wants us to comprehend the REAL DEPTH OF THE EVIL, WICKEDNESS AND DECEITFULNESS that is in us. God is allowing us to live on WITH our fleshly natures and in an alien environment to teach us how really and profoundly EVIL we have been – and how often we still fall short.

We know that we have crucified the old man to the intent that. the body of sin (our very nature) might be destroyed (Rom. 6:6). We know that once we are resurrected or changed at Jesus' return, we will be freed from this kind of nature (verse 7). But, until that time comes, we must reckon our- selves to be dead indeed unto sin, and living the righteous life (verse 11). The struggle then begins to "let not sin therefore reign in your MORTAL body, that you should obey it in the lusts thereof" (verse 12).

Ready for Passover?

As we start the Holy Days again, it should be with a renewed eagerness. It should be with a more fervent desire to take those precious symbols because we know far more deeply their meaning to us and to the world…

Be READY to take the Passover!

(Portune A. Are you ready to take the Passover< Good News, Jan-April 1971, pp. 8-11)
And that is part of why we need to examine ourselves. For more information, you may wish to watch the video Preparing for Passover.
The Apostle Paul also wrote that Christians were not to glory in their compromising tolerance and were to keep Passover and the Days of Unleavened Bread:
6 Your glorying is not good. Do you not know that a little leaven leavens the whole lump? 7 Therefore purge out the old leaven, that you may be a new lump, since you truly are unleavened. For indeed Christ, our Passover, was sacrificed for us. 8 Therefore let us keep the feast, not with old leaven, nor with the leaven of malice and wickedness, but with the unleavened bread of sincerity and truth. (1 Corinthians 5:6-8)
The time to prepare for it is now.
Speaking of preparations, we also made a new video service for Passover this year: CCOG Passover Service.
Several items of related interest may include:
Preparing for Passover The Apostle Paul taught that Christians should examine themselves prior to taking Passover. This YouTube video sermon gives suggestions on how to prepare.
Examine Yourself before Passover This article goes into some of why real Christians are to do this. A related sermon is titled Passover Examination.
How often should we partake of THE LORD'S SUPPER? Herbert Armstrong answers that question.
Keeping Passover and the Days of Unleavened Bread How should Christians keep Passover, especially if they are by themselves. Why does the Church of God not require lambs for Passover? How does one keep the Days of Unleavened Bread? For a step-by-step video for Christians to keep it, check out a CCOG Passover Service. Here is a link to a related article in the Spanish language: Guardando la Pascua y los Días de los Panes sin Levadura.
Passover and the Early Church Did the early Christians observe Passover? What did Jesus and Paul teach? Why did Jesus die for our sins? There is also a detailed YouTube video available titled History of the Christian Passover.
Calculated or observed calendar? Did Jesus use a calculated calendar? This article addresses this issue that many wonder about.
Melito's Homily on the Passover This is one of the earliest Christian writings about the Passover. This also includes what Apollinaris wrote on the Passover as well. Here is a related sermon, also titled Melito's Homily on the Passover.
The Night to Be Observed What is the night to be much observed? When is it? Why do Jews keep Passover twice and emphasize the wrong date? A related video is available and is titled The Night to Be Much Observed.
Should Christians Keep the Days of Unleavened Bread? Do they have any use or meaning now? What is leaven? This article supplies some biblical answers. Here is a YouTube video intended to be viewed for the first day of unleavened bread: Christians and the Days of Unleavened Bread.
Is There "An Annual Worship Calendar" In the Bible? This paper provides a biblical and historical critique of several articles, including one by WCG which states that this should be a local decision. What do the Holy Days mean?
Should You Observe God's Holy Days or Demonic Holidays? This is a free pdf booklet explaining what the Bible and history shows about God's Holy Days and popular holidays. A related sermon is Which Spring Days should Christians observe?
Holy Day Calendar This is a listing of the biblical holy days through 2024, with their Roman calendar dates. They are really hard to observe if you do not know when they occur 🙂 In the Spanish/Español/Castellano language: Calendario de los Días Santos. In Mandarin Chinese: 何日是神的圣日? 这里是一份神的圣日日历从2013年至2024年。.