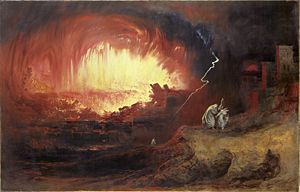 Destruction of Sodom and Gomorrah
There has been an outbreak of a new strain of meningitis that is mainly affecting the homosexual and bisexual communities:
The New York City Health Department has issued new vaccination recommendations today for persons who may be most at risk for developing an newly discovered strain of invasive meningococcal disease – commonly known as meningitis – after an increase in cases.

Vaccinations are now advised for men that have sex with men (MSM), regardless of HIV status, who regularly have intimate contact with other men met through a website, digital application ("App"), or at a bar or party…Meningitis can be fatal if not treated promptly.  http://guardianlv.com/2013/03/jd-nyc-gays-warned-about-deadly-new-strain-of-meningitis-outbreak/

New York City health officials are urging some men to get vaccinated against meningitis amid an outbreak that has sickened 22 New Yorkers and killed seven.

The dangerous strain of bacterial meningitis appears to be spreading through sexual encounters between men who meet through websites or smartphone apps, or at bars or parties, according to the City's health department. More than half of the infected men have had HIV, a virus that attacks the immune system making infections more likely and more severe.

"Vaccination is the best defense," City health commissioner Dr. Thomas Farley said in a statement.  (http://abcnews.go.com/blogs/health/2013/03/22/meningitis-spreading-via-anonymous-sex-in-nyc/)
While the source above is saying that vaccines are the "best defense," the Bible says that promiscuity is a sin against the body (1 Corinthians 6:18), and that homosexual sex leads to destruction (Jude 7).  Even the Centers for Disease Control (CDC) agrees that avoiding promiscuity is the best defense:
The most reliable ways to avoid transmission of STDs are to abstain from sexual activity, or to be in a long-term mutually monogamous relationship with an uninfected partner. (Gay and Bisexual Men's Health. Centers for Disease Control and Prevention. http://www.cdc.gov/msmhealth/STD.htm, viewed 03/24/13)
Being faithful to biblical admonitions against fornication, adultery, and homosexuality are the "most reliable way to avoid transmission" of sexually-transmitted diseases.
It needs to be understood that it is not just this new strain of meningitis that homosexuals are at greater risk for.  Male homosexuals are also at greater risk for the following:
Anal Cancer
Chlamydia trachomatis
Cryptosporidium
Giardia lamblia
Herpes simplex virus
Human immunodeficiency virus
Human papilloma virus
Isospora belli
Microsporidia
Gonorrhea
Viral hepatitis types B & C
Syphilis

(http://www.catholiceducation.org/articles/homosexuality/ho0075.html)

The Journal of the American Medical Association refers to GBS problems such as proctitis, proctocolitis, and enteritis as "sexually transmitted gastrointestinal syndromes."  (http://www.frc.org/get.cfm?i=Is01B1)

Sexually Transmitted Diseases (STDs) have been increasing among gay and bisexual men. Recent increases in syphilis cases have been documented across the country. In 2008, men who have sex with men (MSM) accounted for 63% of primary and secondary syphilis cases in the United States. MSM often are diagnosed with other bacterial STDs, including chlamydia and gonorrhea infections.

Gay and bisexual men can be infected with HPV (Human Papillomavirus), the most common STD in the United States. Some types of HPV cause genital and anal warts and some can lead to the development of anal and oral cancer. Men who have sex with men are 17 times more likely to develop anal cancer than heterosexual men. Men who are HIV-positive are even more likely than those who are uninfected to develop anal cancer…All gay, bisexual, and other MSM should be tested each year for STDs (including HIV).   (http://www.cdc.gov/msmhealth/STD.htm)
What about female homosexuals (commonly called lesbians)?  Notice the following:
Lesbians were three to four times more likely than heterosexual women to have sex with men who were high-risk for HIV disease-homosexual, bisexual, or IV drug-abusing men.66 The study "demonstrates that WSW [women who have sex with women] are more likely than non- WSW to engage in recognized HIV risk behaviours such as IDU [intravenous drug use], sex work, sex with a bisexual man, and sex with a man who injects drugs, confirming previous reports."67

Bacterial vaginosis, Hepatitis B, Hepatitis C, heavy cigarette smoking, alcohol abuse, intravenous drug use, and prostitution were present in much higher proportions among female homosexual practitioners.68 Intravenous drug abuse was nearly six times as common in this group.69In one study of women who had sex only with women in the prior 12 months, 30 percent had bacterial vaginosis.70 Bacterial vaginosis is associated with higher risk for pelvic inflammatory disease and other sexually transmitted infections.71

In view of the record of lesbians having sex with many men, including gay men, and the increased incidence of intravenous drug use among lesbians, lesbians are not low risk for disease. Although researchers have only recently begun studying the transmission of STDs among lesbians, diseases such as "crabs," genital warts, chlamydia and herpes have been reported.72 Even women who have never had sex with men have been found to have HPV, trichomoniasis and anogenital warts.73 (http://www.frc.org/get.cfm?i=Is01B1)
Notice also:
Greater Risk for Suicide.

·  A study of twins that examined the relationship between homosexuality and suicide, published in the Archives of General Psychiatry,found that homosexuals with same-sex partners were at greater risk for overall mental health problems, and were 6.5 times more likely than their twins to have attempted suicide. The higher rate was not attributable to mental health or substance abuse disorders.[75]

·  Another study published simultaneously in Archives of General Psychiatry followed 1,007 individuals from birth. Those classified as "gay," lesbian, or bisexual were significantly more likely to have had mental health problems

Reduced Life Span. A study published in the International Journal of Epidemiology on the mortality rates of homosexuals concluded that they have a significantly reduced life expectancy:

In a major Canadian centre, life expectancy at age twenty for gay and bisexual men is eight to twenty years less than for all men. If the same pattern of mortality were to continue, we estimate that nearly half of gay and bisexual men currently aged twenty years will not reach their sixty-fifth birthday. Under even the most liberal assumptions, gay and bisexual men in this urban centre are now experiencing a life expectancy similar to that experienced by all men in Canada in the year 1871.  (http://www.frc.org/get.cfm?i=Is01B1)

Shortened Life Span

The greater incidence of physical and mental health problems among gays and lesbians has serious consequences for length of life. While many are aware of the death toll from AIDS, there has been little public attention given to the magnitude of the lost years of life…

First, HIV/AIDS is underreported by as much as 15-20 percent, so it is likely that not all AIDSrelated deaths were accounted for in the study.96 Second, there are additional major causes of death related to gay sex. For example, suicide rates among a San Francisco cohort were 3.4 times higher than the general U.S. male population in 1987.97 Other potentially fatal ailments such as syphilis, anal cancer, and Hepatitis B and C also affect gay and bisexual men disproportionately.98 (http://www.catholiceducation.org/articles/homosexuality/ho0075.html)
Despite the high risk of disease and shorter life span likelihoods, the homosexual population likes to refer to itself as "gay" a term suggesting carefree and happy.  Studies, however, do not support that conclusion about homosexuals.
Some articles of possibly related interest may include:
The Bible Condemns Homosexuality "Same-sex marriage" for "gays" and lesbians is becoming more acceptable to many. What does the Bible teach about homosexuality?  What diseases are homosexuals most at risk for? Can homosexuals change?
God Created Marriage Some falsely claim that God did not create marriage and that fornication is fine. What does the Bible really teach?
Why Marriage? Soon Obsolete? This is a booklet from Herbert Armstrong on this important topic.
Here's the Plain Truth About OLD TESTAMENT POLYGAMY by Herbert Armstrong.
Love, Marriage, and Sex It is important to get them in the right order.
Five Rules for Effective Parenting Do you know that there are five simple rules that can make you a more effective parent? There is also a 12 1/2 minute YouTube video on this, also titled Five Rules for Effective Parenting.
What Did Jesus Teach About the Ten Commandments? This article quotes what Jesus actually said about them (His words are in red).
The Ten Commandments Reflect Love, Breaking them is Evil Some feel that the ten commandments are a burden. Is that what Jesus, Paul, Peter, James, and John taught?
Was the Commandment to Love the Only Command? Some have stated that John's writings teach this, but is that what the Bible really says?
The Ten Commandments and the Early Church Did Jesus and the Early Church keep the ten commandments? What order were they in? Here are quotes from the Bible and early writings.y biblical and non-biblical prophecies, from around the world, that seem to discuss Barack Obama. Did Nostradamus predict Barack Obama dealing with the Antichrist? Might Barack Obama set the stage for the kings of the North and South as at least one Shiite prophecy suggests? This is the longest and most complete article at the COGwriter website on Barack Obama prophecies. Read it and decide for yourself if President Obama seems to be fulfilling various prophecies.