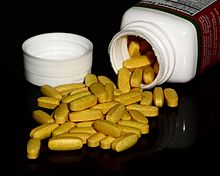 Typical B vitamin supplement tablets (Ragesoss)
Studies on the ineffectiveness of USP vitamins and mineral salts keep coming out:
Getting the right amount of vitamins and minerals can lower your risk of an early death, but they should come from food instead of supplements, a study published Tuesday suggests.

Researchers from Tufts University say they found no association between the use of dietary supplements and a lower risk of death.

The study analyzed data from a larger health and nutrition survey conducted from 1999 to 2010. More than 30,000 participants ages 20 and older answered questions about dietary supplement use.

Results showed people who got adequate amounts of vitamin K and magnesium lowered their risk of early death, and those who got enough vitamin A, vitamin K and zinc had a lower risk of death from cardiovascular disease. Those benefits were earned only when those nutrients came from food, not supplements.

"While supplement use contributes to an increased level of total nutrient intake, there are beneficial associations with nutrients from foods that aren't seen with supplements," said Fang Fang Zhang, an author on the study and associate professor at the Friedman School of Nutrition Science and Policy at Tufts University, in a statement.

The research was published in the peer-reviewed journal Annals of Internal Medicine.

The study found excess intake of calcium through supplements was associated with a higher risk of death from cancer. Researchers say there was no link between cancer risk and calcium intake from food. https://www.usatoday.com/story/news/health/2019/04/09/vitamin-mineral-supplements-dont-lower-risk-early-death-study/3408637002/?fbclid=IwAR3lEr0m3Bf_6AR9_1r0XcFc61MhphZBw5el2jGjbtmNqS46Vjo88UCePAc

A new study says all those vitamins we take might not be doing much for our bodies.

The study was led by researchers with St. Michael's Hospital in Canada and the University of Toronto.

They reviewed data on four different vitamins: multivitamins, Vitamin D, Calcium and Vitamin C.

Researchers found those four vitamins showed no benefit in preventing cardiovascular disease, heart attack, stroke or premature death.

"We were surprised to find so few positive effects of the most common supplements that people consume," said Dr. David Jenkins, the study's lead author. "Our review found that if you want to use multivitamins, vitamin D, calcium or vitamin C, it does no harm – but there is no apparent advantage either."

Experts say these findings suggest people should be conscious of the supplements they're taking and only use specific vitamins or minerals they're lacking naturally. http://fox8.com/2018/05/30/study-finds-most-popular-vitamin-mineral-supplements-provide-no-health-benefit/
So, more studies say that USP (United States Pharmacopeia) vitamins and minerals (the kind almost everyone takes) do not help as many hope. Yes, these studies on synthetic vitamins and ground up rocks (despite the labels of many of them saying 'natural' or some other terms to imply that) show they are not what humans should take for nutrition.
Here is another report about the dangers of the typical vitamin supplements that many people take:
Dietary supplements linked to increased cancer risk

Dr. Tim Byers, director for cancer prevention and control at the University of Colorado Cancer Center, conducted a meta-analysis of two decades worth of research — 12 trials that involved more than 300,000 people — and found a number of supplements actually made a person much more likely to develop certain types of cancer.

Byers began his investigation on the association between supplements and cancer risk 20 years ago. He and many other researchers observed that people who ate more fruits and vegetables cut their risk for cancer. Byers and his colleagues wondered if taking supplements that provide the same vitamins and minerals as fruits and vegetables could offer similar protection.

But his findings suggested just the opposite — rather than warding off cancer, taking lots of supplements may raise a person's risk. …

Byers presented his research Monday at the annual meeting of the American Association for Cancer Research, in Philadelphia.

Through his analysis, Byers found that people who took high doses beta carotene supplements had an increased risk for lung cancer. Selenium supplements were associated with skin cancer. Men who took vitamin E had an elevated risk for prostate cancer. Folic acid, a B vitamin, taken in excess could lead to an increased risk for colon cancer.

Byers says it's still unclear why supplements could have this adverse effect, but he and other researchers hope to learn more about the association. (Firger J. CBS News. April 20, 2015 http://www.cbsnews.com/news/dietary-supplements-linked-to-increased-cancer-risk/)
So why do typical vitamin supplements not provide the same protection as nutrients found in foods?
For decades the 'natural' health industry has been touting thousands of vitamin supplements. The truth is that most vitamins in supplements are made of or processed with petroleum derivatives or hydrogenated sugars hence they are synthetic. Even though they are often called natural, most non-food vitamins are isolated substances which are crystalline in structure. Vitamins naturally in food are not crystalline and never isolated. Non-food vitamins are isolates, which means that they are individual chemicals lacking substances that real foods contain. Vitamins found in any real food are chemically and structurally different from those commonly found in 'natural vitamin' formulas. Food vitamins contain a matrix of substances which improve bioavailability and safety. Since they are different, naturally-oriented people should consider non-food vitamins as vitamin analogues (imitations) and not actually vitamins. Whether sold retail or wholesale, nearly all companies sell synthetic vitamins.
A 'dirty little secret' of the so-called natural health industry is that nearly all vitamins sold are synthetic isolates often made of petroleum derivatives.
Although many mainstream health professionals believe, "The body cannot tell whether a vitamin in the bloodstream came from an organically grown cantaloupe or from a chemist's laboratory," this belief is quite misleading for several reasons. First it seems to assume that the process of getting the amount of the vitamin into the bloodstream is the same (which is frequently not the case). Secondly, scientists understand that particle size is an important factor in nutrient absorption even though particle size is not detected by chemical assessment. Thirdly, scientists also understand that, "The food factors that influence the absorption of nutrients relate not only to the nature of the nutrients themselves, but also their interaction with each other and with the nonabsorbable components of food." Fourthly, "the physiochemical form of a nutrient is a major factor in bioavailability" (and food and non-food vitamins are not normally in the same form). Fifthly, most non-food vitamins are crystalline in structure.
Natural food vitamins are nutritionally superior to synthetic ones. Synthetic isolates are crystalline in structure and are often in chemical forms that are foreign to the human body.
I have known for years that synthetic vitamins are dangerous and have had papers published about this (e.g. Thiel R. Natural vitamins may be superior to synthetic ones. Med Hypo 2000 55(6):461-469).
As far as what most people take as vitamins goes, it does NOT matter if the label says 'natural' as there is no government standard of what that means in most supplements.
Notice the following (bolding in source below):
Some 'natural' products are anything but

Vitamin pills can be synthetically, and legally, produced in a lab. Synthetic ingredients are even allowed in multi-vitamins that bear the Department of Agriculture's "Organic" seal…

"Vitamins can be synthetic because, by definition, a vitamin does not have to come from nature," says Fabricant at the FDA. (Vitamins & supplements. Consumer Reports, September 2012: 18-23)
Most people who take vitamin supplements falsely believe that what they are taking is 'natural,' but that is not the case. Isolated vitamins simply do NOT NATURALLY EXIST in nature. Foods are a complex matrix of many substances and vitamins are never isolated in foods. I would also add that most so-called 'antioxidant' vitamins that people take DO NOT HAVE PROVEN SIGNIFICANT ANTIOXIDANT EFFECTS IN THE HUMAN BODY, but only are 'antioxidants' in test tubes (Hendler S, Rorvik D, editors. PDR for Nutritional Supplements. Medical Economics, Montvale (NJ), 2001 ). But people mislead themselves about this all the time.
Furthermore, there is NO SUCH THING AS 'NATURAL' FOLIC ACID. Folic acid is unnatural, folic acid is synthetic, and the body cannot properly convert much folic acid into a usable folate form. Furthermore, concerns about folic acid feeding cancer are now a real concern in the 21st Century—too much folic acid may kill you.
"Folic acid is a synthetic folate form" and was not developed until the 20th century. Folic acid is chemically known as pteroylglutamic acid (PGA) and is a crystalline substance (no food vitamins are naturally crystalline in structure). Folate, once also known as vitamin B9, exists in foods, yet crystalline folic acid does not. Folates also differ from folic acid "in the extent of the reduction state of the pteroyl group, the nature of the substituents on the pteridine ring and the number of glutamyl residues attached to the pteroyl group."
A 2010 report states, ""The more we learn about folic acid, the more it's clear that giving it to everyone has very real risks," says folic acid researcher David Smith, PhD, a professor of pharmacology at the University of Oxford in England…The risk experts worry about most: colon cancer. Last year, health officials in Chile reported that hospitalization rates for colon cancer among men and women age 45 and older more than doubled in their country since fortification was introduced in 2000. In 2007, Joel Mason, MD, director of the Vitamins and Carcinogenesis Laboratory at the Tufts University School of Medicine, described a study of the United States and Canada suggesting that rates of colon cancer rose — following years of steady decline — in the late 1990s (around the time our food was being fortified)" (Bell L. Is your breakfast giving you cancer? Research links too much folic acid to certain cancers. Prevention. March. 29, 2010. http://www.msnbc.msn.com/id/35874922/ns/health-diet_and_nutrition//).
The same report also states, "Other research links high doses to lung and prostate cancers. In one study conducted in Norway, which doesn't fortify foods, supplementation with 800 mcg of folic acid (plus B12 and B6) daily for more than 3 years raised the risk of developing lung cancer by 21 percent. Another, in which men took either folic acid or a placebo, showed those consuming 1,000 mcg of folic acid daily had more than twice the risk of prostate cancer. And a new worry recently came to light when scientists discovered the liver has limited ability to metabolize folic acid into folate — which means any excess continues circulating in the bloodstream. "Unlike folate, folic acid isn't found in nature, so we don't know the effect of the excess," says Smith. Indeed, many scientists have grown increasingly concerned about mounting research — including a study published last winter in the Journal of the American Medical Association — suggesting that all the extra folic acid might increase your odds of developing cancer."
Even foods "fortified" with folic acid may cause serious neurological problems in patients deficient in vitamin B12 (Carmel R. Folic Acid. In Modern Nutrition in Health and Disease, 10th ed. Lippincott Williams & Wilkins, Baltimore, 2006:470-481). Furthermore, "no folic acid dose can be considered as truly safe in the presence of untreated cobalamin deficiency" (Carmel R. Folic Acid. In Modern Nutrition in Health and Disease, 10th ed. Lippincott Williams & Wilkins, Baltimore, 2006:470-481).
Thousands of years ago, God inspired one of his prophets to pen the following, which encourages people to eat what is good:
2 Why do you spend money for what is not bread, And your wages for what does not satisfy? Listen carefully to Me, and eat what is good, And let your soul delight itself in abundance. (Isaiah 55:2)
Intentionally eating synthetic vitamins is not good. Real science supports this view.
Despite the truth, most people (over 98%) who take typical vitamin supplements believe that whatever they take is actually natural and does not have the risks that researchers keep finding that typical vitamin supplements have. This is a false belief. The truth about vitamins in supplements can be known (see The Truth About Vitamins in Nutritional Supplements), but most do not want to learn and then act on the truth.
My son Brian made two animations related to this:
Vitamin Tricks: More is Not Better
It was after he did those that I had him make animations for the CCOG Animations Channel.
Synthetic vitamins are a lot like false religion. False religion DOES NOT BRING salvation, despite what people like Pope Francis have indicated.
Because of tradition, family influence, and/or social pressures, most people (over 99%) have a faith (religious, atheistic, or agnostic) that is based upon false belief.
Ignoring eastern faiths which do not even claim Jesus, let's simply state that those who have studied early Christianity and the Bible honestly realize that what is practiced by the Roman Catholics, Protestants, and Eastern Orthodox is in massive contradiction to the "faith once for all delivered to the saints" (Jude 3). The same can also be said of the Jehovah's Witnesses, Messianic Jews, Seventh-day Adventists, and the Church of Jesus Christ of Latter Day Saints (Mormons).
The reality is those in those religions tend to have a false understanding of salvation and do not understand God's plan. The truth about the early Christian church and what happened to it can be known (see Continuing History of the Church of God). Where the most faithful Christian church is can also be determined (see Where is the True Christian Church Today?).
Jesus said:
23 But the hour is coming, and now is, when the true worshipers will worship the Father in spirit and truth; for the Father is seeking such to worship Him. 24 God is Spirit, and those who worship Him must worship in spirit and truth. (John 4:23-24)

8 "These people draw near to Me with their mouth, And honor Me with their lips, But their heart is far from Me. 9 And in vain they worship Me, Teaching as doctrines the commandments of men. (Matthew 15:8-9)

21 "Not everyone who says to Me, 'Lord, Lord,' shall enter the kingdom of heaven, but he who does the will of My Father in heaven. 22 Many will say to Me in that day, 'Lord, Lord, have we not prophesied in Your name, cast out demons in Your name, and done many wonders in Your name?' 23 And then I will declare to them, 'I never knew you; depart from Me, you who practice lawlessness!' (Matthew 7:21-23)
Most WILL NOT WORSHIP GOD IN TRUTH, but instead cling to falsehoods and false traditions. Many use Jesus' name, but He says He will say to many that He does not know them.
Like those who swallow synthetic vitamins, nearly all take false beliefs into their hearts and minds all the time. They hope, despite the truth, that salvation will come from faiths built upon falsehood.
Consuming large amounts of synthetic vitamins can increase the risk of cancer and other diseases. Being a consumer of false religion does not lead to salvation in this age.
Some items of possibly related interest may include:
The Truth About Antioxidants Most 'antioxidant supplements are not effective for humans.
The Truth About Vitamins in Nutritional Supplements Nearly all vitamins people take are synthetic.
The Truth about Minerals in Nutritional Supplements Nearly all mineral supplements people take consist of industrially processed ground up rocks.
GMOs and Bible Prophecy What are GMOs? Since they were not in the food supply until 1994, how could they possibly relate to Bible prophecy? Do GMOs put the USA and others at risk? Here is a related YouTube video GMO Risks and the Bible.
Chimeras: Has Science Crossed the Line? What are chimeras? Has science crossed the line? Does the Bible give any clues? A video of related interest is Half human, half pig: What's the difference?
Physical Preparation Scriptures for Christians. We all know the Bible prophecies famines. Should we do something? Here is a version in the Spanish language Escrituras sobre Preparación física para los Cristianos.
Universal Offer of Salvation: There Are Hundreds of Verses in the Bible Supporting the Doctrine of True Apocatastasis Do you believe what the Bible actually teaches on this? Will all good things be restored? Will God call everyone? Will everyone have an opportunity for salvation? Does God's plan of salvation take rebellion and spiritual blindness into account? Related sermon videos include Universal Offer of Salvation I: God is love and Universal Offer of Salvation II: The Age to Come and the 'Little Flock' and Universal Offer of Salvation III: All Are to Know Jesus, But When? and Universal Offer of Salvation IV: Will the Guilty be Pardoned? and Universal Offer of Salvation V: All Israel Will be Saved? A version of the main article was also translated in the Spanish language: Oferta universal de salvación: Hay cientos de versículos en la Biblia que apoyan la verdadera doctrina de la Apocatastasis.
Tradition and Scripture: From the Bible and Church Writings Are traditions on equal par with scripture? Many believe that is what Peter, John, and Paul taught. But did they? A related sermon is titled Tradition and Scripture.
COGwriter Position on Other Churches and Religions What is the fate of those who do not know Christ? What about those who profess Christ outside the Church of God?
Hope of Salvation: How the Continuing Church of God differ from most Protestants How the real Church of God differs from mainstream/traditional Protestants, is perhaps the question I am asked most by those without a Church of God background.
Similarities and Differences Between the Jehovah's Witnesses and the Continuing Church of God Both groups claim to represent the original Christian faith. Do you know much about them? Both groups have some interesting similarities, but many major differences. Would you like information on how to deal with Jehovah's Witnesses?
Messianic Judaism Beliefs Differ from the Continuing Church of God Both groups keep the seventh-day Sabbath, but have important differences in doctrines and practices. Here is a link to a related sermon: Messianic Jewish Beliefs.
SDA/CCOG Differences: Two Horned Beast of Revelation and 666 The genuine Church of God is NOT part of the Seventh-day Adventists. This article explains two prophetic differences, the trinity, differences in approaching doctrine, including Ellen White. Did Ellen White make prophetic errors? Did Ellen White make false prophecies? Here is a version in the Spanish language: SDA/COG Diferencias: La bestia de dos cuernos de Apocalipsis y 666. Here is a sermon in the English language: CCOG and SDA differences and similarities.
Some Dissimilarities Between The Church of Jesus Christ of Latter Day Saints (LDS) and the Continuing Church of God The genuine Church of God is not related to the Mormons and this article explains some differences and a couple of similarities. Also, might certain LDS prophecies apply to Mitt Romney?
What Do Roman Catholic Scholars Actually Teach About Early Church History? Although most believe that the Roman Catholic Church history teaches an unbroken line of succession of bishops beginning with Peter, with stories about most of them, Roman Catholic scholars know the truth of this matter. Is telling the truth about the early church citing Catholic accepted sources anti-Catholic? This eye-opening article is a must-read for any who really wants to know what Roman Catholic history actually admits about the early church. There is also a YouTube sermon on the subject titled Church of God or Church of Rome: What Do Catholic Scholars Admit About Early Church History?
Where is the True Christian Church Today? This free online pdf booklet answers that question and includes 18 proofs, clues, and signs to identify the true vs. false Christian church. Plus 7 proofs, clues, and signs to help identify Laodicean churches. A related sermon is also available: Where is the True Christian Church? Here is a link to the booklet in the Spanish language: ¿Dónde está la verdadera Iglesia cristiana de hoy? Here is a link in the German language: WO IST DIE WAHRE CHRISTLICHE KIRCHE HEUTE?
Continuing History of the Church of God This pdf booklet is a historical overview of the true Church of God and some of its main opponents from Acts 2 to the 21st century. Related sermon links include Continuing History of the Church of God: c. 31 to c. 300 A.D. and Continuing History of the Church of God: 4th-16th Centuries and Continuing History of the Church of God: 17th-20th Centuries. The booklet is available in Spanish: Continuación de la Historia de la Iglesia de Dios, German: Kontinuierliche Geschichte der Kirche Gottes, French: L'Histoire Continue de l'Église de Dieu and Ekegusii Omogano Bw'ekanisa Ya Nyasae Egendererete.