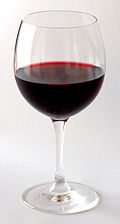 Are Christians supposed to use wine or grape juice for Passover?
Someone sent me the following:
My son, a baptist, and I, a member of God's Church, had a discussion about wine and Passover. He believes that grape juice is ok during communion service. I believe that wine is necessary because that's what Jesus used when He changed the Passover observance.

What I would like to know is: scriptures that refer

specifically to wine

as being an important part of the service.

Also, another point of our conversation was about pregnant women.

I told him that a pregnant woman could take the small amount of wine

during Passover services with no harmful effects.

Later I searched the Bible for instructions to pregnant women about wine consumption. The only thing that I could fine was Judges 13:3-4 This was about Samson becoming a nazirite.

In my opinion this is one specific case and doesn't apply to all women.

So, I'm just wondering; is wine during Passover services ok for pregnant women?
So, I provided some answers. I was also asked about this at the Africa Conference 2017 in Nairobi.
In CCOG we use a small amount of wine for Passover, and yes, even for pregnant women. I am unaware of any scientific evidence that the amount of wine we use during Passover is possibly harmful (unless one has allergies)–and for the more sensitive one drop would suffice.
The Greek word commonly translated as "wine" in the New Testament (oîνος) means "a beverage from fermented grape juice" a different word (τρúέ) refers to unfermented grape juice (Danker FW. A Greek English Lexicon of the New Testament and Other Christian Literature, 6th edition. 2000, p. 701). Jesus' first recorded miracle was to make wine (John 2:3-11).
Jesus introduced the use of the wine cup:
20 Likewise He also took the cup after supper, saying, "This cup is the new covenant in My blood, which is shed for you." (Luke 22:20)
The cup symbolized His blood. As blood is red and grape juice back then was not, this was a reference to red wine, not juice. The Bible teaches that wine is the blood of the grape (Deuteronomy 32:14).
As far as scriptures proving that it is wine as opposed to grape juice, notice something that the old WCG taught:
Dear Friend:

Does "wine" in the Bible mean "grape juice"? What is the answer to this perplexing question? Does it really mean fermented wine?

Prohibitionists object saying, "But how do you know that the original Hebrew and Greek words mean fermented wine? Certain historians say the wine used was nothing more than molasses — that this grape drink was nonintoxicating and the ordinary drink of people in Christ's time."

Here is the truth about this false idea!

There are thirteen original Hebrew and Greek words for "wine" in our English Bible. How can we know which one means fermented wine? To find the answer, do not go to Aristotle or Pliny, but go to the Bible itself. By comparing its usage, the scriptural meaning of wine can be defined.

One of the original Hebrew words for wine is yayin. This word is first used in Genesis 9:21 where Noah "drank of the wine and was drunken." This wine caused drunkenness! Was it just grape juice or was it molasses?

In Genesis 14:18 we read of Melchizedek — Jesus Christ — who "brought forth bread and wine: and he was the priest of the most high God." God Himself here gave wine to Abraham. And again, the original Hebrew word was yayin which always means fermented wine. This same Hebrew words used in Amos 9:14 speaking of the coming Millennium when the people will "plant vineyards, and drink the wine thereof." They will drink the same kind of wine that Noah, by overindulgence, became drunk on.

In the New Testament, one original Greek word for wine is oinos. Proof that it is alcoholic is given in the story of the good Samaritan. The Samaritan poured oil and wine on the man's wounds (Luke 10:34), showing that the wine had enough alcoholic content to be used as an antiseptic. Would you pour grape juice or molasses on a wound?

The Greek word oinos is also used in John 2 where Jesus turned water into wine by a divine miracle. It is used in I Timothy 5:23, the command of Paul, "Drink no longer water, but use a little wine for thy stomach's sake and thine often infirmities." This Greek word is also used in Ephesians 5:18, "And be not drunk with wine wherein is excess."

In ancient times it was impossible to preserve grape juice. Except :for a short season the "fruit of the vine" was either made into a thick molasses or into wine. Check Hastings Bible Dictionary for the full proof.

"Taken intelligently and with discretion, alcohol (in wine and other drinks) can prolong life expectancy… However, even temporary excess or prolonged overdrinking can lead to disaster" (Pasadena Medical Society). It is for our welfare and happiness that God has commanded us not to use alcoholic beverages IN EXCESS and for a wrong purpose. Most people don't know where to draw the line between temperance and excess. Such people better abstain totally until they know they can "be temperate in all things."

LETTER ANSWERING DEPARTMENT

Letter Number: 939
Now since some will argue about the Greek, there is something else I want to add that the old WCG did not seem to emphasize.
Which is?
It was not proper to conclude that they were drinking grape juice at Passover in Jesus' time as grapes are NOT in season then.
I have lived in 'grape country' for decades, in a climate similar to the land of Israel. Grapes ripen in the late Summer or early Fall.
Having been to Israel once, it occurred to me that the ancient Israelites would not have had any way to store the juice of grapes. They did not have refrigeration nor sterilization. Plus, there was not enough freezing there to freeze very much for very long.
Passover is usually in the Roman calendar month called April. Raw grape juice spoils fairly quickly and would not be drinkable months after harvest.
Despite the fact that Jesus turned water into wine (John 2:3-10) and the Greek term used in the New Testament (oinos) refers to wine (cf. 1 Timothy 3:8), various ones have claimed that it was grape juice, and not wine, that was used for Passover.
The Jews themselves though, use wine at Passover (Hisrch EG, Eisenstein JD. Wine. Jewish Encyclopedia. 1907, pp. 532-535). Jesus would have followed that practice.
Others have also noted that it was IMPOSSIBLE for Jews to have stored grape juice from the time of grape harvest until Passover (Cf. Kennedy ARS. Hastings Bible Dictionary. C. Scribner Son's, 1909 p. 974).
Therefore, only wine, which can remain unspoiled for even many years would have been used. (The use of alcohol, like wine, is endorsed during the Feast of Tabernacles in Deuteronomy 26:14, but not required.)
Christians are not to be "drunk with wine, wherein is excess" as Paul wrote (Ephesians 5:18, KJV).
Only a very small amount of wine is normally consumed at Passover.
It is not logical to conclude that grape juice was used by Jesus in His final Passover.
Jesus used wine for Passover.
We in the Continuing Church of God use wine for Passover too.
Some items of possibly related interest may include:
Keeping Passover and the Days of Unleavened Bread How should Christians keep Passover, especially if they are by themselves. Why does the Church of God not require lambs for Passover? How does one keep the Days of Unleavened Bread? For a step-by-step video for Christians to keep it, here is a link to a Continuing Church of God Passover Service; here is a link to a service in Spanish: Servicion de Pascua CCOG. Here is a link to a related article in the Spanish language: Guardando la Pascua y los Días de los Panes sin Levadura.
Examine Yourself before Passover This article goes into some of why real Christians are to do this. Two related sermons are Really examine yourself before Passover and Passover Examination.
Preparing for Passover The Apostle Paul taught that Christians should examine themselves prior to taking Passover. This YouTube video sermon gives suggestions on how to prepare.
Passover and the Early Church Did the early Christians observe Passover? What did Jesus and Paul teach? Why did Jesus die for our sins? There is also a detailed YouTube video available titled History of the Christian Passover.
The Passover Plot What was the first Passover plot? Which plots have Islam and the Greco-Roman faiths perpetuated about Passover? A sermon video of related interest is The Passover Plots, Including Easter.
Melito's Homily on the Passover This is one of the earliest Christian writings about the Passover. This also includes what Apollinaris wrote on the Passover as well. Here is a related sermon, also titled Melito's Homily on the Passover.
TPM: Passover on the 14th or 15th? While the real COG observes Passover on the 14th, some observe it on the 15th. Why is the 14th correct? A related sermon is titled Is Passover on the 14th or 15th for Christians?
Unleavened Bread recipes A Serbian COG member, now CCOG elder, sent these recipes for those who would like more ways to prepare unleavened bread. Here is a link to recipes in Spanish: Recetas de Recuerdo.
The Night to Be Observed What is the night to be much observed? When is it? Why do Jews keep Passover twice and emphasize the wrong date? A related animation is available and is titled: Night to Be Observed.
Should Christians Keep the Days of Unleavened Bread? Do they have any use or meaning now? What is leaven? This article supplies some biblical answers. Here are two YouTube videos intended to be viewed for the first day of unleavened bread:Leaven and Sin and Christians and the Days of Unleavened Bread.
Early Christianity and the Eucharist? What does 'eucharist' mean? Did early Christians tie it in with Passover? Should it be a rounded host? Here is a link to a related sermon: Eucharist, Passover, and Easter.
Christians: Ambassadors for the Kingdom of God, Biblical instructions on living as a Christian This is a scripture-filled booklet for those wishing to live as a real Christian. A related sermon is also available: Christians are Ambassadors for the Kingdom of God.
Living as a Christian: How and Why? In what ways do Christians live differently than others. What about praying, fasting, tithing, holy days, and the world? There is also a YouTube video related to that also called: Living as a Christian: How and Why?
Should You Observe God's Holy Days or Demonic Holidays? This is a free pdf booklet explaining what the Bible and history teach about God's Holy Days and popular holidays.
The History of Early Christianity Are you aware that what most people believe is not what truly happened to the true Christian church? Do you know where the early church was based? Do you know what were the doctrines of the early church? Is your faith really based upon the truth or compromise?
Where is the True Christian Church Today? This free online pdf booklet answers that question and includes 18 proofs, clues, and signs to identify the true vs. false Christian church. Plus 7 proofs, clues, and signs to help identify Laodicean churches. A related sermon is also available: Where is the True Christian Church? Here is a link to the booklet in the Spanish language: ¿Dónde está la verdadera Iglesia cristiana de hoy? Here is a link in the German language: WO IST DIE WAHRE CHRISTLICHE KIRCHE HEUTE? Here is a link in the French language: Où est la vraie Église Chrétienne aujourd'hui?
Continuing History of the Church of God This pdf booklet is a historical overview of the true Church of God and some of its main opponents from Acts 2 to the 21st century. Related sermon links include Continuing History of the Church of God: c. 31 to c. 300 A.D. and Continuing History of the Church of God: 4th-16th Centuries. The booklet is available in Spanish: Continuación de la Historia de la Iglesia de Dios, German: Kontinuierliche Geschichte der Kirche Gottes, and Ekegusii Omogano Bw'ekanisa Ya Nyasae Egendererete.