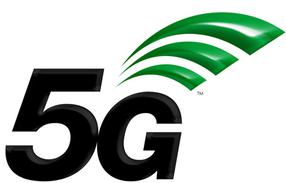 5G logo (Wikipedia)

Major airlines in the USA are voicing concerns about 5G and what it could do starting January 19, 2022:
US airlines warn of 'catastrophic disruption' on Wednesday due to 5G activation

January 18, 2022

CEOs from major US airlines including American Airlines, Delta Air Lines, United Airlines, and Southwest Airlines have warned that the impending deployment of new 5G spectrum on Wednesday could cause "catastrophic disruption" for flights across the country starting tomorrow. The warning, which was also signed by shipping companies including UPS Airlines and FedEx Express, was issued in a letter from the CEOs seen by Reuters, which said that both commercial and cargo flights could be affected. …

The 5G spectrum in question is known as C-band, and AT&T and Verizon's deployments are due to go live on Wednesday, January 19th after suffering multiple previous delays. At the core of the issue are fears that these new C-band airwaves could interfere with sensitive radar altimeters on certain aircraft, my colleague Russell Brandom explained earlier this month. Altimeters are critical for landings especially when visibility is limited, and failures in this system were linked to a fatal 2009 Turkish Airlines crash.

"Airplane manufacturers have informed us that there are huge swaths of the operating fleet that may need to be indefinitely grounded" as a result of the new 5G deployments, the airlines wrote in their letter. "Immediate intervention is needed to avoid significant operational disruption to air passengers, shippers, supply chain and delivery of needed medical supplies," that could cause "chaos" and strand "tens of thousands of Americans overseas."

"When deployed next to runways, the 5G signals could interfere with the key safety equipment that pilots rely on to take off and land in inclement weather," United Airlines said in its own statement sent to The Verge. Without more safeguards, the rollout of this 5G spectrum could "result in significant restrictions on 787s, 777s, 737s and regional aircraft in major cities" and cause "hundreds of thousands of flight cancellations and disruptions for customers across the industry in 2022, [and] also the suspension of cargo flights into these locations."  https://www.theverge.com/2022/1/18/22889141/us-airlines-united-american-delta-5g-c-band-disruption-radar-altimeter

The airlines warned the new C-Band 5G service set to begin on Wednesday could render a significant number of widebody aircraft unusable, "could potentially strand tens of thousands of Americans overseas" and cause "chaos" for U.S. flights.

"Unless our major hubs are cleared to fly, the vast majority of the traveling and shipping public will essentially be grounded," wrote the chief executives of American Airlines (AAL.O), Delta Air Lines (DAL.N), United Airlines , Southwest Airlines (LUV.N) and others in a letter first reported by Reuters.

The Federal Aviation Administration (FAA) has warned that potential interference could affect sensitive airplane instruments such as altimeters and significantly hamper low-visibility operations. …

"This means that on a day like yesterday, more than 1,100 flights and 100,000 passengers would be subjected to cancellations, diversions or delays," the letter cautioned.

Airlines late on Monday were considering whether to begin canceling some international flights that are scheduled to arrive in the United States on Wednesday. …

United said it faces "significant restrictions on 787s, 777s, 737s and regional aircraft in major cities like Houston, Newark, Los Angeles, San Francisco and Chicago."

The airlines ask "that 5G be implemented everywhere in the country except within the approximate 2 miles (3.2 km) of airport runways" at some key airports.

"Immediate intervention is needed to avoid significant operational disruption to air passengers, shippers, supply chain and delivery of needed medical supplies," they said.

The airlines added that flight restrictions will not be limited to poor weather operations.

"Multiple modern safety systems on aircraft will be deemed unusable causing a much larger problem than what we knew… Airplane manufacturers have informed us that there are huge swaths of the operating fleet that may need to be indefinitely grounded."

One area of concern is whether some or all Boeing 777s will be unable to land at some key U.S. airports after 5G service starts, as well as some Boeing cargo planes, airline officials told Reuters. https://www.reuters.com/technology/exclusive-major-us-airline-ceos-urge-action-avoid-catastrophic-5g-flight-2022-01-17/
5G has been planned for many years.
I posted back in 2019 that it has not been fully tested and that there were risks associated with it (e.g. 5G instability, satellite, and health concerns).
Now airline executives are trying to affect some changes for aircraft and passenger safety.
Will it be to little too late?
Or might it take one or more crashes for change to occur?
We will see.
But, a lot of new technologies simply have not been sufficiently tested and pose safety and/or health risks.
Related to possible health and totalitarian risks, the Continuing Church of God (CCOG) put out the following video on our Bible News Prophecy YouTube channel:
What is 5G? Does it have prophetic ramifications? What is 1G, 2G, 3G, and 4G? What about 6G, 7G, and 10G? Russian Orthodox Patriarch Kirill tied some of these technologies to the Antichrist–could there be any truth to that? Could some of these new technologies assist in the fulfillment of prophecies related to Revelation 13, buying and selling, and 666? Are there health risks associated with 5G? What have some suggested? Will these technologies only provide benefits or might the Beast and Antichrist use them for harm? An article of related interest is available titled "' 'What will a 5G mobile phone be capable of?' and 'Russian Patriarch Warns 'Antichrist' Will Control Humans Through Gadgets'."
Here is a link to the sermonette video: 5G and the Antichrist?
There are risks of various new technologies.
And often unintended consequences.
Airline executives see at least one of those and hope to affect changes to reduce that one.
Even if they succeed, other risks remain.
UPDATE 01/19/22: Notice the following:
January 19, 2022

Major international airlines canceled flights heading to the U.S. or changed the planes they're using Wednesday, the latest complication in a dispute over concerns that 5G mobile phone service could interfere with aircraft technology.

Some airlines said they were warned that the Boeing 777, a plane used by carriers worldwide, was particularly affected by the new high-speed wireless service. The aircraft is the workhorse for Dubai-based Emirates, a key carrier for East-West travel, and its flight schedule took one of the biggest hits.

It was not clear how disruptive the cancellations would be. Several airlines said they would try to merely use different planes to maintain their service.

The cancellations and changes came a day after mobile phone carriers AT&T and Verizon said they would postpone new wireless service near some U.S. airports planned for this week. The U.S. Federal Aviation Administration has cleared a number of aircraft to fly into airports with 5G signals, but the Boeing 777 is not on the list. https://apnews.com/article/technology-business-dubai-middle-east-united-arab-emirates-bcac403626879062f8d07080f87e5880
So, although some steps have been taken to reduce the 5G location risk, some airlines still think this is too dangerous and have cut flights.
Some items of related interest include the following:
The Mark of Antichrist What is the mark of Antichrist? What have various ones claimed? Here is a link to a related sermon What is the 'Mark of Antichrist'?
Mark of the Beast What is the mark of the Beast? Who is the Beast? What have various ones claimed the mark is? What is the 'Mark of the Beast'?
European Technology and the Beast of Revelation Will the coming European Beast power would use and develop technology that will result in the taking over of the USA and its Anglo-Saxon allies? Is this possible? What does the Bible teach? Here is a related YouTube video: Military Technology and the Beast of Revelation.
The Large Hadron Collider has Military Potential Some say this European project is only peaceful. So why is it working on capturing antimatter? Here is a link to a related video: Could the Large Hadron Collider lead to destruction?
Who is the Man of Sin of 2 Thessalonians 2? Is this the King of the North, the ten-horned beast of Revelation 13:1-11, or the two-horned Beast of Revelation 13:12-16? Some rely on traditions, but what does the Bible teach? Here is a related link in Spanish/español: ¿Quién es el Hombre de Pecado de 2 Tesalonicenses 2?; here is a link to a video in Spanish: ¿Quién es el 'hombre de pecado'? Here is a version in Mandarin: N;ÿ Œf/'Y'jNº'ÿ Here is a link to a related English sermon video titled: The Man of Sin will deceive most 'Christians'.
Some Doctrines of Antichrist Are there any doctrines taught outside the Churches of God which can be considered as doctrines of antichrist? This article suggests at least three. It also provides information on 666 and the identity of "the false prophet." Plus it shows that several Catholic writers seem to warn about an ecumenical antipope that will support heresy. You can also watch a video titled What Does the Bible teach about the Antichrist?