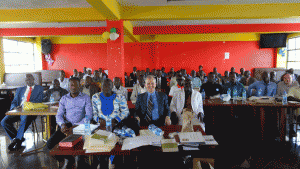 CCOG conference in Nairobi, Kenya

The number of reported cases of COVID-19 continues  to increase:
Virus infections top 600,000 globally with long fight ahead

March 28, 2020

BERLIN (AP) — The number of confirmed coronavirus infections worldwide topped 600,000 on Saturday as new cases stacked up quickly in Europe and the United States and officials dug in for a long fight against the pandemic.

The latest landmark came only two days after the world passed half a million infections, according to a tally by John Hopkins University, showing that much work remains to be done to slow the spread of the virus. It showed more than 607,000 cases and over 28,000 deaths.

While the U.S. now leads the world in reported infections — with more than 104,000 cases — five countries exceed its roughly 1,700 deaths: Italy, Spain, China, Iran and France.

"We cannot completely prevent infections at this stage, but we can and must in the immediate future achieve fewer new infections per day, a slower spread," German Chancellor Angela Merkel, who is in quarantine at home after her doctor tested positive for the virus, told her compatriots in an audio message. "That will decide whether our health system can stand up to the virus." …

In parts of Africa, virus prevention measures took a violent turn as countries imposed lockdowns and curfews or sealed off major cities, with police in Kenya firing tear gas and officers elsewhere captured on video hitting people with batons. https://apnews.com/cb56e50250328b923776408386b3a82a
Voice of America (VOA) reported the following steps related to Kenya:
Kenya Taking Drastic Measures to Curb Coronavirus Spread

March 28, 2020

Kenya's government is implementing drastic measures to prevent the spread of the coronavirus, although the country has only 31 confirmed cases of infection.

A curfew from 7 p.m. to 5 a.m. was enforced Friday, and all international flights have been suspended.

Economists have warned that any lockdowns must be accompanied by a plan for how the poor will have access to basic items, otherwise the eruption of violence is likely.

"If the government does put in place 24-hour lockdown, or maybe several days lockdown, there is bound to be violence because you have to have a lockdown with a plan of how people will access food," Kenyan economist James Shikwati said.

Thousands of Kenyans have lost their jobs already due to social distancing. https://www.voanews.com/science-health/coronavirus-outbreak/kenya-taking-drastic-measures-curb-coronavirus-spread
Now, last Sunday Kenya started to chase people out of church services. CCOG Evangelist Evans Ochieng sent me the following last Sunday:
Pastor Dr Bob,

Greetings from Kenya.

Yesterday we had a nice Sabbath. We came together in Ndhiwa and the service was so good.

Today  government announced  that all church halls should be closed and if you are found you Will be jailed. Policemen went to Sunday churches and push people out.

Evans
In light of these government actions, last Sunday I sent an email to several of our leaders in Ghana, Kenya, Ethiopia, Tanzania, Malawi, and Mozambique with a plan on how to proceed with church services, as well as the upcoming Passover and Days of Unleavened Bread, in individual homes. I also asked them for their ideas on how to best deal with these meeting prohibitions. Hopefully, government restrictions related to COVID-19 will be lifted soon. Until then, we intend to continue in individual house churches, similar to that of the early Christians, in Africa as well as many other areas –plus utilize online services, an option early Christians did not have.
Deacon Radson Mulozowa informed me that Malawi has limited gatherings to no more than 50 people. So, he and I went over a couple of options. Having two or more services per Sabbath with different people at each location is the option he seemed to prefer.
From Kenya on Tuesday, Evangelist Ochieng sent the following email:
Pastor Dr Bob,

Greetings from Kenya.

Things are becoming more and more difficult in Kenya because the corona virus is spreading in Kenya. One white man was found dead in the hotel with corona and another man died in the bus. So I'm trying to figure out how we are going to keep Sabbath. But I know that GOD is in full control. The biggest problem now in Kenya is that the prices of food and items have increased highly and all the markets and some businesses are closed. So hunger is so high.

May THE ALMIGHTY GOD keep all his people safe.

Evans
(Regarding hunger he and I have been working on assisting with that.)
Evangelist Ochieng sent the following email several hours ago:
Pastor Dr Bob,

Greetings from Kenya.

Since things are so difficult in Kenya as far as concerns the message from our president. The curfew has started today in Kenya. So I communicated to all congregations in Kenya and we have come to one solution that every congregation will try to divide people in different houses and our hosts of every congregation will try to go round and deliver the sermon shortly. Mostly they will talk about Passover. I'm again planning to go to the radio and teach there every Sabbath so that every congregation will get the sermon.  I will see if I can start that next week. Up to now the  brethren in Kenya are still safe. We haven't hear any report from brethren  about the problems which faces Kenya now.  …

Evans
So, yes, we are trying to hold services the best way we can in light of government restrictions related to COVID-19.
Now, most of our native English speakers already meet in homes and are used to online services.
A suggested Sabbath service is put out by the Continuing Church of God in its weekly Letter to the Brethren (suggested Holy Day services are also included when applicable). Here is a link to the latest one: Letter to the Brethren: March 26, 2020.
COVID-19 has spread around the world.
The Apostle Paul warned that "A little leaven leavens the whole lump" (Galatians 5:9) and "And let us consider one another in order to stir up love and good works, not forsaking the assembling of ourselves together, as is the manner of some, but exhorting one another, and so much the more as you see the Day approaching " (Hebrews 10:24-25).
Christians are not to forsake our spiritual growth and development, particularly as we see the Day approaching. That is why we have not canceled Sabbath services. We have let the local leaders make decisions for their areas, based on government guidelines and safety, while giving them some ideas to consider.
We are utilizing technological and various creative ways to continue.
Some items of possibly related interest may include:
The Sabbath in the Early Church and Abroad Was the seventh-day (Saturday) Sabbath observed by the apostolic and post-apostolic Church? Here is a related sermon video The Christian Sabbath and How and Why to Keep It.
Africa: Its Biblical Past and Prophesied Future What does the Bible teach about Africa and its future? Did the early Church reach Africa? Will God call all the Africans? A related online sermon is also available: Africa: Its biblical past, present, and future. A video of possible interest is: Nairobi Conference: All About Love.
Examine Yourself before Passover This article goes into some of why real Christians are to do this. Two related sermons are Really examine yourself before Passover and Passover Examination.
Preparing for Passover The Apostle Paul taught that Christians should examine themselves prior to taking Passover. This YouTube video sermon gives suggestions on how to prepare.
Passover and the Early Church Did the early Christians observe Passover? What did Jesus and Paul teach? Why did Jesus die for our sins? There is also a detailed YouTube video available titled History of the Christian Passover.
Keeping Passover and the Days of Unleavened Bread How should Christians keep Passover, especially if they are by themselves. Why does the Church of God not require lambs for Passover? How does one keep the Days of Unleavened Bread? For a step-by-step video for Christians to keep it, check out a CCOG Passover Service. Here is a link to a related article in the Spanish language: Guardando la Pascua y los Días de los Panes sin Levadura.
The Night to Be Observed What is the night to be much observed? When is it? Why do Jews keep Passover twice and emphasize the wrong date? A related animation is available and is titled: Night to Be Observed.
Should Christians Keep the Days of Unleavened Bread? Do they have any use or meaning now? What is leaven? This article supplies some biblical answers. Here are two YouTube videos intended to be viewed for the first day of unleavened bread:Leaven and Sin and Christians and the Days of Unleavened Bread.
The The Seventh Day of Unleavened Bread What happened? Does this day have any type of fulfillment in the Book of Revelation? A related sermon video is also available: 7th Day of Unleavened Bread: Prophecy and Lessons.
Early Christianity and the Eucharist? What does 'eucharist' mean? Did early Christians tie it in with Passover? Should it be a rounded host? Here is a link to a related sermon: Eucharist, Passover, and Easter.
Is God Calling You? This booklet discusses topics including calling, election, and selection. If God is calling you, how will you respond? Here is a link to a related sermon: Could God be Calling You? A short animation is also available: Is God Calling You?
Christian Repentance Do you know what repentance is? Is it really necessary for salvation? A related sermon is also available titled: Real Christian Repentance.
Christians: Ambassadors for the Kingdom of God, Biblical instructions on living as a Christian This is a scripture-filled booklet for those wishing to live as a real Christian. A related sermon is also available: Christians are Ambassadors for the Kingdom of God.
Just What Do You Mean — Repentance? Do you know what repentance is? Have you truly repented? Repented of what? Herbert W. Armstrong wrote this as a booklet on this important subject.
When You Sin: Do You Really Repent? This is an article by Charles F. Hunting. A related sermon is Confess to God and truly repent.
COVID 19 is NOT the End, but could it be TEOWAKI? The novel coronavirus called COVID-19 is wreaking havoc around the world. Many states of the USA as well as countries in Europe are on lockdown with shelter in place /shelter in residence requirements. In France, a form is required when you are not at your house. In Spain, drones are being used to warn people who are outside to got back to their homes–does that bring up feelings of 'Big Brother'? Italy, France, and other areas are using police and/or military force to encourage people to stay inside. According to the Bible could this be the end? If not, what has to happen first? Have the second and third of the four horsemen of the Apocalypse started their ride? Could COVID-19 be the fourth horseman? Why or why not? Could we be seeing The End of the World as We Know It (TEOTWAKI) like the R.E.M.'s 1987 single song discussed? Do Christians need to fear? What did Jesus teach? What did the Psalmist teach? This is a video.
COVID-19 Leading to 666? The novel coronavirus of Wuhan, China fame, is now called COVID-19. It has also been called the 'Coronapocalypse.' Does COVID-19 have any prophetic ramifications? What did Jesus teach about pestilences and sorrows in the Olivet prophecy in Matthew 24? Could COVID-19 be the ride of the fourth horseman of the Apocalypse? Why was this type of disease expected according to the Old Testament prophecies in Deuteronomy and Leviticus? What has the US Centers for Disease Control warned about? What has the CDC reported about the flu? Were there lessons about fear and infections in the 2011 movie 'Contagion'? Because of COVID-19, the World Health Organization (WHO), nation of Iran, and certain French locations are telling people not to use cash, but instead electronic forms of payment. The US Federal Reserve is now quarantining money repatriated from Asia to reduce the potential spread of the coronavirus on US currency bills. Is COVID-19 worse than we have been told or could this all be a 'false flag' event to encourage people to move towards a cashless society? If the thousands of deaths associated with COVID-19 are pushing parts of the world towards cashlessness, how much more likely will the ride of the fourth horseman and over a billion human deaths motivate people to move to making electronic payments that can be monitored? The Bible tells of a soon coming society that controls buying and selling to force allegiance to a coming European Beast power, known as 666 (Revelation 13:16-18). Does the 'great tribulation' begin before ride of the fourth horseman or with the opening of the fifth seal of Revelation 6? Do the words of Jesus helps us better understand the sequence of the four horsemen of the Apocalypse and the start of the Great Tribulation? Will the ride of the fourth horseman help lead to the rise of 666? Is that ride very close? Dr. Thiel addresses these issues and more in this video.
Biological Warfare and Prophecy. Is biological warfare possible? Was it prophesied? Scientists have long warned that pathogenic organisms like the coronavirus could be weaponized. Furthermore, back in 2017, there were concerns that the biological research facility being constructed in Wuhan, China was risky and that a coronavirus from it could be released. On January 25, 2020, China's President Xi Jinping publicly stated that the situation with the Wuhan-related strain of the coronavirus was grave. Did Church of God writers like the late evangelist Raymond McNair warn that engineered viruses (the "Doomsday bug") were consistent with prophecies from Jesus? Did a warning from CCOG leader Bob Thiel warn about risks of genetically-modified (GMO) mosquitoes come to pass? Could human research and/or the consumption of biblically-unclean animals such as bats and snakes be a factor in current outbreaks or coming future pestilences? What about famines? How devastating have pestilences been? How devastating are the prophesied ones going to be? Dr. Thiel addresses these issues and more in this video.
Fourth Horseman of the Apocalypse What is the pale horse of death and pestilences? What will it bring and when? Some related videos may include Amphibian Apocalypse: Threat to Humans?, Zombie Deer Disease is Here! Are the 10 Plagues on Egypt Coming?, and Biological Warfare and Prophecy. Here is a version of the article in Spanish: El cuarto jinete de Apocalipsis, el caballo pálido de muerte y pestilencia.
20 items to prophetically watch in 2020 Much is happening. Dr. Thiel points to 20 items to watch (cf. Mark 13:37) in this article. Here is a link to a related sermon: 20 Prophetic Items to Watch in 2020.
Does God Have a 6,000 Year Plan? What Year Does the 6,000 Years End? Was a 6000 year time allowed for humans to rule followed by a literal thousand year reign of Christ on Earth taught by the early Christians? Does God have 7,000 year plan? What year may the six thousand years of human rule end? When will Jesus return? 2028 or 20xx? There is also a video titled 6000 Years: When will God's Kingdom Come? Here is a link to the article in Spanish: ¿Tiene Dios un plan de 6,000 años?
When Will the Great Tribulation Begin? 2020, 2021, or 2022? Can the Great Tribulation begin today? What happens before the Great Tribulation in the "beginning of sorrows"? What happens in the Great Tribulation and the Day of the Lord? Is this the time of the Gentiles? When is the earliest that the Great Tribulation can begin? What is the Day of the Lord? Who are the 144,000? Here is a version of the article in the Spanish language: ¿Puede la Gran Tribulación comenzar en el 2020 o 2021? ¿Es el Tiempo de los Gentiles? You can also see the English language sermon videos: The Great Tribulation from the Mount of Olives and Can the Great Tribulation begin before 2020? A shorter and newer video is: Could the Great Tribulation Begin in 2020?
The Times of the Gentiles Has there been more than one time of the Gentiles? Are we in it now or in the time of Anglo-America? What will the final time of the Gentiles be like? A related sermon is available and is titled: The Times of the Gentiles.
Armageddon Who is involved and when will this gathering happen? Here is also a video from Dr. Thiel, from Tel Megiddo in Israel: Armageddon. Other videos include: Armageddon Will it come on Trump's watch?, Iraq, Armageddon, & Prophecy, Freemasonry, Armageddon, and Rome, Is China paving roads to Armageddon?, and Jordan, Petra, and Armageddon.
Did The Early Church Teach Millenarianism? Was the millennium (sometimes called chiliasm) taught by early Christians? Who condemned it? Will Jesus literally reign for 1000 years on the earth? Is this time near? Two related sermons are available Millennial Utopia and The Millennium.
The Gospel of the Kingdom of God This free online pdf booklet has answers many questions people have about the Gospel of the Kingdom of God and explains why it is the solution to the issues the world is facing. Here are links to three related sermons: The World's False Gospel, The Gospel of the Kingdom: From the New and Old Testaments, and The Kingdom of God is the Solution.
Hope of Salvation: How the Continuing Church of God differs from Protestantism How the real Church of God differs from mainstream/traditional Protestants, is perhaps the question I am asked most by those without a Church of God background. As far as some changes affecting Protestantism, watch the video Charismatic Kenneth Copeland and Anglican Tony Palmer: Protestants Beware! [Português: Esperança do salvação: Como a igreja do deus difere da maioria de protestantes]. Several related sermon are also available: Protestant, Baptist, and CCOG History, The First Protestant, God's Command, Grace, & Character, The New Testament, Martin Luther, and the Canon, Eucharist, Passover, and Easter, and How Does the Church of God Differ from Protestantism?
The Sardis Church Era was predominant circa 1600 A.D. to circa 1933 A.D. Discusses early history of the Seventh Day Baptists, Seventh-day Adventists, and COG-7th Day.
The Philadelphia Church Era was predominant circa 1933 A.D. to 1986 A.D. The old Radio Church of God and old Worldwide Church of God, now the remnant of that era is basically the most faithful in the Church of God, like who hold to the beliefs and practices of the Continuing Church of God.
The Laodicean Church Era has been predominant circa 1986 A.D. to present. The Laodiceans are non-Philadelphians who mainly descended from the old WCG or its offshoots. They do not properly understand the work or biblical prophecies and will face the Great Tribulation if they do not repent. One video of related interest is 17 Laodicean Errors in Prophecy. See also Do You Hold to Any of These Laodicean Prophetic Errors?