March 13, 2023 marks the 10th anniversary of Jorge Bergoglio becoming the Vatican's Pope Francis.
Here are some comments from the Associated Press:
March 13, 2023

Pope Francis marks the 10th anniversary of his election as pope on Monday. …

July 29, 2013: During his first airborne press conference as pope, Francis is asked about a purportedly gay priest and replies, "Who am I to judge?" His comment while flying home from World Youth Day in Rio de Janeiro signaled a more conciliatory, welcoming tone for LGBTQ Catholics who long felt marginalized by the church. …

Feb. 13, 2016: "We are brothers," Francis says as he becomes the first pope to meet with the head of the Russian Orthodox Church, Patriarch Kirill. The historic meeting in Havana, Cuba, wouldn't be repeated, as hoped, following Russia's 2022 invasion of Ukraine.

Feb. 4, 2019: Francis signs a document pledging Christian-Muslim cooperation to work for peace with the grand imam of Egypt's Al-Azhar, the seat of Sunni learning, during the first-ever papal trip to the Arabian Peninsula. The "Human Fraternity" document would go onto become a cornerstone of the pope's effort to forge better relations with the Muslim world.

Oct. 21, 2019: Conservative Catholic activists steal three Amazonian Indigenous statues from a Vatican-area church and throw them in the Tiber River, claiming they were pagan idols. The so-called "Pachamama" stunt during Francis' synod on the Amazon epitomized the depth of conservative opposition to the pope, which only intensified after he launched a crackdown on the use of the old Latin Mass. …

Jan. 5, 2023: Francis bids farewell to Pope Emeritus Benedict XVI, presiding over his funeral in St. Peter's Square … https://apnews.com/article/pope-anniversary-migrants-lgbtq-covid19-abuse-indigenous-702c74da897b79532ca3aba7cf2aa5f9
Various ones have called for his resignation in the past (see 'Former Vatican official calls for Pope's resignation amid sex abuse scandal', Francis says no comment on resignation letter; 'By secular standards, the Catholic Church is a corrupt organization and German priest pedophilia, Pope Francis calls for conference, 'Civil war,' and Francis pushes for salvation with Mary).
Some even thought he would resign in 2019 (see Pope Francis to resign in February 2019?) as well as in 2020 (see "End of the world: Why Pope's 2020 resignation 'will fulfil 900-year-old doomsday prophecy'").
But that has not happened and he recently suggested that resignations should not be normal for popes:
February 16, 2023

Pope Francis has made clear in comments published Thursday by a Jesuit journal that he believes being pope is a lifetime position and that Pope Benedict XVI's resignation was an exception.

"I for the moment do not have that on my agenda," Francis told Civita Cattolica, in the clearest statement he has made on the issue. https://abcnews.go.com/International/wireStory/pope-francis-underlines-papacy-lifetime-post-97255237
Various ones have been disappointed about his deal with China and pushing Islam:
March 13, 2022

Francis and his Vatican team, for instance, recently signed a controversial agreement with China over the appointment of bishops that's been excoriated by critics as a deal with the devil. Vatican diplomats have defended the pact on the basis that, however imperfect, it at least keeps channels of communication with Beijing open, providing some potential leverage.

If ever there was a moment to try spending some of that political capital, this may well be it.

As for the Gulf States, Pope Francis made a highly successful outing to the UAE in 2019, signing a "Document on Human Fraternity" with the Grand Imam of Al-Azhar in Egypt. In general, Francis has made outreach to the Islamic world a key priority, and he's won the gratitude of many Muslim leaders for his solidarity at key moments, including his repeated insistence that Islam is a religion of peace and terrorism is, therefore, a betrayal of Islamic values. https://cruxnow.com/news-analysis/2022/03/how-pope-francis-could-lead-a-soft-power-push-on-ukraine
Pope Francis has been around longer than he felt he would as his statements from seven years ago attest:
March 13, 2015

Hearing confessions to mark his second anniversary as head of the Roman Catholic Church, Pope Francis offered a confession of his own Friday: He doubts he'll be pontiff for long.

"I have the feeling that my pontificate will be brief, 4 or 5 years; I do not know, even 2 or 3," the 78-year-old Francis said during an interview with Mexican broadcaster Televisa.

"Two have already passed. It's a somewhat vague sensation," he said, according to a Vatican translation from Spanish. "I feel that the Lord has placed me here for a short time, and nothing more."

He compared the feeling to "a gambler who convinces himself he will lose so he won't be disappointed. And if he wins, he's happy." http://www.usatoday.com/story/news/world/2015/03/13/pope-francis-papacy-anniversary-pizza/70277854/
In the past, he dropped a hint or two that he might like to resign like Benedict XVI did. Of course, if he does not resign and does not die, he could be around much longer than he indicated.
Notice some reports about his pontificate:
13 March 2021

Going into the 2013 conclave, few people considered Cardinal Jorge Bergoglio a frontrunner—least of the cardinal-archbishop of Buenos Aires himself. As America's Vatican correspondent Gerard O'Connell details in his book The Election of Pope Francis: An Inside Account of the Conclave that Changed History (Orbis, 2019), when Francis emerged on the balcony of St. Peter's Basilica for the first time as pope, he "just stood there in silence, immobile. He seemed stunned by the sea of humanity that stretched out in the darkness before him across the square, right down the Via della Conciliazione reaching toward Castel Sant'Angelo." …

During his papal trip to Istanbul, Pope Francis asked Ecumenical Patriarch Bartholomew, the spiritual leader of Eastern Orthodox Christians, to bless him and "the church of Rome." When he bowed for the blessing, the patriarch kissed him gently on the head.

The two men have a warm relationship, often kissing one another on the cheek and embracing when they meet. Achieving unity between the Eastern and Western churches, which have been in schism since the Middle Ages, is one of Pope Francis' major goals. https://www.americamagazine.org/faith/2021/03/13/pope-francis-eight-year-anniversary-papacy-images-240226

13 March 2021

POPE BENEDICT's "determination" to "destroy" Pope Francis' legacy has been laid bare by an expert, as the pontiff marks his eighth year as leader of the Catholic church. …

Images of Francis embracing a man covered in tumours, kissing the feet of ex-warring African leaders, and praying on his own in St. Peter's Square while the world was restricted by the devastating coronavirus pandemic, have dominated his time within the Vatican.

Yet, while he has managed in some respects to shift the church's identity, through moves such as indicating support for same-sex civil unions last year, many observers have noted how Benedict's presence in the upper echelons of the Vatican have stifled Francis' agenda.

Lynda Telford, who penned Women in the Vatican – Female Power in a Male World, told Express.co.uk that since Benedict continues to live within the Vatican, he is able to exert his influence over cardinals and senior members of the church.

This has frustrated some of Francis' decision-making, and ensured that the church doesn't pass its traditionalist past, something Benedict's reign as pontiff is remembered for.

Ms Telford accused Benedict of "pushing himself into the forefront of events in a way that's highly unsuitable", claiming the ex-pontiff "should be ashamed of himself".

Her remarks came after Benedict commented on how some conservative-leaning worshippers still believed he was the "real" Pope, despite standing down nearly a decade ago due to his deteriorating health.

Ms Telford said Benedict "would be delighted to be mistaken for the 'real' Pope", adding: "Frankly, due to his behaviour, which seems to be getting worse, and his interference more blatant, I wouldn't put anything past him in his determination to put someone in power who would carry on his traditionalist agenda, destroying the good work done by Francis.

"It would be a disaster for the church, and I'm sure many would be disappointed by such an outcome and withdraw from any further interest in it, should that happen." https://www.express.co.uk/news/world/1409528/christian-news-pope-benedict-destroy-pope-francis-legacy-pontiff-vatican-italy-rome-spt

13 March 2018

Pope Francis: The Catholic Church's Superman?

He has made it his mission to tear down walls. After five years in office, Pope Francis, the first Latin American pontiff, has become a theological and political pop star. DW looks back on his papacy so far. …

The now 81-year-old Argentine Jorge Bergoglio, the first pope from Latin America, has been in office for five years now. Just two minutes after his election on March 13, 2013, it was clear that this Pope "from the end of the Earth," as Bergoglio introduced himself at the time, wasn't like his predecessors. …

Francis is both political and pastoral. …

There are also signs of change within the Catholic Church itself, though this only becomes apparent on closer inspection. …

Now another major event for church policy is on the horizon: the Synod of Bishops for the Pan-Amazon region, to be held in the Vatican in 2019. A decision could be made on allowing married men to be consecrated as priests.

From the Catholic point of view, relaxing the rule on celibacy, which has been in place for centuries, would be a revolution. http://www.dw.com/en/pope-francis-the-catholic-churchs-superman/a-42937351

March 13, 2018

Having accompanied him, literally, into the conclave that elected this Argentine Jesuit Bishop of Rome on March 13, 2013, I have followed him closely over the past five years of his remarkable impact on the Church and on the entire world. I have listened to his admirers, his disciples and his critics. …

Many are calling Francis the great revolutionary. … Through the powerful and provocative messages deep within Evangelii Gaudium, Laudato Sì and Amoris Laetitia, and daily reflections flowing from simple, Eucharistic celebrations in the chapel of a Vatican Guest House, Francis has connected with and encountered a humanity that hungers and thirsts for a message of hope and consolation. https://zenit.org/articles/forum-pope-francis-five-years-later/
What I would say is that he has taken steps that an ecumenical antipope might take. And I believe that several steps he has taken will make it easier for the final Antichrist to arise. His encyclicals, Laudato Sì and Amoris Laetitia, document that he wants change, as well as his intentions to push an interfaith and ecumenical agenda with groups like the United Nations. He also received the Charlemagne Prize for promoting European unity (see Pope Francis given 'Charlemagne Prize;' EU leaders worried about EU's future).
Throughout the years, various ones have wondered if Pope Francis is actually Roman Catholic based up some of his writings and statements.
Here is something from 2017:
Christians asking is the pope still Catholic?

November 16, 2017 Is the pope Catholic?

It's not a punch line.

It's a question being asked about the current head of the Roman Catholic Church, Francis, who critics believe is showing signs of abandoning fundamental Catholic doctrines – including the existence of hell.

In a recent address, Pope Francis declared "everything will be saved" upon Christ's return.

"The thought that at the end of our history there will be merciful Jesus suffices in order to have faith and not to curse life," the pope said. "Everything will be saved. Everything."

That would suggest the church is opening up to "universalism," the doctrine that everyone will ultimately be given salvation, according to Eugenio Scalfari, founder of the Italian newspaper la Repubblica.

Scalfari, a major Italian journalistic and cultural influence, believes Francis has "abolished the places where souls were supposed to go after death: hell, purgatory, heaven."

Instead, the souls dominated by evil will "cease to exist." The pope has also been accused of even warping the words of Scripture to make God appear less judgmental.

Father Thomas Weinandy, a member of the Vatican's International Theological Commission, accused Francis of presiding over "a chronic confusion" in a letter.

The former chief of staff for the U.S. Bishops' Committee on Doctrine said the pope had demeaned the importance of doctrine and undermined church unity. Weinandy was asked to resign from his position not long after sending the letter.

The pope's reign has long been marked by attacks on conservatives both within the church and the larger Christian community. Many Christian leaders are becoming fed up.

"This man has turned the papacy into a social justice organization that seems far more concerned with global warming and poverty than the proclamation of the gospel," said Jan Markell of Olive Tree Ministries.

"Catholics should be very concerned. Pope Francis is a type of the false prophet who will reign with the antichrist. I am not saying he is the false prophet, but he has characteristics that would suggest a man just like him could step into that role. If I were a Catholic, I would be looking either for another pope or another faith such as Protestantism. Heaven and hell represent eternal issues that are sacred and no human being should be trying to alter them." …

Pastor Carl Gallups … agrees with Catholic dissidents that the pope has thrown the Catholic Church into confusion.

"Thus far, Pope Francis appears to have thrown the Catholic Church into further confusion since his reign. We are undoubtedly living in profoundly prophetic times. How people can miss this truth, right before our eyes every day, is beyond comprehension." http://www.wnd.com/2017/11/christians-asking-is-the-pope-still-catholic/
Pope Francis IS helping set up the end time for the rise of the final Antichrist–and that seems to be consistent with both biblical and even certain Roman Catholic prophecies.
Also, Pope Francis' apparent diminishing of places of punishment like purgatory will help endear him to the Eastern Orthodox, as well as Protestants, as they do not accept purgatory. Perhaps it should be mentioned that the prior pontiff, Pope Benedict XVI, indicated that the place called limbo also may not exist. As far as universal salvation goes, although the Bible does not teach that, many would be surprised to realize that the Bible does teach that all will be OFFERED salvation through Jesus, and that this was the view of early Christians. For details, check out the article, Universal Offer of Salvation: There Are Hundreds of Verses in the Bible Supporting the Doctrine of True Apocatastasis.
Now, although WND is a Protestant-run organization, many Roman Catholics have questioned Pope Francis' Roman Catholicism as well.
Notice the following from the Roman Catholic-publication CRUX in 2016:
"Is the Pope Catholic?" suddenly a serious question

April 20, 2016

It's always been the jokey answer to a dumb question, but it's now a serious issue for Catholic intellectuals who have been criticizing, and defending, the Catholic bona fides of Pope Francis, especially since the pontiff released a landmark document on family life earlier this month that some say calls into question the church's teachings on the permanence of marriage.

"A catastrophe," one traditionalist blogger called the apostolic exhortation, "Amoris Laetitia," or "The Joy of Love," which was released by the Vatican on April 8. Francis "departs from Church teaching" in the exhortation, wrote another.

"Suddenly the rhetorical question, 'Is the pope Catholic?' doesn't seem so rhetorical anymore," Claire Chretien wrote in a pointed critique at the conservative Web outlet The Federalist.

The unusual debate — after all, it's not often that a pope is accused of heterodoxy — has grown so serious, in fact, that on Tuesday evening (April 19), the Jesuit-run Fordham University hosted a panel of Catholic experts titled: "Is the Pope Catholic?"

Among the four participants was New York Times columnist Ross Douthat, who has been one of Francis' leading critics on the Catholic right, openly wondering about the pontiff's doctrinal purity and whether he is leading the Catholic Church into schism. …

While none of the panelists directly challenged Francis' faith, Douthat was most outspoken in criticizing Francis' approach in general, and in "Amoris Laetitia" specifically, a document that Douthat said was "designed to introduce a level of ambiguity into church teaching that had been absent."

"It's clearly a deliberately destabilizing document. And whether that destabilization is good or bad is something that liberals and conservatives can argue about," he said. http://www.cruxnow.com/church/2016/04/20/is-the-pope-catholic-suddenly-a-serious-question/
Amoris Laetitia is only one of the moves by Pope Francis that is clearly unbiblical (watch Pope Francis' Tolerance of Immorality is Not Biblical) as well as not consistent with certain Roman Catholic understandings. It should also be noted that even this week, I saw Catholic articles arguing about this.
It was seven years ago when Cardinal Jorge Bergoglio from Argentina became Pope Francis. He has been different in many ways and many "conservative Catholics" have had concerns about him:
March 13, 2016

Jorge Mario Bergoglio, better known as Pope Francis, is undeniably a history maker. He is the first Jesuit Pope, the first from the Americas and the first non-European Pope since Syrian Gregory III who died in 741. Now the current pontiff is presiding over the Catholic church version of the Alpha Course which is seeing tens of thousands of churchgoers engaging with the Holy Spirit. But possibly the Pope's most unexpected initiative occurred last year when his progressive rock album 'Wake Up!' was released and entered the mainstream album charts in Italy and Spain. http://www.crossrhythms.co.uk/articles/music/Pope_Francis_The_most_unlikely_prog_rock_artist_of_all/57847/p1/

ROME, February 8, 2020 (LifeSiteNews) ― A respected Italian theologian has signaled that Pope Francis is failing in his duty to protect the doctrine of the Catholic faith

In a January interview with Italian Catholic online newspaper La Fede Quotidiano, Fr. Giovanni Cavalcoli, O.P. said that Benedict XVI could be an excellent theological resource for Francis, but the pontiff doesn't seem to consult him.

"My impression is that Francis doesn't listen much to Benedict who, in my estimation, had undertaken a line of reform more balanced than that of Francis, more in accordance with … the interpretation that sees the doctrine of the [Second Vatican] Council in continuity, even if more advanced, with the preceding Magisterium," Cavalcoli stated.

"It seems to me that instead Francis indulges in an interpretation that concedes too much to the progressives […] which is same as saying that he is conceding too much to the Protestants, to the Marxists and to freemasonry, while struggling to dialogue with the traditionalists and followers of Archbishop Lefebvre [i.e. the Society of St. Pius X], something which Benedict managed to do." https://www.lifesitenews.com/news/dominican-theologian-pope-francis-compromises-too-much-with-enemies-of-christianity
So, Pope Francis is even accused of promoting freemasonry and Protestantism.
Pope Francis has a lot of worldly popularity and is considered to be energetic:
March 12, 2016

Cardinal Nichols said that for him one surprising thing about Pope Francis is his "remarkable energy, his vibrant presentation of the gospel" and his "ability to maintain a very full, personal and heartfelt presence." He said he believes the reason for this energy this can be found in the Pope's deep relationship with the Lord.

"Nothing else could give a man of his age the kind of vitality and freshness that he's sustained over these past three years."

Cardinal Nichols goes on to describe how the Pope Francis' fidelity to the Lord and his message, together with his concern for people, "especially those on the margins of society," is what "captures and enthralls the world." http://en.radiovaticana.va/news/2016/03/12/uk_cardinal_the_reason_for_pope_francis_remarkable_energy/1214733
The Bible warns about a leader that looks like a lamb to people, has the words of a dragon, but whose energetic-power is demonic:
11 Then I saw another beast coming up out of the earth, and he had two horns like a lamb and spoke like a dragon. 12 And he exercises all the authority of the first beast in his presence, and causes the earth and those who dwell in it to worship the first beast, whose deadly wound was healed. 13 He performs great signs, so that he even makes fire come down from heaven on the earth in the sight of men. (Revelation 13:11)

13 And I saw three unclean spirits like frogs coming out of the mouth of the dragon, out of the mouth of the beast, and out of the mouth of the false prophet. 14 For they are spirits of demons, performing signs, which go out to the kings of the earth and of the whole world, to gather them to the battle of that great day of God Almighty. (Revelation 16:13-14)
Notice that the above leader pushes a political agenda that many think looks good, but biblically is not. Pope Francis is working on an ecumenical and interfaith 'Babylonian' unity that the Bible repeatedly warns against (Revelation 17,18). To much of the world, Pope Francis looks like a lamb. His agenda aligns with those of the United Nations and many world leaders.
Newsweek had the following front cover in September 2015: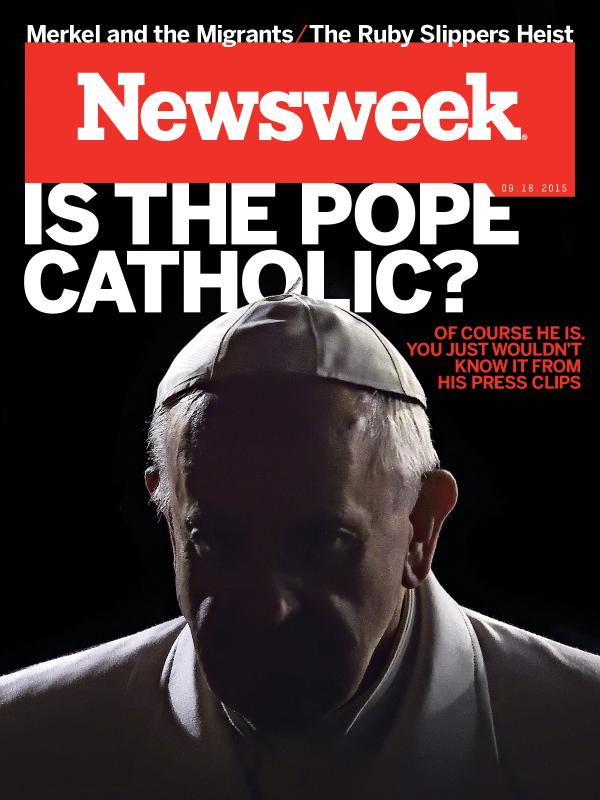 Notice something I had published in 2013, within 24 hours of Jorge Mario Bergoglio being declared Pope Francis, in my book: The Last Pope: Do Biblical and Catholic Prophecies Point to Pope Francis?:
3. Do Catholic Prophecies Warn About an Antipope?

Could Pope Francis I be an "antipope"?

Is an "antipope" coming? …

Technically, the final Antichrist could also be construed as an "antipope" in that he will accept changes to the current Roman Catholic religion that the "King of the North" (Daniel 11:37-40) prefers and promote emperor worship (Revelation 13:14). …

Although some Roman Catholic scholars seem to ignore or discount the idea of a future King of the North in Daniel 11 (Kurz, p. 68), quite a few Catholic writers expect that an ecumenical pope and a conquering emperor will come on the scene.

What is an antipope/anti-pope? Here is a short definition from The Catholic Encyclopedia:

Antipope

A false claimant of the Holy See in  opposition to a pontiff canonically elected. ("Antipope." The Catholic Encyclopedia. Vol. 1. New York: Robert Appleton Company, 1907. Nihil Obstat. March 1, 1907. Remy Lafort, S.T.D., Censor. Imprimatur. +John Cardinal Farley, Archbishop of New York. 25 Feb. 2013 <http://www.newadvent.org/cathen/01582a.htm> )

While historically most have considered that antipopes falsely claimed the Roman Bishopric when others had it, I would contend that it is reasonable to conclude that one who was elected under false pretenses would also be a false claimant and hence antipope. Or if a pope changed and became demonically-possessed, such as the situation involving the False Prophet of Revelation 16:13, would that not make him an antipope? Most Catholics, at least now, would tend to agree that such a one would be a false claimant to the papal role. If so, that would seem to make him an antipope.

Although there have not been any recognized antipopes for several centuries, The Catholic Encyclopedia shows a list of thirty individuals that have been considered antipopes (Ibid) .This is roughly one for every ten claimed "Bishops of Rome." …

Is the Pope Catholic or Will He Betray Rome?

In some households, the expression, "Is the Pope Catholic?," is asked with the intent of suggesting a "yes" or "obviously yes" response to a question. Since the fourth century, the popes have all claimed to be Catholic (they were not called "pontifex maximus" prior to then) and the vast majority have been Roman Catholic in their faith. Some were more hypocritical, etc. and thus this author would be hesitant to claim that all the Bishops of Rome have truly held to the faith of that church.

But is it possible that the last pope, who could be Pope Francis I, will not be Roman Catholic? On the surface this seems absurd.

As discussed in chapter 2, prior to becoming Pope Francis I, Jorge Mario Bergoglio went to Catholic seminary, became a Catholic priest, then a bishop, then a cardinal, and then on March 13, 2013, the Bishop of Rome. So, to most he clearly is a Catholic. And Pope Francis I may well truly be.

But if he is the last and final pope, then the Bible shows that he will allow compromise mightily and allow the Catholic Church of Rome to be betrayed, hence suggesting that he would not then be true to the Catholic faith.

Connecting the Dots

As cited earlier, the Bible tells of a religious leader who will rise up and support the final European Beast power to the point of attempting to force people to worship that Beast (Revelation 13:11-17).

Although some have suggested that the ten-horned Beast of the Sea (Revelation 13:1-4) will turn against and burn the two-horned Beast of the Earth (Revelation 13:11), based upon the teachings of Revelation 17:16-17, since this two-horned Beast is the False Prophet of Revelation 16:13 and he gets burnt by Jesus and His angels (Revelation 19:15-21, someone or something else must get destroyed in Revelation 17.

The Bible specifies that the someone/something is a city that rules over the world. Since the time of Jesus, what are the only organizations that ruled over much of the old Roman Empire from a seven-hilled city?

They would include the old Roman Empire, the Church of Rome, and to a lessor degree, the Eastern Orthodox Church (Constantinople/ Istanbul is on seven-hills, similar to Rome and had a certain prominence for about 1,000 years). They have had relations with world rulers that have not always lived up to New Testament ideals and actually are the only ones that could possibly fit the historical record.


Now since parts of both Roman and Orthodox Catholic prophecy show that Rome wins out between the two in the end in terms of final top leader, this is consistent with the historical understanding within the Church of God that Rome is the unfaithful woman in Revelation 17. Presuming that is the case, then if one connects-the-dots, it is the Church of Rome that gets betrayed by supporters of the ten-horned Beast in Revelation 17. And since the two-horned Beast is a major supporter of the ten-horned Beast, he then has at least some responsibility in this end time destruction of the Church of Rome (for more dots to connect, see also chapters 5 and 12).

Since it should be almost inconceivable that a pope that was truly Roman Catholic in the sense of the Catechism of the Catholic Church would totally betray his church, this is why I am suggesting that the last pope will not truly be Catholic.

This destruction of Rome is consistent with various Catholic private prophecies that suggest that a top Roman clergy member (like a pope) would betray their church and oversee the destruction of Rome…

For years I have believed that the last pope would not truly be Catholic. He would be a different type of "antipope" (most antipopes occurred because of disputed elections, but I have suggested that a pontiff who does not hold too many of the core beliefs of the Church of Rome would also seem to fit the definition of an antipope).


Will Pope Francis I end up being that pontiff?

(Thiel B. The Last Pope: Do Biblical and Catholic Prophecies Point to Pope Francis? Nazarene Books, 2013, pp. 22-24, 86-89)
Pope Francis has taken steps that many Roman Catholics do not believe are appropriate for the Bishop of Rome.
Now, Francis has made publicly chiding comments to others to support the poor, one of his key positions.
National Catholic Register reported the following in 2017:
Caring for the poor is our 'passport to paradise', says Pope Francis

People have a basic choice in the way they live: either striving to build up treasures on earth or giving to others in order to gain heaven, Pope Francis has said.

"What we invest in love remains, the rest vanishes," the Pope said in his homily on Sunday, the first World Day of the Poor.

Between 6,000 and 7,000 poor people attended the Mass in St Peter's Basilica, where altar servers included the poor, migrants or homeless. …

"All too often, we have the idea that we haven't done anything wrong, and so we rest content, presuming that we are good and just," the Pope said.

"But to do no wrong is not enough. God is not an inspector looking for unstamped tickets; he is a Father looking for children to whom he can entrust his property and his plans."

If in the eyes of the world, the poor they have little value, he said, "they are the ones who open to us the way to heaven; they are our 'passport to paradise. http://www.catholicherald.co.uk/news/2017/11/20/care-for-the-poor-says-pope-francis-they-are-your-passport-to-paradise/
While people should care for the poor (cf. Galatians 2:10, 6:7-10; James 2:15-17), giving to the poor is not our "passport to paradise."
In the past, Pope Francis has condemned financial idolatry. On October 23, 2017, Zenit.org, a pro-Vatican news agency, reported the following:
"An idolatry that kills," rather, that engages in "human sacrifices," were the harsh words used by Pope Francis during the Mass this morning, October 23, 2017, to lament the present "rampant consumerism" and "attachment to money."

Thus, stressed the Pontiff, whose words were reported by Vatican Radio, there are so many people hungry for money and for earthly goods, who already have "so much," while there are so many "hungry children that don't have medicines, that don't have education, that are abandoned."

"This idolatry makes many people die of hunger," repeated Francis, who called the attention of those present to the plight of the Rohingya children.

"We think of just one case: of the 200,000 Rohingya children in refugee camps. "There are 800,000 people there" of which "200,000 are children. They have scarcely anything to eat, they are malnourished <and> without medicines," lamented the Holy Father, who will visit Myanmar in about a month's time and later Bangladesh.

"Our prayer must be strong: 'Lord, please touch the heart of these people that adore the god, the god of money,'" continued Francis, adding: "it also touches my heart, so that I won't fall in to that, that I may be able to see."

Attachment to the god of money also causes war, even within "the family," noted the Pope, thinking of the quarrels between brothers or parents over the inheritance. "We all know what happens when the inheritance is at stake: families split and end in hatred," he observed. https://zenit.org/articles/santa-marta-an-idolatry-that-kills/
The Vatican has more than enough money to help feed and better take care of those in Rohingya. But we did not hear of the Vatican parting with its vast wealth to solve this.
The Book of James teaches:
15 If a brother or sister is naked and destitute of daily food, 16 and one of you says to them, "Depart in peace, be warmed and filled," but you do not give them the things which are needed for the body, what does it profit? (James 2:15-16)
Pope Francis' pattern to berate others for keeping money, while not selling off the Vatican's vast wealth, has been a hallmark of his pontificate.
Consider that Pope Francis made a video in February 2017 related to that as well:
"Don't abandon them," appeals Pope Francis in his prayer intention on video for the month of February 2017, dedicated to "those who are afflicted, especially the poor, the refugees and the marginalized."

In the video made public on February 2, the Pope said "we live in towns that build towers, commercial centers, engage in real estate business, but leave a part of themselves on the margin, on the peripheries." 02/02/17 https://zenit.org/articles/dont-abandon-the-poor-and-the-refugees-exhorts-the-pope/
A year before that, Pope Francis made another call for others to give away their wealth:
Pope at General Audience Calls for Loosening of Purse Strings

February 10, 2016

"If the Jubilee does not come out of your pockets, it's not a true Jubilee. You understand?"

Pope Francis said this during his General Audience in St. Peter's Square this morning, his last before taking off Friday on his Apostolic Journey to Mexico, Feb. 12-18, stressing that a call to loosen the purse strings to help the needy is throughout the Bible, not something the Pope has "invented." …

Today, Francis stressed, we must ask ourselves what we have and what we can give to those who have nothing. "Ten percent, fifty percent," he said, adding, "Let the Holy Spirit inspire each of you."

"If I'm not mistaken," the Pope went on to say, "More or less, I'm not certain about the figures, but about 80% of humanity's wealth is in the hands of less than 20% of the population."

How many fruits, the Pope exclaimed, are born from donating to those in need. https://zenit.org/articles/pope-calls-for-loosening-of-purse-strings-at-general-audience/
But Pope Francis did not empty the Vatican's pockets in his 'jubilee' year. Here is information about his 'Jubilee Year of Mercy' from his Bull of Indiction where he discussed it:
The Jubilee year will close with the liturgical Solemnity of Christ the King on 20 November 2016. On that day, as we seal the Holy Door, we shall be filled, above all, with a sense of gratitude and thanksgiving to the Most Holy Trinity for having granted us an extraordinary time of grace. We will entrust the life of the Church, all humanity, and the entire cosmos to the Lordship of Christ, asking him to pour out his mercy upon us like the morning dew, so that everyone may work together to build a brighter future. How much I desire that the year to come will be steeped in mercy, so that we can go out to every man and woman, bringing the goodness and tenderness of God! May the balm of mercy reach everyone, both believers and those far away, as a sign that the Kingdom of God is already present in our midst!
Notice that Pope Francis seems to think that the Kingdom of God is already here or at least within the Church of Rome.
It is not.
The Kingdom of God will not be here until after it has been sufficiently proclaimed to the world as a witness (Matthew 24:14) and Jesus returns to establish the millennial kingdom. However, since the Church of Rome now strongly teaches against the millennial kingdom, it tends to indicate that the Kingdom of God is here or within itself. It is not, though some who are to be in it are currently alive (see also the free booklet: The Gospel of the Kingdom of God.
Back in 2013, a few days after Cardinal Jorge Mario Bergoglio became Pope Francis, he made the following statement:
"Oh, how I would like a poor Church, and for the poor." http://www.reuters.com/article/2013/03/16/us-pope-poor-idUSBRE92F05P20130316
He has repeatedly told others to give to the poor. But in his ten years as pontiff, the Vatican still retains its vast wealth and has not loosened its own purse strings significantly beyond what previous pontiffs did.
While on the surface the Pope's words are what a 'lamb' may say, could it be part of the speech of a dragon (Revelation 13:11)?
So far, Pope Francis has repeatedly made statements about the poor (e.g. Laudato Si: Pope's Agenda or Kingdom of God? and Pope tells United Nations to push wealth redistribution–a sign of Revelation 13 & 17?), but has not done much that seems tangible that way.
The Bible tells about an unfaithful harlot church that wallows in wealth (Revelation 17:1-9, 18:7). Having been to Vatican City numerous times, I have seen some of that wealth on display.
As far as Pope Francis himself, On March 22, 2013 he said:
As you know, there are various reasons why I chose the name of Francis of Assisi, a familiar figure far beyond the borders of Italy and Europe, even among those who do not profess the Catholic faith. One of the first reasons was Francis' love for the poor. How many poor people there still are in the world! And what great suffering they have to endure! After the example of Francis of Assisi, the Church in every corner of the globe has always tried to care for and look after those who suffer from want, and I think that in many of your countries you can attest to the generous activity of Christians who dedicate themselves to helping the sick, orphans, the homeless and all the marginalized, thus striving to make society more humane and more just. http://www.zenit.org/en/articles/francis-address-to-diplomatic-corps
Will he take specific steps, such as the wealth redistribution he advocates?
He has not yet.
Though he has repeatedly preached it for others.
In English, there is an expression that one should, "Put your money where your mouth is." So far, Pope Francis has not done this to any substantial degree in the years since his election to become pontiff.
Could that change?
What might happen if Pope Francis finally sells off some of the vast treasures (such as jewels and land) of the Vatican and/or gives significant amounts of money/land away to the poor?
Well, if he does that, it will likely greatly enhance the pedophile-damaged image of the Church of Rome for the media and many others around the world. This will enhance the appeal of the religion that Rome will promote. Even if it gives away only a quarter of its vast wealth.
The Bible warns that the whole world will profit financially from the final end time Babylon (Revelation 18:9, 15-19). And in addition to trade, giving away wealth and land–in conjunction with the final King of the North (Daniel 11:24, 39), that the final Antichrist will support–will be a factor in the temporal success of this condemned system.
Notice that financial pressures will be something that the Antichrist is associated with:
16 He causes all, both small and great, rich and poor, free and slave, to receive a mark on their right hand or on their foreheads, 17 and that no one may buy or sell except one who has the mark or the name of the beast, or the number of his name. (Revelation 13:16-17)
The "He" above is the two-horned beast (Revelation 13:11), also known as the False Prophet (Revelation 16:13), and Antichrist (1 John 4:1-3).
The Bible also says that the merchants of the world will have gotten wealthy from the system that the Antichrist will promote:
2 Babylon the great…has become a dwelling place of demons…a cage for every unclean and hated bird! 3…and the merchants of the earth have become rich through the abundance of her luxury. (Revelation 18:2a,b,d, 3c)
So, there are several biblical prophecies that tie the power that the Antichrist supports with a type of deceitful prosperity. Did you notice the connection to a cage of birds above? Well, then notice then also the following:
27 As a cage is full of birds,
So their houses are full of deceit.
Therefore they have become great and grown rich.
28 They have grown fat, they are sleek;
Yes, they surpass the deeds of the wicked;
They do not plead the cause,
The cause of the fatherless;
Yet they prosper,
And the right of the needy they do not defend.
29 Shall I not punish them for these things?' says the Lord.
'Shall I not avenge Myself on such a nation as this?'

30 "An astonishing and horrible thing
Has been committed in the land:
31 The prophets prophesy falsely,
And the priests rule by their own power;
And My people love to have it so.
But what will you do in the end? (Jeremiah 5:27-31)
So, the supporters of the Beast and Antichrist/False Prophet will prosper for a time, then God will punish them.
Furthermore, notice three Roman Catholic writings/prophecies about the final Antichrist:
Saint Mechtilda (died 1299): Antichrist will, through base and false strategem, and with presents of gold and gems, attain influence over the worldly princes. They will look up to him as their Lord and God (Culleton, The Reign of Antichrist, pp. 133-134).

Saint Ephrem (died 375): Antichrist will use worldly goods as bait. He will entice many Christians with money and goods to apostatize…The devil will help him find all the hidden treasures of the world, even those at the bottom of the ocean. With those treasures he will attain greater success for the reign of Satan than at any other time in past centuries (Connor, pp.73.74).

Saint Jerome (died 420): Antichrist…will gain support with many gifts and money. He will sell himself to the devil…(Connor E. Prophecy for Today. Imprimatur + A.J. Willinger, Bishop of Monterey-Fresno; Reprint: Tan Books and Publishers, Rockford (IL), 1984, p. 74).
The Bible, by the way, does mention that the King of the North will end up with a lot of gold, silver, and precious stones (Daniel 11:38,43) and that a seven-hilled/mountain-based power will have "gold and precious stones and pearls" (Revelation 17:4).
But is it possible that before the Beast rises up that the Antichrist will use material items for bait?
Might the Antichrist use some of the wealth of the Vatican to support certain European nations/leaders?
Yes. And he may point to Pope Francis' many statements (and, perhaps, his receipt of the 'Charlemagne Prize') as partial justification to use the Vatican's wealth to support Europe.
Several years ago someone asked "Ask a Catholic" about that church's wealth:
You said:

I'm wondering why the Catholic Church has such a huge amount of wealth, as can be seen in the beautiful buildings and costly objects in them, when Jesus clearly encourages us to sell all of our possessions and give to the poor?

Because the historical riches it has going back to 33 A.D. are priceless and preserved for all Christendom
Because the faithful believe in the Church and give what they can to support the Church, following the wishes you mentioned and what the Lord has asked from us.
Because of the number of faithful that make up the Church are over 1.125 billion members worldwide, 65 million in the United States.

Nevertheless, the implication in your question is that the Church does not give to the poor and neither spreads the Gospel to those who have not heard it. This is a distortion of the great outreach and support work the Church has done worldwide for centuries. http://www.askacatholic.com/_WebPostings/Answers/2011_08AUG/2011AugWhyIsTheChurchSoWealthy.cfm
While the Church of Rome does some charitable works, it still has vast wealth and is not poor. We do not find that the Apostle Peter, who many erroneously claim founded the Church of Rome (even Catholic scholars realize that he did not, see What Do Roman Catholic Scholars Actually Teach About Early Church History?), accumulated wealth. Actually, Peter once stated:
6 "Silver and gold I do not have, but what I do have I give you: In the name of Jesus Christ of Nazareth, rise up and walk." (Acts 3:6)
But this is not the case with the Church of Rome. In addition to historically receiving property and wealth from kings and emperors and the Crusades, the Church of Rome also gets a lot of bequeaths, which some believe is related to the belief that priests can help pray people out of a non-existent place called purgatory (Did the Early Church Teach Purgatory?). And yes, people have been told that the more they give to the Church of Rome the more priests will pray for them.
The Vatican does have vast wealth. Yet, whatever was accumulated in/by the Vatican since supposedly 33 A.D. was originally not anything biblical (see also What Did the Early Church Teach About Idols and Icons?).
I suspect the time will come when the Vatican will actually sell/give away/pledge some of its wealth to influence world events and affect communities. Pope Francis has been hinting at this for 5 years, so at some point in time, he probably intends to take action to match his rhetoric. This will increase his popularity with the media, European leaders, and others in the world.
If Pope Francis does not end up doing this, he, at a minimum, has made various statements that the final Antichrist and the Beast, can point to as justification for wealth distribution/asset pledging.
He, himself, appears to be too old to fill the role of the final Antichrist, the 'Peter the Roman' of the Catholic Bishop Malachy's list (see also The Malachy Prophecies and "Peter the Roman").
Some believe that Francis may not be the legitimate successor of Benedict. Now, if Francis is not counted in the Malachy list, the one who comes after him may very well be the antipope of certain Catholic prophecies.
Now, perhaps it should be mentioned that Pope Francis is more 'Marian' than most of his predecessors. So much so, he has prayed to his version of 'Mary' to protect Rome and Italy, apparently from the coronavirus:
Pope Entrusts Rome & Italy to Mary's Help & Protection

March 12, 2020

Pope Francis has entrusted Rome and all Italy to the Blessed Virgin Mary's help and protection. …

The following is the full Vatican-provided text of the video message:

***

O Mary,

You always shine on our path

as a sign of salvation and hope.

We rely on you, Health of the sick,

You who, at the cross, united with Jesus' pain,

keeping steadfast your faith.

You, Salvation of the Roman people,

you know what we need

and we are sure that you will provide

for, as at Cana of Galilee,

may joy and celebration return

after this trial.

Help us, Mother of Divine Love,

to conform to the will of the Father

and to do what we are told by Jesus,

Who has taken our suffering upon Himself

and has burdened Himself with our sorrows

to lead us through the cross,

to the joy of resurrection. Amen.

Under your protection we seek refuge, Holy Mother of God.

Do not spurn the pleas of we who are in trial

And free us from every danger, O glorious and blessed Virgin. https://zenit.org/articles/pope-entrusts-rome-italy-to-marys-help-protection/

The Bible teaches that there is one mediator:
5 For there is one God, and one mediator of God and men, the man Christ Jesus: 6 Who gave himself a redemption for all, a testimony in due times. (1 Timothy 2:5-6, DRB:
Douay-Rheims)
Mary is NOT supposed to mediate or make one attentive to what God asks.
Christians are to entrust their faith to Jesus, as the following Catholic-translation of Hebrews 12:2 shows:
2 Looking on Jesus, the author and finisher of faith (Hebrews 12:2, DRB)
We are not to call on, or turn to, Mary, but on the Lord God Jesus:
22 But flee thou youthful desires, and pursue justice, faith, charity, and peace, with them that call on the Lord out of a pure heart. (2 Timothy 2:22, DRB)
It is only through the name of Jesus that people can be saved, not Mary. Notice what the Apostle Peter taught:
8 Then Peter, filled with the Holy Spirit, addressed them, 'Rulers of the people, and elders! 9 If you are questioning us today about an act of kindness to a cripple and asking us how he was healed, 10 you must know, all of you, and the whole people of Israel, that it is by the name of Jesus Christ the Nazarene, whom you crucified, and God raised from the dead, by this name and by no other that this man stands before you cured. 11 This is the stone which you, the builders, rejected but which has become the cornerstone. Only in him is there salvation; 12 for of all the names in the world given to men, this is the only one by which we can be saved.' (Acts 4:8-12, NJB)
The more Pope Francis emphasizes Mary, the less people will understand about Jesus.
Instead of relying on Jesus as a true Christian should, Pope Francis continues to push for his version of Mary.
And, he also has been using Marianism as part of his interfaith and ecumenical agendas.
The Continuing Church of God put out the following video on our Bible New Prophecy YouTube channel:
Some cardinals and other members of the Roman Catholic clergy are concerned that Pope Francis has deviated from its traditional positions on matters such as homosexuality, salvation, fornication, remarriage, and other doctrines.  Australian Cardinal George Pell even mentioned 'antipopes' when discussing Pope Francis.  North American Cardinal Raymond Burke has raised many concerns about Francis' pontificate.  Did Catholic saints teach that popes could become heretics?  Will the final pope not be Catholic? Is an ecumenical pontiff possibly the final Antichrist? What do both biblical, and even Roman Catholic, prophecies warn about?  Could Pope Francis be an antipope and final Antichrist?
Here is a link to our video:  Anti-Pope Francis?
Francis' pushing the ecumenical and interfaith agendas, while watering down certain aspects of Roman Catholicism will make it that much easier for an antipope, who according to various Roman Catholic writings would be the final Antichrist, to rise up.
Some items of related interest may include:
Beliefs of the Original Catholic Church: Could a remnant group have continuing apostolic succession? Did the original "catholic church" have doctrines held by the Continuing Church of God? Did Church of God leaders uses the term "catholic church" to ever describe the church they were part of? Here are links to related sermons: Original Catholic Church of God?, Original Catholic Doctrine: Creed, Liturgy, Baptism, Passover, What Type of Catholic was Polycarp of Smyrna?, Tradition, Holy Days, Salvation, Dress, & Celibacy, Early Heresies and Heretics, Doctrines: 3 Days, Abortion, Ecumenism, Meats, Tithes, Crosses, Destiny, and more, Saturday or Sunday?, The Godhead, Apostolic Laying on of Hands Succession, Church in the Wilderness Apostolic Succession List, Holy Mother Church and Heresies, and Lying Wonders and Original Beliefs. Here is a link to that book in the Spanish language: Creencias de la iglesia Católica original.
Laudato Si: Pope's Agenda or Kingdom of God? Pope Francis' 2nd encyclical is titled 'Laudato Si.' In it, he goes over his views related to environmental, economic, social, moral, agricultural, and spiritual issues. He advocates international cooperation to solve various problems he
Do You Practice Mithraism? Many practices and doctrines that mainstream so-called Christian groups have are the same or similar to those of the sun-god Mithras. December 25th was celebrated as his birthday. Do you follow Mithraism combined with the Bible or original Christianity? A sermon video from Vatican City is titled Church of Rome, Mithras, and Isis?
What Did the Early Church Teach About Idols and Icons? Did Catholic and Orthodox "saints" endorse or condemn idols and icons for Christians? A related sermon is available: The Second Commandment, Idols, and Icons.
Freemasonry and the Destruction of Rome? What is Freemasonry? What about ties to the Illuminati? Could they be involved in the fulfillment of prophecy? Here is a link to a related sermon: Freemasonry, Armageddon, and Rome.
What Do Roman Catholic Scholars Actually Teach About Early Church History? Although most believe that the Roman Catholic Church history teaches an unbroken line of succession of bishops beginning with Peter, with stories about most of them, Roman Catholic scholars know the truth of this matter. Is telling the truth about the early church citing Catholic accepted sources anti-Catholic? This eye-opening article is a must-read for any who really wants to know what Roman Catholic history actually admits about the early church. There is also a YouTube sermon on the subject titled Church of God or Church of Rome: What Do Catholic Scholars Admit About Early Church History?
United Nations: Humankind's Last Hope or New World Order? Is the UN the last hope for humanity? Or might its goals end up with sinister results? A related video would be United Nations and Vatican Are Planning the New World Order.
Europa, the Beast, and the Book of Revelation discusses the largest church since the second/third century, which in a real sense is the eighth church mentioned in the Book of Revelation (it also endorses "eighth day" worship). What church would support the Beast? Here is a link to a video titled: Can You Prove that the Beast to Come is European?
Why Should American Catholics Fear Unity with the Orthodox? Are the current ecumenical meetings a good thing or will they result in disaster? Is doctrinal compromise good? Here is a link to a related video Should you be concerned about the ecumenical movement?
Will the Interfaith Movement Lead to Peace or Sudden Destruction? Is the interfaith movement going to lead to lasting peace or is it warned against? A video of related interest could be Do You Know That Babylon is Forming?
Pope Francis: Could this Marian Focused Pontiff be Fulfilling Prophecy? Pope Francis has taken many steps to turn people more towards his version of 'Mary.' Could this be consistent with biblical and Catholic prophecies? This article documents what has been happening. There is also a video version titled Pope Francis: Could this Marian Focused Pontiff be Fulfilling Prophecy?
The Gospel of the Kingdom of God This free online pdf booklet has answers many questions people have about the Gospel of the Kingdom of God and explains why it is the solution to the issues the world is facing. Here are links to four related sermons:  The Fantastic Gospel of the Kingdom of God!, The World's False Gospel, The Gospel of the Kingdom: From the New and Old Testaments, and The Kingdom of God is the Solution.
Can the Final Antichrist be Islamic? Is Joel Richardson correct that the final Antichrist will be Islamic and not European? Find out. A related sermon is titled: Is the Final Antichrist Islamic or European? Another video is Mystery Babylon USA, Mecca, or Rome?
Christ or Antichrist? 1961 article by David Jon Hill, originally published in the old Good News magazine.
Will You Be Deceived by Antichrist? 1964 article by David Jon Hill, originally published in the old Good News magazine.
Satan's Plan Does Satan have a plan? What is it? Has it already been successful? Will it be successful in the future? Here are links to a two-part sermon series: What are Some of the Parts of Satan's Plan? and Satan's Plan is More Dramatic than Many Realize.
Do Certain Greco-Roman Catholic Prophecies About Antichrist Warn Against Jesus? Will the final "Anti-Christ" be Jewish, insist on Saturday, be opposed to the trinity, and bring in the millennium? Certain Catholic writings indicate this, while others take a different view, but what does the Bible show? A related sermon is Will Jesus Christ be called the Antichrist?
Some Doctrines of Antichrist Are there any doctrines taught outside the Churches of God which can be considered as doctrines of antichrist? This article suggests at least three. It also provides information on 666 and the identity of "the false prophet." Plus it shows that several Catholic writers seem to warn about an ecumenical antipope that will support heresy. You can also watch a video titled What Does the Bible teach about the Antichrist?
Could Pope Francis be the Last Pope and Antichrist? According to some interpretations of the prophecies of the popes by the Catholic saint and Bishop Malachy, Pope Francis I is in the position of "Peter the Roman," the pontiff who reigns during tribulations until around the time of the destruction of Rome. Do biblical prophecies warn of someone that sounds like Peter the Roman? Could Francis I be the heretical antipope of Catholic private prophecies and the final Antichrist of Bible prophecy? This is a YouTube video.
The Malachy Prophecies and "Peter the Roman" An Irish bishop allegedly predicted something about 112 popes in the 12th century. Pope Benedict XVI was number 111. Francis would seem to be number 112–if he is that one–and if so, he is to reign until Rome is destroyed. May he be an antipope/final Antichrist?
The Last Pope Do Biblical and Catholic Prophecies Point to Pope Francis? Why might Pope Francis be the last pope? What happens if he is? Biblical and other prophecies help explain what to expect.
The Last Pope: Do Biblical and Catholic Prophecies Point to Pope Francis? Amazon Book What does the Bible say about a pope near this time? Is the final pope to be an antipope and antichrist? Does Catholic prophecy point to Pope Francis as being the dreaded "Peter the Roman"? This 186 page book provides information and answers.
The Last Pope: Do Biblical and Catholic Prophecies Point to Pope Francis? Kindle This electronic version of the printed book which is available for only US$2.99. And you do not need an actual Kindle device to read it. Why? Amazon will allow you to download it to almost any device: Please click HERE to download one of Amazon s Free Reader Apps. After you go to for your free Kindle reader and then go to The Last Pope: Do Biblical and Catholic Prophecies Point to Pope Francis? Kindle.