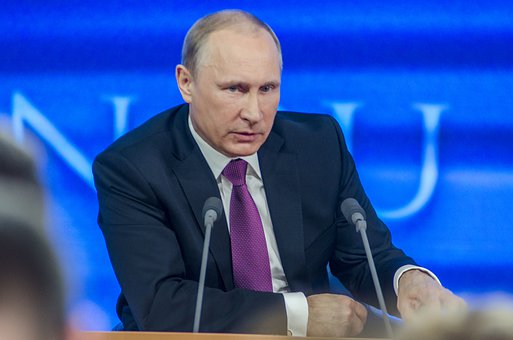 Vladimir Putin (Pixabay)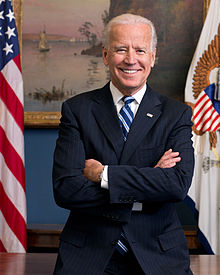 Joe Biden
(Official White House Photo)

The Associated Press (AP) reported the following:
Putin points finger at US after Biden's 'killer' remark

March 18, 2021

MOSCOW (AP) — Russian President Vladimir Putin said Thursday that U.S. President Joe Biden's remarks about him reflect U.S. own past and current problems.

Biden was asked in an interview whether he thought Russian President Vladimir Putin is a killer and said "I do." Russia on Wednesday announced it's recalling its ambassador in Washington for consultations.

Asked about Biden's remarks during a video call with residents of Crimea marking the anniversary of its 2014 annexation from Ukraine, Putin charged that they reflect the United States' own troubled past.

The Russian leader pointed at America's past history of slaughtering Native Americans and slavery, arguing that the painful legacy has weighed on the United States.

"Otherwise where would the Black Lives Matter movement come from," he said.

He added that Russia would still cooperate with the United States where it answers Moscow's interests.

Putin's spokesman Dmitry Peskov deplored what he called "very bad remarks by the U.S. president" that made it clear that "he doesn't want to normalize relations." https://apnews.com/article/joe-biden-moscow-us-news-russia-united-states-bf49dbdd1dd47dc90aba36a67b344727
When I heard Joe Biden's remarks, I also concluded that he did not want to normalize relations with Russia. I also thought that there is a reason that the White House has been having Kamala Harris deal with certain foreign leaders (see Another memory gaffe from Joe Biden: Might Kamala Harris take power early?).
Here is more on the Biden and Putin remarks:
President Vladimir Putin has said it "takes one to know one" after US President Joe Biden said he thought the Russian leader was a killer. Russia's ambassador in the US is set to return to Moscow for urgent talks.

18 March 2021

President Vladimir Putin on Thursday said he thought Joe Biden's comments about him mirrored the United States' own past and current problems.

Russia has ordered its US ambassador to return to Moscow after Biden agreed with the notion that his Russian counterpart was a killer. Biden also said that Putin would face retaliation for election interference.

What did Putin and the Kremlin say?

When asked to comment on Biden's remarks, Putin responded that there was "deep psychological meaning in it."

"We always see in another person our own qualities and think that they are the same as us," Putin said in televised remarks.

The Russian leader proposed that Biden's comments were related to the US's own history of slaughtering Native Americans and slavery, and even linked them to the Black Lives Matter movement.

Putin said Moscow would not sever ties with Washington over the matter, but that it would work with the United States on terms "beneficial" to Russia.

Meanwhile, Kremlin spokesman Dmitry Peskov described Biden's comments as "very bad." Peskov said it showed Biden had no interest in improving Washington's strained ties with Moscow. …

What exactly did Joe Biden say?

In an ABC news interview, Joe Biden said "I do" when asked if he believed Putin — who some accuse of ordering the assassinations of his political opponents — was a killer.

Biden also responded to questions about a US intelligence report that Putin tried to harm his candidacy in the November 2020 election in favor of Donald Trump's.

"He will pay a price," said 78-year-old Biden. "You'll see shortly."

What has been the reaction in Russia?

DW's Moscow correspondent Emily Sherwin said Biden's words had made big news in Russia.

"Politicians here in Russia have been calling these statements from Biden hysterical, unpresidential — a provocation. You have to understand that this is a personal insult against Vladimir Putin in a country where, essentially, Putin is considered almost untouchable on the political landscape. Even his critics usually level their accusations more generally at the Kremlin or at the government."

The deputy chairman of the Russian parliament's upper house, Konstantin Kosachyov, said Biden's comments ended hopes of a change in US policy towards Russia under the new administration. https://www.dw.com/en/putin-quips-biden-comments-reflect-us-past-and-present-issues/a-56912167

March 18, 2021

President Joe Biden must apologize and take back "boorish" allegations that Kremlin leader Vladimir Putin is a killer, a top Russian official said, a day after Moscow recalled its ambassador in protest.

Biden's remark is a "watershed" in relations and "unacceptable in any circumstances," Konstantin Kosachyov, deputy speaker of Russia's upper house of parliament, wrote on Facebook Thursday. Moscow's initial reaction — recalling its U.S. ambassador — "won't be the last, unless there is an explanation and an apology from the American side."

In the first public response from the Kremlin, spokesman Dmitry Peskov said the comments were "very bad." Calling the statement unprecedented in the history of U.S.-Russian ties, Peskov said it shows Biden "clearly doesn't want to develop relations." https://www.newsmax.com/newsfront/biden-putin-russia-killer/2021/03/18/id/1014240/
Joe Biden undoubtedly thinks that he has the upper hand in this and that nothing Russia will do will hurt him enough to matter.
While that may or may not be personally true for Joe Biden (as he may not live until the time the USA is taken over), he does not seem to realize that since he is pushing Russia to be seriously opposed to the USA, that the time will come when Russia will support the military end of the USA. Russia will end up in support of Europe, for a time.
Related to the USA pushing Europe and Russia closer, the Continuing Church of God (CCOG) put together the following video on our Bible News Prophecy YouTube channel during the Trump Administration:
A recent headline was "Is Trump Pushing Germany to Russia?" There have been comments by German and Russian leaders that they have aligned interests that Donald Trump opposes and need to take financial, military, and other steps to assist Europe. Russia and the EU (European Union) still support the Iran nuclear deal, Paris Climate accords, and the World Trade Organization, despite Donald Trump's actions against them. Have there been comments to replace the USA's SWIFT system by the Russians and Germans? What is Russia's MIR payment system? What about talks for the EU to have trade and other arrangements with the EAEU (Eurasian Economic Union)? Did the old Radio Church of God foretell of the development of a Russian and German plan to eliminate the USA? Has Russia indicated that it wants Alaska back? Is the giving of USA territories to Russia by a coming European leader consistent with a prophecy in the Book of Daniel?
Here is a link to our video: Is Donald Trump pushing Europe to Russia?
While the mainstream media correctly pushed the idea that Donald Trump did not always use 'diplomatic' language, their stated hope that this would change with a Biden Administration is not happening.
Russia is not happy about this.
Back in 1962, notice something that the old Radio Church of God published:
Modern Europe is counseling and making treaties and alliances and agreements to conquer this earth! … Germany, those living in Germany, even the German government, may not yet know that they are going to join in a treaty with the Russians to destroy the United States and bring it to its knees-it is not in his "heart" to think so, but on the other hand it IS in his "heart" to destroy-the very characteristic of the Assyrian, the modern German, is a harsh, cruel, iron, dedication to militarism and destruction! … MAN'S ONLY HOPE LIES IN TURNING TO HIS CREATOR GOD! "At what instant I shall speak concerning a nation, and concerning a kingdom. to pluck up, and to pull down, and to destroy it; If that nation, against whom I have pronounced, TURN FROM THEIR EVIL, I will repent of the evil that I thought to do unto them… Behold, I frame evil against YOU, and devise a device against YOU: return ye now EVERY ONE from his evil way and make your ways and your doings good!" (Jer. 18:7, 8, 11). The case of America and Great Britain is hopeless! The case of America and Great Britain is hopeless! (Hill DJ, God's Destiny for Germany. Plain Truth, March 1962, pp. 28-29)

The German people are now asking themselves: "Can we rely on the Americans and British?" … These questions lead to the logical conclusion that maybe the only people the Germans can rely on themselves. They are now thinking: "Perhaps we can strike a better bargain with the Russians ourselves." …

Once a German-dominated Europe is fully established, Germany will be ready to negotiate and bargain with Russia- and behind the backs of the Western Allies if necessary. …

When will a Russo-German deal be made? Here is a quotation from a circular letter issued in September, 1950 by the Nazi Geo-political Center in Madrid: "However long we may continue to milk the Americans of millions of dollars, there must come the inevitable moment when we shall have to make it crystal clear to them that we are not willing to join the fight against Russia for American interests … (Germany Plots with the Kremlin by T H. Terens, p. 15). …

Most Americans and Britons are not aware of what Germany and Europe are planning against them. This is partly due to the cunning of German. politics. …

World events are moving swiftly toward the climax when Great Britain and the United. States will be attacked, conquered and DESTROYED! (Boraker R. Are the Germans Secretly Dealing with Moscow? Plain Truth, May 1962, pp. 45-47)
Yes, I, too, expect that Russia will make a deal with the Europeans. Some have been hinted at this century (see Greece begs Germany's Merkel not to throw them 'overboard,' while it makes deals with Russia; see als0 Vladimir Putin allegedly helped stop a Grexit).
A deal that will not end well for the USA.
Consider that although Russia sold Alaska to the United States in the 1800s, there have been reports that it wants it back.
Apparently, even Stalin may have wanted to regain it according to the following story:
Atlanta Journal Constitution – Aug 7, 2010   excerpt…

Nearly 60 years ago, Alexander Vitebsky was a young Soviet officer stationed in Siberia, part of a massive force assembled to try to fulfill Joseph Stalin's dream of invading Alaska.

"It was very secretive," said Vitebsky, who, for decades afterward, also carried a secret — he dreamed of coming to America. "We didn't buy what we were told about America." (http://www.ajc.com/news/atlanta/atlantas-public-housing-is-587310.html)
Furthermore, notice:
Offshoot of Russian Orthodox Church Thrives in AlaskaAugust 5, 2017

Alaska is the biggest – yet one of the least populated American states. There are just over 741,000 people living there – oil industry workers, adventurers from all over the U.S., Native Alaskans, immigrants. Within this complex cultural mosaic there is a group known as Russian Old believers. Nearly 50 years ago, they established a village called Nikolaevsk on Alaska's Kenai peninsula. https://www.voanews.com/a/offshoot-russian-orthodox-church-thrives-in-alaska/3973089.html
Oddly, even Democratic Congressman Adam Schiff voiced concerns that Russia could end up with Alaska:
February 3, 2020

Adam Schiff of California claimed during closing arguments in the Senate impeachment trial Monday that President Donald Trump will sell a U.S. state to the Russian government if not removed from office.

If "abuse of power" was not impeachable, Schiff argued, "then a whole range of utterly unacceptable conduct in a president would now be beyond reach."

"Trump could offer Alaska to the Russians in exchange for support in the next election, or decide to move to Mar-A-Lago permanently and leave Jared Kushner to run the country, delegating to him the decision whether they go to war." https://thefederalist.com/2020/02/03/schiff-trump-will-sell-alaska-to-russia-if-we-dont-impeach-him/
Now at that time I wrote that Donald Trump was not about to give Alaska to Russia. But the fact that Congressman Schiff brought it up shows that at least he thinks that Russia still wants Alaska back.
That being said, a while back, a Russian Professor has forecast that Russia would end up with Alaska:
MOSCOW — For a decade, Russian academic Igor Panarin has been predicting the U.S. will fall apart…Prof. Panarin, 50 years old, is not a fringe figure. A former KGB analyst, he is dean of the Russian Foreign Ministry's academy for future diplomats…

When the going gets tough, he says, wealthier states will withhold funds from the federal government and effectively secede from the union. Social unrest up to and including a civil war will follow. The U.S. will then split along ethnic lines, and foreign powers will move in…

"It would be reasonable for Russia to lay claim to Alaska; it was part of the Russian Empire for a long time." A framed satellite image of the Bering Strait that separates Alaska from Russia like a thread hangs from his office wall. "It's not there for no reason," he says with a sly grin.

(Osborn A. As if Things Weren't Bad Enough, Russian Professor Predicts End of U.S.  Wall Street Journal, Dec 29, 2008 http://online.wsj.com/article/SB123051100709638419.html).
It is certainly possible that if Russia makes a deal with the rising European Beast power that it may end up with Alaska.
Notice the following prophecy:
39 Thus he shall act against the strongest fortresses with a foreign god, which he shall acknowledge, and advance its glory; and he shall cause them to rule over many, and divide the land for gain (Daniel 11:39).
The "he" is the European King of the North (cf. Daniel 11:40). The power with the strongest military in the 21st century is the USA. Since Bible prophecy points to Anglo-lands being divided in various scriptures (for more than Daniel 11:39, see Will the Anglo-Nations be Divided?), Russia may well end up with some of all of Alaska and maybe even parts of Canada.
It has been claimed that Russia wants more than Alaska:
After annexing Crimea and with troops massed on the border of Ukraine, Vladimir Putin will not stop trying to expand Russia until he has "conquered" Belarus, the Baltic states and Finland, one of his closest former advisers has said.

According to Andrej Illarionov, the President's chief economic adviser from 2000 to 2005, Mr Putin seeks to create "historical justice" with a return to the days of the last Tsar, Nicholas II, and the Soviet Union under Stalin.

Speaking to the Swedish newspaper Svenska Dagbladet, Mr Illarionov warned that Russia will argue that the granting of independence to Finland in 1917 was an act of "treason against national interests".

"Putin's view is that he protects what belongs to him and his predecessors," Mr Illarionov said.

"Parts of Georgia, Ukraine, Belarus, the Baltic States and Finland are states where Putin claims to have ownership. http://www.independent.co.uk/news/world/europe/vladimir-putin-wants-to-regain-finland-for-russia-adviser-says-9224273.html
The desire for an expanded empire is part of the reason for the formation of the Eurasian Economic Union (EAEU), which Belarus is now part of.
Speaking of the Eurasian Economic Union, it reportedly is progressing economically and Iran wants in:
MOSCOW, 17 March (BelTA) – In January 2021 mutual trade in merchandise between countries of the Eurasian Economic Union (EAEU) rose by 3.3% in comparison with January 2020, BelTA learned from Iya Malkina, Aide to Chairman of the Board of the Eurasian Economic Commission Mikhail Myasnikovich.

According to the Statistics Department of the Eurasian Economic Commission, the volume of mutual merchandise trade inside the Eurasian Economic Union totaled $4.2 billion in January 2021, 3.3% up or $133.7 million up from January 2020. https://eng.belta.by/economics/view/domestic-merchandise-trade-in-eurasian-economic-union-33-up-in-january-138282-2021/

The Russia-dominated Eurasian Economic Union might soon be acquiring a new member: Iran. Boxed in because of its rivalry with other states in the Middle East, and laboring under US-imposed sanctions, Tehran believes it needs to strengthen ties with such neighbors as might be willing to accept it. …

On the face of it, there are reasons for Tehran and Moscow to support Iran's inclusion into the bloc. The economic area is an integrated market of 180 million people with a combined GDP of more than US$5 trillion; it encourages the free movement of goods and services and can formulate common policy in key areas such as energy, agriculture, transport, customs, and foreign trade and investment.

Iran already has had a free-trade agreement with the Eurasian union since 2018. In 2020, trade turnover between Iran and the EAEU increased by 2%, exceeding $2 billion, despite the Covid-19 pandemic. 02/25/21 https://asiatimes.com/2021/02/iran-wants-to-join-eurasian-union-but-will-russia-allow-it/
The remarks from Joe Biden are likely to drive Russia closer to Iran, other EAEU members, and the Europeans.
This will not end well for the USA.
Some items of possibly related interest may include:
Russia and Ukraine: Their Origins and Prophesied Future Russia in prophecy. Where do the Russians come from? What about those in the Ukraine? What is prophesied for Russia and its allies? What will they do to the Europeans that supported the Beast in the end? There is also a video sermon available: Russia in the Bible and in Prophecy and a video sermonette available: Ukraine in Prophecy?
Is Russia the King of the North? Some claim it is. But what does the Bible teach? Here is a link to a video, also titled Is Russia the King of the North?
Ezekiel 38: For Russia & Iran in Our Day? Is Ezekiel 38 about to be fulfilled? Are we close to the battle with Gog and Magog? Three related videos are available: Ezekiel 38 Gog and Magog War: Is it Soon?, Ezekiel 38: For Russia, Ukraine, & Iran Now?, and Russia, Iran, Syria, & the Bible (Code).
Armageddon Who is involved and when will this gathering happen? Here is also a video from Dr. Thiel, from Tel Megiddo in Israel: Armageddon. Other videos include: Armageddon Will it come on Trump's watch?, Iraq, Armageddon, & Prophecy, Freemasonry, Armageddon, and Rome, Is China paving roads to Armageddon?, and Jordan, Petra, and Armageddon.
China's Silk Road and Babylon the Great China has been embarking on a multi-trillion dollar project to build roads and ports to connect more of Asia, Africa, the Middle East, and Europe to it. This has been called the 'Belt and Road Initiative,' Silk Road Project, Silk Road 2.0, and the One Belt, One Road Initiative. While this is expected to benefit Chinese trade (as well as provide infrastructure for the gathering at Armageddon), could this also benefit the rise of Babylon the Great foretold in the Book of Revelation and scriptures in the Old Testament? What about the proposed Polar Silk Road? Will the benefits to Europe last or will the end time 'daughter of Babylon' possibly face invasion from nations involved with the Silk Road project? Dr. Thiel addresses these issues with scriptures from the Bible in this video.
Is China paving roads to Armageddon? China is working on something known as the 'Silk Road' project or the "One Belt, One Road" initiative. NBC reports that China intends to spend one trillion dollars to build roads, bridges, railroads, and maritime facilities to reach from China to Europe and China to the Middle East. Over 60 nations, including Russia, are involved with this. Could this Silk Road project possibly produce thoroughfares that could be used by troops that will amass at Armageddon? Dr. Thiel discusses this project and some of its potential prophetic ramifications in this video.
China, Its Biblical Past and Future, Part 1: Genesis and Chinese Characters Where did the Chinese people come from? This article provides information showing that the Chinese peoples must have known about various accounts in the Book of Genesis up until their dispersion after the Tower of Babel. Here is a link to a version of this article in Spanish: ¿Prueban los caracteres chinos la exactitud de la Biblia?
China, Its Biblical Past and Future, Part 2: The Sabbath and Some of God's Witness in China When did Christianity first come to China? And is there early evidence that they observed the seventh day sabbath?
Asia in Prophecy What is Ahead for Asia? Who are the "Kings of the East"? What will happen to nearly all the Chinese, Russians, Indians, and others of Asia? China in prophecy, where? Who has the 200,000,000 man army related to Armageddon? A YouTube video of interest may be Is China THE Threat to the United States of America?
The Eurasian Union, the Kings of the East, and Bible Prophecy Is there a Eurasian union that will be formed? Is one being formed right now? Are any leaders working on that in the 21st century? Does the Bible teach that there will be a Eurasian union? If some type of Eurasian union is formed, who might it benefit and who will it destroy? A related video would be Is The Eurasian Union Rising?
Europa, the Beast, and Revelation Where did Europe get its name? What might Europe have to do with the Book of Revelation? What about "the Beast"? Is an emerging European power "the daughter of Babylon"? What is ahead for Europe? Here is a link to a video titled: Can You Prove that the Beast to Come is European?
European Technology and the Beast of Revelation Will the coming European Beast power would use and develop technology that will result in the taking over of the USA and its Anglo-Saxon allies? Is this possible? What does the Bible teach? Here is a related YouTube video: Military Technology and the Beast of Revelation.
USA in Prophecy: The Strongest Fortresses Can you point to scriptures, like Daniel 11:39, that point to the USA in the 21st century? This article does. Two related sermon are available: Identifying the USA and its Destruction in Prophecy and Do these 7 prophesies point to the end of the USA?
Who is the King of the West? Why is there no Final End-Time King of the West in Bible Prophecy? Is the United States the King of the West? Here is a version in the Spanish language: ¿Quién es el Rey del Occidente? ¿Por qué no hay un Rey del Occidente en la profecía del tiempo del fin? A related sermon is also available: The Bible, the USA, and the King of the West.
Who is the King of the North? Is there one? Do biblical and Roman Catholic prophecies for the Great Monarch point to the same leader? Should he be followed? Who will be the King of the North discussed in Daniel 11? Is a nuclear attack prophesied to happen to the English-speaking peoples of the United States, Great Britain, Canada, Australia, and New Zealand? When do the 1335 days, 1290 days, and 1260 days (the time, times, and half a time) of Daniel 12 begin? When does the Bible show that economic collapse will affect the United States? In the Spanish language check out ¿Quién es el Rey del Norte? Here are links to two related videos: The King of the North is Alive: What to Look Out For and The Future King of the North.
Does God Have a 6,000 Year Plan? What Year Does the 6,000 Years End? Was a 6000 year time allowed for humans to rule followed by a literal thousand year reign of Christ on Earth taught by the early Christians? Does God have 7,000 year plan? What year may the six thousand years of human rule end? When will Jesus return? 2028 or or 2031 or 20xx? There is also a video titled 6000 Years: When will God's Kingdom Come? Here is a link to the article in Spanish: ¿Tiene Dios un plan de 6,000 años?
Might the U.S.A. Be Gone by 2028? Are there prophetic reasons to believe that the USA will not last two complete presidential terms? Yes. There is a tradition attributed to the Hebrew prophet Elijah that humanity had 6,000 years to live before being replaced by God's Kingdom. There are scriptures, writings in the Talmud, early Christian teachings that support this. Also, even certain Hindu writings support it. Here is a link to a related video: Is the USA prophesied to be destroyed by 2028? In Spanish: Seran los Estados Unidos Destruidos en el 2028?
When Will the Great Tribulation Begin? 2021, 2022, or 2023? Can the Great Tribulation begin today? What happens before the Great Tribulation in the "beginning of sorrows"? What happens in the Great Tribulation and the Day of the Lord? Is this the time of the Gentiles? When is the earliest that the Great Tribulation can begin? What is the Day of the Lord? Who are the 144,000? Here is a version of the article in the Spanish language: ¿Puede la Gran Tribulación comenzar en el 2020 o 2021? ¿Es el Tiempo de los Gentiles? A related video is: 2021: The Great Tribulation or the Great Reset? Here is a video in the Spanish language: Es El 2021 el año  de La Gran Tribulación o el Grande Reseteo Financiero.
Is a Great Reset Coming? Klaus Schwab of the World Economic Forum has proposed a societal change that has been basically endorsed by the Vatican and many world leaders. Does the Bible prophesy a major reset? Here is a link to a related video: Will there be a "Great Reset"?
The Times of the Gentiles Has there been more than one time of the Gentiles? Are we in it now or in the time of Anglo-America? What will the final time of the Gentiles be like? A related sermon is available and is titled: The Times of the Gentiles.
Armageddon Who is involved and when will this gathering happen? Here is also a video from Dr. Thiel, from Tel Megiddo in Israel: Armageddon. Other videos include: Armageddon Will it come on Trump's watch?, Iraq, Armageddon, & Prophecy, Freemasonry, Armageddon, and Rome, Is China paving roads to Armageddon?, and Jordan, Petra, and Armageddon.
Biden-Harris: Prophecies and Destruction Can the USA survive two full presidential terms? In what ways are Joe Biden and Kamala Harris apocalyptic? This book has hundreds of prophecies and scriptures to provide details.  A Kindle version is also available and you do not need an actual Kindle device to read it. Why? Amazon will allow you to download it to almost any device: Please click HERE to download one of Amazon s Free Reader Apps. After you go to your free Kindle reader app (or if you already have one or a Kindle),  you can go to: Biden-Harris: Prophecies and Destruction (Kindle) to get the book in seconds.