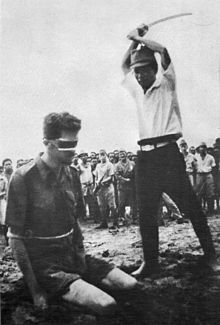 Australian Sgt. Leonard Siffleet Beheading (1943)
Australia made its largest anti-terrorism raid ever today:
September 18, 2014

The emerging reality of terrorism in Australia struck home just before dawn on Thursday when more than 800 police launched synchronised raids on houses and vehicles across Sydney's west and north-west, and Brisbane's south.

The raids foiled a plot involving a man believed to be Australia's most senior Islamic State member who called contacts in Australia and asked them to carry out a campaign of random public beheadings in Sydney and Brisbane, the ABC understands.

Mohammad Ali Baryalei, a former Kings Cross bouncer and part-time actor, is understood to have made the instruction to kidnap people in Brisbane and Sydney and have them executed on camera. That video was then to be sent back to IS's media unit, where it would be publicly released.

Omarjan Azari, 22, from the western Sydney suburb of Guildford, was one of 15 people detained during the operation in Sydney and is accused of conspiring with Mr Baryalei and others to act in preparation or plan a terrorist act or acts, court documents show. …

The charge relates to activity from May this year, well before the Federal Government publicly spoke about sending troops to fight IS in Iraq.

"The law enforcement authorities became aware of information in May of this year that a group of people in Sydney were at least talking about plans to carry out random attacks on individuals in Australia and they were kept under surveillance," Federal Attorney-General George Brandis told Macquarie Radio. …

About 200 people from Sydney's Muslim community held a protest against the raids outside Lakemba station on Thursday night.  http://www.abc.net.au/news/2014-09-18/authorities-thwart-beheading-plot-in-australias-biggest-raid/5754276

September 18, 2014
SYDNEY—Australia has launched its biggest-ever counter-terrorism operation at homes and businesses in Sydney and Brisbane. Officials say 800 heavily armed police officers have taken part in the raids, in which 15 people have been arrested so far and one formally charged.The Prime Minister Tony Abbott said the series of anti-terror raids across Sydney and Brisbane were prompted by a senior Islamic State militant ordering "demonstration killings" in Australia.

Media reports have alleged that conspirators planned to abduct a random member of the public in Sydney, drape them in an Islamic State flag and behead them on camera.

Hundreds of police officers raided properties across two of Australia's biggest cities, Sydney and Brisbane.

A 22-year-old Sydney man Omarjan Azari faces charges of conspiracy to prepare for a terrorist attack on Australian soil.

Prosecutors told the court the alleged offense was "clearly designed to shock, horrify and terrify the community."

The New South Wales police commissioner Andrew Scipione says the raids succeeded in making Australia safer. …
On Sunday, Prime Minister Abbott said Canberra would send 600 troops and warplanes to join U.S.-led efforts to stop the advance of Islamic State militants in Iraq.  http://www.voanews.com/content/australia-thwarts-terror-plot/2453738.html
Australia is clearly deeply affected and now more in Australia and others realize this.  Many in the Islamic community in Australia are concerned that not only are they being harassed by the government, that more individuals will take actions against them and that all of this may result in more Muslims turning against Australia.  This is consistent with various biblical prophecies (Psalm 83:3-8; Deuteronomy 32:25; Psalms 73:12,19).
I do believe that Australia is is subject to terrorist attacks, and will be attacked internally by terrorists and then eventually taken over from outsiders consistent with the following prophecy:
25 The sword shall destroy outside; There shall be terror within (Deuteronomy 32:25)
The above also applies to the USA, UK, and others.
Of course, it is in the Middle East that the Islamic State is doing the most terrorism, and it has apparently succeeded in taking other villages which, if it holds to its past actions, will result in murder and other forms of terrorism to most in them:
September 18, 2014

BEIRUT—Islamic State fighters captured villages and besieged a Kurdish city in northern Syria near the border with Turkey on Thursday in a major assault that prompted a commander to appeal for military aid from other Kurds in the region. …

In an advance near the border with Turkey, Islamic State fighters using heavy weaponry including tanks seized a group of Kurdish villages near the city of Ayn al-Arab, also known as Kobani. The Observatory said 21 villages had fallen to Islamic State fighters advancing on the city.

"We've lost touch with many of the residents living in the villages that ISIS [Islamic State] seized," Ocalan Iso, deputy head of the Kurdish forces in Kobani, told Reuters via Skype.

He said the group was committing massacres and kidnapping women in the newly-seized areas. …

Redur Xelil, spokesman for the main armed Kurdish group in Syria, the YPG, said Islamic State had encircled Kobani.

The group was using tanks, rockets and artillery in the attack. "We call on world powers to move to halt this barbaric assault by ISIS," he told Reuters via Skype. http://www.voanews.com/content/islamic-state-fighters-seize-syrian-villages/2453910.html
If the Kurdish city is taken over, it will not end well for the Kurds within it.
Despite USA, Australian, and other military efforts, the Islamic State is moving forward in some areas.  And while I remain of the view that the Islamic State will not lead the final King of the South of Bible prophecy (Daniel 11:40-43), I do believe that the actions of groups like the Islamic State are leading the West to push for a confederation to deal with them that can lead to the rise of the aforementioned King of the South (watch also the video Obama Administration Pushing for an Islamic Empire?).
The Islamic State is not the only threat. Notice the following related to al Qaeda:
September 18, 2014

WASHINGTON — The Islamic State of Iraq and Syria (ISIS) may be dominating the headlines and stealing attention with its prolific propaganda, but CBS News' Bob Orr reports, another group in Syria — one few have even heard of because information about it has been kept secret — is considered a more urgent concern.

Sources tell CBS News that operatives and explosives experts from Osama bin Laden's old al Qaeda network may again present an immediate threat to the U.S. homeland.

At two dozen foreign airports, U.S.-bound passengers are undergoing enhanced security screening. Agents are searching for hidden explosives. Laptops and phones with dead batteries have been bannedfrom flights.

Great Britain raised its national terror threat level, and the FBI is tracking American jihadists who may return home.

Sources say it's due to the emerging threat in Syria, where hardened terrorists loyal to al Qaeda leader Ayman al-Zawahri are working on new, hard-to-detect bombs… al Qaeda remains obsessed with bombs, airplanes, and attacking the United States.  http://www.cbsnews.com/news/al-qaeda-khorasan-syria-bigger-threat-to-us-than-isis/
There are multiple terrorist groups that pose threats.
It will seemingly take a combination of fighting, social, and political pressures to somewhat reign in the actions of the extremists groups.  In addition to taking military and anti-terrorism actions, the USA keeps pressing for regional and international solutions to do this (watch also the video Obama Administration Pushing for an Islamic Empire?).  Regional blocks are in the process of rising up that the Bible refers to as the King of the North (a European block) and King of the South (North African/Middle East block).  Those sides will make a deceptive deal together (Daniel 11:27) and a deal that will not end well for the USA, UK, Australia, New Zealand, and Canada (Psalm 83:2-8; Daniel 11:39).
Eventually, a time of a temporary peace will come (see The 'Peace Deal' of Daniel 9:27), but not too many years later Australia, the USA, UK, Canada, New Zealand will be overtaken (Daniel 11:39).  The Islamic nations in North Africa will also later be taken over themselves (Daniel 11:40-43).
Interim steps by governments and leaders will have various affects, but they will not prevent the coming of the Great Tribulation and the Day of the Lord.  The terror raids in Australia have woken some people up, but the real threats facing Australia, New Zealand, Canada, the UK, and USA are larger than most truly still can accept.
Some items of possibly related interest may include:
The Prophesied 'Islamic' Confederation Where is an Islamic caliphate prophesied? Will one happen? Should you be concerned about it? Here is a link to a related video video: Will an Arabic Calphiphate Destroy the West?
The 'Peace Deal' of Daniel 9:27 This prophecy could give up to 3 1/2 years advance notice of the coming Great Tribulation. Will most ignore or misunderstand its fulfillment? Here is a link to a related sermon video Daniel 9:27 and the Start of the Great Tribulation.
How Will Middle East Peace be Brought About? Can humans bring peace to the Middle East? Here is a link to a related video: Middle East Peace? When?
Iraq, the King of the South, Armageddon, and Prophecy What will happen to Iraq? Is it the prophesied Mystery Babylon? What is Armageddon and how does that have to do with Iraq? Here is a related video Iraq, Armageddon, & Prophecy.
What Should You Know About Turkey in Prophecy Do you know the Turkish people descended from? Did the Ottoman Empire possibly fulfill a promise in Genesis? Will Turkey support the European King of the North or Arabic King of the South? Will it betray one of them? Will Turkey be involved in the encouraging the destruction of Israel? Is Turkey going to become Catholic? Is Turkey mentioned in Psalm 83, Daniel 11, and elsewhere in the Bible? This video provides answers.
Damascus and Syria in Prophecy Will Bashar Assad hold power as he has it? Does the Bible show that Damascus, the capital of Syria, will be destroyed? What will happen to Syria? Will the Syrians support the final King of the South that the Bible tells will rise up? Which scriptures discuss the rise and fall of an Arabic confederation? Does Islamic prophecy predict the destruction of Syria. This is a YouTube video.
Iran in Prophecy Is Iran in Bible prophecy? If so, what does the Bible teach? What names, other than Persia, may be used to describe Iran? There is also a YouTube video titled Iran in Prophecy. Here is a related video Iran In Prophecy.
Is the Future King of the South Rising Up? Some no longer believe there needs to be a future King of the South. Might Egypt, Islam, Iran, Arabs, or Ethiopia be involved? Might this King be called the Mahdi or Caliph? What does the Bible say? A YouTube video of related interest may be: The Future King of the South is Rising.  A shorter video titled Obama Administration Pushing for an Islamic Empire? is also available.
The Muslim Brotherhood and the Rise of the King of the South The Bible tells of the formation of a power of nations that are in the Middle East and North Africa that are part of the final "King of the South" (Daniel 11:40-43) The Muslim Brotherhood wishes to have an Islamic empire with basically the same nations. This YouTube video explains what to expect from such a confederation.
The Arab and Islamic World In the Bible, History, and Prophecy The Bible discusses the origins of the Arab world and discusses the Middle East in prophecy. What is ahead for the Middle East and those who follow Islam? What about the Imam Mahdi? What lies ahead for Turkey, Iran, and the other non-Arabic Muslims? An item of possibly related interest in the Spanish language would be: Líderes iraníes condenan la hipocresía de Occidente y declaran que ahora es tiempo para prepararse para el Armagedón, la guerra, y el Imán Mahdi.
Military Service and the Churches of God: Do Real Christians Participate in Carnal Warfare or Encourage Violence? Here are current and historical perspectives on a matter which show the beliefs of the true church on military participation. Is war proper for Christians? A related sermon would be: Christians, Violence, and Military Service.
When Will the Great Tribulation Begin? 2014, 2015, or 2016? Can the Great Tribulation begin today? What happens before the Great Tribulation in the "beginning of sorrows"? What happens in the Great Tribulation and the Day of the Lord? Is this the time of the Gentiles? When is the earliest that the Great Tribulation can begin? What is the Day of the Lord? Who are the 144,000? Here is a version of the article in the Spanish language: ¿Puede comenzar la Gran Tribulación en 2014 o 2015? ¿Es el Tiempo de los Gentiles? You can also see the English language sermon video: The Great Tribulation from the Mount of Olives.
Wars, rumors of wars, and the Apocalypse Jesus foretold a time before the end where there would be wars and rumors of wars. The Apocalypse (the Book of Revelation) warns of the red horseman of war. Now, even secular writers, like Larry Edelson, are worried that wars and rumors of war are the most menacing problem that now haunts the earth? Are they right? What is the solution?
World War III: Steps in Progress Are there surprising actions going on now that are leading to WWIII? Might a nuclear attack be expected? Does the Bible promise protection to all or only some Christians? How can you be part of those that will be protected? A related video would be Is World War III About to Begin? Can You Escape?
Anglo – America in Prophecy & the Lost Tribes of Israel Are the Americans, Canadians, English, Scottish, Welsh, Australians, Anglo-Saxon (non-Dutch) Southern Africans, and New Zealanders descendants of Joseph? Where are the lost ten-tribes of Israel? Who are the lost tribes of Israel? What will happen to Jerusalem and the Jews in Israel? Will God punish the U.S.A., Canada, United Kingdom, and other Anglo-Saxon nations? Why might God allow them to be punished first? Here is a link to the Spanish version of this article: Anglo-América & las Tribus Perdidas de Israel. Information is also in the YouTube sermons titled Where are the Ten Lost Tribes? Why does it matter? and British are the Covenant People. A short YouTube of prophetic interest may be Barack Obama and the State of the Apocalypse.
Will the Anglo-Saxon Nations be Divided and Have People Taken as Slaves? Will the lands of the United States, United Kingdom, Canada, Australia, and New Zealand be divided? What about Jerusalem? What does Bible prophecy teach? Are there non-biblical prophecies that support this idea? Who will divide those lands? Who will end up with the lands and the people? Here is a link to a video titled Will the USA and other Anglo-nations be Divided and Their People Made Slaves? Here is a related item in the Spanish language ¿Serán divididas las naciones anglosajonas?
British are the Covenant People What do 'British' and 'Britain' mean in Hebrew? Are the descendants of the Anglo-Saxons people of the covenant? Does the British royal family connect to the throne of David? What does the Bible teach? What does history show us? Is there any DNA evidence related to British-Israelism? When did Christianity make it to the British Isles? Could Jeremiah have made it to the British Isles? What type of Christians made it to the British Isles? Did the last King of England believe in British Israelism?
Barack Obama, Prophecy, and the Destruction of the United States-Second Edition for Second Obama Term This is a 160 page book for people truly interested in prophecies related to Barack Obama and the United States, including learning about many that have already been fulfilled (which the book documents in detail) and those that will be fulfilled in the future. It also has a chapter about a Republican choice. This book is available to order at www.barackobamaprophecy.com. The physical book can also be purchased at Amazon from the following link: Barack Obama, Prophecy, and the Destruction of the United States: Is Barack Obama Fulfilling Biblical, Islamic Catholic, Kenyan, and other America-Related Prophecies? What About Republican Leaders? Second Edition for Second Obama Term.
Barack Obama, Prophecy, and the Destruction of the United States-Second Term-Amazon Kindle edition. This electronic version is available for only US$2.99. And you do not need an actual Kindle device to read it. Why? Amazon will allow you to download it to almost any device: Please click HERE to download one of Amazon s Free Reader Apps. After you go to for your free Kindle reader and then go to Barack Obama, Prophecy, and the Destruction of the United States-Second Term-Amazon Kindle edition.