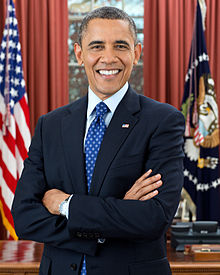 Barack Obama Official Whitehouse Photograph
In addition to watching part of Barack Obama's State of the Union speech, this morning I also read over the transcript of it.  Here is some of what it said per CNN:
We are fifteen years into this new century. Fifteen years that dawned with terror touching our shores; that unfolded with a new generation fighting two long and costly wars; that saw a vicious recession spread across our nation and the world. It has been, and still is, a hard time for many.

But tonight, we turn the page.

Tonight, after a breakthrough year for America, our economy is growing and creating jobs at the fastest pace since 1999. Our unemployment rate is now lower than it was before the financial crisis. http://www.cnn.com/2015/01/20/politics/state-of-the-union-2015-transcript-full-text/
Barack Obama called 2014 a breakthrough year before (see Obama says 2014 was a 'breakthrough year') and claimed major economic gains in 2014 (see Obama says economy strongest its been since 2009 and lays out his priorities).  Sadly, 2014 ended up as a breakthrough year for the homosexual marriage agenda and the marijuana industry.  As far as economic breakthroughs go, the admitted federal debt of the USA broke past $18 trillion.  As far as employment and unemployment go, I saw a commentator mention on the news last night that the real unemployment rate is 50% higher than the official rate and that many of the employed are making less than they used to.
It is not that everything is bad economically, but the picture Barack Obama attempted to paint seems to overlook facts and debt.  As far as "debt," he only mentioned student debt in the State of the Union speech.  But Barack Obama did say the following:
The shadow of crisis has passed, and the State of the Union is strong.

At this moment — with a growing economy, shrinking deficits, bustling industry, and booming energy production — we have risen from recession freer to write our own future than any other nation on Earth.
The annual deficit has shrank, but this is because the last year of George Bush's presidency it went up and Barack Obama endorsed that.  Then Barack Obama himself proposed record deficits for the next year.  The total debt has risen substantially every year of the Obama presidency.  Total debt has gone up and this puts the USA in a more dangerous position than any comparable nation on earth.  No nation in the history of humanity has been in as much debt as the USA.
The Bible warns that this is dangerous and will lead to destruction.  Here is what the NASB shows:
2 Then the LORD answered me and said,

"Record the vision
And inscribe it on tablets,
That the one who reads it may run.       

3"For the vision is yet for the appointed time;
It hastens toward the goal and it will not fail.
Though it tarries, wait for it;
For it will certainly come, it will not delay.

4"Behold, as for the proud one,
His soul is not right within him;…

6"Will not all of these take up a taunt-song against him,
Even mockery and insinuations against him
And say, 'Woe to him who increases what is not his—
For how long—
And makes himself rich with loans?'

7 "Will not your creditors rise up suddenly,
And those who collect from you awaken?
Indeed, you will become plunder for them.

8 "Because you have looted many nations,
All the remainder of the peoples will loot you—
Because of human bloodshed and violence done to the land,
To the town and all its inhabitants.

(Habakkuk 2:2-4a, 6-8, New American Standard Bible).
The Book of Habakkuk is warning that in the appointed time of the end (verse 3), the power that accumulates a lot of debt (called 'loans' in verse 6) will face the wrath of creditors (verse 7) and be looted (verse 8).  It also warns that those who read this should one day run (verse 2) because of how serious this will be.  The Bible does not teach that becoming highly indebted makes a nation strong.
The economy of the USA is considered strong for several reasons, including its size and diversity.  But another is because a better alternative is not yet obvious to much of the world.  Shortly after that happens, we will see the fulfillment of prophecies such as Habakkuk 2.
In his speech, U.S. President Barack Obama said he wants to raise taxes on the wealthiest Americans and certain financial firms.  Taxes on the affluent have already been raised during his Administration.  Many of his tax and other proposals will not go over well with the opposition party, the Republicans, who control the legislature of both the Senate and the House of Representatives for the first time since Barack Obama was elected to office.
When I watched his speech, I felt it was odd for him to make comments like he wants to work with the Republicans.  Especially since his past record does not indicate he really means this, plus in his speech he threatened to veto a couple of actions he felt that the Republicans might take.
I also watched part of the Republican response to the State of the Union speech, given by Senator Joni Ernst from Iowa.  Basically, she said she would not give a detailed critique of Barack Obama's speech, but that she and the Republicans would do what they were elected to do, much of which is in opposition to Barack Obama's goals and agenda, especially on economic and regulatory matters.  She tried to paint a picture of hope, as did Barack Obama, but their visions clashed and are incompatible in certain ways.
Getting back to his State of the Union speech itself, Barack Obama stated:
I have no more campaigns to run. My only agenda for the next two years is the same as the one I've had since the day I swore an oath on the steps of this Capitol — to do what I believe is best for America.
Actually, the oath he took was to protect and defend the Constitution of the USA to the best of his ability.  Not to do what he thinks is best for the USA.  His support of abortion, homosexual marriage, and certain other matters is certainly not what the God of the Bible thinks is best for the USA.
Of course, the Bible warns about leaders who go the wrong direction:
12 As for My people, children are their oppressors, And women rule over them. O My people! Those who lead you cause you to err, And destroy the way of your paths." (Isaiah 3:12)

43 The alien who is among you shall rise higher and higher above you, and you shall come down lower and lower (Deuteronomy 28:43).

16 For the leaders of this people cause them to err, And those who are led by them are destroyed (Isaiah 9:16).
Last year, I made a short YouTube titled Barack Obama and the State of the Apocalypse. What I said then is still applicable, and I decided some may wish to see it this year.
In his 2015 speech, Barack Obama did mention the terrorist group ISIS, which is a group he discounted about a year or so ago.  The so-called Islamic State (aka ISIS) has gained a lot of power and strength in the past year or so (he did not mention al-Qaeda nor Boko Haram).  And though ISIS is having its own problems, more terrorism will strike the USA (Leviticus 26:14-17; Deuteronomy 32:25; Ezekiel 21:12; Psalms 73:12,19; Proverbs 1:25-27; cf. Psalm 83:3-8).
Short of national repentance the USA is doomed.  So, what can you do?
Well, personally you can repent and change. Notice two passages of scriptures:
38 … Repent, and let every one of you be baptized in the name of Jesus Christ for the remission of sins; and you shall receive the gift of the Holy Spirit. 39 For the promise is to you and to your children, and to all who are afar off, as many as the Lord our God will call.

36 Watch therefore, and pray always that you may be counted worthy to escape all these things that will come to pass, and to stand before the Son of Man. (Luke 21:36)
Protection is available for those who truly repent and will uphold God's priorities (see also There is a Place of Safety for the Philadelphians. Why it May Be Petra).
Something else all should do is to pray for government leaders:
Therefore I exhort first of all that supplications, prayers, intercessions, and giving of thanks be made for all men, for kings and all who are in authority, that we may lead a quiet and peaceable life in all godliness and reverence. For this is good and acceptable in the sight of God our Savior (1 Timothy 2:1-3).
This includes praying for political leaders like Barack Obama.
The state of politics in the USA is alarming, but this should not be too surprising as the end of the USA was predicted thousands of years ago (Habakkuk 2:6-8; Daniel 11:39).  The USA is not as strong as many of its political leaders want everybody to believe.  Believe the truth–as it can set you free (cf. John 8:32).
Some items of possibly related interest may include:
Anglo – America in Prophecy & the Lost Tribes of Israel Are the Americans, Canadians, English, Scottish, Welsh, Australians, Anglo-Saxon (non-Dutch) Southern Africans, and New Zealanders descendants of Joseph? Where are the lost ten-tribes of Israel? Who are the lost tribes of Israel? What will happen to Jerusalem and the Jews in Israel? Will God punish the U.S.A., Canada, United Kingdom, and other Anglo-Saxon nations? Why might God allow them to be punished first? Here is a link to the Spanish version of this article: Anglo-América & las Tribus Perdidas de Israel. Information is also in the YouTube sermons titled Where are the Ten Lost Tribes? Why does it matter? and British are the Covenant People. A short YouTube of prophetic interest may be Barack Obama and the State of the Apocalypse.
Will the Anglo-Saxon Nations be Divided and Have People Taken as Slaves? Will the lands of the United States, United Kingdom, Canada, Australia, and New Zealand be divided? What about Jerusalem? What does Bible prophecy teach? Are there non-biblical prophecies that support this idea? Who will divide those lands? Who will end up with the lands and the people? Here is a link to a video titled Will the USA and other Anglo-nations be Divided and Their People Made Slaves? Here is a related item in the Spanish language ¿Serán divididas las naciones anglosajonas?
Market Collapse then New World Order in 2015? This is a video. A long-time financial adviser named Harvey Organ claims that claims that because of insufficient gold in the central banks of USA and UK, that Shanghai would bring about exposing this and that this would lead to a massive, overnight, rise in the price of gold and silver, diminished value of their currencies. He states a market collapse will occur before the end of 2014, that the petroyuan will replace the petrodollar, and that a Chinese led New World Order will be in place for 2015. Is this possible? Where does the leader of the 'New World Order' come from? What does the Bible teach?
Project Prophecy: Economic Collapse Starting in 2015? Jim Rickards once worked for the CIA and also was once part of a a USA government program called called 'Project Prophecy.' He has a video were he claims that starting in 2015, the USA may have economic collapse resulting in a 25-Year Great Depression. He mainly cites debt figures and claims advises alternatives to the USA dollar which he says will collapse? What did Rand Paul state? Can the USA dollar collapse?
There is a Place of Safety for the Philadelphians. Why it May Be Petra This article discusses a biblical 'place of safety' and includes quotes from the Bible and Herbert W. Armstrong on this subject–thus, there is a biblically supported alternative to the rapture theory. There is also a video on the subject: Might Petra be the Place of Safety?  Here is something related in the Spanish language: Hay un lugar de seguridad para los Filadelfinos. ¿Puede ser Petra?
World War III: Steps in Progress Are there surprising actions going on now that are leading to WWIII? Might a nuclear attack be expected? Does the Bible promise protection to all or only some Christians? How can you be part of those that will be protected? A related video would be Is World War III About to Begin? Can You Escape?
When Will the Great Tribulation Begin? 2015, 2016, or 2017? Can the Great Tribulation begin today? What happens before the Great Tribulation in the "beginning of sorrows"? What happens in the Great Tribulation and the Day of the Lord? Is this the time of the Gentiles? When is the earliest that the Great Tribulation can begin? What is the Day of the Lord? Who are the 144,000? Here is a version of the article in the Spanish language: ¿Puede comenzar la Gran Tribulación en 2014 o 2015? ¿Es el Tiempo de los Gentiles? You can also see the English language sermon video: The Great Tribulation from the Mount of Olives.
Can the Great Tribulation Begin in 2015? When will the Great Tribulation begin? Can it begin in 2015 as some have indicated? What are the biblical requirements that precede the Great Tribulation? What did Jesus teach would happen prior to the Great Tribulation. Are there definite clues in the Book of Daniel that Christians should look out for? Is there a King of the North or a King of the South yet? Where does the 'prince' of Daniel 9:26-27 come from? What about 'blood moons'? Dr. Thiel videoed this on the Mount of Olives where Jesus specifically discussed events leading up to the Great Tribulation in Matthew 24.
Can those in the USA/UK see the Handwriting on the Wall? Is everything fine in the USA/UK or is it like the days of Noah? Can we learn from the handwriting that appeared on a wall thousands of years ago? Here is a link to a related YouTube video Can you see the 'Handwriting on the Wall'?
Who is the King of the West? Why is there no Final End-Time King of the West in Bible Prophecy? Is the United States the King of the West? Here is a version in the Spanish language: ¿Quién es el Rey del Occidente? ¿Por qué no hay un Rey del Occidente en la profecía del tiempo del fin?
Hillary Clinton in Prophecy Prophecy, Hillary Clinton? Are there prophecies that Hillary Clinton may fulfill? Are there any prophecies that she has already helped fulfill? Could Hillary Clinton be apocalyptic? Could Hillary Clinton be the final Antichrist?
Four Horsemen of the Apocalypse What do each of the four horseman of the Apocalypse represent? Have they began their ride? Did Jesus discuss the any of this? Might their rides coincide with the "beginning of sorrows? Do they start their ride prior to the Great Tribulation? Did Nostradamus or any other 'private prophets' write predictions that may mislead people so that they may not understand the truth of one or more of the four horseman? There is also a related YouTube video titled The Four Horsemen of the Apocalypse.
Fourth Horseman of the Apocalypse What is the pale horse of death and pestilences? What will it bring and when? Spanish: El cuarto jinete de Apocalipsis, el caballo pálido de muerte y pestilencia.
Barack Obama, Prophecy, and the Destruction of the United States-Second Edition for Second Obama Term This is a 160 page book for people truly interested in prophecies related to Barack Obama and the United States, including learning about many that have already been fulfilled (which the book documents in detail) and those that will be fulfilled in the future. It also has a chapter about a Republican choice. This book is available to order at www.barackobamaprophecy.com. The physical book can also be purchased at Amazon from the following link: Barack Obama, Prophecy, and the Destruction of the United States: Is Barack Obama Fulfilling Biblical, Islamic Catholic, Kenyan, and other America-Related Prophecies? What About Republican Leaders? Second Edition for Second Obama Term.
Barack Obama, Prophecy, and the Destruction of the United States-Second Term-Amazon Kindle edition. This electronic version is available for only US$2.99. And you do not need an actual Kindle device to read it. Why? Amazon will allow you to download it to almost any device: Please click HERE to download one of Amazon s Free Reader Apps. After you go to for your free Kindle reader and then go to Barack Obama, Prophecy, and the Destruction of the United States-Second Term-Amazon Kindle edition.