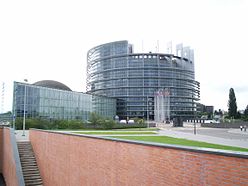 European Parliament, Strasbourg (France)
The latest TW News & Prophecy from LCG has the following:
Germany is calling for a new European treaty by the end of the year to clear the way for more European integration and a new legal foundation for the Union. "Germany would like to see… a legal basis that would give the European Court of Justice the jurisdiction to monitor the budgets of member states and to punish deficit offenders" (Der Spiegel, August 27, 2012). The new treaty "would broaden the existing fiscal pact's authority in the political union" (Deutsche Welle, August 26, 2012). EU Commission President, Jose Manuel Barroso has also called for a new treaty and a "federation of nation states" that share their sovereignty (Reuters , September 12, 2012).However, other EU member states have expressed concerns about giving up their sovereignty. "During a meeting of the so-called Future Group, an informal gathering of 10 foreign ministers from EU countries, the majority opposed a call by German Foreign Minister Guido Westerwelle for a new treaty convention" (Der Spiegel, August 27, 2012). Opposition in the past has not deterred the French and Germans from agreeing to "push forward with a new EU treaty–either with the entire bloc or with the 17 members of the euro zone if other countries were unwilling to go along with it" (ibid.).

Bible prophecy foretells that a German-led Beast power in Europe will receive "power and authority" from 10 kings who will relinquish their sovereignty and become united as "one mind" (Revelation 17:12-13). Germany, with Europe's strongest economy and looked to to lead the EU out of its economic crisis, may soon be given more power and authority to fulfill this prophecy.
My latest book, Barack Obama, Prophecy, and the Destruction of the United States, mentions the following:
It should also be understood that the Bible shows that Europe will go through at least one or two reorganizations until it gets to the point of fully supporting the King of the North/Beast power per Revelation 17:12-13.  And later, it will betray the Church of Rome (Revelation 17:9,15-18).
The Bible also shows that ultimately, a major dictator (and the person I currently suspect for that role currently holds no major official government office) will rise up and rule end time Babylon (Revelation 17:1-13), the final King of the North, European Beast power of Bible prophecy (Daniel 11:40).
While Europe is not yet ready to support the final King of the North, we of the Philadelphia remnant of the Church of God have long taught that it will be. And steps in that direction continue to be taken in Europe.
Some articles of possibly related interest may include:
Europa, the Beast, and Revelation Where did Europe get its name? What might Europe have to do with the Book of Revelation? What about "the Beast"?
Who is the King of the North? Is there one? Do biblical and Roman Catholic prophecies point to the same leader? Should he be followed? Who will be the King of the North discussed in Daniel 11? Is a nuclear attack prophesied to happen to the English-speaking peoples of the United States, Great Britain, Canada, Australia, and New Zealand? When do the 1335 days, 1290 days, and 1260 days (the time, times, and half a time) of Daniel 12 begin? What MUST happen BEFORE the Great Tribulation?
Might German Baron Karl-Theodor zu Guttenberg become the King of the North? Is the German Defense Minister one to watch? What do Catholic, Byzantine, and biblical prophecies suggest?
Germany's Assyrian Roots Throughout History Are the Germanic peoples descended from Asshur of the Bible? Have there been real Christians in Germanic history? What about the "Holy Roman Empire"?
Barack Obama, Prophecy, and the Destruction of the United States This is a 160 page book for people truly interested in prophecies related to Barack Obama and the United States, including learning about many that have already been fulfilled (which the book documents in detail) and those that will be fulfilled in the future. It also has a chapter about Mitt Romney. This book is available to order at www.barackobamaprophecy.com. The physical book can also be purchased at Amazon from the following link:  Barack Obama, Prophecy, and the Destruction of the United States: Is Barack Obama Fulfilling Biblical, Islamic, Catholic, Kenyan, and other America-Related Prophecies? What About Mitt Romney?
Barack Obama, Prophecy, and the Destruction of the United States–Amazon Kindle edition. This electronic version is available for only US$2.99. And you do not need an actual Kindle device to read it. Why? Amazon will allow you to download it to almost any device: Please click HERE to download one of Amazon's Free Reader Apps.  After you go to for your free Kindle reader and then go to Barack Obama, Prophecy, and the Destruction of the United States–Amazon Kindle edition.)