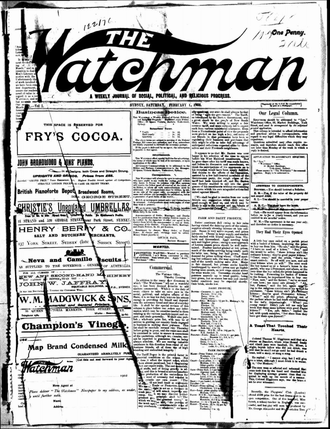 A while back, Eric Jones of the Church of God, a worldwide association (COGWA) reported on two prophetic trends he feels Christians should watch.
Jesus tells us to "watch" (Luke 21:36), and part of that includes recognizing important world news trends. We subscribe to some of the best newsmagazines published to gain a broad, global perspective of what is happening in today's world. One periodical that provides excellent, in-depth analysis of global conditions is Foreign Affairs.

As I was paging through the July/August 2016 issue, I was struck by the number of articles relating to end-time trends prophesied in the Bible. The authors were good at recognizing the problems, but they weren't able to see the prophetic perspective and the solutions explained in the Bible. …

I believe these two themes are essential to understanding our world as it relates to Bible prophecy.

Two important prophetic trends to watch

1. An increase in global conflicts and authoritarianism.

One of the primary themes of end-time Bible prophecies is global violence and instability. In the Olivet Prophecy, Jesus spoke these words about the time preceding the Great Tribulation and His return: "And you will hear of wars and rumors of wars. See that you are not troubled; for all these things must come to pass, but the end is not yet. For nation will rise against nation, and kingdom against kingdom" (Matthew 24:6-7). …

2. Germany's increasing global role.

The current edition of Foreign Affairs also features a very interesting article titled "Germany's New Global Role" by German Foreign Minister Frank-Walter Steinmeier. The article describes how Germany has emerged as the most stable and powerful nation in Europe. Germany is not just the undisputed economic leader of Europe, but it is also becoming a bigger diplomatic player in global affairs, "contributing diplomatically to the peaceful resolution of multiple conflicts around the globe" (p. 106).

Mr. Steinmeier points out that the United States and Europe have continually retreated from their roles as global leaders in the last decade—leaving a vacuum that has contributed to the retreat of democracy, the rise of authoritarian regimes and the rise of sectarian and national conflicts. This retreat has allowed regions to become destabilized; conflicts to spread; and nations like China, India and Russia to flex their muscles as significant regional and global powers.

"Against this backdrop," Mr. Steinmeier writes, "Germany has remained remarkably stable" (p. 108). Germany has maintained its economic strength throughout the global recession and has maintained its focus on export-driven economic growth. Slowly and cautiously, Germany is taking a more assertive role in global affairs. With the retreat of the U.S. and the tenuous state of the European Union, Germany is seen by many as an "indispensable nation" (p. 113). http://lifehopeandtruth.com/prophecy/blog/prophecy-moves-forward-2-prophetic-trends-we-cant-ignore/
Germany has been, not only quite stable, but growing in influence in Europe as well as around the world. Related to this, the relationship between the Donald Trump Administration and Germany is something to watch.
The Bible itself tells of a time when a German-dominated authoritarian Beast power will be involved in various conflicts. Notice something from the Old and New Testaments:
5 "Woe to Assyria, the rod of My anger
And the staff in whose hand is My indignation.
6 I will send him against an ungodly nation,
And against the people of My wrath
I will give him charge,
To seize the spoil, to take the prey,
And to tread them down like the mire of the streets.
7 Yet he does not mean so,
Nor does his heart think so;
But it is in his heart to destroy,
And cut off not a few nations.
8 For he says,
'Are not my princes altogether kings?
9 Is not Calno like Carchemish?
Is not Hamath like Arpad?
Is not Samaria like Damascus?
10 As my hand has found the kingdoms of the idols,
Whose carved images excelled those of Jerusalem and Samaria,
11 As I have done to Samaria and her idols,
Shall I not do also to Jerusalem and her idols?'" (Isaiah 10:5-11)

1 Then I stood on the sand of the sea. And I saw a beast rising up out of the sea, having seven heads and ten horns, and on his horns ten crowns, and on his heads a blasphemous name. 2 Now the beast which I saw was like a leopard, his feet were like the feet of a bear, and his mouth like the mouth of a lion. The dragon gave him his power, his throne, and great authority. 3 And I saw one of his heads as if it had been mortally wounded, and his deadly wound was healed. And all the world marveled and followed the beast. 4 So they worshiped the dragon who gave authority to the beast; and they worshiped the beast, saying, "Who is like the beast? Who is able to make war with him?"

5 And he was given a mouth speaking great things and blasphemies, and he was given authority to continue for forty-two months. 6 Then he opened his mouth in blasphemy against God, to blaspheme His name, His tabernacle, and those who dwell in heaven. 7 It was granted to him to make war with the saints and to overcome them. And authority was given him over every tribe, tongue, and nation. 8 All who dwell on the earth will worship him, whose names have not been written in the Book of Life of the Lamb slain from the foundation of the world. (Revelation 13:1-8)
Assyria is a reference to Germany (see Germany's Assyrian Roots Throughout History); whereas Samaria seems to be a reference to the USA (see also Anglo – America in Prophecy & the Lost Tribes of Israel and Spiritual Samaritans: Old and New).
The sea that Revelation 13 referred to is the Mediterranean sea (watch Can You Prove that the Beast to Come is European? and/or read Europa).
As far as watching, notice more details on the scripture that Erik Jones referred to as well as some he did not. Notice what Jesus said:
34 "But take heed to yourselves, lest your hearts be weighed down with carousing, drunkenness, and cares of this life, and that Day come on you unexpectedly. 35 For it will come as a snare on all those who dwell on the face of the whole earth. 36 Watch therefore, and pray always that you may be counted worthy to escape all these things that will come to pass, and to stand before the Son of Man." (Luke 21:34-36)

28 "Now learn this parable from the fig tree: When its branch has already become tender, and puts forth leaves, you know that summer is near. 29 So you also, when you see these things happening, know that it is near — at the doors! 30 Assuredly, I say to you, this generation will by no means pass away till all these things take place. 31 Heaven and earth will pass away, but My words will by no means pass away.

32 "But of that day and hour no one knows, not even the angels in heaven, nor the Son, but only the Father. 33 Take heed, watch and pray; for you do not know when the time is. 34 It is like a man going to a far country, who left his house and gave authority to his servants, and to each his work, and commanded the doorkeeper to watch. 35 Watch therefore, for you do not know when the master of the house is coming — in the evening, at midnight, at the crowing of the rooster, or in the morning — 36 lest, coming suddenly, he find you sleeping. 37 And what I say to you, I say to all: Watch!" (Mark 13:28-37)
Notice Jesus said to watch and pray ALWAYS. He was referring to prophetic matters. THIS CAME FROM JESUS, BUT MANY SCOFF AT PROPHECY for differing reasons (cf. 2 Peter 3:1-7)–yet being a prophetic scoffer is a mistake (cf. 2 Peter 3:8-9).
Jesus realized that if people did not pay attention to prophecy and pray always, they would not properly take the steps to "be counted worthy to escape all these things." Yes, God uses prophecy as a motivator for people. Remember that God used Jonah to warn Nineveh (Jonah 3:1-4) and they repented (Jonah 3:5-9), and they did not get the punishment they were going to get then (Jonah 3:10).
Jesus specifically told the Laodiceans, in a prophecy, that they needed to repent (Revelation 3:19) or face consequences (Revelation 3:14-19, and that they would be rewarded for doing so (Revelation 3:20). The Laodiceans are Church of God Christians "who keep the commandments of God and have the testimony of Jesus Christ" (Revelation 12:17).
Notice also the following from the old Worldwide Church of God:
"Seek ye the Lord, all ye meek of the earth, which have wrought his judgment; seek righteousness, seek meekness: it may be ye shall be hid in the day of the Lord's anger," cried the Prophet Zephaniah (2:3).

A sermon-on-the-mount-type character is required. If you develop such Christlike character, the chances of your escaping the great tribulation are very good.

God's anxiety for the physical welfare of His people is recorded by the Prophet Isaiah: "Come, my people, enter thou into thy chambers, and shut thy doors about thee: hide thyself as it were for a little moment, until the indignation be overpast. For, behold [here is the reason for hiding], the Lord cometh out of his place to punish the inhabitants of the earth for their iniquity …" (Isa. 26:20-21).

Notice that verse 21 ties right back into the Christian's prophetic responsibility: watching significant world events individually (and warning the world as a Church) as well as praying to be worthy to escape the punishments of God on this sick and dying world.

Watch! (Schroeder JR. Christ the Revelator. Good News, 1975)
Prophecy is important. But many misunderstand it.
But all who claim to be Christian need to watch and pray.
Every day, I try to cover prophetic and other matters to watch on this Church of God News page.
Some items of possibly related interest may include:
Go, Set a Watchman 'Go set a watchman' was an immediate best selling novel. Although the title comes from the Bible, the content of the book does not. What does the Bible teach about the 'watchman?' What is the work of the watchman in the 21st century? What did Jesus teach? Should you be watching world events per Luke 21? What has the position been of the Philadelphia portion of the Church of God on this? What does the Continuing Church of God teach? This is a video.
Concerns about Church of God, a Worldwide Association Known as COGWA, this is the largest group that came out of the United Church of God. Here is some history and concerns about it. UCG's former president Clyde Kilough and UK CEO Peter Hawkins are part of it.
Germany's Assyrian Roots Throughout History Are the Germanic peoples descended from Asshur of the Bible? Have there been real Christians in Germanic history? What about the "Holy Roman Empire"? There is also a You-Tube video sermon on this titled Germany's Biblical Origins.
Germany in Biblical Prophecy Does Assyria in the Bible equate to an end time power inhabiting the area of the old Roman Empire? What does prophecy say Germany will do and what does it say will happen to most of the German people? Here are links to two sermon videos Germany in Bible Prophecy and The Rise of the Germanic Beast Power of Prophecy.
Europa, the Beast, and Revelation Where did Europe get its name? What might Europe have to do with the Book of Revelation? What about "the Beast"? Is an emerging European power "the daughter of Babylon"? What is ahead for Europe? Here is a link to a video titled: Can You Prove that the Beast to Come is European?
European Technology and the Beast of Revelation Will the coming European Beast power would use and develop technology that will result in the taking over of the USA and its Anglo-Saxon allies? Is this possible? What does the Bible teach? Here is a related YouTube video: Military Technology and the Beast of Revelation.
Zephaniah's 'Gather Together' Prophecy Is it safe to be 'independent' or in a non-Philadelphian Church of God? What did God inspire Zephaniah to write?
When Will the Great Tribulation Begin? 2017, 2018, or 2019? Can the Great Tribulation begin today? What happens before the Great Tribulation in the "beginning of sorrows"? What happens in the Great Tribulation and the Day of the Lord? Is this the time of the Gentiles? When is the earliest that the Great Tribulation can begin? What is the Day of the Lord? Who are the 144,000? Here is a version of the article in the Spanish language: ¿Puede comenzar la Gran Tribulación en 2016 o 2017? ¿Es el Tiempo de los Gentiles? You can also see the English language sermon videos: The Great Tribulation from the Mount of Olives and Can the Great Tribulation begin before 2020? A shorter video is: Will the Great Tribulation Start in 2017?
How To Determine If Someone is a True Prophet of God There are many false prophets, yet many overlook what the Bible teaches about how to recognize a true one. How can Christians determine who is a true prophet? This article contains a scripture-based checklist to assist with this determination.
How to determine if someone is a true prophet of God This is a sermon on YouTube addressing a subject that most in the Church of God do not seem to have looked into very much. It discusses scriptures and dispels some improper assertions that some associated with the COG have made about prophets in this time.
Dreams, the Bible, the Radio Church of God, and the Continuing Church of God How has God used dreams in the past? Does God still use dreams? Did He use any involving those in the Continuing Church of God? A related sermon is also available: Dreams, COGs, and One Man Rule.
Why Be Concerned About False and Heretical Leaders? There have been many false leaders–here is some of why you should be concerned about them.
The Philadelphia Church Era was predominant circa 1933 A.D. to 1986 A.D. The old Radio Church of God and old Worldwide Church of God, now basically the most faithful in the Church of God, like who hold to the beliefs and practices of the Continuing Church of God.
The Laodicean Church Era has been predominant circa 1986 A.D. to present. The Laodiceans are non-Philadelphians who mainly descended from the old WCG or its offshoots. They do not properly understand the work or biblical prophecies and will face the Great Tribulation if they do not repent (watching and praying means changing when YOU need to). One video of related interest is 17 Laodicean Errors in Prophecy.