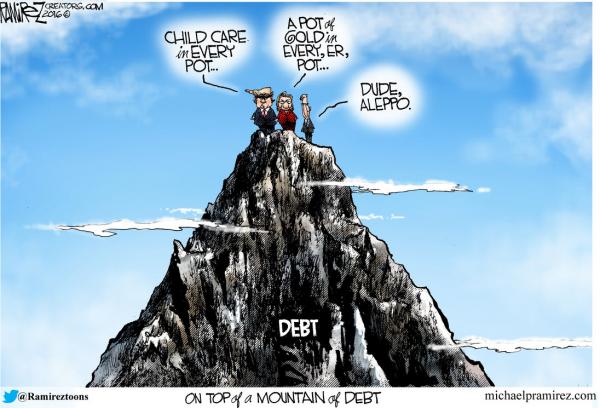 David Stockman, former Director of the United States Office of Management and Budget under President Ronald Reagan, has a warning for the US:
Stockman: "After March 15 Everything Will Grind To A Halt"

February 27, 2017

As Greg Hunter writes, former Reagan Administration White House Budget Director David Stockman says financial pain is a mathematical certainty. Stockman explains, "I think we are likely to have more of a fiscal bloodbath rather than fiscal stimulus.  Unfortunately for Donald Trump, not only did the public vote the establishment out, they left on his doorstep the inheritance of 30 years of debt build-up and a fiscal policy that's been really reckless in the extreme.  People would like to think he's the second coming of Ronald Reagan and we are going to have morning in America.  Unfortunately, I don't think it looks that promising because Trump is inheriting a mess that pales into insignificance what we had to deal with in January of 1981 when I joined the Reagan White House as Budget Director."

So, can the Trump bump in the stock market keep going? Stockman, who wrote a book titled "Trumped" predicting a Trump victory in 2016, says, "I don't think there is a snowball's chance in the hot place that's going to happen. This is delusional.  This is the greatest suckers' rally of all time.  It is based on pure hopium and not any analysis at all as what it will take to push through a big tax cut.  Donald Trump is in a trap.  Today the debt is $20 trillion.  It's 106% of GDP. . . .Trump is inheriting a built-in deficit of $10 trillion over the next decade under current policies that are built in.  Yet, he wants more defense spending, not less.  He wants drastic sweeping tax cuts for corporations and individuals.  He wants to spend more money on border security and law enforcement.  He's going to do more for the veterans.  He wants this big trillion dollar infrastructure program.  You put all that together and it's madness.  It doesn't even begin to add up, and it won't happen when you are struggling with the $10 trillion of debt that's coming down the pike and the $20 trillion that's already on the books."

Then, Stockman drops this bomb and says:

"I think what people are missing is this date, March 15th 2017.  That's the day that this debt ceiling holiday that Obama and Boehner put together right before the last election in October of 2015.  That holiday expires.  The debt ceiling will freeze in at $20 trillion.  It will then be law.  It will be a hard stop.  The Treasury will have roughly $200 billion in cash.  We are burning cash at a $75 billion a month rate.  By summer, they will be out of cash.  Then we will be in the mother of all debt ceiling crises.  Everything will grind to a halt.  I think we will have a government shutdown.  There will not be Obama Care repeal and replace.  There will be no tax cut.  There will be no infrastructure stimulus.  There will be just one giant fiscal bloodbath over a debt ceiling that has to be increased and no one wants to vote for."

Stockman also predicts very positive price moves for gold and silver as a result of the coming budget calamity. http://www.zerohedge.com/news/2017-02-26/stockman-after-march-15-everything-will-grind-halt
There certainly is a massive divide between Republicans and Democrats in Washington, that have not improved since the election of Donald Trump. Various ones have stated that they want to oppose him and his policies. One way to do that would be to tie up the debt limit legislation.
It has been suggested that Donald Trump may delay his intended infrastructure spending program until next year, which might make getting past March 15th easier.
While a so-called 'government shutdown' is not the end of the world or the economy of the USA, it does send a signal to the world that the USA is a house deeply divided.
But there is a worse problem that a potential government shutdown. Consider the following:
A new threat to the troubled U.S. economy has been identified, and it's called "fiscal space," …

It's the "amount of room available for additional government borrowing," and while it isn't likely to create a catastrophe in the immediate future, it could start impacting mid- and long-term planning, according to a report from the Congressional Research Service.

The federal government report was posted online by the Federation of American Scientists.

It was written by Grant Driessen, an analyst in public finance, and Marc Labonte, a specialist in macroeconomic policy.

They explained, "Policymakers are interested in the concept of 'fiscal space,' or the amount of room available for additional government borrowing, as they discuss plans for the federal budget.

"Though budget deficits have declined in recent years, debt held by the public was estimated to equal 77 percent of gross domestic product at the end of FY2016, which would represent the highest ratio since FY1950."

The authors said that assuming "a continuation of low interest rates, it is unlikely that fiscal space will constrain short-term federal operations, but projections indicate that fiscal space may be a binding constraint in the medium- and long-term outlook."

The national debt during Barack Obama's eight years in office nearly doubled to about $20 trillion.

But experts note that figure doesn't include numerous long-term commitments for expenditures. http://www.wnd.com/2017/02/new-threat-to-u-s-economy-identified/#LoPAS3zAb2iR4HD6.99
Yes, there is a limit to how much the USA can borrow. But technically, it can print up money and treasury bills to pretend it is borrowing. The US Federal Reserve did that a lot under the Obama Administration and called that 'quantitative easing.'
Now here is some information from that 'fiscal space' report:
Current projections forecast continued increases in the debt to GDP ratio under current law. The current Congressional Budget Office (CBO) baseline estimates that debt held by the public will rise to 88.9% of GDP in FY2027, with deficits persistently exceeding their postwar average (2.1% of GDP). CBO's most recent Long-Term Budget Outlook projects that publicly held debt will reach 141.1% of GDP in FY2046.
It is unclear if investors would be willing to continue financing debt at those levels; the only other time debt levels as a share of GDP exceeded 100% was during World War II. Long-term forecasts are subject to significant uncertainty. Risks to the forecast that could result in less fiscal space than anticipated include future recessions, future wars, a continuation in the economic growth slowdown, a return to average historical interest rates, or a return to average historical growth in health costs.Because the reaction of investors to future increases in the debt is unknown, it is difficult to estimate when fiscal space will run out—although that point is presumably far off in the future, given interest rates are currently low.
Recent international experiences speak to the complexity of fiscal space. https://fas.org/sgp/crs/misc/IN10624.pdf
In other words, economists know that there is a real limit to how much the USA can borrow. Because of low interest rates, the USA has been able to get away with this and will for a time. But since international economics is complex, they do not know the limit of the debt. But let me add that I do not currently believe that the USA can make it to 2046.
Yes, it will take years for the impact of various policies to fully hit the USA–but when it truly hits it will be devastating according to the Bible:
2 Then the Lord answered me and said:

"Write the vision
And make it plain on tablets,
That he may run who reads it.
3 For the vision is yet for an appointed time;
But at the end it will speak, and it will not lie.
Though it tarries, wait for it;
Because it will surely come,
It will not tarry.

4 "Behold the proud,
His soul is not upright in him;
But the just shall live by his faith. (Habakkuk 2:2-4)

6 "Will not all these take up a proverb against him,
And a taunting riddle against him, and say,
'Woe to him who increases
What is not his — how long?
And to him who loads himself with many pledges'?
7 Will not your creditors rise up suddenly?
Will they not awaken who oppress you?
And you will become their booty.
8 Because you have plundered many nations,
All the remnant of the people shall plunder you,
Because of men's blood
And the violence of the land and the city,
And of all who dwell in it. (Habakkuk 2:6-8).
The above is a prophecy for the appointed time of the end. The USA has been accumulating pledges in the form of US Treasury bonds and notes, and is the most indebted nation of all time.
Foreign creditors will rise up.
Notice something from my book Donald Trump and America's Apocalypse:
Debt

The USA has greatly increased its debts this century.

The Bible warns that debt, and having to borrow from foreigners, is a curse that would hit those who received various biblical blessings as they became more disobedient (Deuteronomy 28:15,43-46).

Donald Trump loves debt. Here something he said about it in 2016:

I'm the king of debt. I love debt.

There was about $20 trillion of recognized US government debt before Donald Trump took office.

He plans to increase that total. Some think his stated policies will add around $10 trillion to that total. (pp. 36-37)

This does not bode well for the U.S.A.

Furthermore, the Bible warns against the type of moral decline that is occurring in the U.S.A.:

12 Therefore thus says the Holy One of Israel:  "Because you despise this word, And trust in oppression and perversity, And rely on them,  13 Therefore this iniquity shall be to you Like a breach ready to fall, A bulge in a high wall, Whose breaking comes suddenly, in an instant. (Isaiah 30:12-13)

But how can this happen to the USA?  It will likely happen with a combination of events. Notice:

5 "Moreover the multitude of your foes Shall be like fine dust, And the multitude of the terrible ones Like chaff that passes away; Yes, it shall be in an instant, suddenly. 6 You will be punished by the Lord of hosts With thunder and earthquake and great noise, With storm and tempest And the flame of devouring fire. (Isaiah 29:5-6)

The debt situation of the U.S.A. is putting it at risk of being unable to recover should it be hit by weather problems, terrorist acts, war, riots, solar flares, severe earthquakes, civil unrest, devastation of their genetically-modified food supplies, food shortages, and/or various pestilences–an intensity of "sorrows" such as Jesus discussed in Matthew 24:4-8 leading up to the time of the Great Tribulation. Political issues, climate change, trade policies, communication's deals, and other events are pushing the U.S.A. to a position that will encourage its takeover someday. Disasters, especially if there is an ElectroMagnetic Pulse (EMP) attack or a severe solar flare storm, could be part of a so-called "perfect storm" of events that could set the USA for destruction.

Many sorrows that the U.S.A. will face, like severe weather problems, diseases and earthquakes, will happen in the future, irrespective of who is in the White House (Amos 4:7-10; Luke 21:11). Donald Trump (and some others), however, may hasten or delay the day of destruction. (p. 42)
The Bible teaches that the debt situation that the USA faces is much worse than a possible government shutdown. Though the end is coming, it will not be March 15, 2017.  But what we will likely see around that time will also help set the end up.
Some items of possibly related interest may include:
America's Day of Reckoning 2017 Dollar Collapse? Economist James Dale Davidson says that a financial bloodbath will hit the USA and there is nothing that Washington can do to stop it. He claims that at least 57 nations have gotten together to dethrone the US dollar as the world's reserve currency. He claims this can happen any day or in a few months. He mentions China, Russia, the AIIB, and gold. He claims his track record in predicting massive shifts in the past should assure people that he is right about this. He claims that there will be massive unemployment, near elimination of social security benefits, and more. Is James Dale Davidson possibly right on any of this? Dr. Thiel goes over many of his claims and explains what the Bible shows related to the coming collapse of the US dollar. This is a video.
Collapse of the Euro and Dollar? War in 2020? Larry Edelson of Money and Markets described aspects of current economic difficulties and explained why he felt matters would get a lot worse. He said war, like World War III, could break out as early as 2020. What did he call the 'granddaddy of all cycles"? Will matters go as he said? What does the Bible teach? Dr. Thiel provides biblical insights that secular sources often miss. This is a video.
Mexico, Central America, South America, Brazil, and the Caribbean in Prophecy [Español: México, América central, Suramérica, Brasil y el Caribe en la profecía] [Português: México, América Central, Ámérica do Sul, e Brasil na profecia] What will happen to those of Latin America? Will they have prosperity? Will they cooperate with Europe? Will they suffer in the future? What role might the various Caribbean nations/territories play?
Africa: Its Biblical Past and Prophesied Future What does the Bible teach about Africa and its future? Did the early Church reach Africa? Will God call all the Africans?
Europa, the Beast, and Revelation Where did Europe get its name? What might Europe have to do with the Book of Revelation? What about "the Beast"? Is an emerging European power "the daughter of Babylon"? What is ahead for Europe? Here is a link to a video titled: Can You Prove that the Beast to Come is European?
European Technology and the Beast of Revelation Will the coming European Beast power would use and develop technology that will result in the taking over of the USA and its Anglo-Saxon allies? Is this possible? What does the Bible teach? Here is a related YouTube video: Military Technology and the Beast of Revelation.
When Will the Great Tribulation Begin? 2017, 2018, or 2019? Can the Great Tribulation begin today? What happens before the Great Tribulation in the "beginning of sorrows"? What happens in the Great Tribulation and the Day of the Lord? Is this the time of the Gentiles? When is the earliest that the Great Tribulation can begin? What is the Day of the Lord? Who are the 144,000? Here is a version of the article in the Spanish language: ¿Puede comenzar la Gran Tribulación en 2016 o 2017? ¿Es el Tiempo de los Gentiles? You can also see the English language sermon videos: The Great Tribulation from the Mount of Olives and Can the Great Tribulation begin before 2020? A shorter video is: Will the Great Tribulation Start in 2017?
Two Horned Beast of Revelation and 666 Who is 666? This article explains how the COG views this, and compares this to Ellen White. Here is a link to a prophetic video Six Financial Steps Leading to 666?
The Mark of Antichrist What is the mark of Antichrist? What have various ones claimed? Here is a link to a related sermon What is the 'Mark of Antichrist'?
Mark of the Beast What is the mark of the Beast? Who is the Beast? What have various ones claimed the mark is? What is the 'Mark of the Beast'?
Must the Ten Kings of Revelation 17:12 Rule over Ten Currently Existing Nations? Some claim that these passages refer to a gathering of 10 currently existing nations together, while one group teaches that this is referring to 11 nations getting together. Is that what Revelation 17:12-13 refers to? The ramifications of misunderstanding this are enormous. A related sermon is titled Ten Kings of Revelation and the Great Tribulation.
World War III: Steps in Progress Are there surprising actions going on now that are leading to WWIII? Might a nuclear attack be expected? What about WWIV? Does the Bible promise protection to all or only some Christians? How can you be part of those that will be protected? A related video would be Is World War III About to Begin? Can You Escape?
Does God Have a 6,000 Year Plan? What Year Does the 6,000 Years End? Was a 6000 year time allowed for humans to rule followed by a literal thousand year reign of Christ on Earth taught by the early Christians? Does God have 7,000 year plan? What year may the six thousand years of human rule end? When will Jesus return? 2024 or 20xx? There is also a video titled The 6000 Year Plan: Is the end of humanity's reign almost up?
USA in Prophecy: The Strongest Fortresses Can you point to scriptures, like Daniel 11:39, that point to the USA in the 21st century? This article does. A related sermon is titled: Do these 7 prophesies point to the end of the USA?
The Plain Truth About Gold in Prophecy. How Should a Christian View Gold? What do economists and the Bible teach about gold? Gold and silver may drop in value. Inflation/deflation? What do Christians need to know about gold?
Anglo – America in Prophecy & the Lost Tribes of Israel Are the Americans, Canadians, English, Scottish, Welsh, Australians, Anglo-Saxon (non-Dutch) Southern Africans, and New Zealanders descendants of Joseph? Where are the lost ten-tribes of Israel? Who are the lost tribes of Israel? What will happen to Jerusalem and the Jews in Israel? Will God punish the U.S.A., Canada, United Kingdom, and other Anglo-Saxon nations? Why might God allow them to be punished first? Here is a link to the Spanish version of this article: Anglo-América & las Tribus Perdidas de Israel. Information is also in the YouTube sermons titled Where are the Ten Lost Tribes? Why does it matter? and British are the Covenant People. A short YouTube of prophetic interest may be Barack Obama and the State of the Apocalypse.
Donald Trump in Prophecy Prophecy, Donald Trump? Are there prophecies that Donald Trump may fulfill?  Are there any prophecies that he has already helped fulfill?  Could a Donald Trump presidency be apocalyptic?  A related video is titled: Donald: 'Trump of God' or Apocalyptic?
Donald Trump and America's Apocalypse This 188 page book is for people truly interested in prophecies related to Donald Trump and the United States, including learning about several that have already been fulfilled and those that will be fulfilled in the future. The physical book can be purchased at Amazon for $12.99 from the following link: Donald Trump and America's Apocalypse.
Donald Trump and America's Apocalypse-Kindle Edition This electronic version of the 188 page print edition is available for only US$3.99. And you do not need an actual Kindle device to read it. Why? Amazon will allow you to download it to almost any device: Please click HERE to download one of Amazon s Free Reader Apps. After you go to for your free Kindle reader and then go to Donald Trump and America's Apocalypse-Kindle Edition.