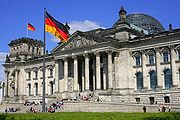 Berlin Reichstag
The following headline was of interest:
The euro crisis will give Germany the empire it's always dreamed of
We in the Living Church of God have long taught that Germany (Assyria in end time prophecy) would be the driving force in the end-time European Beast power as well as having a future role in God's kingdom.  It is interesting that secular sources are more and more starting to indicate that we have long been correct about that.  LCG has an article of related interest titled "Resurgent Germany: A Fourth Reich?"
Increasing European debt, combined with German wealth means increasing German influence.
Certain scholars believe that the Assyrian peoples migrated into central Europe in ancient times and are now represented by the Germanic peoples.  Even the Catholic saint Jerome indicated that the descendants of the biblical Asshur (Genesis 10:22) which seems to be Assyria (Radmacher  Concordance in. Nelson Study Bible, p. 11), ended up in parts of Europe (Jerome. Letter CXXIII to Ageruchia, Chapter 16.  Translated by W.H. Fremantle, G. Lewis and W.G. Martley. From Nicene and Post-Nicene Fathers, Second Series, Vol. 6. Edited by Philip Schaff and Henry Wace. (Buffalo, NY: Christian Literature Publishing Co., 1893.) Revised and edited for New Advent by Kevin Knight. <http://www.newadvent.org/fathers/3001123.htm>).
The Bible also shows:
5 "Woe to Assyria, the rod of My anger
And the staff in whose hand is My indignation.
6 I will send him against an ungodly nation,
And against the people of My wrath
I will give him charge,
To seize the spoil, to take the prey,
And to tread them down like the mire of the streets.
7 Yet he does not mean so,
Nor does his heart think so;
But it is in his heart to destroy,
And cut off not a few nations. (Isaiah 10:5-7)
Notice that even though Assyria (modern Germany) does not think it means to, it is in the national character to destroy and cut off nations. And this will happen. Germany is getting the wealth and influence that ultimately will allow it to fulfill that prophecy.
The Bible is also clear that Assyria will be an end time northern power that God will punish per Zephaniah 2:13-15, which seems to go along with Revelation 18:1-10.  And lately, Germany's power seems to be rising up on the world and European scene.
Some articles of possibly related interest may include:
Europa, the Beast, and Revelation Where did Europe get its name? What might Europe have to do with the Book of Revelation? What about "the Beast"?
Who is the King of the North? Is there one? Do biblical and Roman Catholic prophecies point to the same leader? Should he be followed? Who will be the King of the North discussed in Daniel 11? Is a nuclear attack prophesied to happen to the English-speaking peoples of the United States, Great Britain, Canada, Australia, and New Zealand? When do the 1335 days, 1290 days, and 1260 days (the time, times, and half a time) of Daniel 12 begin? What MUST happen BEFORE the Great Tribulation?
Might German Baron Karl-Theodor zu Guttenberg become the King of the North? Could He Become "the Beast"? What makes the German Defense Minister a candidate?