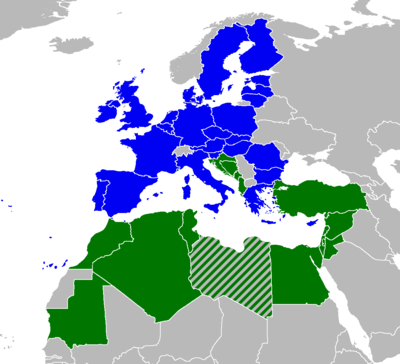 Union for the Mediterranean States
Blue: Members of the European Union in the Union for the Mediterranean
Green: Other members (primarily from the African Union & Arab League)
Striped green: Libya is currently only an observer member in the Union for the Mediterranean
While some have been critical about the idea that the Europeans are forming a supernational goverment with military and economic power, the following news item shows that some are starting to accept this possibility:
And now for a world government
Financial Times, London – Dec 8, 2008
I have never believed that there is a secret United Nations plot to take over the US. I have never seen black helicopters hovering in the sky above Montana. But, for the first time in my life, I think the formation of some sort of world government is plausible.
A "world government" would involve much more than co-operation between nations. It would be an entity with state-like characteristics, backed by a body of laws. The European Union has already set up a continental government for 27 countries, which could be a model. The EU has a supreme court, a currency, thousands of pages of law, a large civil service and the ability to deploy military force.
So could the European model go global? There are three reasons for thinking that it might.
First, it is increasingly clear that the most difficult issues facing national governments are international in nature: there is global warming, a global financial crisis and a "global war on terror".
Second, it could be done. The transport and communications revolutions have shrunk the world so that, as Geoffrey Blainey, an eminent Australian historian, has written: "For the first time in human history, world government of some sort is now possible." Mr Blainey foresees an attempt to form a world government at some point in the next two centuries, which is an unusually long time horizon for the average newspaper column.
But – the third point – a change in the political atmosphere suggests that "global governance" could come much sooner than that. The financial crisis and climate change are pushing national governments towards global solutions, even in countries such as China and the US that are traditionally fierce guardians of national sovereignty.
Barack Obama, America's president-in-waiting, does not share the Bush administration's disdain for international agreements and treaties. In his book, The Audacity of Hope, he argued that: "When the world's sole superpower willingly restrains its power and abides by internationally agreed-upon standards of conduct, it sends a message that these are rules worth following." The importance that Mr Obama attaches to the UN is shown by the fact that he has appointed Susan Rice, one of his closest aides, as America's ambassador to the UN, and given her a seat in the cabinet.
A taste of the ideas doing the rounds in Obama circles is offered by a recent report from the Managing Global Insecurity project, whose small US advisory group includes John Podesta, the man heading Mr Obama's transition team and Strobe Talbott, the president of the Brookings Institution, from which Ms Rice has just emerged…
But some European thinkers think that they recognise what is going on. Jacques Attali, an adviser to President Nicolas Sarkozy of France, argues that: "Global governance is just a euphemism for global government." As far as he is concerned, some form of global government cannot come too soon. Mr Attali believes that the "core of the international financial crisis is that we have global financial markets and no global rule of law".
So, it seems, everything is in place. For the first time since homo sapiens began to doodle on cave walls, there is an argument, an opportunity and a means to make serious steps towards a world government…
But this "problem" also hints at a more welcome reason why making progress on global governance will be slow sledding. Even in the EU – the heartland of law-based international government – the idea remains unpopular. The EU has suffered a series of humiliating defeats in referendums, when plans for "ever closer union" have been referred to the voters. In general, the Union has progressed fastest when far-reaching deals have been agreed by technocrats and politicians – and then pushed through without direct reference to the voters. International governance tends to be effective, only when it is anti-democratic.
The world's most pressing political problems may indeed be international in nature, but the average citizen's political identity remains stubbornly local. Until somebody cracks this problem, that plan for world government may have to stay locked away in a safe at the UN. http://www.ft.com/cms/s/0/7a03e5b6-c541-11dd-b516-000077b07658.html
And while what will happen in Europe will not quite be the government for the entire world, Europe is prophesied to rise up as the Beast power, which means that it will (for a while) highly dominate the world economically and militarily.
As far as being "antidemocratic" perhaps I should cite a private Catholic prophecy:
Rudolph Gekner (died 1675). "A great prince of the North with a most powerful army will traverse all Europe, uproot all republics, and exterminate all rebels. His sword moved by Divine power will most valiantly defend the Church of Jesus Christ. He will combat on behalf of the true orthodox faith, and shall subdue to his dominion the Mahometan Empire. A new pastor of the universal church will come from the shore (of Dalmatia) through a celestial prodigy, and in simplicity of heart adorned with the doctrines of Jesus Christ. Peace will come to the world." (Cited in Connor, Edward. Prophecy for Today. Imprimatur + A.J. Willinger, Bishop of Monterey-Fresno; Reprint: Tan Books and Publishers, Rockford (IL), 1984, p.36).
Republics are somewhat democratic and according to at least the above writing, the one called the Great Prince of the North (the King of the North in Bible prophecy) will essentially eliminate them in Europe and to a degree, elsewhere (like the USA and its Anglo-allies).
And while Europe led the formation of the Union for the Mediterranean States in July 2008 (see Deal Leading to Psalm 83?), both biblical and Catholic prophecy shows that it will invade many of the Southern members of that Union.
Conditions are setting Europe up for its prophesied end-time roles.
Several articles of possibly related interest may include:
Europa, the Beast, and Revelation Where did Europe get its name? What might Europe have to do with the Book of Revelation? What about "the Beast"? What is ahead for Europe?
Anglo – America in Prophecy & the Lost Tribes of Israel Are the Americans, Canadians, British, Scottish, Welsh, Australians, Anglo-Southern Africans, and New Zealanders descendants of Joseph? Where are the lost ten-tribes of Israel? Who are the lost tribes of Israel? Will God punish the U.S.A., Canada, United Kingdom, and other Anglo nations? Why might God allow them to be punished first?
Who is the King of the North? Is there one? Do biblical and Roman Catholic prophecies point to the same leader? Should he be followed? Who will be the King of the North discussed in Daniel 11? Is a nuclear attack prophesied to happen to the English-speaking peoples of the United States, Great Britain, Canada, Australia, and New Zealand? When do the 1335 days, 1290 days, and 1260 days (the time, times, and half a time) of Daniel 12 begin? When does the Bible show that economic collapse will affect the United States?
Is There A Future King of the South? Some no longer believe there needs to be. Might Egypt, Islam, Iran, Arabs, or Ethiopia be involved? What does the Bible say?
Prophecies of Barack Obama? Are there biblical and non-biblical prophecies about Barack Obama. Did Nostradamus predict Barack Obama dealing with the Antichrist?  Might Barack Obama set the stage for the kings of the North and South as at least one Shiite prophecy suggests.
Barack Obama, Prophecy, and the Destruction of the United States Some claim that Barack Obama is the prophesied "son of Kenya", based up an early 20th century writing.
Barack Obama in Islamic Prophecy? There is actually a 17th century Shiite prophecy that some believe that Barack Obama will fulfill that will lead to a rising up of Islam.
Why Prophecy? Because the World Will Not End Next Week Some question or downplay the role of prophecy. This article gives some of the biblical reasons what it is important and explains why the world cannot end for at least 3 1/2 years from now.
End of Mayan Calendar 2012–Might 2012 Mean Something? There is a Mayan calendar prediction for change in 2012. 2012 changes were also centuries ago predicted by the Hopi Native Americans (the Hindus may have some predictions for the next decade as well). Do these Mayan/Hindu/Hopi prophecies have any value? Why might Satan have inspired this date? Does the Dresden codex show destruction of the earth by flood? Can the great tribulation start before 2012?