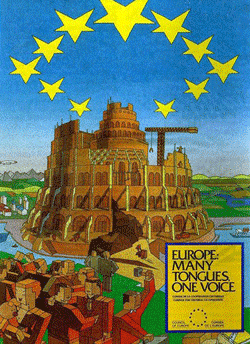 Symbol of European "Babylon"
A while back, there was a report that many Europeans have been disillusioned with EU and have a variety of stereotypes:
Public faith in European unity has slumped as people become increasingly gloomy about economic conditions, according to Washington-based Pew Institute…The respected Washington-based Pew Research Centre warned that support for the EU has slid over the last 12 months, from 60% in 2012 to just 45% this year…


European stereotypes Photograph: /Pew Research Centre 2013


National stereotypes

The survey also polled people's views on their fellow European nations. This revealed that Europeans feel that their nation is the "most compassionate", while many chose Germany as the "least compassionate" (although the UK was the favourite pick for both Germans and the French).

In a display of Gallic insouciance, the French identified themselves as both the 'most arrogant' and 'least arrogant'.

Germany was identified as the most trustworthy country by seven nations, apart from the Greeks, who chose Greece. http://www.guardian.co.uk/business/2013/may/14/europeans-disillusioned-divided-debt-crisis

May 13, 2013

…only 26% of the British public think being a member of the European Union has been good for their economy and just 43% hold positive views of the European Union, the British, who will hold a referendum on continued EU membership in 2017, remain evenly divided on leaving the EU: 46% say stay and 46% say go. http://www.pewglobal.org/2013/05/13/the-new-sick-man-of-europe-the-european-union/
At some point in time Britain will end up being controlled by a power out of Europe. This will happen whether or not Britain remains in the EU (and it most likely will leave the EU, at least to a degree, before that happens).  The 2015 elections in the UK show that there are still major concerns about the EU.
Europe itself has problems and does not adhere well together–yet the Bible foretold that as well in Daniel 2:41-43.
Yesterday I reported here that former German Defense and Economics Minister Karl-Theodor zu Guttenberg reported that Europeans were more pessimistic that Americans, and he seemed to hint that if that would change that Europe could go far (Karl-Theodor zu Guttenberg Interviewed on USA and Europe–he mentions 'common values,' differences and 'the huge debt mountain'). He is somewhat right about that, except biblically, the way Europe will end up, despite its intentions (Isaiah 10:7a), is not good (Isaiah 10:5-12.
Europe has tended to have similarities to the Tower of Babel in Genesis 11 (see EU's Fragile Tower of Babel) and sometimes has used it as a reference as the poster at the beginning of this article shows. The term Babylon seems to derive from Babel and the Bible indicates that the end time Babylon will be European (cf. Revelation 17) (see also the video Can You Prove that the Beast to Come is European?).
Specifically see the following scriptures, which have European (cf. Daniel 7:2-7, Joshua 9:1, 23:4; Ezekiel 47:15) end time prophetic connections:
41 Whereas you saw the feet and toes, partly of potter's clay and partly of iron, the kingdom shall be divided; yet the strength of the iron shall be in it, just as you saw the iron mixed with ceramic clay. 42 And as the toes of the feet were partly of iron and partly of clay, so the kingdom shall be partly strong and partly fragile. 43 As you saw iron mixed with ceramic clay, they will mingle with the seed of men; but they will not adhere to one another, just as iron does not mix with clay. (Daniel 2:41-43)

12 The ten horns which you saw are ten kings who have received no kingdom as yet, but they receive authority for one hour as kings with the beast. 13 These are of one mind, and they will give their power and authority to the beast. (Revelation 17:12-13)
Those passages show a fragile coalition that will have to likely reorganize at least two more times according to the Bible. Europe ultimately will have ten major leaders who will then turn their power over to a single leader. And there seem to be a lot of reorganization steps on the way before those two reorganizations take place.
Eventually, Europe will end up with a dictatorial leader (Revelation 13)–and one with militaristic objectives.
The Bible tells of a time when a smooth talker will gain the confidence of the Europeans and lead them in ways that they had not realized. Below are a few short statements in the New Living Translation ® (NLT) for clarity, followed by the longer passages in the NKJV for additional details:
23 At the end of their rule, when their sin is at its height, a fierce king, a master of intrigue, will rise to power….25 He will be a master of deception and will become arrogant; (Daniel 8:23,25a NLT)

22 "The next to come to power will be a despicable man who is not in line for royal succession. He will slip in when least expected and take over the kingdom by flattery and intrigue. 22 Before him great armies will be swept away, including a covenant prince. 23 With deceitful promises, he will make various alliances. (Daniel 11:21-23 NLT)

23 "And in the latter time of their kingdom,
When the transgressors have reached their fullness,
A king shall arise,
Having fierce features,
Who understands sinister schemes.
24 His power shall be mighty, but not by his own power;
He shall destroy fearfully,
And shall prosper and thrive;
He shall destroy the mighty, and also the holy people.

25 "Through his cunning
He shall cause deceit to prosper under his rule;
And he shall exalt himself in his heart.
He shall destroy many in their prosperity.
He shall even rise against the Prince of princes;
But he shall be broken without human means. (Daniel 8:23-25 NKJV)

23 "Thus he said:

'The fourth beast shall be
A fourth kingdom on earth,
Which shall be different from all other kingdoms,
And shall devour the whole earth,
Trample it and break it in pieces.
24 The ten horns are ten kings
Who shall arise from this kingdom.
And another shall rise after them;
He shall be different from the first ones,
And shall subdue three kings.
25 He shall speak pompous words against the Most High…(Daniel 7:23-25 NKJV)

21 And in his place shall arise a vile person, to whom they will not give the honor of royalty; but he shall come in peaceably, and seize the kingdom by intrigue. 22 With the force of a flood they shall be swept away from before him and be broken, and also the prince of the covenant. 23 And after the league is made with him he shall act deceitfully, for he shall come up and become strong with a small number of people. 24 He shall enter peaceably, even into the richest places of the province; and he shall do what his fathers have not done, nor his forefathers: he shall disperse among them the plunder, spoil, and riches; and he shall devise his plans against the strongholds, but only for a time. (Daniel 11:21-24 NKJV)
And while now is not quite yet the dictator's time, despite expected unification problems (Daniel 2:40-43), a major dictator in Europe will rise up (Revelation 13:1-8), Europe will reorganize (Revelation 17:12-13), and become the final King of the North, European Beast power of Bible prophecy (Daniel 11:21-44).
And this will not be good for the United States of America nor the British (not their Anglo-allies like Canada, Australia, or New Zealand), and ultimately not the Europeans (Revelation 18:1-8). The current financial problems, however, will contribute to the fulfillment of many scriptures and the Europeans, who have more problems ahead, will end up better financially, for a time, than most alive today believe (Revelation 18).
Some items of possibly related interest may include:
Who is the King of the North? Is there one? Do biblical and Roman Catholic prophecies for the Great Monarch point to the same leader? Should he be followed? Who will be the King of the North discussed in Daniel 11? Is a nuclear attack prophesied to happen to the English-speaking peoples of the United States, Great Britain, Canada, Australia, and New Zealand? When do the 1335 days, 1290 days, and 1260 days (the time, times, and half a time) of Daniel 12 begin? When does the Bible show that economic collapse will affect the United States? In the Spanish language check out ¿Quién es el Rey del Norte? Here is a link to a video titled: The Future King of the North.
Europa, the Beast, and Revelation Where did Europe get its name? What might Europe have to do with the Book of Revelation? What about "the Beast"? Is an emerging European power "the daughter of Babylon"? What is ahead for Europe? Here is a link to a video titled: Can You Prove that the Beast to Come is European?
European Technology and the Beast of Revelation Will the coming European Beast power would use and develop technology that will result in the taking over of the USA and its Anglo-Saxon allies? Is this possible? What does the Bible teach? Here is a related YouTube video: Military Technology and the Beast of Revelation.
Must the Ten Kings of Revelation 17:12 Rule over Ten Currently Existing Nations? Some claim that these passages refer to a gathering of 10 currently existing nations together, while one group teaches that this is referring to 11 nations getting together. Is that what Revelation 17:12-13 refers to? The ramifications of misunderstanding this are enormous. A related sermon is titled Ten Kings of Revelation and the Great Tribulation.
Might German Baron Karl-Theodor zu Guttenberg become the King of the North? Is the former German Defense Minister (who is also the former German Minister for Economics and Technology) one to watch? What do Catholic, Byzantine, and biblical prophecies suggest?
Can You Prove that the Beast to Come is European? The Book of Revelation tells of a beast power that will rise up. Some think that this must be Russia or could be Islamic, while others say that this power is European. The Book of Daniel tells of the rise of an end time King of the North that some think must be referring to a Russian leader, while others say that this power is European. How can you be sure? This YouTube video has all the scriptural proofs that you should need to prove that this power must be a European one.
Barack Obama, Prophecy, and the Destruction of the United States-Second Edition for Second Obama Term This is a 160 page book for people truly interested in prophecies related to Barack Obama and the United States, including learning about many that have already been fulfilled (which the book documents in detail) and those that will be fulfilled in the future. It also has a chapter about a Republican choice. This book is available to order at www.barackobamaprophecy.com. The physical book can also be purchased at Amazon from the following link: Barack Obama, Prophecy, and the Destruction of the United States: Is Barack Obama Fulfilling Biblical, Islamic Catholic, Kenyan, and other America-Related Prophecies? What About Republican Leaders? Second Edition for Second Obama Term.
Barack Obama, Prophecy, and the Destruction of the United States-Second Term-Amazon Kindle edition. This electronic version is available for only US$2.99. And you do not need an actual Kindle device to read it. Why? Amazon will allow you to download it to almost any device: Please click HERE to download one of Amazon s Free Reader Apps. After you go to for your free Kindle reader and then go to Barack Obama, Prophecy, and the Destruction of the United States-Second Term-Amazon Kindle edition.