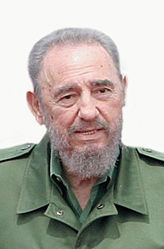 Fidel Castro of Cuba 
The following AP news item was of interest:
HAVANA (Feb. 19) – An ailing Fidel Castro resigned as Cuba's president Tuesday after nearly a half-century in power, saying he was retiring and will not accept a new term when the new parliament meets Sunday…

"I will not aspire to nor accept – I repeat, I will not aspire to nor accept – the post of President of the Council of State and Commander in Chief," read a letter signed by Castro published early Tuesday in the online edition of the Communist Party daily Granma…

Raul Castro had long been his brother's designated successor. The longtime defense minister had been in his brother's rebel movements since 1953 and spent decades as No. 2 in Cuba's power structure.

The United States, bent on ensuring neither brother is in power, built a detailed plan in 2005 for American assistance to ensure a democratic transition on the island of 11.2 million people after Fidel Castro's death. But Cuban officials insisted there would be no transition, saying the island's socialist political and economic systems would outlive Castro…

Fidel Castro Ruz was born in eastern Cuba, where his Spanish immigrant father ran a prosperous plantation. His official birthday is Aug. 13, 1926, although some say he was born a year later.

He attended Roman Catholic schools and the University of Havana, where he received law and social science degrees.
Not surprisingly, the European Union announced:
A spokesman for the European Union says the international body hopes to find common ground with Cuba after President Fidel Castro's resignation.
As I have written elsewhere, I believe that the European Union will make deals with all of Latin America as both areas are Roman Catholic inclined.
Two articles of possibly related interest may include:
Who is the King of the North? Is there one? Do biblical and Roman Catholic prophecies point to the same leader? Should he be followed? Who will be the King of the North discussed in Daniel 11? Is a nuclear attack prophesied to happen to the English-speaking peoples? When do the 1335 days, 1290 days, and 1260 days (the time, times, and half a time) of Daniel 12 begin?
Europa, the Beast, and Revelation Where did Europe get its name? What might Europe have to do with the Book of Revelation? What about "the Beast"?