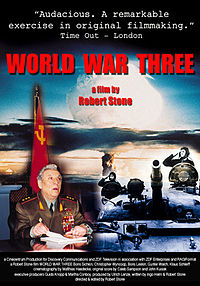 A reader sent me the following today:
4th of July fireworks: World War III with China dead ahead

Admit it, we love war. Marine Corps posters grabbed me as a kid. Trained me in aviation weapons systems. Five years ago I couldn't resist Erik Sofge's edgy fast-paced thriller, "China's Secret War Plan," … Sofge's WWIII fast-paced thriller begins on Aug. 9, 2015, 0400, a moment predicted years ago, yet ironically right about the upcoming GOP presidential primary debates. China's war against "Taiwan starts in the early morning … 1,200 cruise and ballistic missiles rise from heavy vehicles on the Chinese mainland … Taiwan's modest missile defense network, a scattered deployment of I-Hawk and Patriot interceptors … slams into dozens of incoming warheads … a futile gesture … The mass raid overwhelms the defenses as hundreds of Chinese warheads blast the island's military bases and airports."

"Taiwan's air force is grounded … Taiwanese troops mobilize in downtown Taipei, take up positions on the beaches facing China, just 100 miles to the west. But they know what the world knows: This is no longer Taiwan's fight. This is a battle between an old superpower and a new one."

Warrior mind-set sabotages our superpower status and economy

Yes, this is how WWIII starts, between an aging war-lovng America, versus the world's rapidly emerging superpower, China, with a population that's one billion larger than America by 2050. …

Powerful new war strategies: Cyberattacks on the 4th of July

Future warriors: New "army" of hackers, tech geeks, game players, search-engine geniuses. Today Chinese compete, using Google, Facebook, X-Box technology, cyberwarriors, trained by war-loving generals. The Pentagon knows: They'll add trillions to our budgets, taxes and deficits, preparing for future cyberwars, before combat .

Read Sofge's 2010 "China's Secret War Plan" thriller, read Singer's "Ghost Fleet" … see how America could lose WWIII to China … in less than a day. Leaders on both sides have macho egos, love war, make irrational plan, disregard long-term costs.

America's ego was losing Pentagon war games to China five years ago, says Sofge … Singer now reinforces that threat of a China triggered WWIII. http://www.marketwatch.com/story/4th-of-july-fireworks-world-war-iii-with-china-dead-ahead-2015-07-03?page=2
Of course, despite the fact that Erik Sofge's book "China's Secret War Plan" is fiction, many are concerned about China.  Many fear that World War III might be a war between the USA and China.
The USA is concerned about the possibility of China being a major military power and enemy (see, for example, US putting more weapons in Europe because of Russia, while also concerned about China's militarization).  Years back, Hillary Clinton as part of the Obama Administration promoted what has been called the Asian 'pivot' strategy to shift USA military focus to Asia and away from Europe.
Of course, since USA officials are overlooking key prophecies, they do not realize that the actual power that will defeat the USA militarily will be European (cf. Daniel 11:39) (though there could be some assistance from China and others, like Russia).
China is not the major threat (watch also the video Is China THE Threat to the United States of America?).  Yet, because of the perceived threat from China, the USA is setting itself up to being taken over by a rising power in Europe.
Back in the Summer of 2009, I warned:
Barack Obama has pledged increased cooperation with the Europeans.  And while cooperation is normally a good thing, this particular cooperation is likely to lead to the rise of the prophesied King of the North, who is to be the final leader of the Beast of Revelation (Revelation 13:1).  Unlike previous U.S. administrations, President Obama's administration has declared that it will encourage and support increases in Europe's own military, far beyond what Presidents Bush or Clinton were willing to consider. (Thiel B. 2012 and the Rise of the Secret Sect. Nazarene Books, 2009, pp. 131-132, 147)
Has that been happening?
Here is a list of ten steps that the Obama Administration has taken that is leading to the rise of the Beast of the sea, the final King of the North of Bible prophecy that will lead to WWIII:
And the above are steps that are publicly known; watch also the video 10 Steps Obama Has Taken Leading to the Rise of the Beast. These steps will help Europe when it finally decides to start WWIII. There may also be other steps that have not been publicly revealed.
So, while China is not about to start WWIII with the USA, steps have taken place to get the USA closer to the time when WWIII will begin.
This will not end well for the USA.  It will LOSE its prized independence.  Something to carefully consider on this 'Independence Day.'
Some items of possibly related interest may include the following:
World War III: Steps in Progress Are there surprising actions going on now that are leading to WWIII? Might a nuclear attack be expected? Does the Bible promise protection to all or only some Christians? How can you be part of those that will be protected? A related video would be Is World War III About to Begin? Can You Escape?
China, Its Biblical Past and Future, Part 1: Genesis and Chinese Characters Where did the Chinese people come from? This article provides information showing that the Chinese peoples must have known about various accounts in the Book of Genesis up until their dispersion after the Tower of Babel. Here is a link to a version of this article in Spanish: ¿Prueban los caracteres chinos la exactitud de la Biblia?
China, Its Biblical Past and Future, Part 2: The Sabbath and Some of God's Witness in China When did Christianity first come to China? And is there early evidence that they observed the seventh day sabbath?
Asia in Prophecy What is Ahead for Asia? Who are the "Kings of the East"? What will happen to nearly all the Chinese, Russians, Indians, and others of Asia? China in prophecy, where? Who has the 200,000,000 man army related to Armageddon? A YouTube video of interest may be Is China THE Threat to the United States of America?
Anglo – America in Prophecy & the Lost Tribes of Israel Are the Americans, Canadians, English, Scottish, Welsh, Australians, Anglo-Saxon (non-Dutch) Southern Africans, and New Zealanders descendants of Joseph? Where are the lost ten-tribes of Israel? Who are the lost tribes of Israel? What will happen to Jerusalem and the Jews in Israel? Will God punish the U.S.A., Canada, United Kingdom, and other Anglo-Saxon nations? Why might God allow them to be punished first? Here is a link to the Spanish version of this article: Anglo-América & las Tribus Perdidas de Israel. Information is also in the YouTube sermons titled Where are the Ten Lost Tribes? Why does it matter? and British are the Covenant People. A short YouTube of prophetic interest may be Barack Obama and the State of the Apocalypse.
Will the Anglo-Saxon Nations be Divided and Have People Taken as Slaves? Will the lands of the United States, United Kingdom, Canada, Australia, and New Zealand be divided? What about Jerusalem? What does Bible prophecy teach? Are there non-biblical prophecies that support this idea? Who will divide those lands? Who will end up with the lands and the people? Here is a link to a video titled Will the USA and other Anglo-nations be Divided and Their People Made Slaves? Here is a related item in the Spanish language ¿Serán divididas las naciones anglosajonas?
Prophecies of Barack Obama? Reasons why Barack Obama is apocalyptic and reasons why Barack Obama is not the Antichrist. This article includes many biblical and non-biblical prophecies, from around the world, that seem to discuss Barack Obama. Did Nostradamus predict Barack Obama dealing with the Antichrist?  Might Barack Obama set the stage for the kings of the North and South as at least one Shiite prophecy suggests?  Read it and decide for yourself if President Obama seems to be fulfilling various prophecies. Watch also the YouTube Barack Obama and the State of the Apocalypse.
Hillary Clinton in Prophecy  Prophecy, Hillary Clinton? Are there prophecies that Hillary Clinton may fulfill?  Are there any prophecies that she has already helped fulfill?  Could Hillary Clinton be apocalyptic?  Could Hillary Clinton be the final Antichrist? A video of related interest is titled Hillary Clinton and Bible Prophecy.