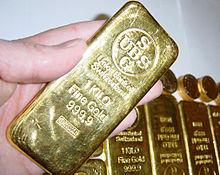 A while back, Germany made it clear that it wanted more of its gold back.  Now, some are raising questions on why it got back less than it asked for and not in the same form as it was originally deposited in:
January 7, 2014

As you know, Germany has reported that 37.5 tons were delivered last year, which is about 50 tons shy of what was the announced plan last January and was expected to be delivered over the course of 2013. Peter Boehringer (Germany's equivalent of GATA's Chris Powell here in the States) asked many questions of the Bundesbank, the most central being: Why was this gold "recast" before being returned?

As there has not been an audit of Fort Knox since the 1950′s, nor a bar list made public since this German gold was claimed to have been deposited with the Federal Reserve Bank of New York back in the 1950s, this is a can of worms that has already been opened and any "answer" will only lead to more questions.

So why exactly would the gold need to be recast before sending it back?

Never mind the obvious question that we've already asked. Why will it take up to eight years to send the Germans their gold?

You see, gold has a "fingerprint." Once it is refined down to 99.999 percent pure, the fingerprint is erased. For example, the "coin melt" that came from the 1934 confiscation has a fingerprint of 90 percent purity. The gold the Soviet Union was selling back in 1990 was 89 percent pure and had the czar's stamp on it, which was a dead giveaway that they were out of gold (money). They collapsed within six months and it was foretold by this "fingerprinted gold."

For these 37.5 tons to be recast brings up the question: Where did it come from? Was this the original gold that was safe-kept? Or was the German gold leased out a hundred times over and is this gold being recast and returned from another source?

Is this like the bank employee or even retail cashier who stole from the register with the intent of replacing it before anyone found out?

This is a very legitimate question because we know for a fact that demand has outstripped supply for 20 years or more — and the supply had to come from somewhere, right?

 If the gold was held on an "allocated," basis then the bars should at most need a feather duster to clean them up before shipment — unless they are not the same bars. There is no other explanation for this, as the New York Fed would have no incentive to go through the process of recasting (refining?) even an ounce if the Fed was shipping what was originally stored. Germany would not and should not expect its gold back in form other than how it was originally delivered to the New York Fed.

I call "monkey business" on this one because there are just too many questions.  http://www.globalresearch.ca/monkey-business-surrounding-the-repatriation-of-germanys-gold-stored-at-the-ny-federal-reserve-bank/5364090
Germany's Bundesbank plans to store half the national gold reserves in its own vaults by 2020. It will mean the return of 700 tons of the precious metal from the US and France.  This year the Bundesbank got back about 37 tons of gold from the US and France. The total value of the returned gold is estimated at 1.1 billion euro, the head of Bundesbank, Jens Weidemann told the Bild newspaper…. At the beginning of this year the Bundesbank said it intended to repatriate 700 tons of gold worth 27 billion euro by 2020.     http://rt.com/business/germany-to-return-gold-737/

Correspondence between the German financial journalist Lars Schall and Germany's Bundesbank suggests that the small amount of gold the Bundesbank claims recently to have repatriated from the Federal Reserve Bank of New York was not returned in the form in which it was deposited many years ago — that, indeed, the original German gold was not and is not available to be returned because something undisclosed was done with it.  http://news.goldseek.com/GATA/1388937780.php
What is interesting about this is that in 2013, the last USA tanks left Germany (see There are no longer USA tanks in Germany: Do Americans understand this is a serious risk?).  Supposedly, one of the reasons that Germany stored much of its gold in other lands was to prevent Russian/Soviet tanks from invading and taking it.  Apparently, even without USA tank protection, Germany feels it is better to have its gold itself, instead of having it stored in the USA, UK, and other lands like it had been doing.
Last year, Germany essentially claimed that it wanted the gold back in case it had to deal with some type of financial crisis (see Germany wants its gold back).  Perhaps a crisis involving the Euro, perhaps a crisis involving the USA dollar (this is discussed in more detail in my book Barack Obama, Prophecy, and the Destruction of the United States-Second Edition for Second Obama Term).
Biblical (Daniel 11:40-44) and non-biblical prophecies point out that the final leader that the Bible calls the King of the North, who will likely have Germanic/Assyrian heritage (cf. Daniel 11:30 with Numbers 24:24), will value gold. The fact that many in Germany are getting more interest in their national stock piles of gold is consistent with proper understanding of end time biblical prophecy.
The fact that there is some confusion in the actual amount of gold received and the form it got it back suggests that the USA may have more problems with its own gold than the public realizes.
The time will come when the USA will wish it had more gold as its practice of electronically printing and borrowing its own money will create a massive problem for it (Habakkuk 2:6-8).
Some items of possibly related interest may include:
The Plain Truth About Gold in Prophecy. How Should a Christian View Gold? What do economists and the Bible teach about gold? Gold and silver may drop in value. Inflation/deflation? What do Christians need to know about gold?
Might German Baron Karl-Theodor zu Guttenberg become the King of the North? Is the German Defense Minister one to watch? What do Catholic, Byzantine, and biblical prophecies suggest?
Germany's Assyrian Roots Throughout History Are the Germanic peoples descended from Asshur of the Bible? Have there been real Christians in Germanic history? What about the "Holy Roman Empire"?
Europa, the Beast, and Revelation Where did Europe get its name? What might Europe have to do with the Book of Revelation? What about "the Beast"? Is an emerging European power "the daughter of Babylon"? What is ahead for Europe? Here is a link to a video titled: Can You Prove that the Beast to Come is European?
Might German Baron Karl-Theodor zu Guttenberg become the King of the North? Is the former German Defense Minister (who is also the former German Minister for Economics and Technology) one to watch? What do Catholic, Byzantine, and biblical prophecies suggest?
Barack Obama, Prophecy, and the Destruction of the United States-Second Edition for Second Obama Term This is a 160 page book for people truly interested in prophecies related to Barack Obama and the United States, including learning about many that have already been fulfilled (which the book documents in detail) and those that will be fulfilled in the future. It also has a chapter about a Republican choice. This book is available to order at www.barackobamaprophecy.com. The physical book can also be purchased at Amazon from the following link: Barack Obama, Prophecy, and the Destruction of the United States: Is Barack Obama Fulfilling Biblical, Islamic Catholic, Kenyan, and other America-Related Prophecies? What About Republican Leaders? Second Edition for Second Obama Term.
Barack Obama, Prophecy, and the Destruction of the United States-Second Term-Amazon Kindle edition. This electronic version is available for only US$2.99. And you do not need an actual Kindle device to read it. Why? Amazon will allow you to download it to almost any device: Please click HERE to download one of Amazon s Free Reader Apps. After you go to for your free Kindle reader and then go to Barack Obama, Prophecy, and the Destruction of the United States-Second Term-Amazon Kindle edition.