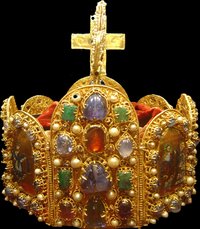 Crown of Original "Holy Roman Emperor"
Two recent news items suggest that Germany is improving its military role and influence in the world:
US and Germany in joint spy satellite project: cable

AFP – Jan 3, 2011

The United States and Germany are jointly developing secret spy satellites under the guise of a commercial programme despite opposition from France, leaked US diplomatic cables showed Monday. The project, named HiROS, envisions the construction of an undetermined number of high-resolution observation satellites capable of spotting any object on the planet down to a size of just 50 centimetres (about 1.5 feet) according to classified cables from US embassy in Berlin leaked to WikiLeaks and obtained by Norwegian daily Aftenposten…

Due to the controversial nature of the programme, US and German officials have decided it should be presented as a civilian project with environmental aims, run by commercial entities.

But in reality it is "under the total control" of German intelligence service BND and the German aerospace centre DLR, the cables showed. http://www.breitbart.com/article.php?id=CNG.63ce099f0759b32debc0c53d5ee39e68.4a1&show_article=1

Berlin's ambitious UN Security Council agenda

Germany has taken its seat on the UN Security Council this week touting an ambitious agenda. Some of this will end in disappointment, experts warn. But there is still much Berlin can achieve.
It is somewhat ironic that the UN Security Council was basically put in place to deal with Germany, and now it is a temporary member of that council.  This will likely give Germany more say in international military matters.  And even once it is off, it will likely help lobby for stronger European representation on that council.
Most do not realize the potential danger of sharing spy satellite technology with Germany.  Under such arrangements, Germany will be better able to know what the Americans know and be able to use this information to its advantage.  The USA is losing even its technological advantages, and is doing so voluntarily.  This is likely to prove to be a mistake that the USA is making.
Speaking of Germany, the following news item was of prophetic interest:
Archbishop: Church must proselytize Germany

Rocked by scandal and seeing its flock shrink, the Catholic Church should actively begin proselytizing in Germany, according to the Archbishop of Munich Cardinal Reinhard Marx.
Catholics may be surprised to learn that the conversion of Germany is in at least one of their prophecies for the end time rise of the "Great Monarch", the time of the King of the North.  Notice the following:
Old English Prophecy: In Germany begins a dance,  Which passes through Italy, Spain, and France, But England shall pay the piper. (Dupont, Catholic Prophecy, pp. 21-22)

Blessed Joannes Amadeus de Sylva (died 1482): Germany and Spain will unite under a great prince…After much slaughtering, the other nations will be forced to come into this union. There is no hope for the unbelievers until all of Germany is converted; then all will happen quickly…the time will be prolonged until all countries unite under the Great Ruler. After this union, mass conversions will take place… (Connor, Prophecy for Today, p. 34).
The above suggests that something starts in Germany that goes into other parts of Europe, but that England will suffer (this is consistent with biblical prophecy).
Notice that the 15th century Catholic prophecy that foretells a time when a "great prince" will rise up. "All Germany" will apparently convert to the ecumenical religion, and then massive conversions in "all countries" "will happen quickly" under the "Great Ruler".
The evangelical intent of the Catholic Cardinal may be related to that prophecy.
But whether it is or not, Germany seems to be positioning itself to fulfill various prophecies.  And its military influence is expected to increase, as likely, its future religious influence.
Some articles of possibly related interest may include:
Europa, the Beast, and Revelation Where did Europe get its name? What might Europe have to do with the Book of Revelation? What about "the Beast"?
Who is the King of the North? Is there one? Do biblical and Roman Catholic prophecies point to the same leader? Should he be followed? Who will be the King of the North discussed in Daniel 11? Is a nuclear attack prophesied to happen to the English-speaking peoples of the United States, Great Britain, Canada, Australia, and New Zealand? When do the 1335 days, 1290 days, and 1260 days (the time, times, and half a time) of Daniel 12 begin? What MUST happen BEFORE the Great Tribulation?
Might German Baron Karl-Theodor zu Guttenberg become the King of the North? Could He Become "the Beast"? What makes the German Defense Minister a candidate?
Catholic Prophecies: Do They Mirror, Highlight, or Contradict Biblical Prophecies? People of all faiths may be surprised to see what various Roman and Orthodox Catholic prophets have been predicting as many of their predictions will be looked to in the 21st century.